Wright's effort shows he's rounding into form
Mets captain hits ball hard to right side four times, makes leaping grab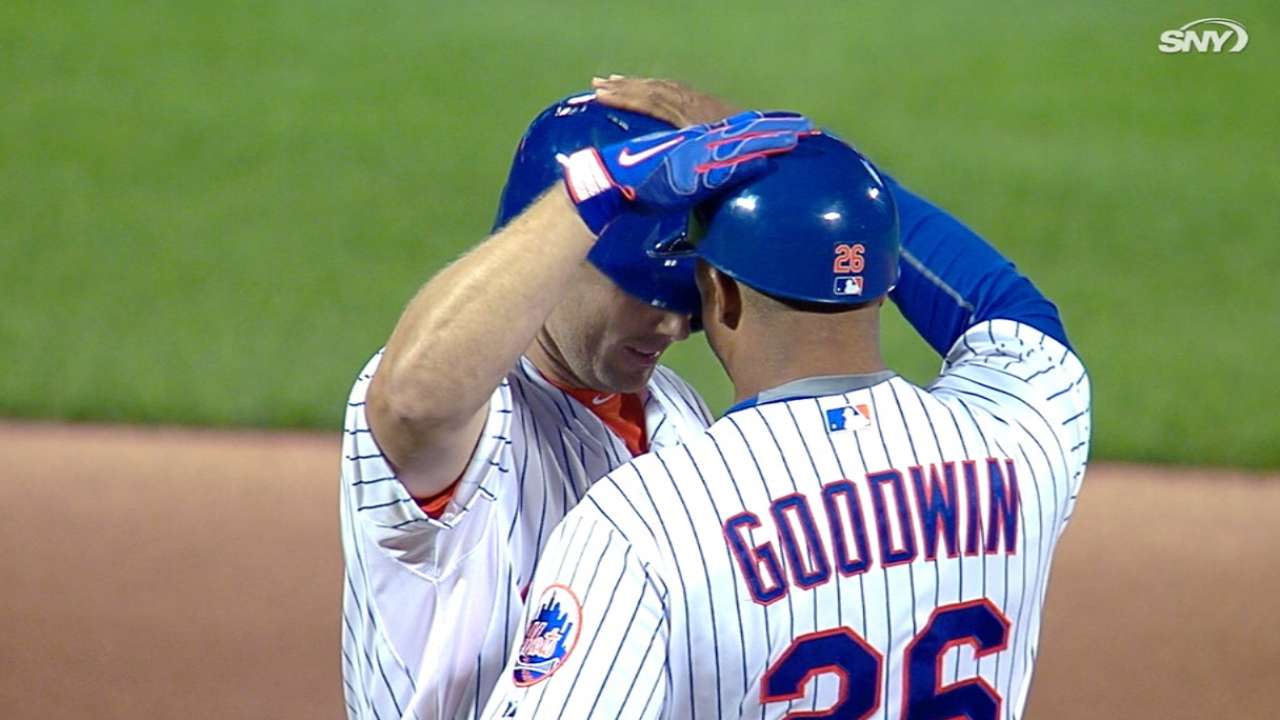 NEW YORK -- The swing was fluid, all its parts in seamless motion. As Kyle Barraclough's pitch neared home, David Wright lifted his front foot ever so slightly and twisted his lower half, keeping his torso parallel to home plate until the last possible moment. When Wright twisted that, too, he did so with fury, ripping his bat through the zone to bash Barraclough's pitch for a double.
It was the go-ahead hit in what became a 4-3 win over the Marlins on Monday night, propelling the Mets another step forward on their march toward a National League East crown. Yet it was more than that, too; the latest piece of evidence that Wright, even while nursing his spinal stenosis condition, is resembling his former self more and more each day.
"When I take the field, I expect to perform at a certain level," Wright said. "It's not just, 'This is going to be cool, let me just enjoy going out there and being part of a game.' That's not the mindset. The mindset is going out there and trying to be productive and help this team win. Hopefully I'm able to do that."
He corrected himself: "To continue to do that."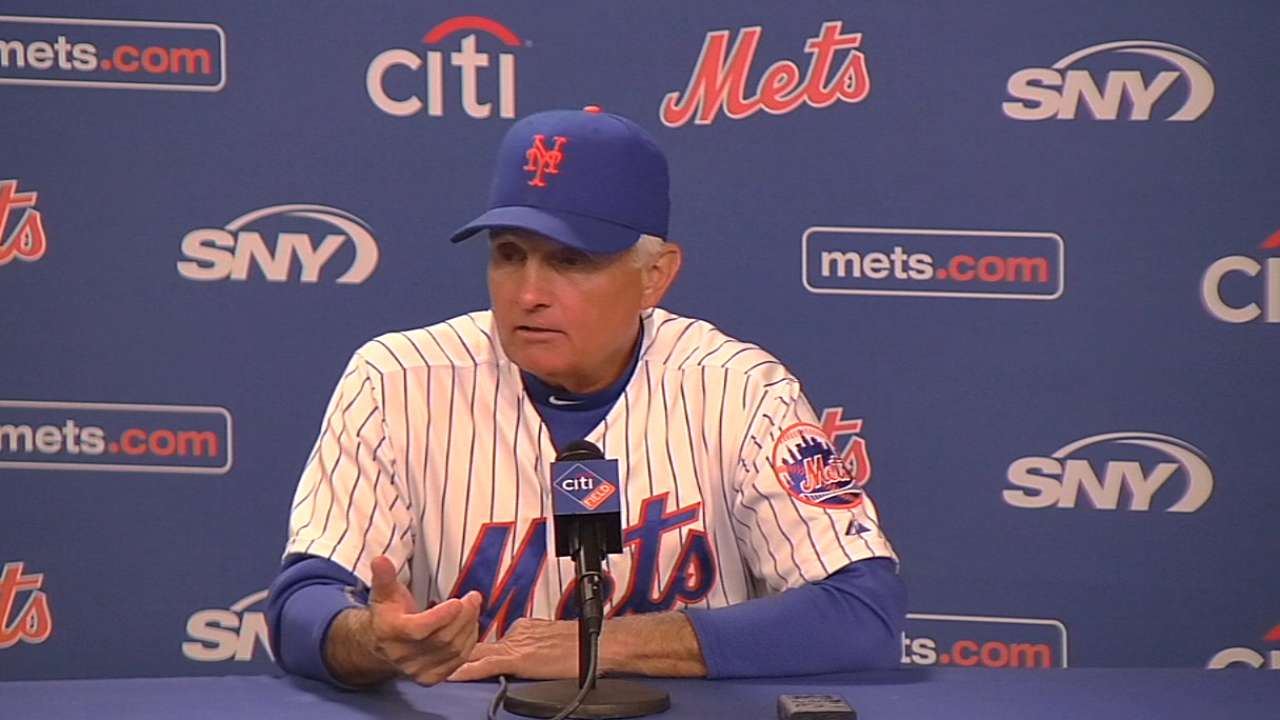 Wright's adrenaline-fueled first swing back in Philadelphia notwithstanding, there had been genuine concern amongst the Mets that their $138 million third baseman, captain and franchise soul might never again be what he was in the past. Upon Wright's return last month, manager Terry Collins drew out a plan to rest him regularly. Hitting coach Kevin Long worked with Wright to generate more power from his lower half, in the hopes of having him rely less on his compromised upper body.
"There's no doubt we didn't know what he was going to do offensively," Collins said. "I had no idea. I didn't realize what the restrictions on the back were going to be. Could he rotate? Could he rotate with force?"
At first, Wright did little to quiet those questions; following his welcome-back homer in Philadelphia, he went 32 consecutive plate appearances without an extra-base hit, showing little of the gap power -- and particularly the opposite-field gap power -- that once made him a seven-time All-Star. Collins noted that Wright looked tired on occasions when he played three consecutive games without an off-day.
And then Monday at Citi happened. Four times, Wright came to the plate. Four times he hit the ball to the right side of the field, including a first-inning double that Statcast™ measured at 380 feet and a third-inning flyout that traveled 355 feet to center. He even made a leaping play on defense and in the seventh, Wright capped his day with a 390-foot double off Barraclough that one-hopped the center-field wall, giving the Mets their first lead since the fifth.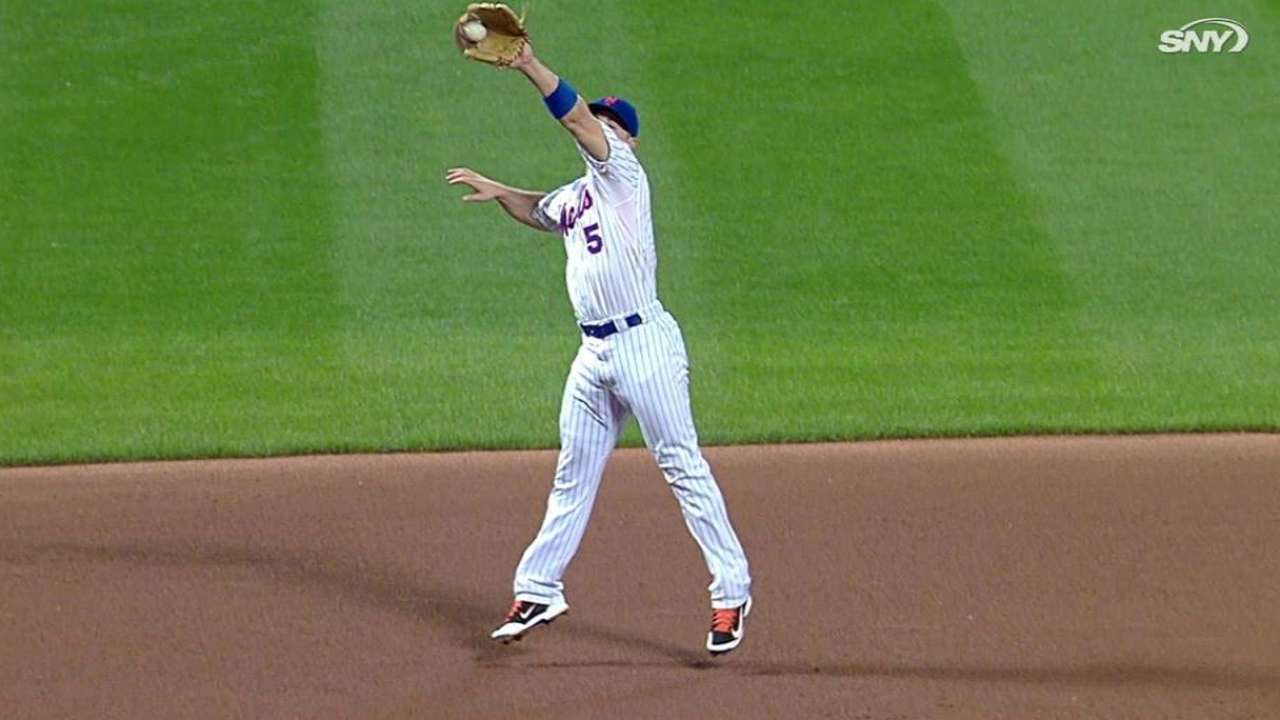 Afterward, Wright spoke of feeling "more comfortable in the box," joking that he will slip Collins some cash to continue batting him directly in front of white-hot Yoenis Cespedes.
The truth is, it's the Mets who seem increasingly comfortable about the direction of Wright's season.
"If you talked to David in late May, early June, the frustration in his voice, not knowing what kind of player he was going to be ... it's huge," Collins said. "Not only us, but for David."
Anthony DiComo is a reporter for MLB.com. Follow him on Twitter @AnthonyDiComo and Facebook, and listen to his podcast. This story was not subject to the approval of Major League Baseball or its clubs.