Vote Blue Jays for 2015 Esurance MLB Awards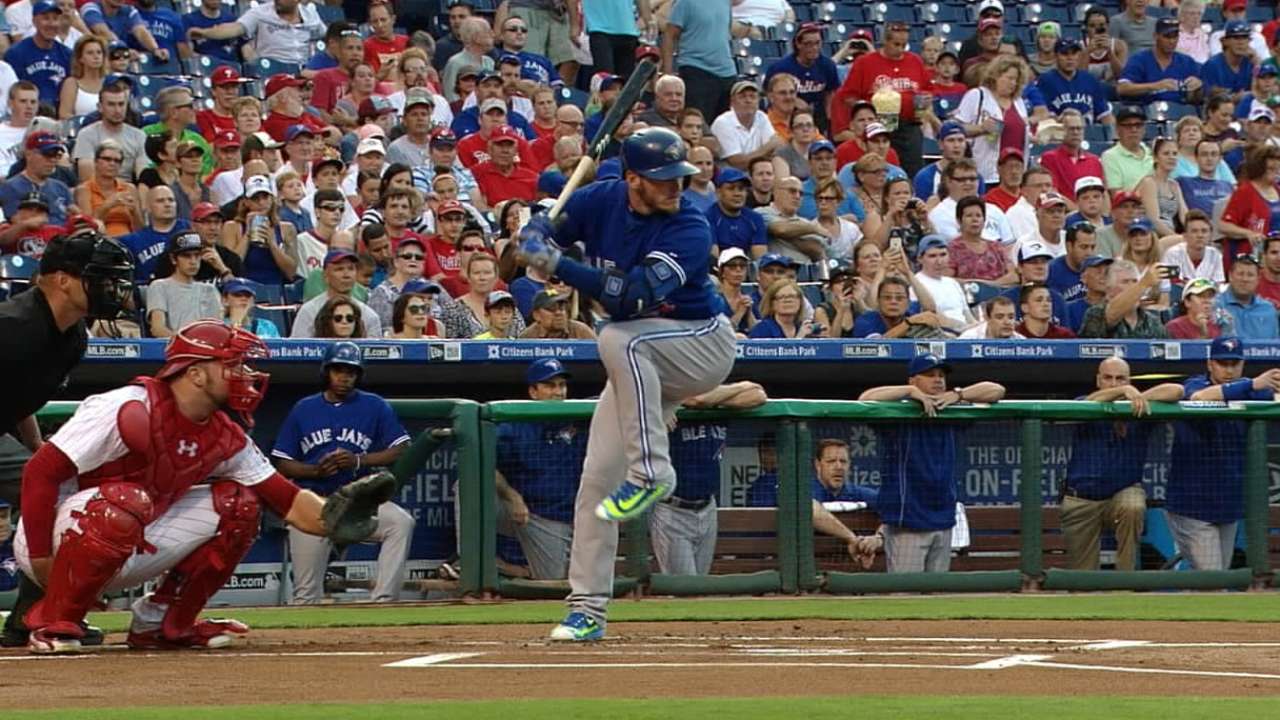 Josh Donaldson headlines the Blue Jays' nominees for the 2015 Esurance MLB Awards. The All-Star third baseman finds himself vying for honours in five categories, including Best Major Leaguer, Best Everyday Player, Best Defensive Player, Best Play on Defense and Best Play on Offense.
Toronto left-hander David Price is nominated in four categories -- Best Major Leaguer, Best Starting Pitcher, Best Social Media Personality and Best MLB Interview.
Video: 2015 MLB Awards: Best Major Leaguer - Price
Donaldson, who is a candidate for the American League MVP, led the Blue Jays at the plate and in the field since he joined the team following an offseason trade with the A's in November. The 29-year-old topped the club in hits (184), doubles (41), home runs (41), RBIs (123) and OPS (.939).
At the hot corner, Donaldson has made outstanding plays look routine, regularly barehanding ground balls and going as far as diving into the stands headfirst to make a play on a foul ball. His contributions helped the Blue Jays break their 22-season postseason drought.
In addition to Price, Donaldson is going up against Paul Goldschmidt, Dallas Keuchel, Mike Trout, Bryce Harper, Yoenis Cespedes, Joey Votto, Clayton Kershaw, Zack Greinke, Jake Arrieta and Andrew McCutchen for the Best Major Leaguer award.
Joining Donaldson on the short list for Best Defensive Player is Blue Jays center fielder Kevin Pillar, whose season has been full of highlight-reel catches in the outfield.
Roberto Osuna is in the running for Best Rookie thanks to his stellar season on the mound. Despite having never pitched higher than Class A, Osuna broke camp with the Blue Jays and eventually locked down the closer's role as he proved himself the most reliable arm in the club's bullpen.
Other Blue Jays nominees for prominent awards include John Gibbons for Best Manager, Alex Anthopoulos for Best Executive, Pillar and Jose Bautista for Best Defensive Play. Edwin Encarnacion is up for two awards in Best Moment after the Rogers Centre crowd honored his three-homer game in August by throwing hats onto the field and Best Performance for his nine-RBI game.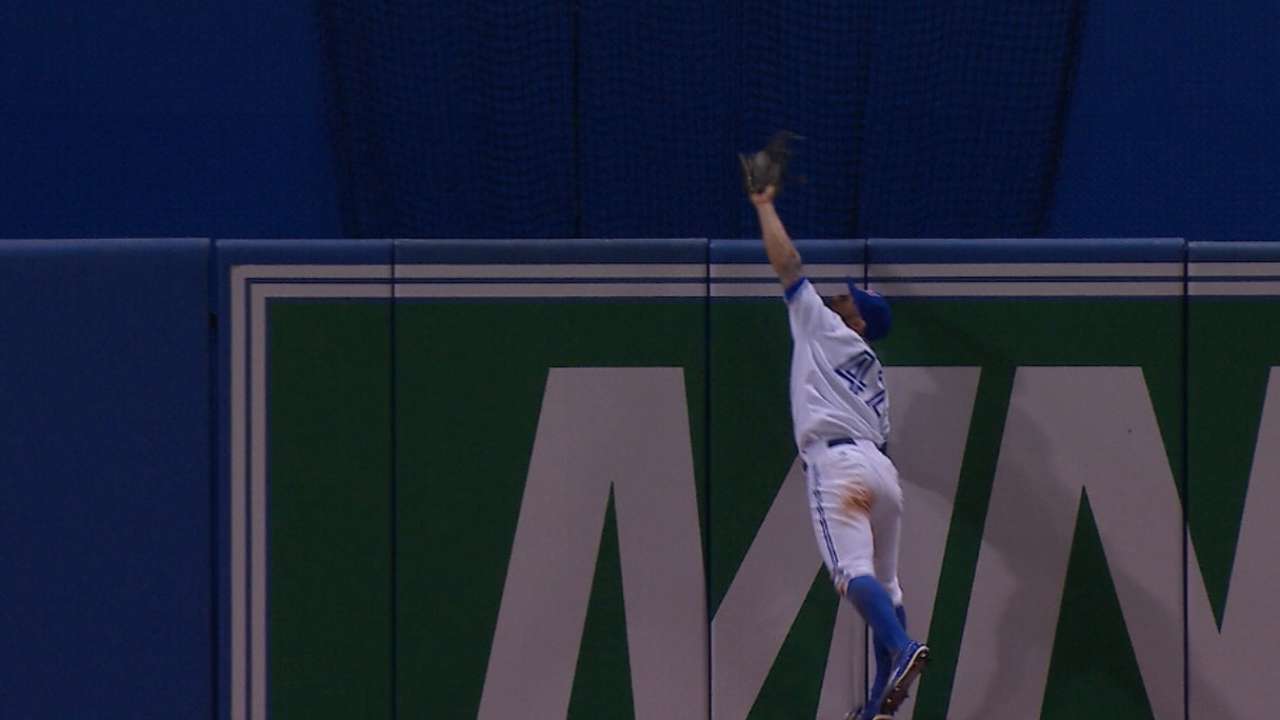 A young Blue Jays fan nicknamed "Mini Bautista" is a candidate for Best Social Media Post. With a painted-on beard and shirsey, the Joey Bats supporter was filmed mimicking his hero's swing in the left-field bleachers at Rogers Centre as Bautista crushed the go-ahead homer in Toronto's AL Division Series clincher against Texas.
With Mini Bautista's fame increasing, he soon got the chance to meet the real Bautista before Game 4 of the AL Championship Series against the Royals. That's one of two nominations for Bautista in the Best Player-Fan Interaction category, as he also is up for trading his batting practice jersey for a fan's Lionel Messi jersey before a game at Texas in August.
Geddy Lee, who is a frequent presence at Rogers Centre, is up for Best Celebrity alongside Stephen Amell, who played a big role in getting Donaldson elected to the All-Star Game with a record-setting number of votes. Other awards include: Best Trending Topic for Toronto's Game 5 seventh inning of the ALDS that included Bautista's three-run homer.
Right-hander Marcus Stroman is also up for Best Social Media Personality. R.A. Dickey is nominated for best social media post after he stole Daniel Norris' van in Spring Training and the Blue Jays are up for the same award after the team prepped for Price's arrival with a huge bag of popcorn in his locker.
The Esurance MLB Awards annually honour Major League Baseball's greatest achievements as part of an industry-wide balloting process that includes five components, each of which accounts for 20 percent of the overall vote: media, front-office personnel, retired MLB players, fans at MLB.com and Society for American Baseball Research (SABR) voters.
Individual awards will go to the Best Major Leaguer in addition to the winners in the following categories: Best Everyday Player, Starting Pitcher, Rookie, Defensive Player, Breakout Player, Bounceback Player, Manager, Executive, Social Media Personality and postseason performer.
Winners will also be recognized for the year's best Offensive Play, Defensive Play, Moment, Single-Game Performance, Social Media Post, Celebrity Fan, Fan Catch, Interview, TV Call, Radio Call, Player-Fan Interaction, Video-Board Moment and Trending Topic.
Voting will remain open through Nov. 13 by visiting mlb.com/awards. Winners will be announced live on MLB Network and MLB.com on Nov. 20.
Gregor Chisholm is a reporter for MLB.com. Read his blog, North of the Border, follow him on Twitter @gregorMLB and Facebook, and listen to his podcast. This story was not subject to the approval of Major League Baseball or its clubs.