Nicolino delivers another solid outing
Marlins rookie regrets pitches that let Mets pull even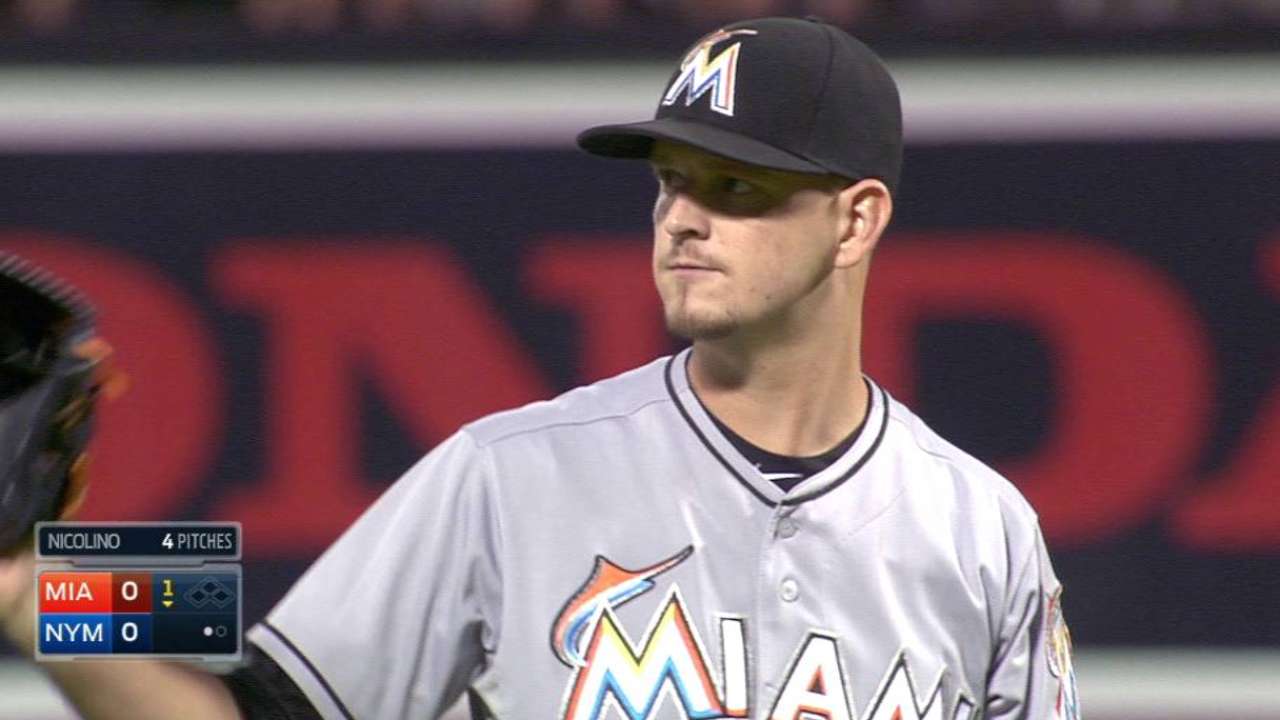 NEW YORK -- The way the Mets are going, Marlins lefty Justin Nicolino knew he couldn't let down for even a moment Monday night. Catcher J.T. Realmuto made a point to remind the rookie of that during a brief mound visit in the sixth inning.
Still, the words of advice were not enough. Travis d'Arnaud belted a game-tying, two-run, two-out homer and the Mets were on their way to handing the Marlins a 4-3 loss at Citi Field.
Making his ninth big league start, Nicolino endured his first multihomer performance. Yoenis Cespedes went deep for New York in the third. The damage was done by d'Arnaud with two outs in the sixth.
"After we got that second out, I went out and told him, 'Hey, lock it in right here. We've got two outs, don't give up on the inning. Let's make some pitches and get out of it right here,' " Realmuto told his pitcher.
Nicolino actually executed a decent pitch to Juan Uribe, but the veteran infielder pulled the ball down the line for a double. The pitch to d'Arnaud was a mistake, and the Mets' catcher connected for the game-tying homer.
"Nico really only made a couple of mistakes tonight, both of them were homers," Realmuto said. "That's just something that happens when you play hot teams like this."
What was shaping up as a special night for Nicolino turned sour on d'Arnaud's blast.
"Right there, to d'Arnaud, I wanted that pitch back so bad," Nicolino said. "We had been going away and then showing in. It just was a pitch that was up, and it hurt me. But it's just one of those games you've got to take and keep learning from."
Home runs aside, Nicolino gave up three runs in six innings, and posted his fifth quality start in his past six outings. The lefty pounded the zone. Of his 90 pitches, 73 were strikes.
"The biggest thing is going out there competing, having fun, and trying to control your emotions," the lefty said. "It's one of those things -- it's supposed to be you and the catcher. It's all I tried to focus on. J.T. called a great game back there. I just made a few mistakes."
Nicolino is approaching unchartered territory where it comes to innings.
After his six innings, Nicolino is at 54 1/3 in the big leagues and 169 1/3 total, counting his Triple-A New Orleans' numbers.
"I think, stamina-wise, he's fine," manager Dan Jennings said. "He's not a power pitcher. He's a pitcher. He mixes pitches, he locates. I think if he were a power pitcher, it would be one thing. But the fact he is a touch-and-feel, knows-how-to-pitch type guy, we know where his limits would be. If we get to that point, we'll piggyback him and not stack too many on him."
Joe Frisaro is a reporter for MLB.com. He writes a blog, called The Fish Pond. Follow him on Twitter @JoeFrisaro and listen to his podcast. This story was not subject to the approval of Major League Baseball or its clubs.