Rookie E-Rod gaining consistency, command
Left-hander strikes out career-high nine in opener vs. Orioles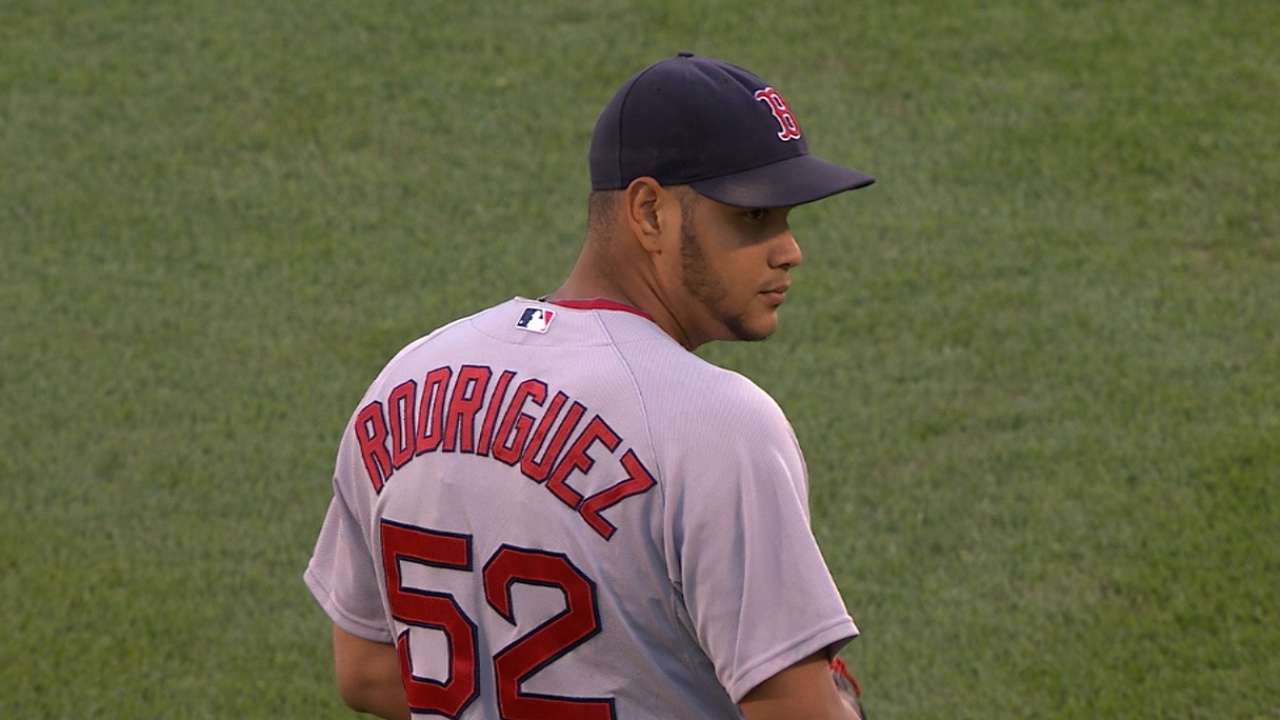 BALTIMORE -- The fluctuations in performance that were so noticeable for Eduardo Rodriguez earlier in his rookie season have subsided and turned into a steady line of solid outings.
Even as Rodriguez took a 2-0 loss to the Orioles on Monday night, it was hard not to be excited about where the lefty seems to be headed.
In Rodriguez's last five starts, he is 3-1 with a 1.72 ERA.
"He's gonna be great," said Red Sox designated hitter David Ortiz. "He's a kid that works really hard to keep on learning about pitching. I think he has a great future. He has explosive stuff. He has learned pretty much how to locate pitches better. I think that'll help him out a lot in the long run."
The stuff hasn't changed. It is electric now, just as it was earlier in the season. The difference is Rodriguez's poise and ability to make a pitch when he has to. Against the Orioles on Monday, Rodriguez punched out a career-high nine over 5 1/3 innings. He allowed one earned run.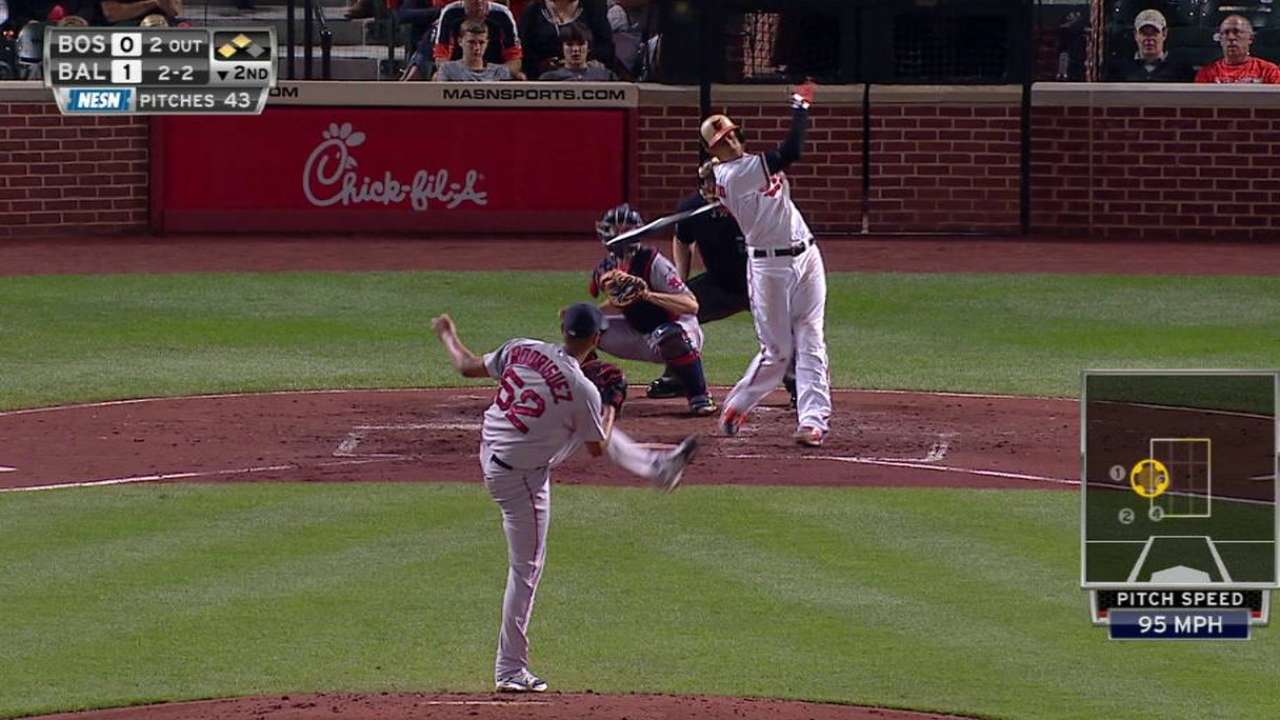 "You look at all the qualities of a really good starting pitcher, and they have really good damage control," said interim manager Torey Lovullo. "They limit the big innings and allow themselves to work deeper into games. All of our starting pitchers have been doing that, and Eduardo was a good example of that today."
In the start before Rodriguez's current hot streak started, he was cruising early in a start at Miami on Aug. 12. But after a few adverse moments, Rodriguez imploded and gave up nine hits and eight runs over five innings.
What is different now?
"Just try not to do too much or get too excited to strike people out," Rodriguez said. "Just try to get a grounder if it's a ground-ball situation."
Early in Monday's game, there were times Rodriguez could have lost composure, including an error by second baseman Josh Rutledge in the first and a balk in the second that allowed two runners to advance. In both cases, Rodriguez buckled down and escaped serious damage.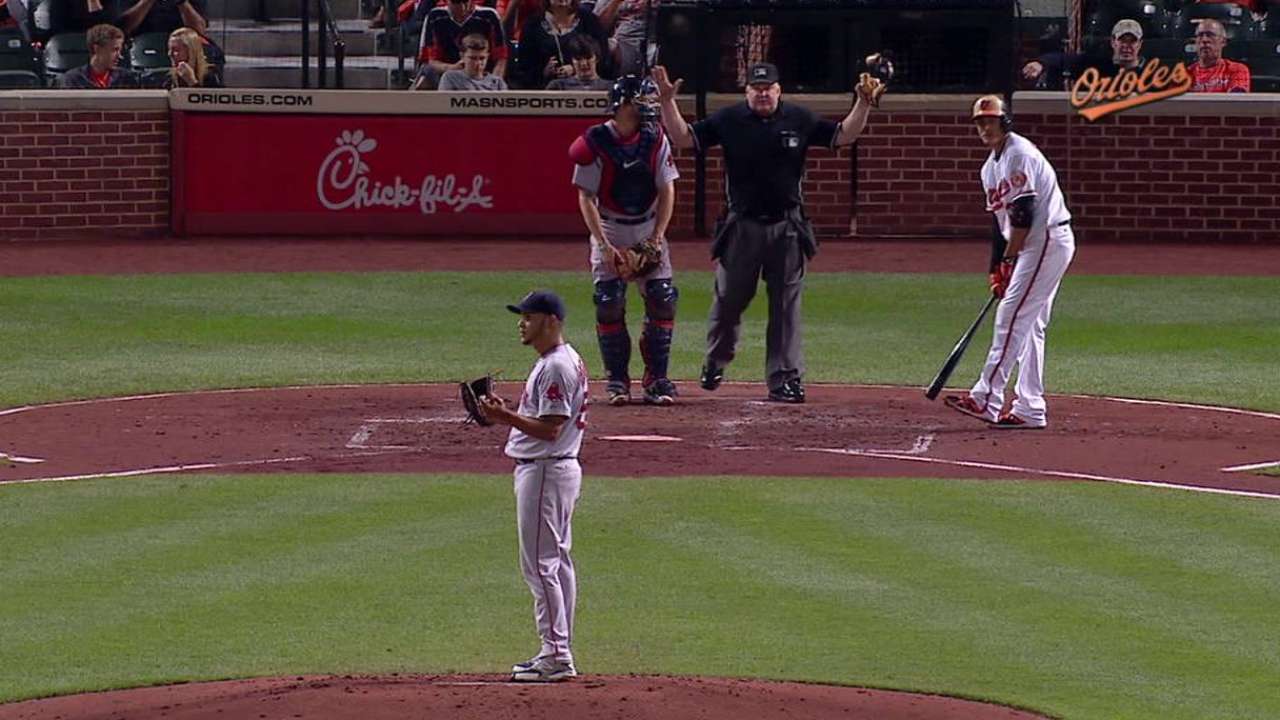 "In the first inning, I tried to do too much with the fastball," Rodriguez said. "I got too excited. After that, I was under control all the time."
Earlier in the year, Rodriguez wouldn't have made the adjustment until it was too late.
"We've been talking all along how that's part of his development," said Lovullo. "When he first got here, I think something would have led to a big inning and he would have found himself walking off the mound in the third or the fourth, but he pitched into the sixth and did a great job. The pitch count climbed a little bit, and I think that was because of some early long innings. But he did a good job, kept us in the game and gave us a chance to win."
The Red Sox will keep a close eye on Rodriguez for the rest of the season because he is already at a career high of 158 innings, including his Minor League output.
Lovullo said he would probably make a couple of more starts.
"I feel great," Rodriguez said. "I feel like I can keep going. I don't feel anything in my shoulder or my body. I still feel like in September like I felt before."
But the Red Sox will, of course, protect their investment.
"Yeah, I'm just doing what they say," Rodriguez said. "If they want to give me seven days, five days, six days, I'll take it. I know they're trying to do the best they can do to save my shoulder."
It is, after all, a shoulder that could lead to a lot of wins in the coming years.
Ian Browne is a reporter for MLB.com. Read his blog, Brownie Points, follow him on Twitter @IanMBrowne and listen to his podcast. This story was not subject to the approval of Major League Baseball or its clubs.