Goldy, Pollock nominated for Esurance MLB Awards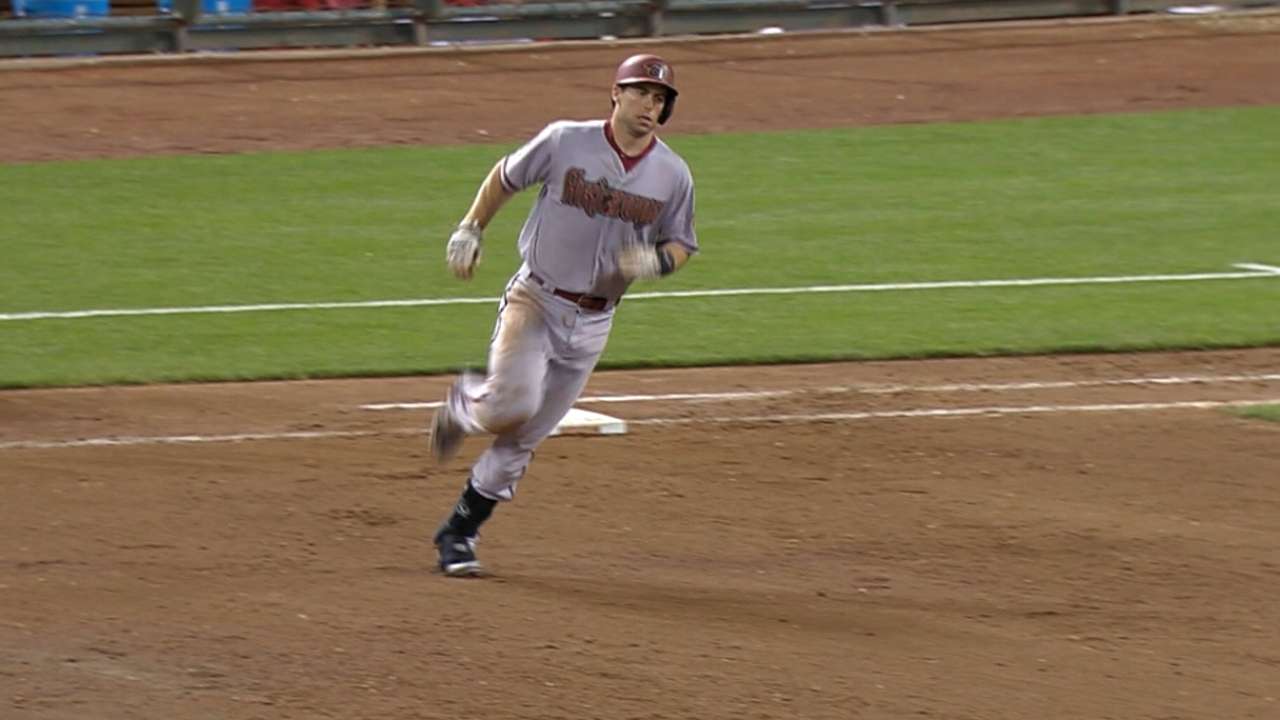 PHOENIX -- First baseman Paul Goldschmidt and outfielder A.J. Pollock were the D-backs' best players throughout 2015, so it is no surprise that they both are up for Esurance MLB Awards.

Goldschmidt was nominated in two categories -- Best Major Leaguer and Best Everyday Player -- while Pollock is up for Best Breakout Player.
The D-backs also have nominees in the categories of Best Video Board Moment and Best MLB Interview.
The Esurance MLB Awards annually honor Major League Baseball's greatest achievements as part of an industry-wide balloting process that includes five components, each of which accounts for 20 percent of the overall vote: media, front-office personnel, retired MLB players, fans at MLB.com and Society for American Baseball Research (SABR) voters.
"I think it's a great honor for the players to be recognized in this no matter what the category is that they're in," said former big leaguer Luis Gonzalez, a five-time D-backs All-Star and an MLB Awards voter.
"To be recognized by fans, former players, broadcasters and front-office people, that means a lot. You're being recognized by some of the elite people in the game of baseball."
Individual awards will go to the Best Major Leaguer in addition to the winners in the following categories: The Best Everyday Player, Starting Pitcher, Rookie, Defensive Player, Breakout Player, Bounceback Player, Manager, Executive, Social Media Personality and postseason performer.
Winners will also be recognized for the year's best offensive play, defensive play, Moment, single-game performance, Social Media Post, Celebrity Fan, Fan Catch, Interview, TV call, radio call, Player-Fan Interaction, Video Board Moment and Trending Topic.
Goldschmidt made his third straight All-Star Game appearance this year and has been one of the Majors' best players since making his big league debut on Aug. 1, 2011.
Other candidates in the Best Major Leaguer category include: Jake Arrieta, Joey Votto, Dallas Keuchel, Mike Trout, Zack Greinke, Clayton Kershaw, Yoenis Cespedes, Andrew McCutchen, Josh Donaldson, David Price and Bryce Harper.
Other candidates in the Best Everyday Player category include: Manny Machado, Anthony Rizzo, Nolan Arenado, Lorenzo Cain, Trout, Cespedes, McCutchen, Nelson Cruz, Buster Posey, Donaldson and Harper.
Pollock, who was named to his first All-Star Game this season, faces competition in the Best Breakout Player category from Machado, Arenado, Cain, Harper, Arrieta, Xander Bogaerts, Jeurys Familia, Chris Archer, Logan Forsythe, Carlos Martinez, Brandon Crawford and Andrew Miller.
In the Best Video Board Moment category, the D-backs were nominated for a touching moment when D-backs fan Lori Tate was surprised by her daughter Mariah Chastain, who had just returned from a tour of duty in the Middle East.
A bizarre stunt during an in-game Spring Training interview by pitchers Josh Collmenter and Trevor Cahill is up for Best MLB Interview. Collmenter was interviewed in the dugout with Cahill hiding behind him providing the arms for Collmenter, who kept on talking as if nothing was amiss.
Voting will remain open through tonight at 9:59 p.m. MST by visiting mlb.com/awards. Winners will be announced live on MLB Network and MLB.com on Nov. 20.
Steve Gilbert is a reporter for MLB.com. Read his blog, Inside the D-backs, and follow him on Twitter @SteveGilbertMLB. This story was not subject to the approval of Major League Baseball or its clubs.