Diaz showing his value as late-inning option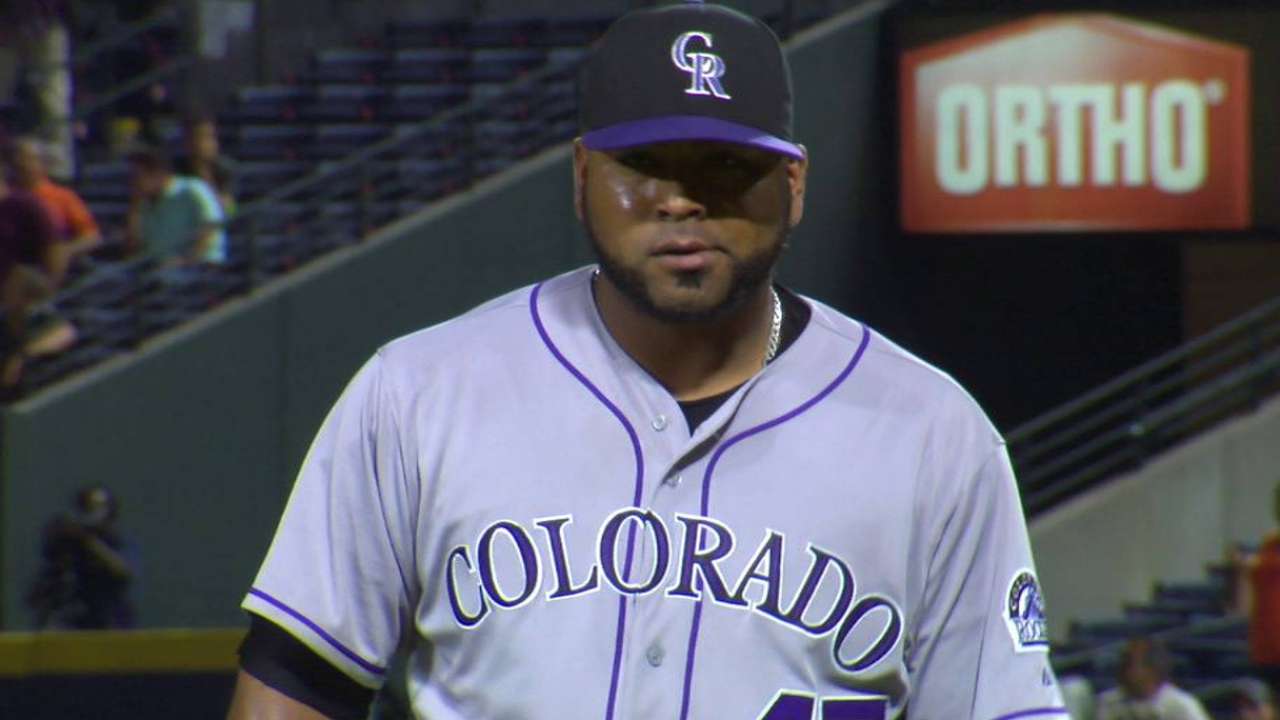 LOS ANGELES -- Rockies high-velocity reliever Jairo Diaz has taken advantage of his first opportunity to prove he can be a late-game bullpen option.
After spending much of the year at Triple-A Albuquerque, the 24-year-old has earned seven holds and posted a 0.87 ERA in 17 appearances going into Monday night's series opener against the Dodgers. Diaz has seven strikeouts and a .211 batting average against.
The Rockies are using him as primary setup man for closer John Axford. It's far more responsibility than he had last year with the Angels, when he pitched in Class A and Double-A, then was called to the Majors for five September appearances -- essentially to spell the mainstays in the bullpen.
"This year, they're giving me a lot of opportunity to pitch," Diaz said. "This year, I'm facing better hitters and better teams, so being there last year helped me a lot. I feel comfortable and relaxed and I don't feel any pressure. If I can finish the way I'm pitching right now, I hope that will help me going into next year."
Diaz's four-seam fastball this year has averaged 97.2 mph, according to FanGraphs. He mixes it with a slider that averages 89.7 mph. Diaz said he has a changeup that he doesn't use much, but he may not need it..
"Up to this point, he's shown that he can get lefties out with his velocity and with his slider," Rockies manager Walt Weiss said. "He uses his slider to left-handed hitters. As a reliever that throws that hard, you can get away with two pitches."
Worth noting
• When Rockies No. 1 pitcher Jorge De La Rosa starts Wednesday night's series finale, Weiss will go with Wilin Rosario at catcher. De La Rosa's last start, when he gave up three runs and six hits in five innings against the Padres in an eventual 4-3 Rockies victory, was Rosario's first start behind the plate this season. Rosario, the regular catcher the better part of the previous three years, moved to first base this year but spent a large chunk of the season at Triple-A Albuquerque because of a crowded roster.
• Albuquerque manager Glenallen Hill and pitching coach Darryl Scott joined the Rockies in Los Angeles and will rotate being in the dugout for the rest of the season.
• A hit credited to Rockies second baseman DJ LeMahieu during an Aug. 31 game against the D-backs has been changed to an error on D-backs pitcher Brad Ziegler, MLB and the Elias Sports Bureau announced Monday.
•: A hard-hit ball by the Mariners' Robinson Cano in Sunday's ninth inning nearly connected with the head of Axford. In fact, Axford said the ball hit the puffy part of the back of his cap.
Thomas Harding is a reporter for MLB.com. Follow him on Twitter @harding_at_mlb, and like his Facebook page. This story was not subject to the approval of Major League Baseball or its clubs.