Goldschmidt nominated for Roberto Clemente Award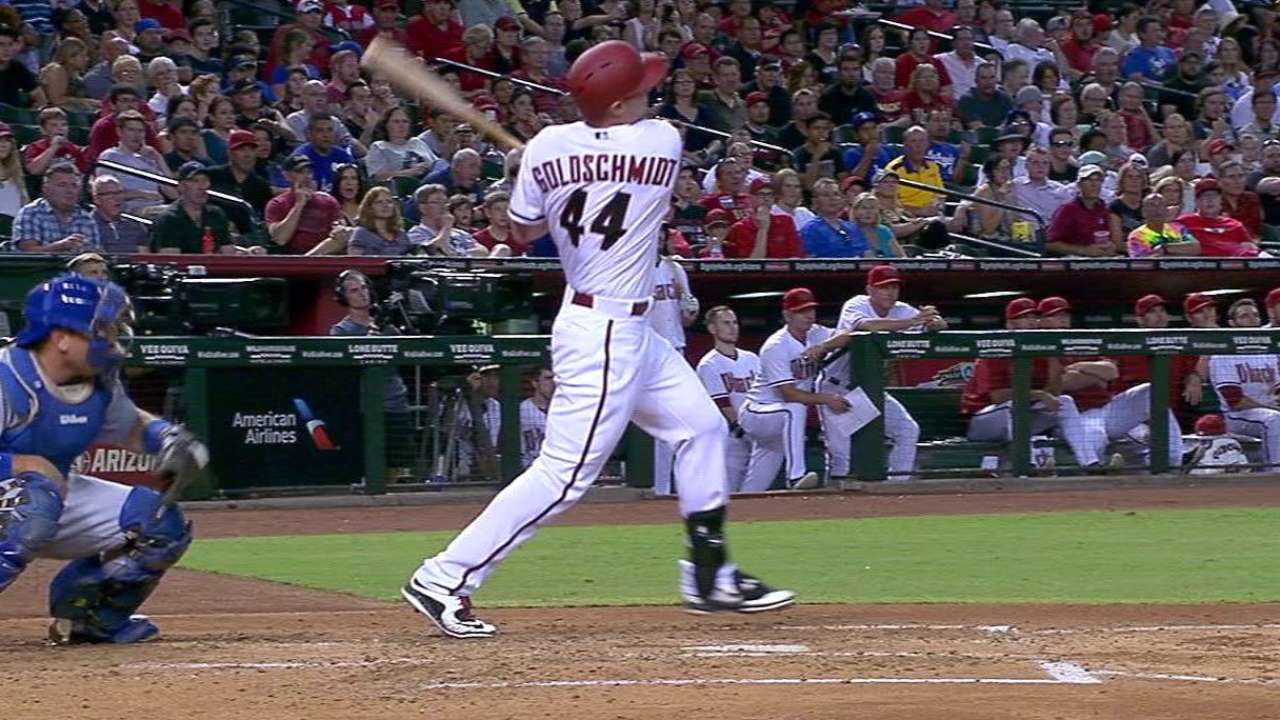 PHOENIX -- For the second straight year, Paul Goldschmidt was named the D-backs' 2015 nominee for the prestigious Roberto Clemente Award presented by Chevrolet.
Goldschmidt is one of the 30 club finalists for the annual award, which recognizes a Major League Baseball player who best represents the game of baseball through positive contributions on and off the field, including sportsmanship and community involvement.
The Roberto Clemente Award presented by Chevrolet pays tribute to Clemente's achievements and character by recognizing current players who truly understand the value of helping others.
"I am honored to be named the D-backs' Roberto Clemente nominee," said Goldschmidt. "[My wife] Amy and I are truly committed to giving back in the Arizona community so this is a tremendous honor to be considered a community ambassador on and off the field and follow in his footsteps."
Goldschmidt's accomplishments on the field are well known. He played in his third straight All-Star Game this year, his second in a row as a starter.
Off the field, though, Goldschmidt's activities draw far less attention.
Goldschmidt and Amy volunteer at Phoenix Children's Hospital, interacting and visiting with kids and their families; a genuine passion they both share.
Last year Goldschmidt launched Goldy's Fund 4 Kids, in partnership with the Arizona Diamondbacks Foundation, to help families at Phoenix Children's Hospital (PCH) and earlier this spring, Paul and Amy hosted a Champions for Children luncheon to raise money for PCH.
In addition to his work with Phoenix Children's Hospital, he has chaired events including Chrysalis, a non-profit domestic violence shelter, and assisted Soldier's Best Friend, a local non-profit that pairs veterans with adopted animals and then certifies them as service animals.
This year Goldschmidt increased the number of full-tuition scholarships for students wanting to continue their education at University of Phoenix from three to five. After graduating from University of Phoenix in 2013, both Paul and Amy will personally select the five finalists to receive the award and present the scholarships at a D-backs game.
"Paul is a leader both on and off the field and we are proud to have such a great role model leading our team in every way," said D-backs team president/CEO Derrick Hall. "His humble attitude and genuine passion to help others is commendable. He represents what it means to be a D-back in every aspect."
Steve Gilbert is a reporter for MLB.com. Read his blog, Inside the D-backs, and follow him on Twitter @SteveGilbertMLB. This story was not subject to the approval of Major League Baseball or its clubs.