Walker putting together strong finish to season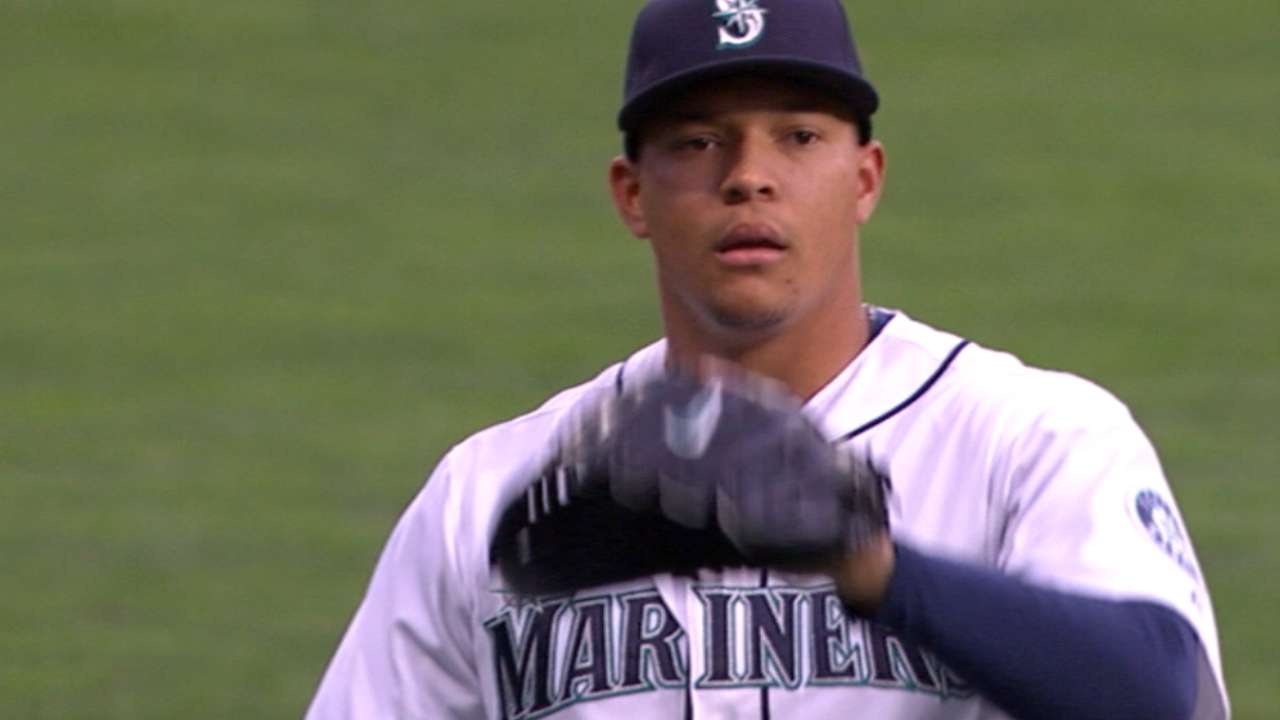 SEATTLE -- Taijuan Walker is approaching his innings limit for his first full season in the Mariners' rotation, but the hard-throwing 23-year-old showed no signs of slowing down Monday in a dominant performance in Seattle's 10-1 victory over the Angels at Safeco Field.
Walker allowed just four hits and one run over seven innings, improving to 11-8 with a 4.56 ERA in his 29th start of the season.
Walker totaled just 120 1/3 innings last season -- including 38 in eight outings with the Mariners -- so manager Lloyd McClendon is mindful of pushing him too far this year. His seven innings in Monday's win put him at 169 2/3 for the season.
With James Paxton coming off the disabled list, spot starter Vidal Nuno throwing a one-hitter for seven frames in his last start, and three off-days sprinkled among their remaining 17 games, the Mariners certainly have ways to limit Walker's workload the rest of the way.
But McClendon declined to get specific about his plans following Monday's outing.
"I'm just going to enjoy this game tonight and have a little ice cream, and we'll figure it all out tomorrow," McClendon said.
If Walker has a vote, he'll push to stay in the rotation for what could be three more starts this year.
"I feel like I've got a lot left," Walker said. "I've felt really good, especially today. I had my good velo and my changeup was good.
"I don't even think about [any innings limits]," he said. "All I know is just get ready for my next start. Whenever they tell me I'm done, then I'll be done. But as of right now, I'm planning on pitching the whole year."
Walker rebounded from his shortest start of the season -- a three-inning, six-run outing against the Rangers last Tuesday -- to shut down an Angels team trying desperately to stay in the playoff hunt.
"He really bounced back," said McClendon. "I'm really proud of the way he goes about his business. He has the ability now to turn the page, go back and get ready for the next one. I thought his preparation for this one was outstanding, and I think it showed tonight. He attacked, he was in and out of the zone, up and down, and found his breaking ball in the middle innings. He did a nice job."
The right-hander has come back strongly from a slow start to his year, as he opened the season 1-5 with a 7.33 ERA in his first nine outings. Since that tough stretch, he's 10-3 with a 3.62 ERA with 17 walks and 118 strikeouts in 20 starts.
"It's been tremendous growth from where he started to where he is now," McClendon said. "The maturity factor, the ability to slow the game down [and] not get overwhelmed and let things speed up has been outstanding."
"I think I've come pretty far," Walker said. "I struggled a lot at the beginning of the season, and I've had some times where I've had stretches of good starts and then a couple bad starts. So it's kind of been a real learning experience the whole year."
Greg Johns is a reporter for MLB.com. Follow him on Twitter @GregJohnsMLB, read his Mariners Musings blog, and listen to his podcast. This story was not subject to the approval of Major League Baseball or its clubs.