Kendrick a Roberto Clemente Award nominee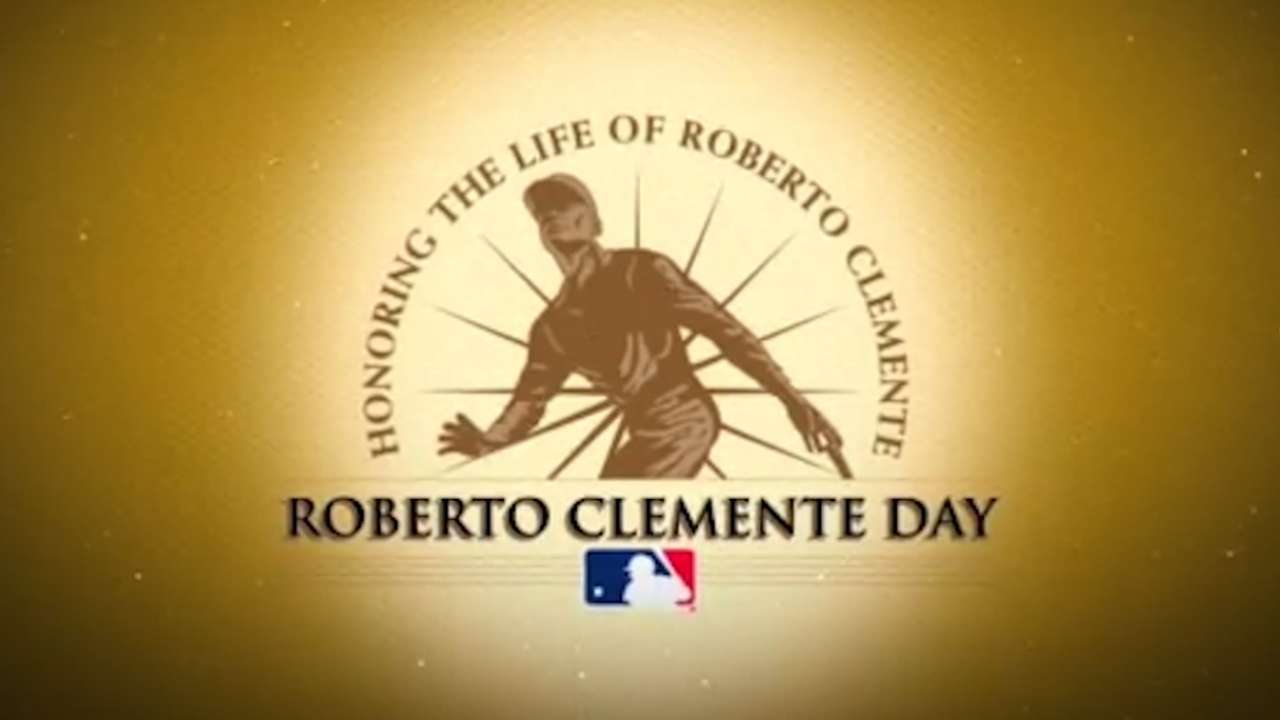 LOS ANGELES -- A special fan in Philadelphia inspired pitcher Kyle Kendrick to dedicate himself to bringing happiness to those with Down syndrome. Kendrick joined the Rockies this season, and his continued efforts with those with Down syndrome and to assist the Special Olympics has made him the club's nominee for the 2015 Roberto Clemente Award.
Kendrick and his wife, Stephanie, brought the Kendrick's Krew program to Colorado, with the help of The Global Down Syndrome Foundation and Special Olympics Colorado. Once or twice a month, a group of fans with Down syndrome receives a suite at Coors Field and meets Kendrick and other players. He also entertained some Kendrick's Krew members in Philadelphia when the Rockies were there in late May.
"It started three or four years ago in Philly," Kendrick said. "My wife has a friend whose aunt, Maureen, has Down syndrome, and she's a big Phillies fan. I met her and enjoyed spending time with her. She was a big fan of mine, always sending me messages and cards, and I appreciated that. She was pleasant to be around, happy all the time.
"I wanted to start a charity for a Down syndrome organization in Philly. When I came over here, I was fortunate that the Rockies wanted to keep it going."
Kendrick signed a one-year deal with the Rockies last winter. He has won his last two starts, but much of the season has been a struggle because of a slow start and then a shoulder injury that cost him the month of August. Kendrick, 31, said the meetings with Kendrick's Krew reminded him that his troubles were minor in the grand scheme.
"It's not hard to do at all," Kendrick said. "Yeah, it is frustrating when you have tough days at the park. But baseball's not everything in life. There are other things people are struggling with, daily. I'm fortunate to play this game and want to give back a little bit. I enjoy it every time they come to the park. It puts me in a better mood, or when I'm feeling down it gets my day going."
American League nominees include Brian Matusz of Baltimore, Brock Holt of Boston,David Robertson of the Chicago White Sox, Carlos Carrasco of Cleveland, Miguel Cabrera of Detroit, George Springer of Houston, Alex Gordon of Kansas City, Hector Santiago of the Los Angeles Angels, Torii Hunter of Minnesota, Mark Teixeira of the New York Yankees, Stephen Vogt of Oakland, Charlie Furbush of Seattle, Chris Archer of Tampa Bay, Adrian Beltre of Texas and Jose Bautista of Toronto.
Joining Kendrick as National League nominees are Paul Goldschmidt of Arizona, Jason Grilli of Atlanta, Anthony Rizzo of the Chicago Cubs, J.J. Hoover of Cincinnati, Adrian Gonzalez of the Los Angeles Dodgers, Dee Gordon of Miami, Jonathan Lucroy of Milwaukee, Curtis Granderson of the New York Mets, Ryan Howard of Philadelphia, Andrew McCutchen of Pittsburgh, Adam Wainwright of St. Louis, Andrew Cashner of San Diego, Javier Lopez of San Francisco and Denard Span of Washington.
The award recognizes a player who best represents the game through positive contributions on and off the field, including sportsmanship and community involvement. Each club nominates one player in an effort to pay tribute to Clemente's achievements and character by recognizing current players who truly understand the value of helping others.
Wednesday marks the 14th annual Roberto Clemente Day, which was established by MLB to honor Clemente's legacy and to officially acknowledge local club nominees of the award in his honor. The 12-time All-Star and Pirates Hall of Famer died in a plane crash on Dec. 31, 1972, while attempting to deliver supplies to earthquake victims in Nicaragua.
Beginning on Roberto Clemente Day and concluding on Oct. 9, fans are encouraged to participate in the process of selecting the league-wide recipient by visiting ChevyBaseball.com, which is powered by MLB Advanced Media, to vote for one of the nominees. Participating fans will be automatically registered for a chance to win a trip to the 2015 World Series, during which the national winner of the award will be announced.
Thomas Harding is a reporter for MLB.com. Follow him on Twitter @harding_at_mlb, and like his Facebook page. Mark Newman contributed. This story was not subject to the approval of Major League Baseball or its clubs.