MLB.com Columnist
Bill Ladson
Papelbon shakes off blown save, picks up win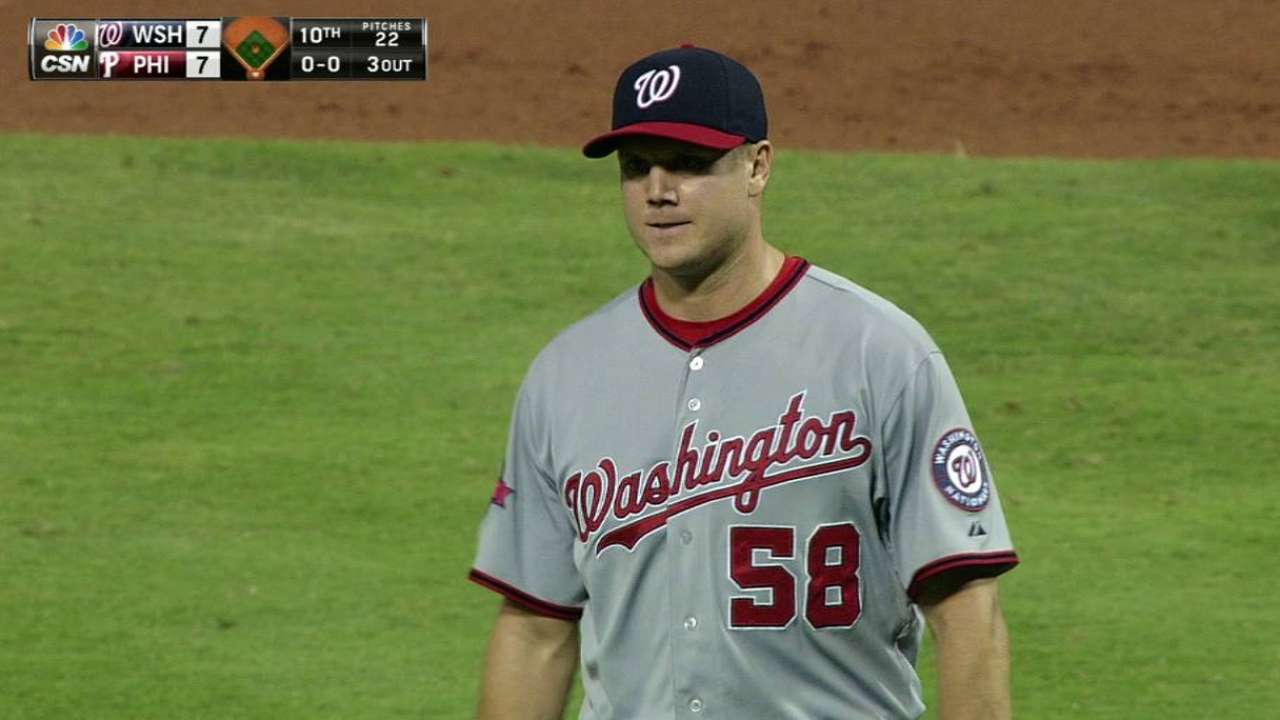 PHILADELPHIA -- As the ball left the bat of Freddy Galvis and landed in the right-field stands at Citizens Bank Park on Monday night to give Jonathan Papelbon his first blown save of the season, he knew that it was a feeling he had felt before.
"I'm very familiar with that situation," Papelbon said about blowing the save. "But at the end of the day, you play to win the game. Regardless of how it unfolds, you win the game, it's a good day at the office."
It unfolded just fine as he was able to pick up the win when Yunel Escobar's fielder's choice scored Danny Espinosa in the 11th inning to give the Nats an 8-7 triumph over the Phillies.
It was Papelbon first blown save since Sept. 14th, 2014 when he was with the Phillies.
Papelbon would get some help from National League MVP candidate Bryce Harper, whose phenominal sliding catch on a deep drive by pinch-hitter Jeff Francoeur with runners on first and second with one out helped keep the game tied.
"A phenomenal catch. That's a hard position to play right there," Papelbon said. "Every out is huge."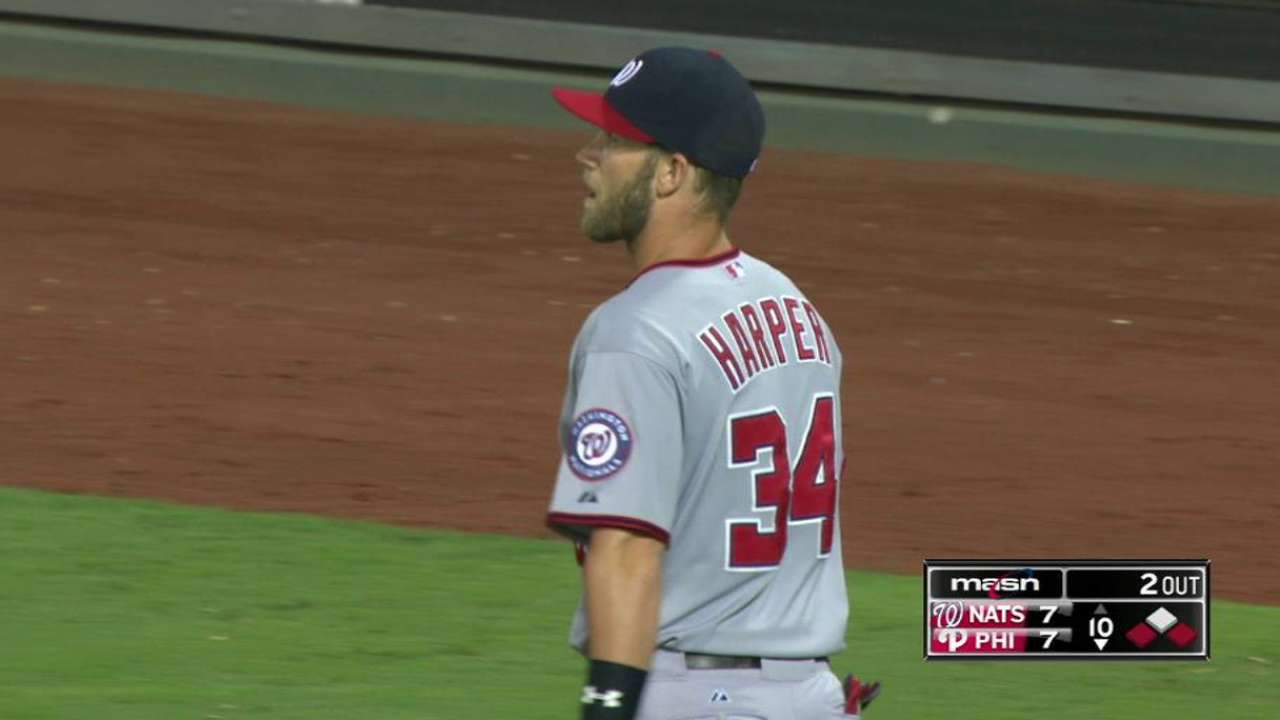 Since Papelbon has joined the Nationals, manager Matt Williams has nothing but good things to say about his closer.
"For us, he has been great," Williams said. "He is ready to pitch when he is asked to pitch. He makes no bones about 'I have to pitch in this situation or that situation.' If we call the bullpen, he is ready to go."
Papelbon wasn't the only person Williams had good things to say about. It was a game in which Doug Fister picked up his career first save. It was Fister's first appearance since Sept.1 against the Cardinals. Fister was inactive because Williams wanted to use Fister as a starter in case Stephen Strasburg wasn't available to pitch because of back tightness.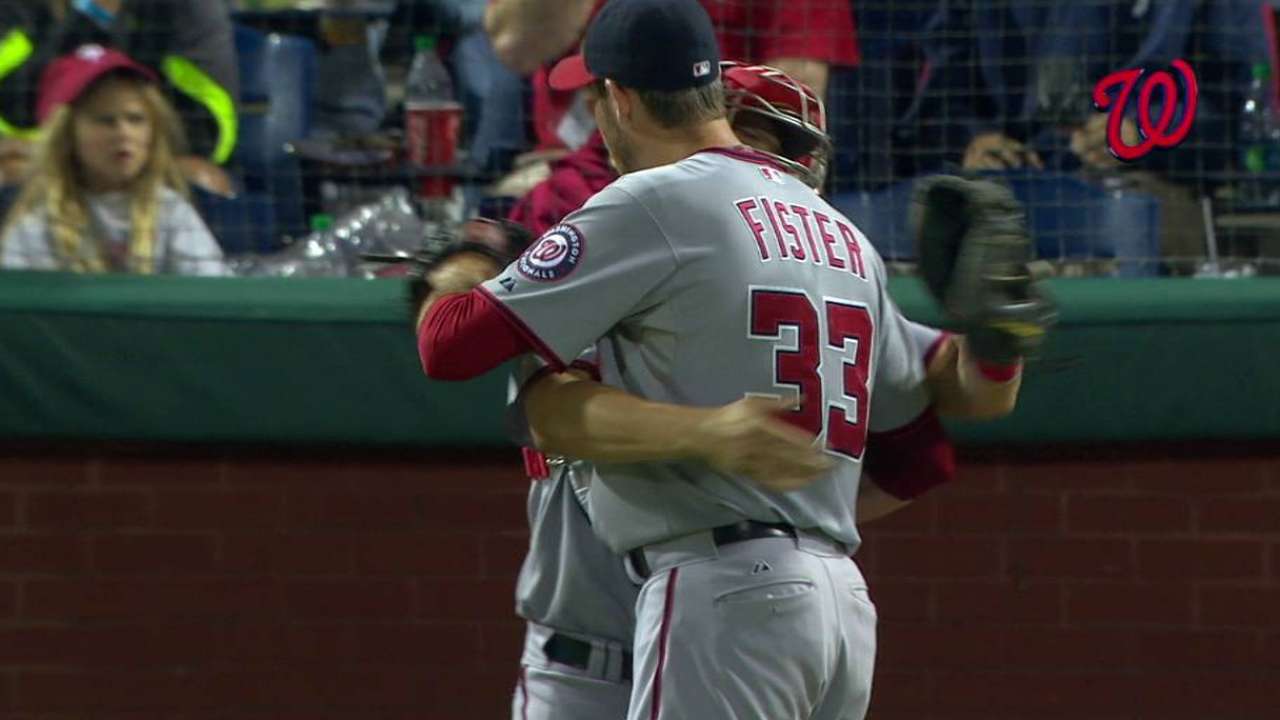 "It's nice to get him in a game," Williams said about Fister. "We held him a little bit in anticipation of Stras. We were making sure he was good. We didn't get to use Doug in the last series [against the Marlins], it was nice to get him in there tonight."
Even Papelbon was impressed with what he saw from Fister, who lost his job in the rotation in August.
"Doug pitched his [butt] off. That was awesome," Papelbon said. "A lot of people don't realize, that's hard to do when you are not getting the reps like everybody else. That's tough dealing for him to come in and [get outs]. Awesome job. Doug is a pro. He doesn't need anybody to help him."
Bill Ladson is a reporter for MLB.com and writes an MLBlog, All Nats All theTime. He also can be found on Twitter @WashingNats This story was not subject to the approval of Major League Baseball or its clubs.