Royals nominated for 15 Esurance Awards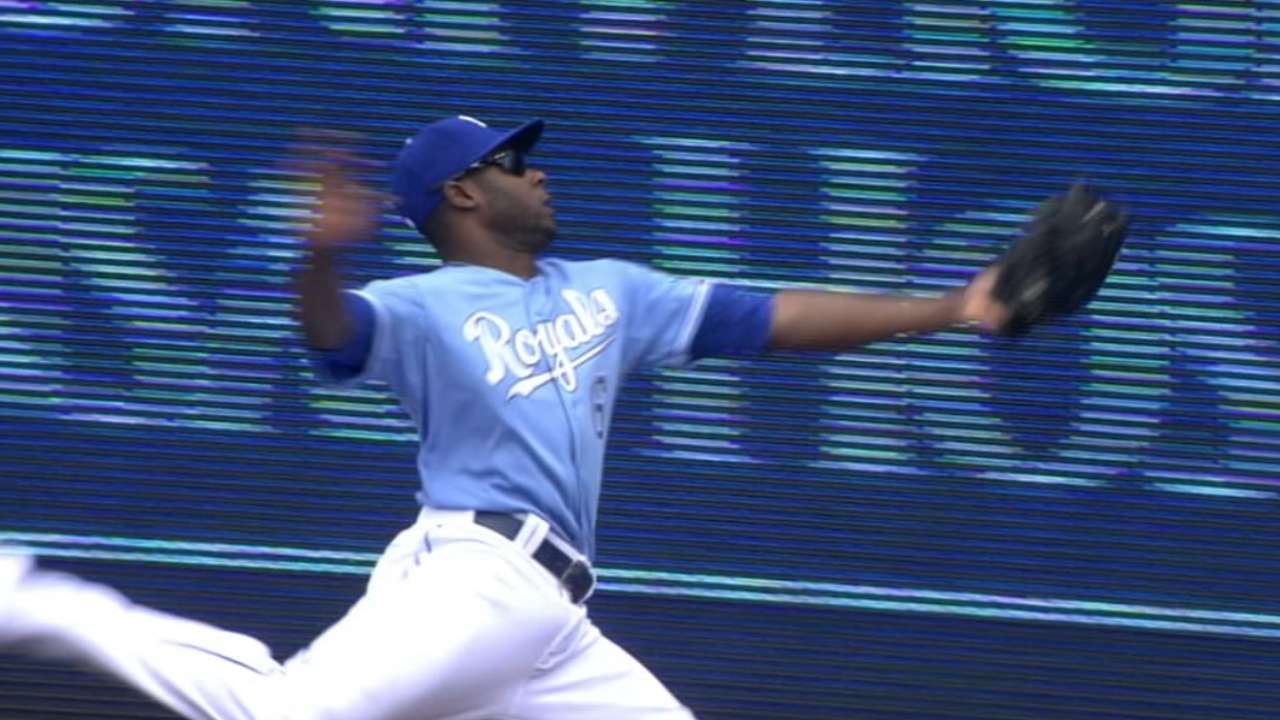 • Perez was nominated for Best Social Media Personality - he is always playfully teasing teammates on Instagram
• Morales was nominated for Best Performance for his three-homer, 15-total-base game against Detroit in September
• Alex Gordon was nominated for Best Defensive Play for his leap into the stands to catch a foul ball at U.S. Cellular in Chicago
• Johnny Cueto was nominated for Best Social Media Post after a photo was posted of him getting a Gatorade shower after a complete-game shutout win over Detroit
• Best Video Board Moment nominee went to a camera shot of former Royal Bo Jackson being spotted at a Royals game as the fans stood and cheered
• Paulo Orlando's postgame interview after he whacked a deciding homer was nominated for Best MLB Interview -- his wife and daughter flew in from Brazil and saw him play a Major League game for the first time.
Cain and Perez, one of the best defensive catchers in the game, also have both been nominated for the Best Defensive Player Award.
Cain, who hit .307 with 16 homers and 72 RBIs, has additionally been nominated for Best Breakout Player Award and for Best Play (Offense).
The play in contention is the game-winning run Cain scored from first base on Eric Hosmer's single to right field, helping clinch the American League pennant in Game 6 of the AL Championship Series against the Blue Jays.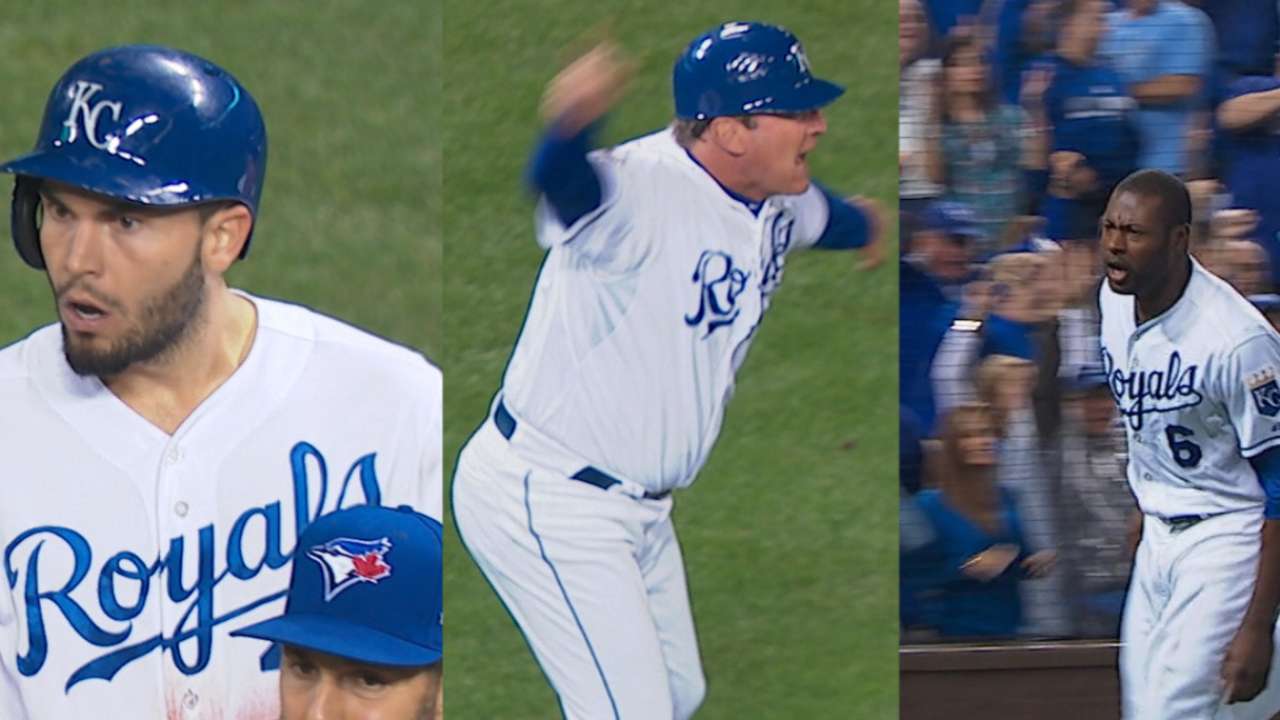 Madson, a right-handed reliever who hadn't pitched in the Major Leagues since 2012 before signing with the Royals last offseason, was nominated for the Best Bounceback Player Award. Madson had a 2.13 ERA in 68 appearances.
Morales, the Royals' DH, also was nominated for the Best Bounceback Player Award. After hitting just eight homers with 42 RBIs in 2014, Morales hit 22 homers with 106 RBIs and a .290 average this season.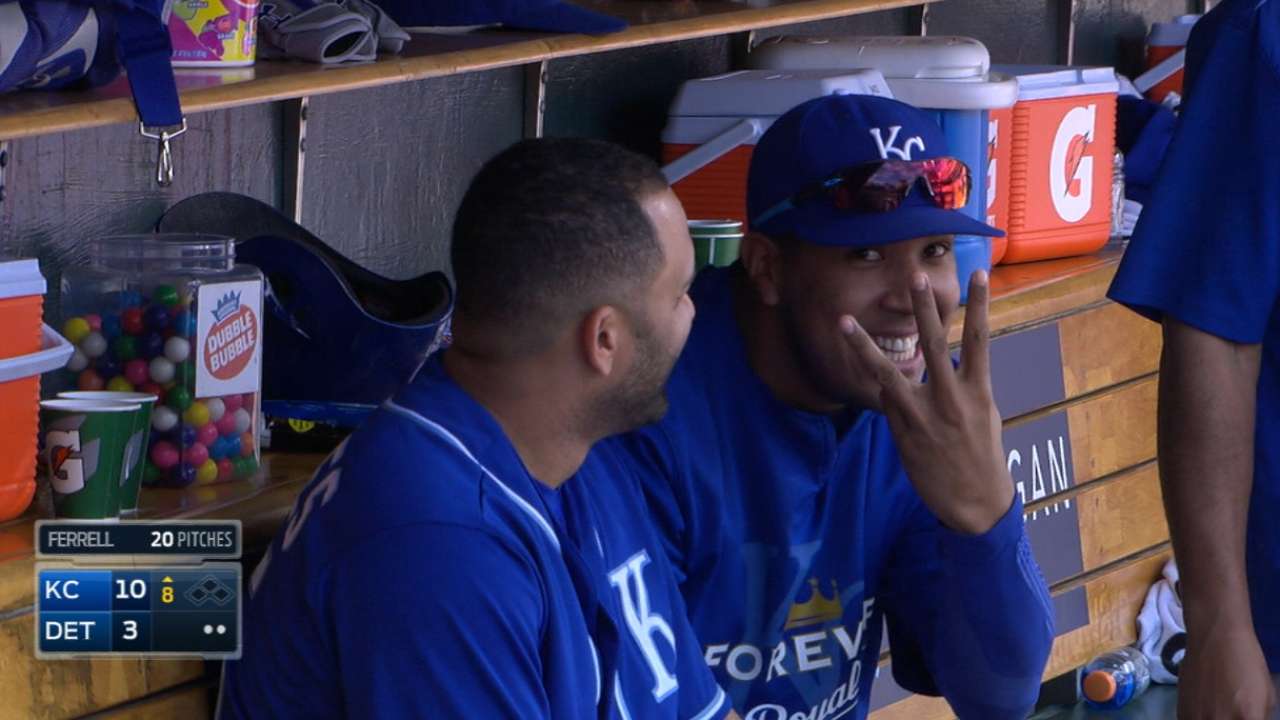 The Esurance MLB Awards annually honor Major League Baseball's greatest achievements as part of an industry-wide balloting process that includes five components, each of which accounts for 20 percent of the overall vote: media, front-office personnel, retired MLB players, fans at MLB.com and Society for American Baseball Research (SABR) voters.
Individual awards will go to the Best Major League player in addition to the winners in the following categories: The Best Everyday Player, Starting Pitcher, Rookie, Defensive Player, Breakout Player, Bounceback Player, Manager, Executive, Social Media Personality and postseason performer.
Winners will also be recognized for the year's best offensive play, defensive play, Moment, single-game performance, Social Media Post, Celebrity Fan, Fan Catch, Interview, TV call, radio call, Player-Fan Interaction, Video Board Moment and Trending Topic.
Voting ends tonight at 10:59 p.m. CT at MLB.com/awards. Winners will be announced live on MLB Network and MLB.com on Nov. 20.
Jeffrey Flanagan is a reporter for MLB.com. Follow him on Twitter at @FlannyMLB. This story was not subject to the approval of Major League Baseball or its clubs.