Teixeira nominated for Clemente Award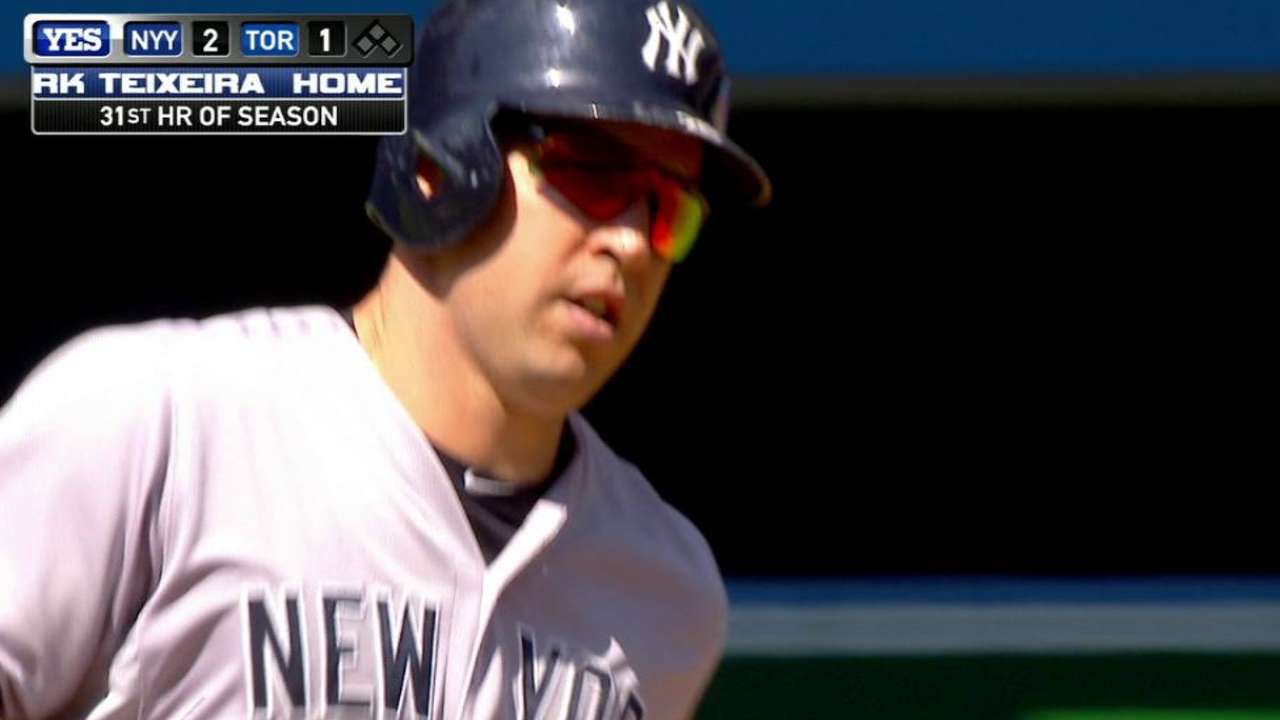 ST. PETERSBURG -- First baseman Mark Teixeira has been selected as the Yankees' nominee for the 2015 Roberto Clemente Award presented by Chevrolet, Major League Baseball announced on Monday.
Wednesday marks the 14th annual Roberto Clemente Day, which was established by Major League Baseball to honor Clemente's legacy. Teixeira is one of the 30 club finalists for the annual award, which recognizes a player who best represents the game of baseball through positive contributions on and off the field, including sportsmanship and community involvement.
The Roberto Clemente Award presented by Chevrolet pays tribute to Clemente's achievements and character by recognizing current players who understand the value of helping others.
Teixeira, who batted .255 with 31 home runs and 79 RBIs before sustaining a season-ending right leg injury last month, has been involved in charitable endeavors throughout his career. In 2006, Mark and his wife, Leigh, established the Mark Teixeira Charitable Fund, an initiative that awarded scholarships to students from multiple high schools in the Dallas/Fort Worth area.
In 2009, he served as a spokesman for the National Foundation for Cancer Research through the organization's "Help Strike Out Sun Damage" program. He also endowed a scholarship at his alma mater, Mount St. Joseph High School in Baltimore, to honor his friend, Nick Liberatore, who passed away in a car accident while the two were in school together.
The Mark C. Teixeira Athletic Scholarship Fund was established at Georgia Tech, where he attended college, and Teixeira has been an avid supporter of Harlem RBI, a nonprofit organization in East Harlem, N.Y., that provides more than 1,700 boys and girls with year-round academic, sports and enrichment programs.
In 2010, he became a member of their board of directors, and made a donation of $100,000 to the organization's college preparation program. In 2011, he was honored at Harlem RBI's "Bid for Kids" gala, which helped raise $2.25 million. Since then, Teixeira has chaired the event each of the last four years as it has raised a combined $14.8 million.
In 2011, he donated $1 million to Harlem RBI and launched his own "Dream Team 25" campaign to call on his fans to raise additional funds for its partnership with DREAM charter school to construct a 450-seat public charter school facility, community center, 87 units of low-income housing and a rebuilt public park.
The Yankees are scheduled to celebrate Teixeira's nomination with an on-field ceremony on Sept. 24, prior to the club's 7:05 p.m. ET game vs. the White Sox.
Bryan Hoch is a reporter for MLB.com. Follow him on Twitter @bryanhoch, on Facebook and read his MLBlog, Bombers Beat. This story was not subject to the approval of Major League Baseball or its clubs.