Phillies enjoy giving Papelbon a blown save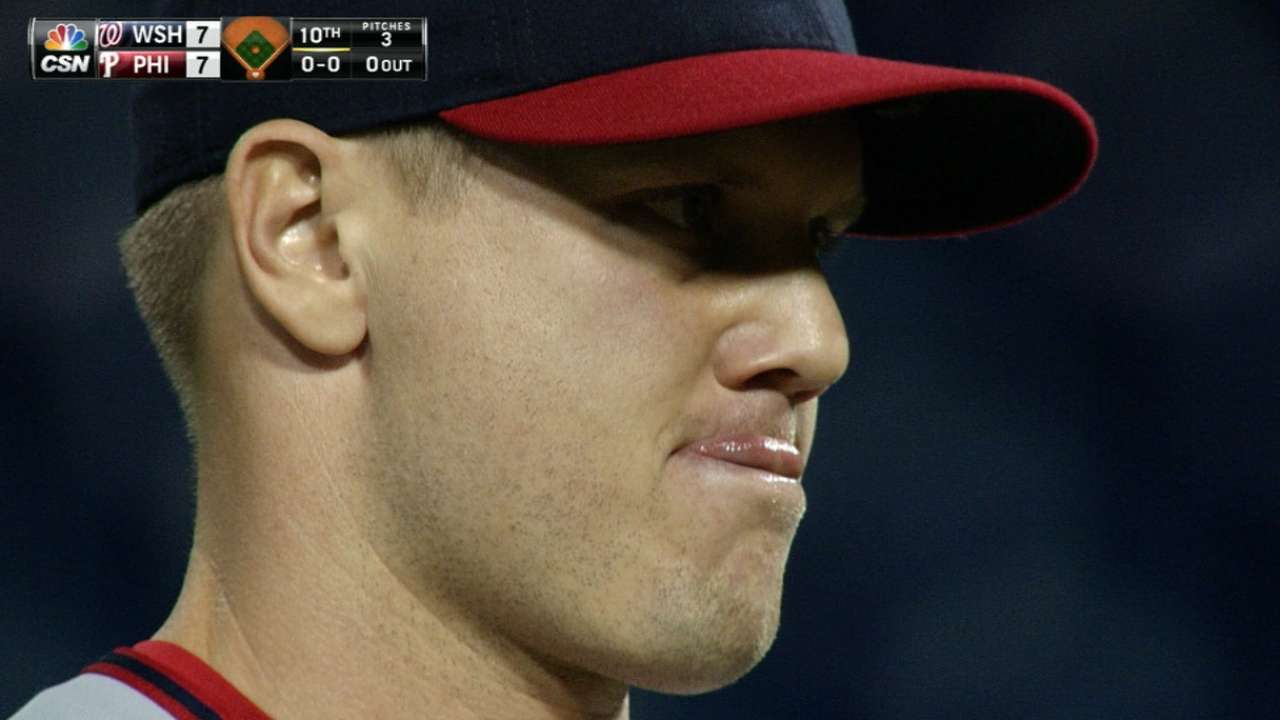 PHILADELPHIA - Jonathan Papelbon heard some boos as he left the bullpen Monday night at Citizens Bank Park.
No surprise there. He heard boos from Phillies fans before, but previously he heard them while he wore the home team's uniform.
Papelbon faced the Phillies for the first time since they traded him to the Nationals in July. He allowed a game-tying home run to Freddy Galvis in the 10th inning to blow his first save in exactly a year, when he infamously made a lewd gesture in front of Phillies fans to earn a seven-game suspension. But Washington scored a run in the 11th inning to win, 8-7.
Papelbon blew the save, but he got the win.
"I've done that plenty of times in my career," Papelbon said. "I'm very familiar with that situation. But at the end of the day you play to win the game. Regardless of how it unfolds, you win the game it's a good day at the office."
But the Phillies acknowledged it felt sweet the moment Galvis laced a 1-1 splitter over the right-field wall to tie the game.
"Absolutely," Phillies outfielder Jeff Francoeur said.
"For sure," third baseman Cody Asche said. "One hundred percent."
Especially after some pointed comments Papelbon made about the Phillies before the game. He told reporters that "I was far [from] the bad guy on this [Phillies] team. I was one of the few that wanted to actually win and I was one of the few that competed and posted up every day."
Francouer is one of the only veterans on the team. And even though he has played for the Phillies for just one season, he defended his teammates.
"I haven't heard exactly what he said to make enough of a comment, except that I completely disagree with that," he said. "If you're in here, you see guys working. To say guys don't post or know how to win around here, I mean, I came here as a visiting player for a lot of years and they beat us just fine. That wasn't the right statement."
Papelbon is prone to saying controversial things, whether or not they are based in reality.
"I'm sure he's frustrated where they're at," Francoeur said. "He got traded from here and we've had more save opportunities here for Kenny [Giles] now, you know? Like I said, I'm sure he's frustrated that he got traded over there and they're not going to probably go to the playoffs. So he's upset. But I mean, the city gave him a great contract and gave him a lot of money. That's his business what he wants to say, but I think you ask any guy in here with this organization they know how to win. It's just a tough time right now."
Papelbon in the 10th hit Aaron Altherr with a pitch with one out and Darin Ruf reached on an error to put runners on first and second. Francoeur crushed a ball foul to left in the following at-bat. He eventually hit a ball to right with Bryce Harper making a nice catch in the corner for the second out.
"I wanted to win that one quite bad," Francoeur said.
Todd Zolecki is a reporter for MLB.com. Read his Phillies blog The Zo Zone, follow him on Twitter and listen to his podcast. This story was not subject to the approval of Major League Baseball or its clubs.