Cespedes named NL Player of the Week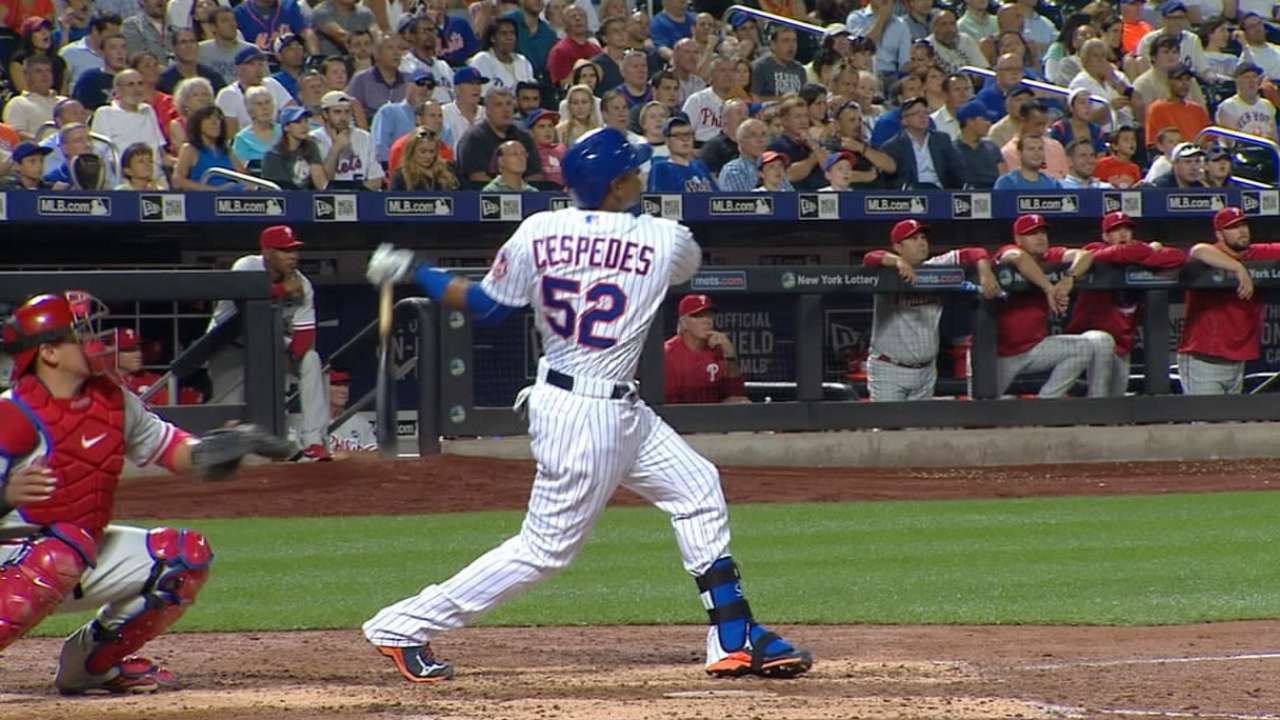 Yoenis Cespedes was recognized for a torrid stretch of hitting Monday when he was named the National League's Player of the Week. The Mets' power-hitting outfielder led all Major League hitters with 12 RBIs and 26 total bases last week, and his four home runs were tied for the most by any hitter.
The 29-year-old Cespedes batted .345 (10-for-29) and registered a NL-best .897 slugging percentage last week, and he helped lead the Mets to a 7-0 record. Cespedes had a home run and two RBIs on Sunday, and his career-best 102 RBIs is tied for fourth-most in the Majors.
Cespedes had three hits and a home run in the Mets' 5-1 win Friday, and he's had 54 multi-hit games this season. New York swept division rival Atlanta last week, and Cespedes went .429 (6-for-14) with two home runs, three doubles and seven RBIs. The veteran has 16 homers and 41 RBIs in his first 40 games with the Mets.
"The only guy I can compare it to closely would be how Barry Bonds would get on a run," Mets manager Terry Collins said. "What this guy was doing on the road, every time he stepped up. If we need production, he did it
"I just know there are special guys. When they're on the big stage, when you ask them to come through, they come through. And he's one of those guys. It just seems like he rises to the occasion when you need him. We're fortunate that he's here, and that we got him hot at the right time."
According to the Elias Sports Bureau, he is just the second player since 1920 to reach 15 or more home runs and to be at least 40 within his first 40 games with a new team. The only other player was Hank Sauer in 1949, who hit 15 homers and 47 RBIs in his first 40 games with the Cubs following a trade.
Spencer Fordin is a reporter for MLB.com. This story was not subject to the approval of Major League Baseball or its clubs.