Carrasco is Tribe's nominee for Clemente Award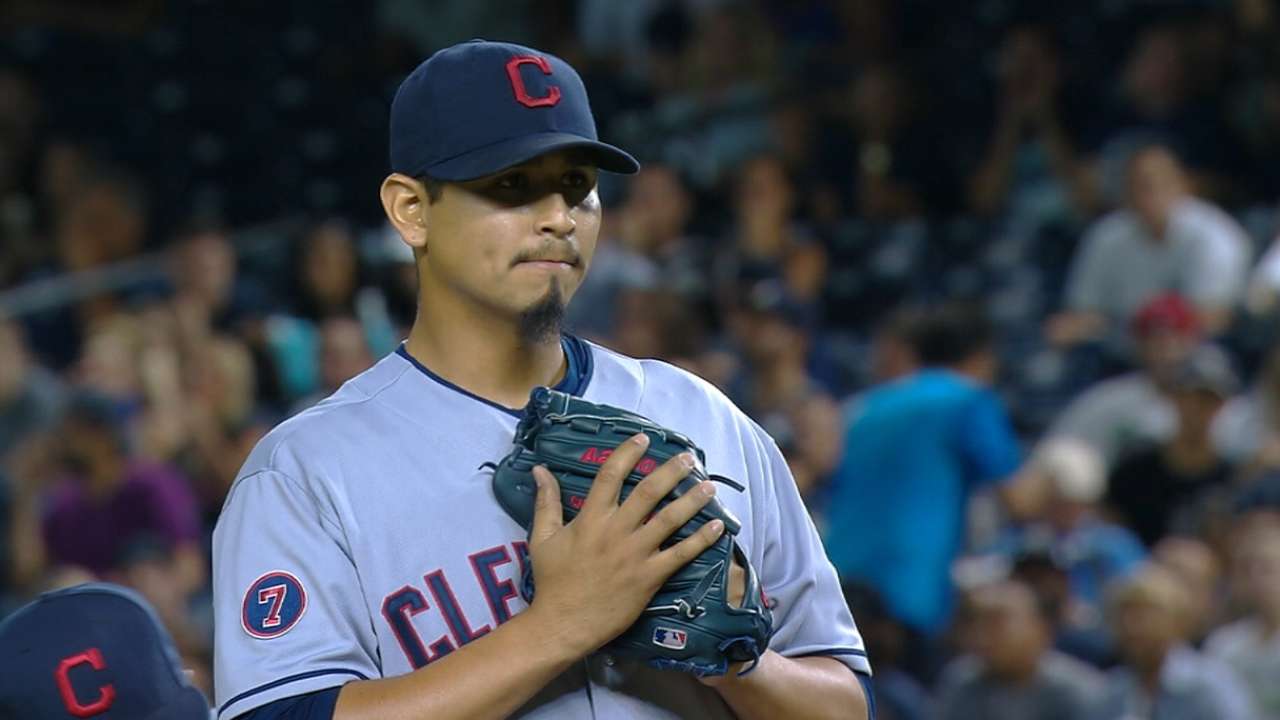 CLEVELAND -- When Carlos Carrasco's emergence on the field last year led to a four-year extension in the offseason, the Indians' right-hander vowed he would commit himself to making an impact off the field in the Cleveland area.
The first year of Carrasco's efforts were rewarded on Monday, as he was named the Tribe's nominee for the prestigious 2015 Roberto Clemente Award, presented by Chevrolet.
Some of the ways Carrasco helped the community this season included visiting children at the Luis Munoz Marin school, where he stressed the importance of reading, visiting Indians Youth Baseball summer camps to teach children the fundamentals of the game, and meeting with students at Oberlin College learning Spanish as a second language to detail his challenges in speaking his native tongue in a new country.
"I'm going to be here for six years, and I just want to bring the community together as much as I can," Carrasco said. "It makes me feel good, going to the school to read some books and talk to the kids. It's really great."
Carrasco and his wife, Karelis, remain active, through Cleveland Indians Charities, in finding new ways to benefit their community.
"I'm never going to stop doing that," Carrasco said.
Major League Baseball honors the legacy of Clemente, who died in a plane crash on New Year's Eve 1972 while attempting to deliver supplies to earthquake victims in Nicaragua, each year on Sept. 16. His award, created in 1973, recognizes a player who best represents the game of baseball through his on- and off-field contributions in sportsmanship and community involvement.
Beginning on Wednesday, fans can help select this year's winner by visiting ChevyBaseball.com, powered by MLB Advanced Media, to vote for one of the 30 club nominees. Voting ends on Oct. 9, and everyone who votes is automatically registered for a chance to win a trip to the 2015 World Series, where the Roberto Clemente Award presented by Chevrolet winner will be announced.
Last year's co-winners were Paul Konerko and Jimmy Rollins. The last Indians player to win the award was Jim Thome, in 2002.
August Fagerstrom is an associate reporter for MLB.com. This story was not subject to the approval of Major League Baseball or its clubs.