Inbox: Does rough stretch have Fredi in hot seat?
Beat reporter Mark Bowman answers Braves fans' questions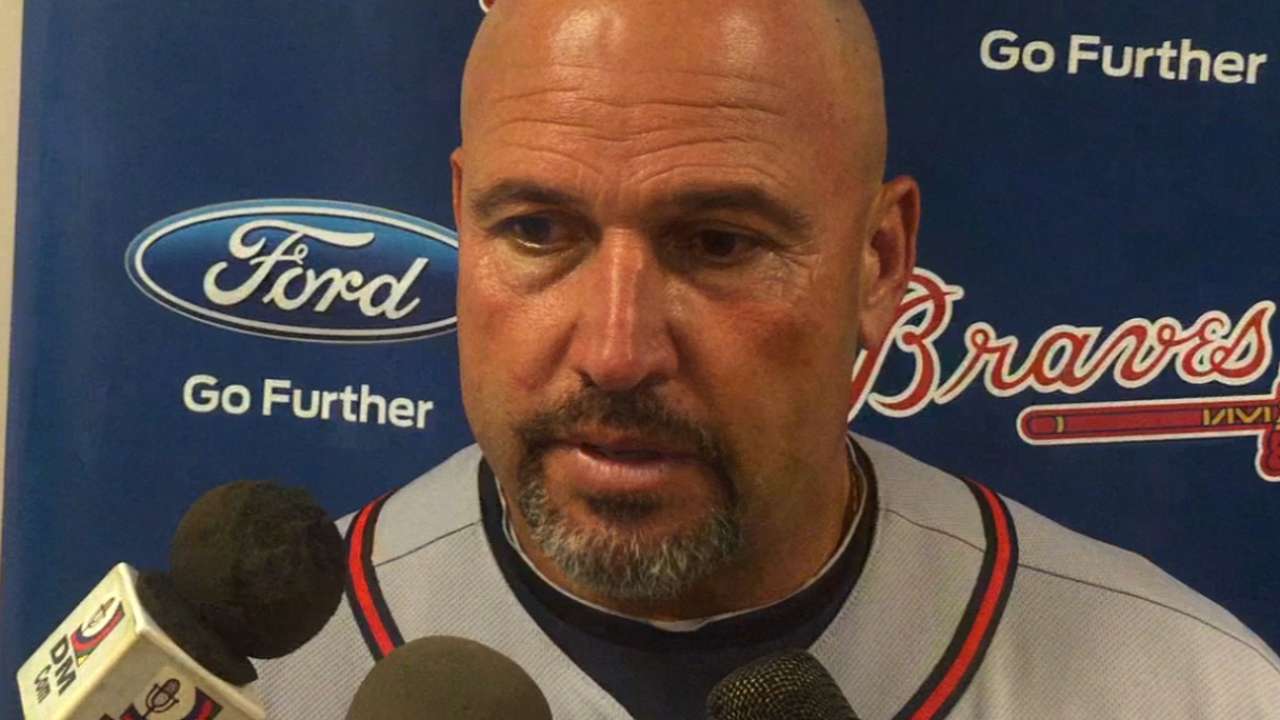 With a recent report that players are frustrated with manager Fredi Gonzalez, do you think he could be in the hot seat, despite the extension he was given?
-- Tyler G. Shongaloo, La.
When you evaluate what the Braves have done since this extension was announced immediately after the All-Star break, remember the timing was not coincidental. Gonzalez had created some confidence as his club overachieved while splitting this season's first 84 games. More importantly, club officials knew the season's second half might get ugly once they traded a handful of veterans away by the end of July.
Nobody anticipated that the Braves would go through anything as miserable as their current 3-24 stretch. But a losing record in the second half was certainly expected. So instead of extending their commitment to Gonzalez at the end of this season, the club took advantage of a chance to do so at a more appropriate time.
During the two weeks that followed the break, Atlanta traded Kelly Johnson, Juan Uribe, Jim Johnson, Luis Avilan and Alex Wood off its active roster. The only Major League-ready return the club has received from those trades so far is Hector Olivera, who missed all of August and has spent the past two weeks trying to acquaint himself with big league competition.
Over the past couple of months, the Braves' rotation has included four rookies (Mike Foltynewicz, Matt Wisler, Williams Perez and Ryan Weber) who have all shown signs they aren't quite MLB ready. The hodgepodge bullpen includes two members with a legitimate shot at being a part of Atlanta's 2016 Opening Day roster.
I thought I'd go to the grave believing that the Braves' 2008 pitching staff was the worst I've ever covered. But this year's group has me longing for the days of Jorge Campillo and Jo-Jo Reyes.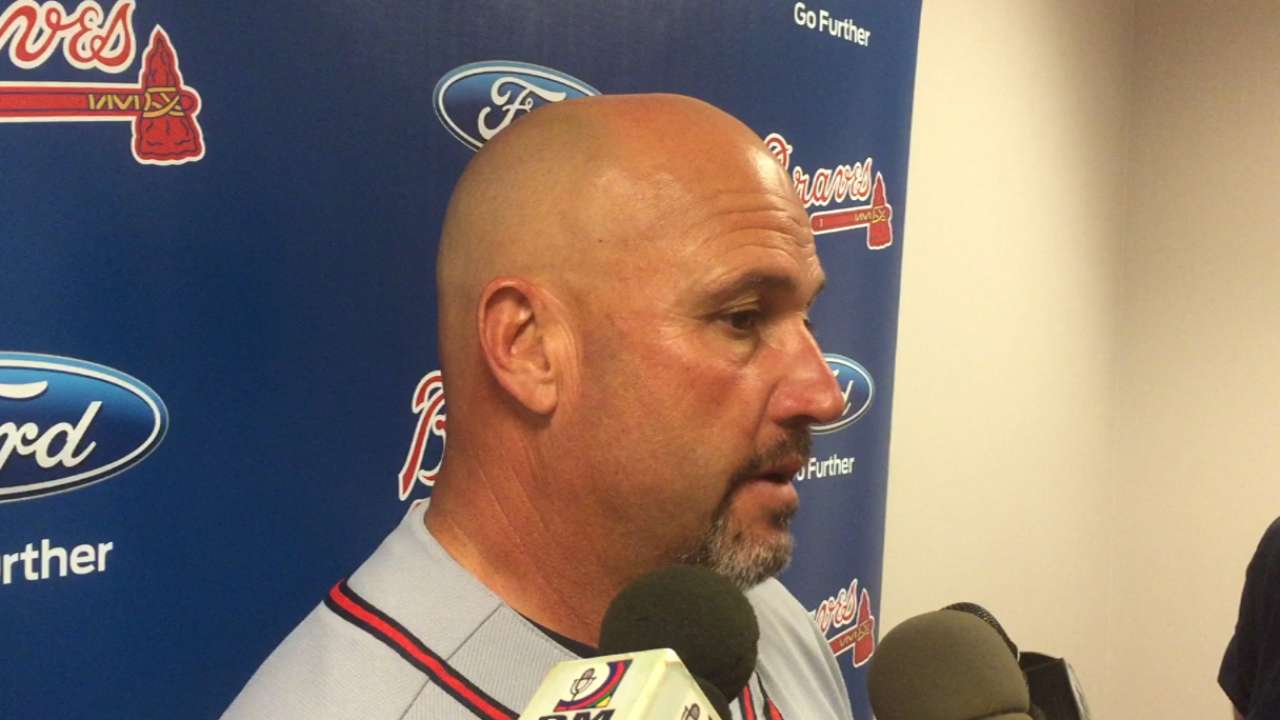 When a team loses in the manner that the Braves have, it is easy to watch from afar and say things like, "The team has quit," and "The manager has lost the clubhouse." It would have been much easier to make these arguments about last year's team, which was dead during the final couple of months.
You can be upset with Gonzalez about the way in which 2011 concluded or the way the 2014 team stumbled down the stretch. But given the lack of talent that exists in Atlanta's clubhouse down the stretch this season, it is unfair to evaluate his performance based on what the Braves have done since the All-Star break.
How big of a concern is the bullpen moving forward? Will Foltynewicz get reps at closer in the future?
-- Michael C., Smiths Station, Ala.
The Braves have approximately $25 million to $30 million to spend this offseason, and a significant chunk of this money will be aimed toward rebuilding the bullpen. Arodys Vizcaino has shown he is capable of filling a late-inning role, and Daniel Winkler will likely be part of next season's relief corps, because he was a Rule 5 Draft selection. Though he is the experienced version of Winkler, Peter Moylan also has to be considered a candidate to return.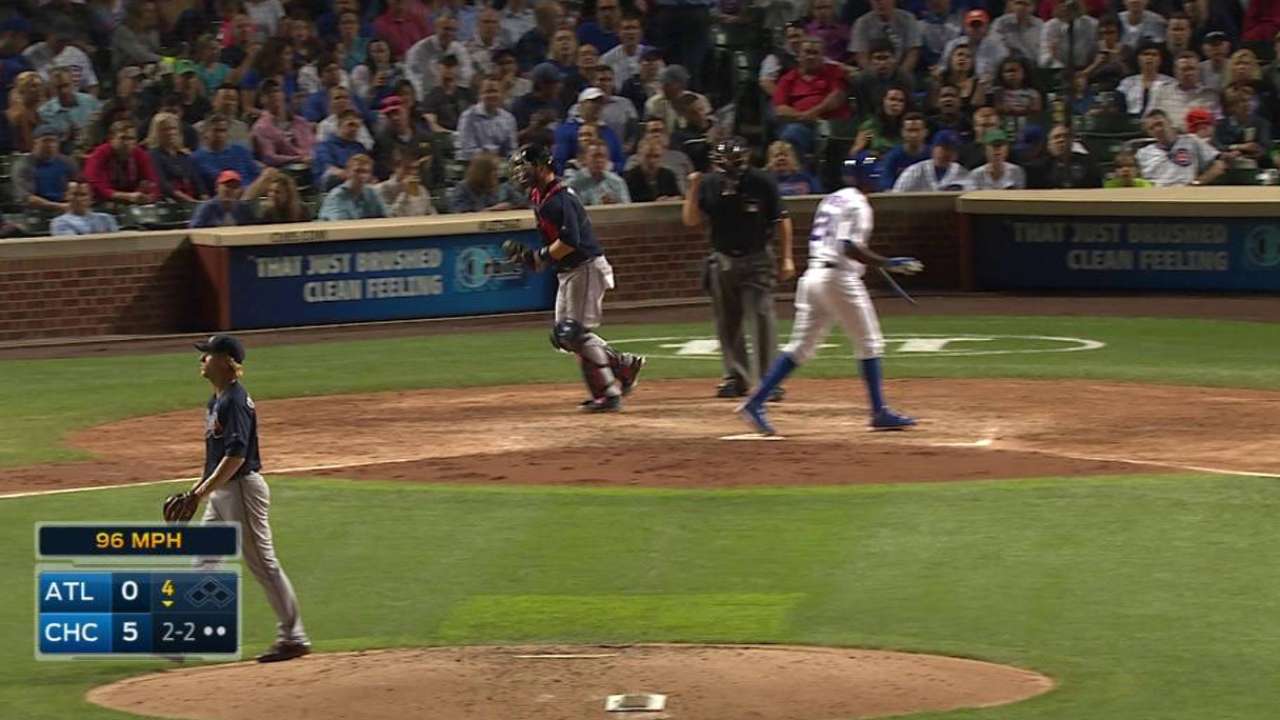 With Jason Grilli, Paco Rodriguez, Shae Simmons and Chris Withrow, Atlanta has a few more candidates to choose from based on how each of these pitchers returns from injury.
As for Foltynewicz, the easy solution is to simply put him in a late-inning role and watch him flourish. But the Braves have not yet given up on the possibility that his power repertoire could work as a starter.
Given the uncertainty surrounding some of these 'pen candidates, Atlanta has made it clear that acquiring proven relievers will be a priority this winter.
Are the Braves going to go after a big arm like Johnny Cueto during the offseason?
-- Andrew D., Atlanta
There has been no indication that the Braves will be targeting Cueto or any of the other high-profile starting pitchers on the 2016 free-agent market. But there might be a need to at least add some experience and leadership to a rotation that could be rather young again next year.
Shelby Miller and Julio Teheran are the most likely returnees to next year's rotation, and neither of them will celebrate their 25th birthday until this season concludes. None of the other internal candidates -- Wisler, Foltynewicz, Perez or Tyrell Jenkins -- has more than a few months of experience in a Major League rotation.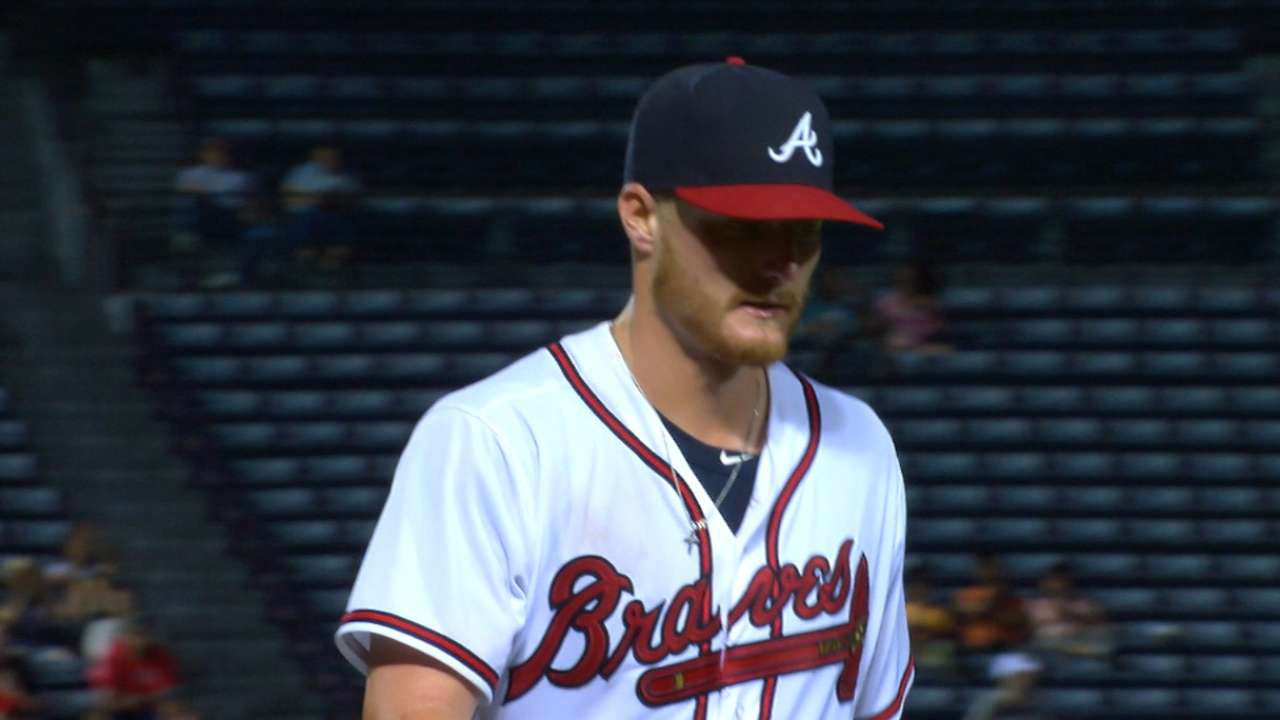 Who do the Braves plan to use as their catcher next season?
-- James T., Nashville, Tenn.
Christian Bethancourt has obviously fallen out of favor, and there is certainly reason to believe the Braves will attempt to trade him this offseason. But at the same time, you have to wonder if they'll be willing to accept dimes on the dollar in exchange for him.
Still, regardless of whether Bethancourt is traded, Atlanta will be looking at options to be its primary catcher. Jonathan Lucroy would be a top target, but the Brewers have shown no desire to trade him. Matt Wieters will be available via free agency, but his cost and durability could be an issue.
The Braves would like to bring A.J. Pierzynski back to serve in a backup role next year. But as they look for a primary catcher, they might be more likely to target Chris Iannetta than Wieters.
Mark Bowman is a reporter for MLB.com. This story was not subject to the approval of Major League Baseball or its clubs.