New ballgame: Kang, Bucs proving perfect fit
Korean star's assimilation to American culture, MLB a product of meticulous preparation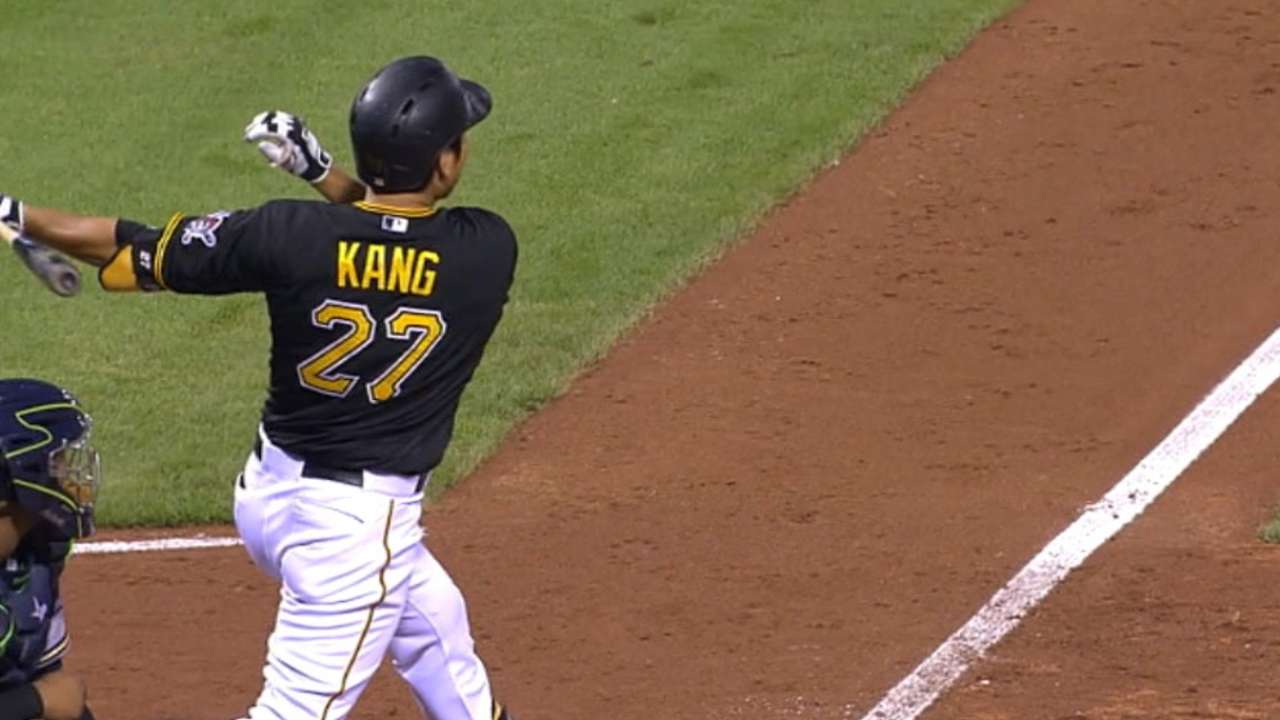 PITTSBURGH -- It was late August in the visitors' clubhouse at Marlins Park, and Jung Ho Kang was sitting alone, in the middle of a row of three leather chairs, playing a game on his smartphone. Pirates manager Clint Hurdle eased into the seat to Kang's left, put his arm around the 28-year-old South Korean and chatted with him for five minutes, just making conversation.
Nobody has ever made the same leap as Kang, the first position player to move straight from the Korea Baseball Organization to the Majors. Nor has any team attempted to guide such a transition. Hurdle did so the only way he knew how.
"We started with the Golden Rule: Treat others as you'd want to be treated. That's where I went with it," Hurdle said. "If I was this guy, how would I want to be treated?"
When Kang (pronounced "Ghang") arrived at Pirate City in Bradenton, Fla., back in February, he was shrouded in mystery, a virtual unknown beyond his gaudy KBO statistics. Two questions would shape his future in the Major Leagues: Will he hit? Will he fit in?
A star in his native South Korea, Kang is a confident man, but even he had no idea what to expect.
"I was also curious about myself coming into this season," Kang said through his interpreter, H.K. Kim. "It was my first season here, so ... mysterious? I had that, too, for myself."
So far, Kang has fit in just fine, and he has hit even better. He has been one of the National League's best rookies, adapting well to American baseball culture and becoming one of the Bucs' most valuable players.
"Any time there's a first, there's unknown. We believed in the diligence that we'd done that he would be a very good player," general manager Neal Huntington said. "He's gone out and done everything we could have asked him to do, and more."
If Kang was a mystery, the Pirates set out to solve it with few clues, building a model with no blueprint. But for as many questions as Kang and the Bucs have answered, one remains: How have they done it?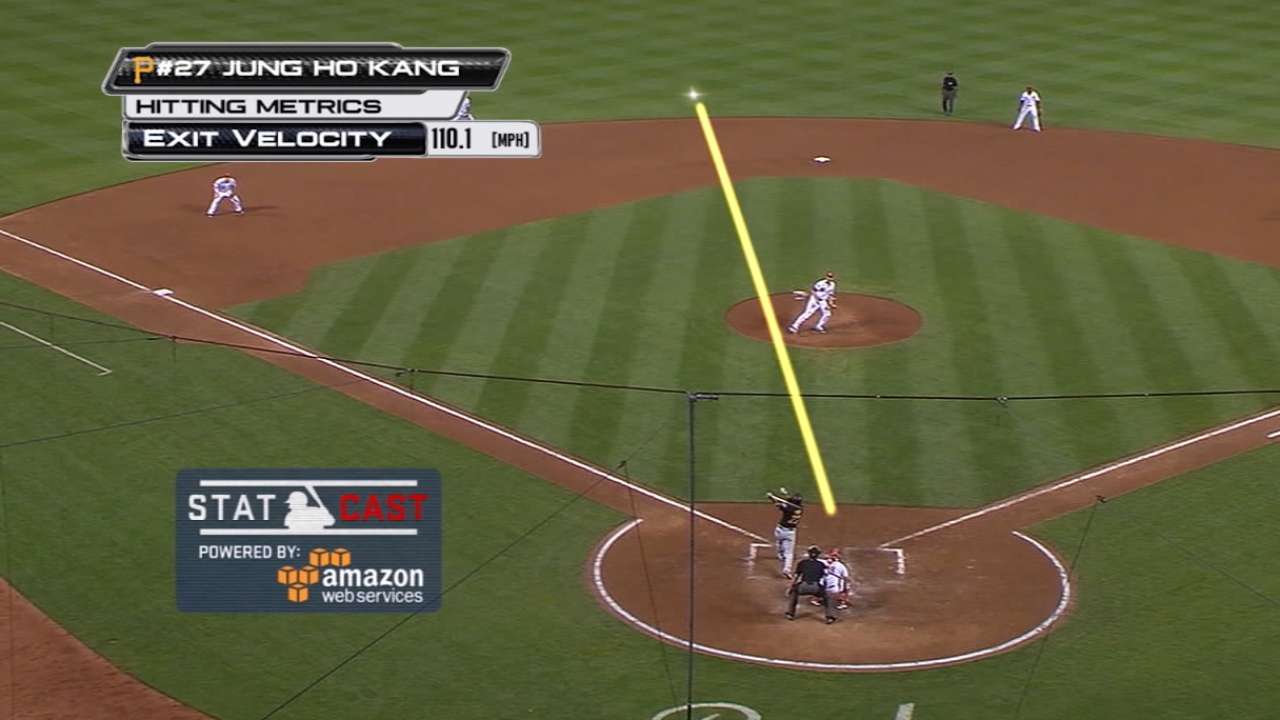 Will he hit?
Hee-Seop Choi was the first South Korean hitter in the Major Leagues, and Shin-Soo Choo was the first to experience sustained success. But both came through the American Minor League system. Kang took an entirely new path, coming to the Majors straight from the KBO's Nexen Heroes.
The Pirates had multiple scouts see Kang in person. They watched hours of video. They spoke with plenty of people in South Korea -- including his opponents -- to gather background information. And they created a model, essentially from scratch, to determine how Kang's KBO numbers (.356 average and 40 home runs in 2014) would translate to the Majors.
In the end, they won the bidding for Kang with a $5 million posting fee, and they signed him to a four-year, $11 million deal. Then the work really began.
The Bucs knew Kang was a talented hitter with impressive raw power, and they knew he could hold his own at both shortstop and third base. But the MLB game is quicker. The rosters and pitching staffs are deeper. The schedule and travel are more demanding. There's more media coverage. Kang was arguably the best player in his league, but that wouldn't be the case here.
The Pirates wanted him in Pittsburgh, learning the ins and outs of life in the Majors. So they introduced him as a role player, allowing him to get comfortable and soak up as much information as possible.
"It helped me a lot. It definitely made me comfortable," Kang said. "It made me work harder."
Due to his performance and the team's injuries, Kang eventually started to receive more regular playing time, and he's only gotten stronger down the stretch, batting .316 with a .939 OPS in the second half.
"I think it's worked out well. He's continued to find different ways to answer the challenges that have come his way," Hurdle said. "He's been fun to watch."
With a .290 average and an .826 OPS, Kang has been worth 4.2 wins above replacement, tied with Starling Marte for second on the playoff-bound Bucs (behind only Andrew McCutchen). How has he made such a smooth on-field transition?
"Baseball is baseball," Kang said, "regardless of where you go."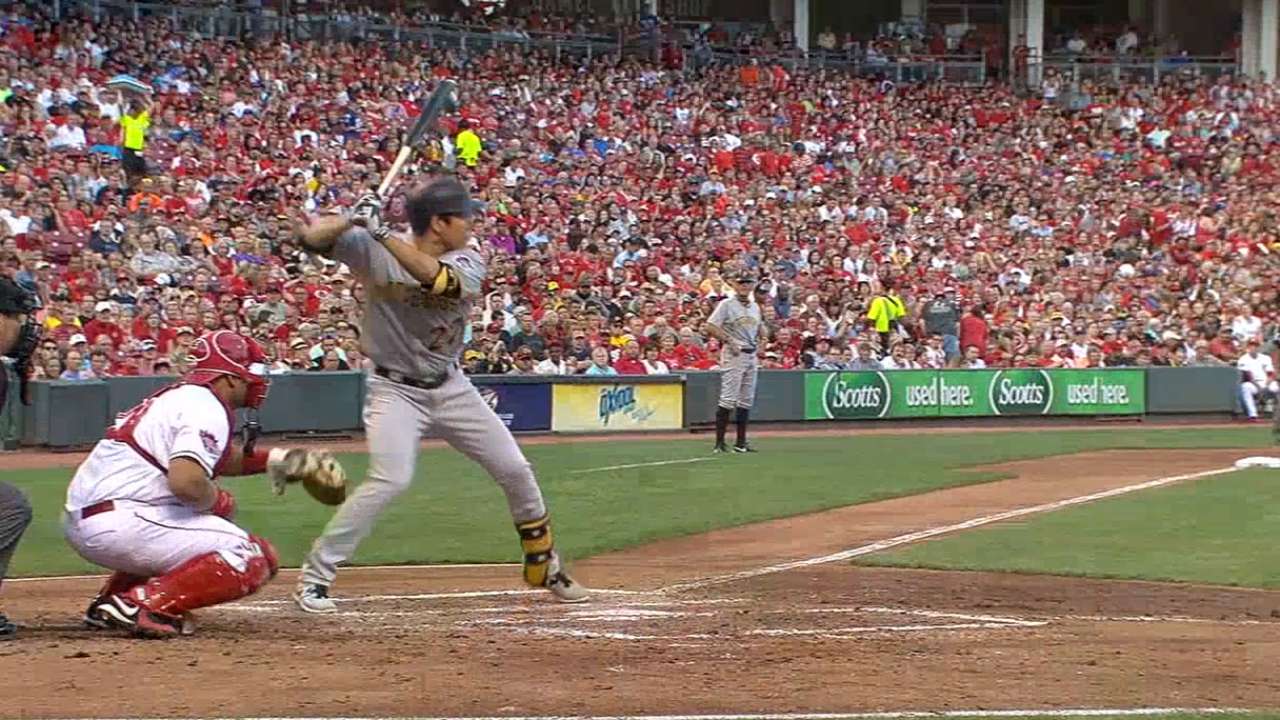 Will he fit in?
Life in South Korea is not life in America, of course, and the Pirates were more concerned with Kang's acclimation off the field. How would he handle the language barrier, the food, the clubhouse, being so far away from home?
"As we've said from Day 1, the most important part of the signing was the transition program to get him culturally as comfortable as we possibly could," Huntington said.
That's where Hurdle's Golden Rule philosophy comes into play. The Bucs tried to think about the adjustment from Kang's perspective, and they worked closely with Alan Nero, Kang's agent, to understand what Kang needed to get comfortable.
Kang's family has come to see him twice since the regular season began. He admits that he misses his friends and Korean food, but communication has been the toughest challenge. In that regard, Kim has been a big help. Whereas most foreign rookies would simply have an interpreter assigned to them by the team, Kang played a significant role in selecting Kim.
"There are things in this world where you take a step back and go, 'Why haven't we thought of this a long time ago?' That was certainly one of them," Huntington said, crediting Nero for the idea. "They're going to be together a lot. Rather than forcing a connection, have him involved in the process."
Kim translates Kang's interviews with the American media, assists him away from the ballpark and helps him communicate with his teammates. He's in the dugout for every game, bridging the gap between Kang and Pittsburgh's coaching staff in discussions about mechanics, cultural differences, routines and whatever else.
"It's a guy both of us have to trust," Hurdle said of Kim. "He truly is a part of this as well. … He's a Pirate."
Kang and Kim have both been welcomed into the clubhouse. After each of Kang's 15 home runs, the Pirates have greeted him in the dugout with a special hand gesture, simultaneously pumping both fists.
"[Kang's] personality is a lot like the other guys. He's very loose and likes to joke around, likes to have fun, knows when to turn it on and to turn it off," said Sean Rodriguez, whose locker at PNC Park sits between Kang and Kim. "You can tell how his experience [in Korea] definitely plays here."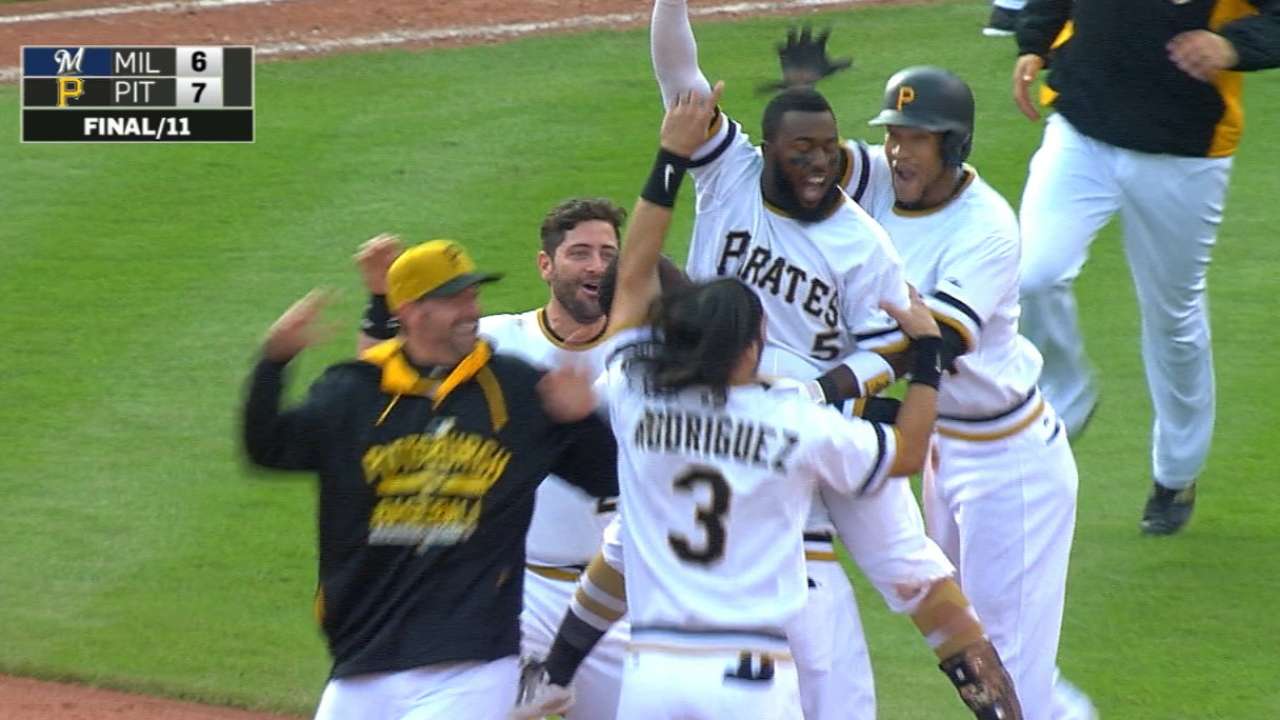 We are family
The Golden Rule mentality extends beyond the players and Hurdle to the manager's 10-year-old son, Christian. Observing Kang sitting alone during Spring Training, Christian thought he needed someone to talk to, no matter the language or age difference.
Kang quickly became one of Christian's favorite players. Three and a half hours before a Sunday night game against the Giants at PNC Park, there was Kang sitting at his locker, intensely playing "Fruit Ninja" on an iPad against young Christian, who wore a No. 27 Kang jersey.
"It's tough to explain everything in words, how much support I've got," Kang said of his manager. "But we talk a lot."
Hurdle has tried to pick up a few Korean phrases, while Kang's English is coming along. Ask him how his classes are going, and he'll cheerfully answer, "Good." He tries to fit in a lesson before every home game, and he's picked up a few things from his teammates along the way. He's even learned a little Spanish, thanks to Rodriguez and some of his Latin American teammates.
"They're all great people, happy, passionate," Kang said of his teammates. "It was natural for me to blend in in that atmosphere."
It didn't seem like it would be so natural -- not at first, anyway. There was no precedent for the Pirates' investment or Kang's leap of faith -- nor the success they've found together.
"It's just been a great group effort to help this man make a challenging transition," Huntington said. "But at the end of the day, it's all him. … It's just truly remarkable."
Adam Berry is a reporter for MLB.com. Follow him on Twitter at @adamdberry. This story was not subject to the approval of Major League Baseball or its clubs.