MLB.com Columnist
Bernie Pleskoff
Scouting profile: Tyler Glasnow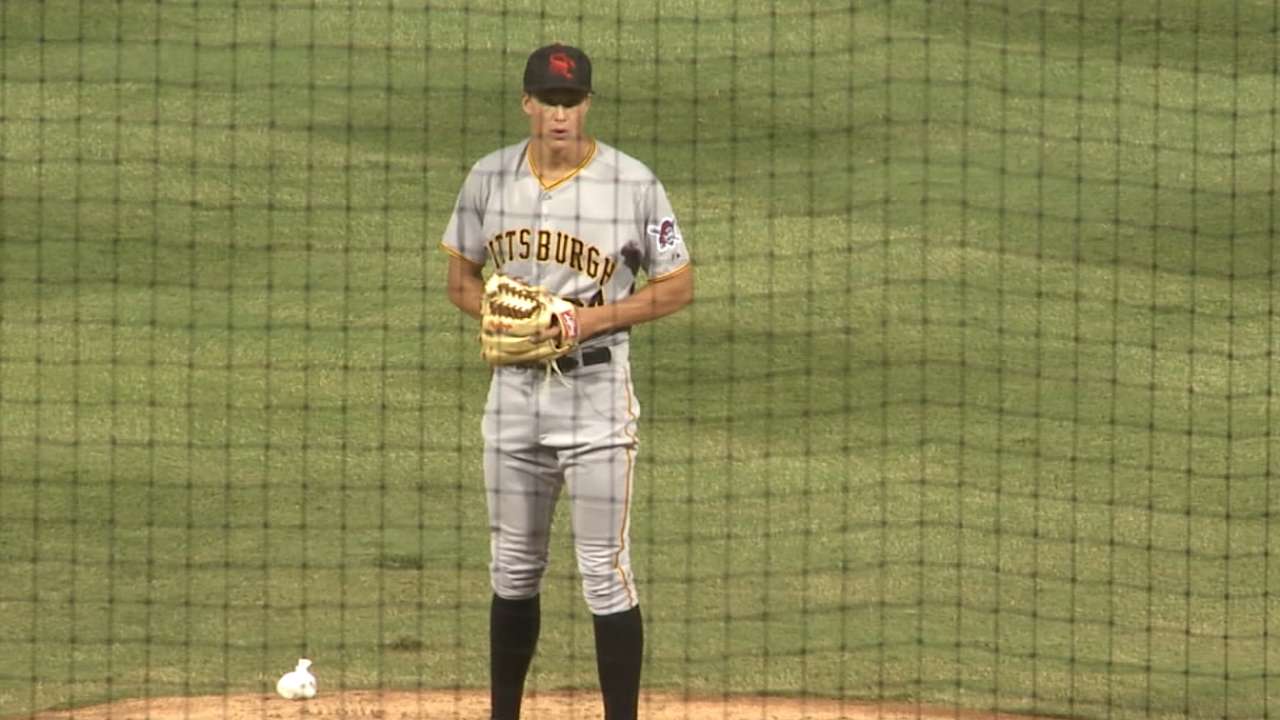 Background
Tyler Glasnow is a 6-foot-8, 225-pound right-handed starter. He's the No. 1 prospect in the Pirates' organization. When he has his good command and control, Glasnow can be a dominant starting pitcher.
Glasnow was a pitcher at Hart High School in Santa Clarita, Calif. He grew six inches prior to his junior year, and 11 inches between his freshman and senior years. Glasnow has grown an additional two inches, has gained poise and command as a pitcher and has solidified a place as a major factor in Pittsburgh's future starting rotation.
Instead of attending college at the University of Portland, Glasnow became the fifth-round selection of the Bucs in the 2011 Draft.
Repertoire
Glasnow has three effective pitches. His base is a 95 mph four-seam fastball that he throws downhill from his huge frame. Glasnow also has a wicked curveball that serves as a wipeout pitch that can yield swings and misses. His third pitch is an emerging changeup. The 78 mph curve changes the eye level and balance of the hitter. The almost 20 mph differential between his fastball and curve is overwhelming to some hitters. When Glasnow finishes his delivery, his arm extension and stride make it look like he is almost standing atop the hitter.
Mechanics
Glasnow has a quick arm and huge hands. He hides the ball well and can get a terrific grip on any of his three pitches. Glasnow simply overpowers hitters with his size and the movement on his pitches.
Glasnow has those large arms and legs to get through his delivery. He works quickly and almost turns a half-circle in his windup. Glasnow consistently lands towards the first-base side of the rubber. He uses a high leg kick and a very long stride.
Glasnow is learning to repeat his delivery fairly well, using a three-quarters arm slot with very long extension at his release point.
Strengths
Glasnow has the size, strength and repertoire to dominate hitters. He mixes his pitches well, and his control and command are getting better with experience and maturity. A sprained ankle this year cost Glasnow a bit of development time.
Aggressive on the mound, Glasnow's curveball is above average. He has no hesitation in using his fastball to establish his putaway curve. In parts of four seasons in the Pirates' Minor League system, Glasnow has fashioned a whopping 11.8 strikeout average per nine innings.
Glasnow's strikeout and ground-ball rates are so good it is a challenge for the hitter to get loft on his pitches. His career home run rate is very low at 0.4 per nine innings.
Weaknesses
As great a strikeout record as Glasnow has amassed, his walk rate takes some of the glitter off the gold. He has a career walk rate of 4.2 per nine innings. This year, Glasnow has walked 4.8 per nine.
When I saw Glasnow in the 2014 Arizona Fall League, he was overpowering, but a bit wild. He pitched for the Scottsdale club, finishing with a 1-2 record in 19 1/3 innings. Glasnow started seven games and allowed 12 walks, but he struck out 20.
There is some real effort in Glasnow's delivery. He had a tough time keeping his long limbs and moving parts in check. With that size, it becomes difficult to repeat a clean delivery, but Glasnow is improving.
I find this interesting
Glasnow comes from an athletic family. His mother was a gymnast at Cal State Fullerton, and his dad and brother were decathletes at Notre Dame.
The future for Glasnow
Glasnow has everything needed to become a true top-of-the-rotation pitcher. Having just turned 22, he has time to refine his command even further. That's what it'll take to become the pitcher he projects. Glasnow has to control his pitches and gain even greater command of his fastball and curve. I think he will be in Pittsburgh's rotation at some point in 2016.
Glasnow in a word
Huge
Bernie Pleskoff has served as a professional scout for the Houston Astros and Seattle Mariners. Follow @BerniePleskoff on Twitter. This story was not subject to the approval of Major League Baseball or its clubs.