MLB.com Columnist
Roger Schlueter
Stats of the Day: Greinke headed for historic year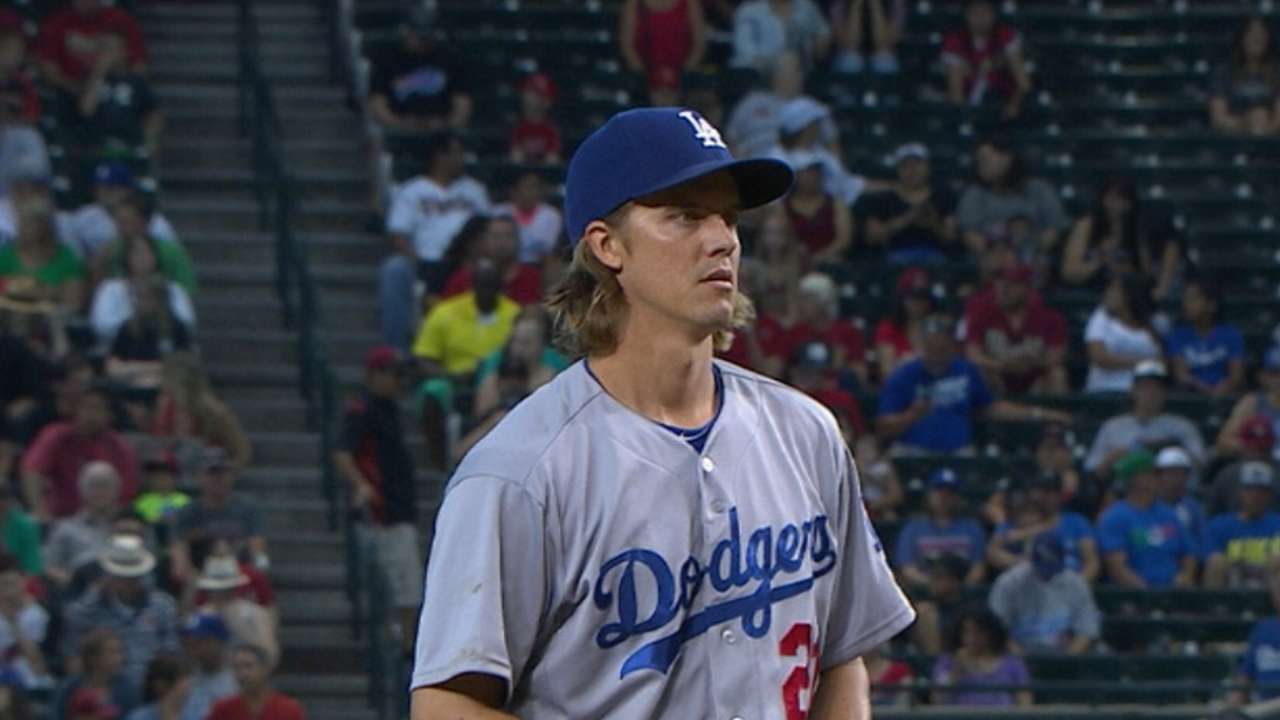 Here are six interesting items from around the big leagues on Monday …
• On Sunday, Zack Greinke allowed no runs in eight innings and picked up the win as the Dodgers defeated the D-backs, 4-3. The effort -- which brought Greinke's record to 17-3 -- saw the right-hander allow three hits and two walks with eight strikeouts and lower his ERA to a Major League-best 1.61. No pitcher has finished a season with an ERA this low since Greg Maddux posted a 1.56 in 1994.
Greinke's 232 ERA+ would put him between Walter Johnson (240 in 1912) and Christy Mathewson (230 in 1905) for the 10th best in a single season. His 0.847 WHIP would rank as the 11th lowest. Greinke would be surrounded by Mordecai "Three Finger" Brown ('08), Pete Alexander ('15) and Dave McNally ('68), who posted a 0.842 WHIP, and Bob Gibson, who posted a 0.853 in '68. Greinke's 6.10 hits per nine innings would rank 39th, in between 6.09s from Stan Coveleski ('17), Catfish Hunter ('72) and Nolan Ryan ('89), and 6.11s from Ryan ('76) and Sid Fernandez ('88).
• In the Red Sox-Rays tilt on Sunday, Boston southpaw Rich Hill struck out 10, while Tampa Bay lefty Drew Smyly struck out 11. The game marked the fourth all-American League contest in the designated-hitter era to see a pair of left-handed starters each fan at least 10. The previous three occurrences were on July 23, 1985, with the Tigers' Frank Tanana (11 K's) and the White Sox's Britt Burns (11); Sept. 16, 1992, with the Angels' Mark Langston (12) and the Mariners' Randy Johnson (15); and May 28, 2012, with White Sox's Chris Sale (15) and the Rays' Matt Moore (10).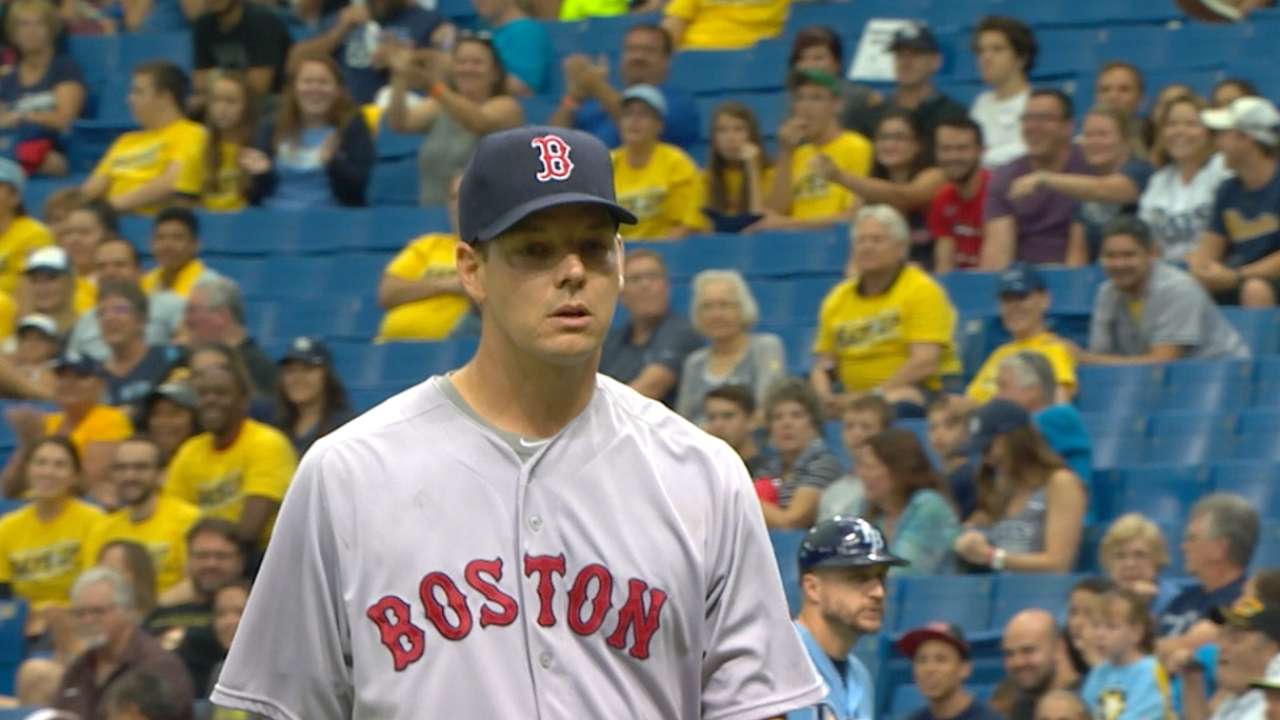 • In their four-game series, the Blue Jays took the first three contests from the Yankees and exited the weekend holding a 3 1/2-game lead over New York in the AL East. In the set, Toronto (82-61) reached double digits in runs scored twice. It has scored at least 10 runs in 24 games this season. In the DH-era, those 24 games through 143 total contests tie for the fifth most among all AL teams. The 1996 Orioles lead with 28, and they are followed by the 2000 White Sox (27), the '99 Indians (26), the '98 Yanks (25) and the '99 Athletics (24).
In the series, the Blue Jays hit 10 home runs, with seven coming from batters swinging from the right side. Toronto has gotten 174 homers from right-handed batters this season; the last club to have at least 180 in one year was the 2010 Jays, who finished with 188.
• On Sunday, Masahiro Tanaka worked seven scoreless innings against the Blue Jays and picked up the win in a 5-0 Yankees victory. Tanaka has started against Toronto four times this season, and he owns a 2.42 ERA in 26 innings. Among the 10 pitchers who have at least three starts against the Jays this season, that ERA is the second lowest, behind Chris Archer's 0.93 in four starts.
Tanaka leads the AL with a 0.993 WHIP. The last Yankee to pace the AL in this category was David Wells (1.045 in 1998), and the last Yanks qualifier to finish the year below 1 was Ron Guidry, who owned a 0.992 in '81.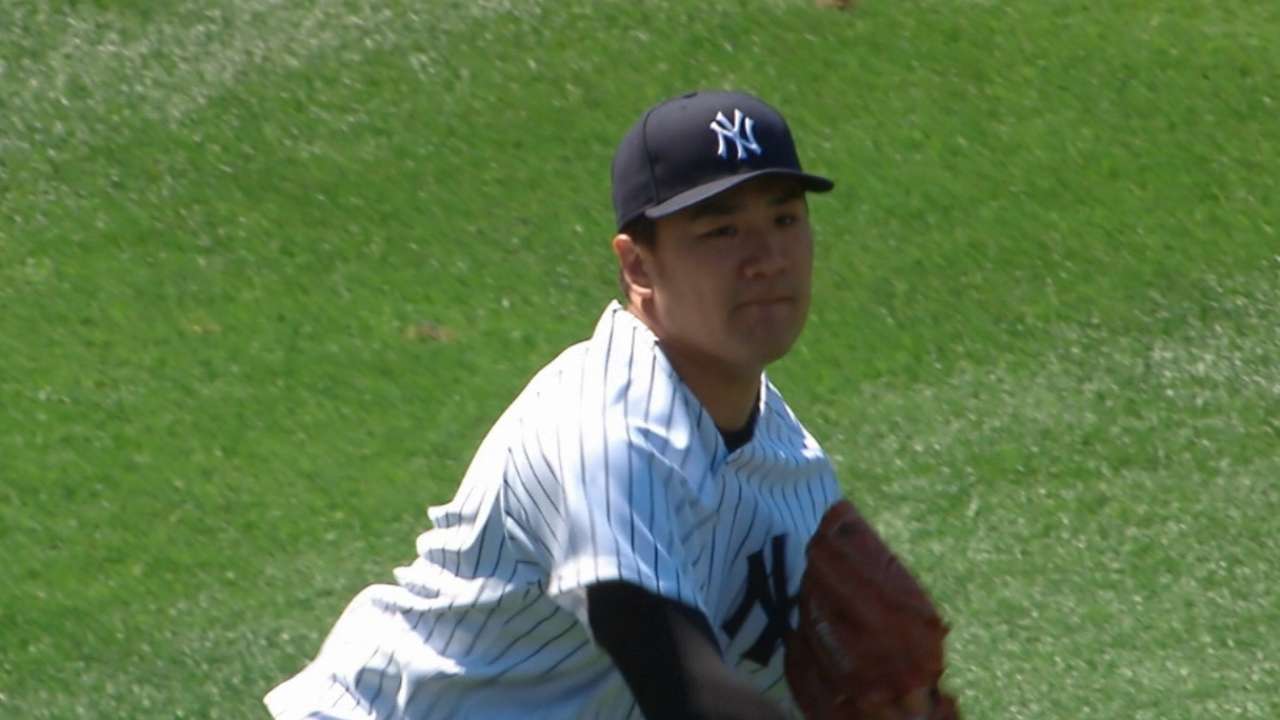 • On Saturday, David Ortiz homered twice, with his second home run of the night -- a solo shot in the fifth -- marking the 500th round-tripper of his career. Ortiz became the 27th player to hit at least 500. Among the 27, Ortiz (39 years and 298 days old for the big event) became the 23rd to reach the milestone before his 40th birthday. Ortiz is the second member of the 500-homer club to have at least 1,000 games at DH, joining Frank Thomas (521 career blasts). Ortiz's 444 homers as a DH are by far the most, with Thomas' 269 the second most.
Ortiz, who hit 442 of his first 500 homers with Boston, is one of five members of the 500-home run club to play with the Red Sox. He joins Babe Ruth (49 homers with Boston), Manny Ramirez (274), Jimmie Foxx (222) and Ted Williams (521). Ortiz ended Saturday with 500 home runs in 8,048 at-bats, or one dinger for every 16.01 at-bats. Among the members of the 500-homer club, Ortiz's current mark ranks 17th. The top mark belongs to Mark McGwire, with one homer for every 10.61 at-bats. Ortiz has 34 homers so far in 2015 -- tied for the fourth most for a player in an age-39 or older season. In 1987, Darrell Evans hit 34 for the Tigers in his age-40 season.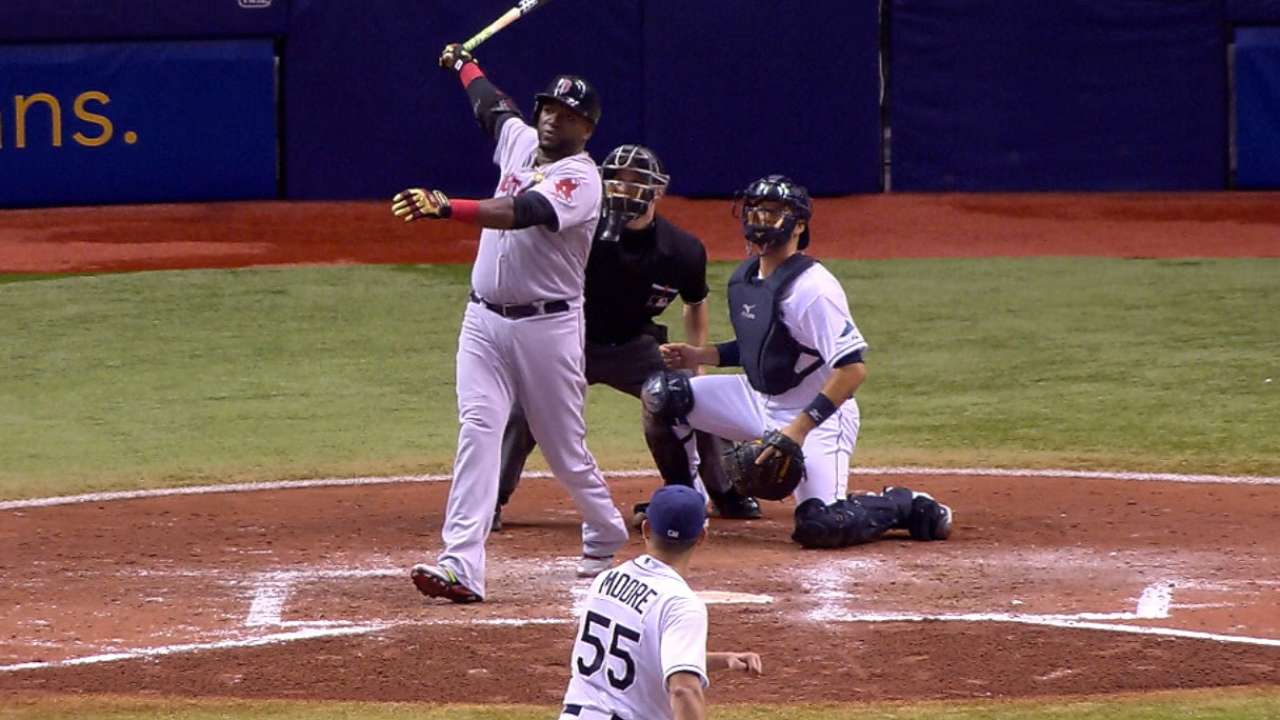 • On Saturday, Madison Bumgarner lost his shot for a perfect game with two outs in the eighth inning, but he retired the four batters he faced after that to complete a one-hit shutout. Bumgarner's effort gave him three career one-hit shutouts (he had one in 2012 and his second in '14). He is the fifth Giants pitcher since 1914 to have at least three shutouts on one hit or no hits. Juan Marichal and Matt Cain lead with four apiece, while Phil Douglas and Carl Hubbell each had three. Bumgarner owns a career 1.114 WHIP in 1,150 1/3 innings. Among left-handers since 1893 with at least 1,000 innings through their age-25 seasons, that WHIP ranks as the third lowest, behind Clayton Kershaw's 1.092 and Dutch Leonard's 1.112.
Milestone watch for Monday
• With three strikeouts, Kershaw will tie Dazzy Vance (262 K's in 1924) for the fifth most by a Dodgers pitcher in a single season. With a 10-strikeout effort, Kershaw will tie Sandy Koufax (269 in 1961) for the fourth most.
• Ichiro Suzuki needs one hit to tie Willie Keeler (2,932) for 34th on the all-time hits list. Keeler and Suzuki are sixth and ninth, respectively, on the all-time list for singles.
Roger Schlueter is a contributor to MLB.com. This story was not subject to the approval of Major League Baseball or its clubs.