Statcast: Astros stage astounding comeback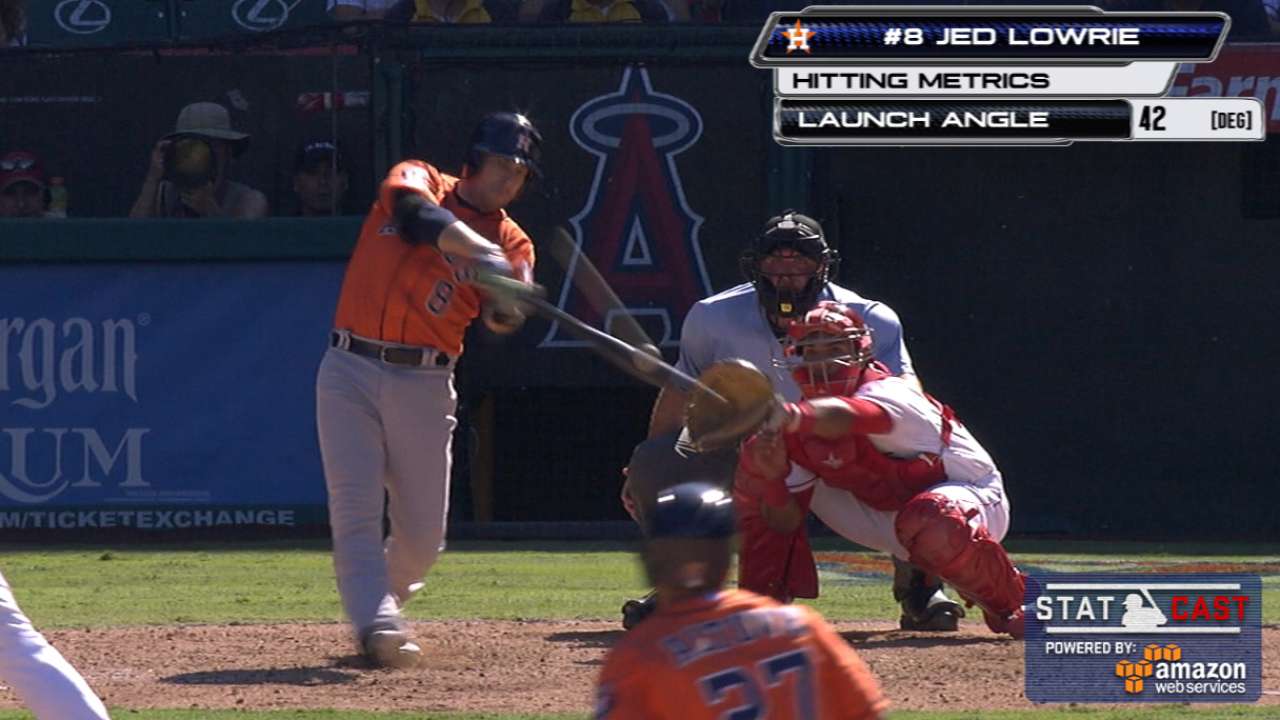 One out from being swept by the rival Angels, the American League West-leading Astros put together a potential season-saving two-out rally on Sunday that seemingly featured a little bit of everything.
From a pair of homers to a fleet-footed triple to one of the strangest plays of the season, the Astros provided plenty of material during their remarkable comeback for Statcast™ to break down.
Elsewhere across the league, a perennial Gold Glove-winning catcher finally managed to throw out a personal nemesis on the basepaths, and outfielders for the Blue Jays and Phillies made sprawling highlight-reel grabs. A certain Angels superstar connected for one of his longest home runs of the season, and a Yankees star with 685 career homers showed that he still has some speed left in the tank.
Following is an in-depth look at each of those plays, courtesy of Statcast™.
Astros rally for crucial victory
The Astros entered the ninth inning trailing, 3-0, leaving them on the brink of being swept by the pursuing Angels. Houston, however, pieced together a five-run frame that included one of the more unusual plays of the season and a towering go-ahead home run.
The comeback started when outfielder Preston Tucker connected for a two-out solo home run to put the Astros on the board. The ball jumped off Tucker's bat at 108.9 mph and traveled a projected distance of 431 feet to cut the deficit to two -- but that was only the beginning. Fellow outfielder George Springer followed with a triple on which he reached a max speed of 20.7 mph, helping him reach third base only 11.6 seconds after putting the ball in play.
Springer scored two batters later on that aforementioned peculiar play. Astros shortstop Carlos Correa laced a blistering one-hopper up the middle that second baseman Taylor Featherston made a diving stop on. But the ball, which had an exit velocity of 111.2 mph, wedged in the webbing of Featherston's glove, and he couldn't pry it free to make a throw, negating what could have been a potential game-ending groundout.
Correa's latest scorcher came just one day after he teed off for a home run with a 112.3-mph exit velocity, his hardest-hit homer of the season.
Speaking of home runs, Jed Lowrie followed Correa's strange single with what proved to be the decisive three-run shot, a moonshot to left field that just narrowly escaped the reach of left fielder Kole Calhoun. The booming home run had a launch angle of 41.5 degrees and reached a max height of 122 feet, traveling a projected distance of only 338 feet.
Molina finally cuts down Hamilton
St. Louis' Yadier Molina, one of the game's best defensive catchers, went head-to-head with Cincinnati's Billy Hamilton, one of the league's best baserunners, and -- for the first time -- Molina emerged with the upper hand. After Hamilton had been successful on each of his first 10 stolen-base attempts against him, Molina used a 0.6-second exchange and 81.2-mph throw to second base to nab the speedster in the seventh inning. The impressive combo of a quick exchange paired with a strong throw was enough to catch Hamilton despite his reaching a max speed of 21 mph on the attempt.
"You're going up against one of the greatest catch-and-throw catchers, at least that I've ever seen," Reds manager Bryan Price said. "To have the success he's had against St. Louis in his brief history in the big leagues is impressive."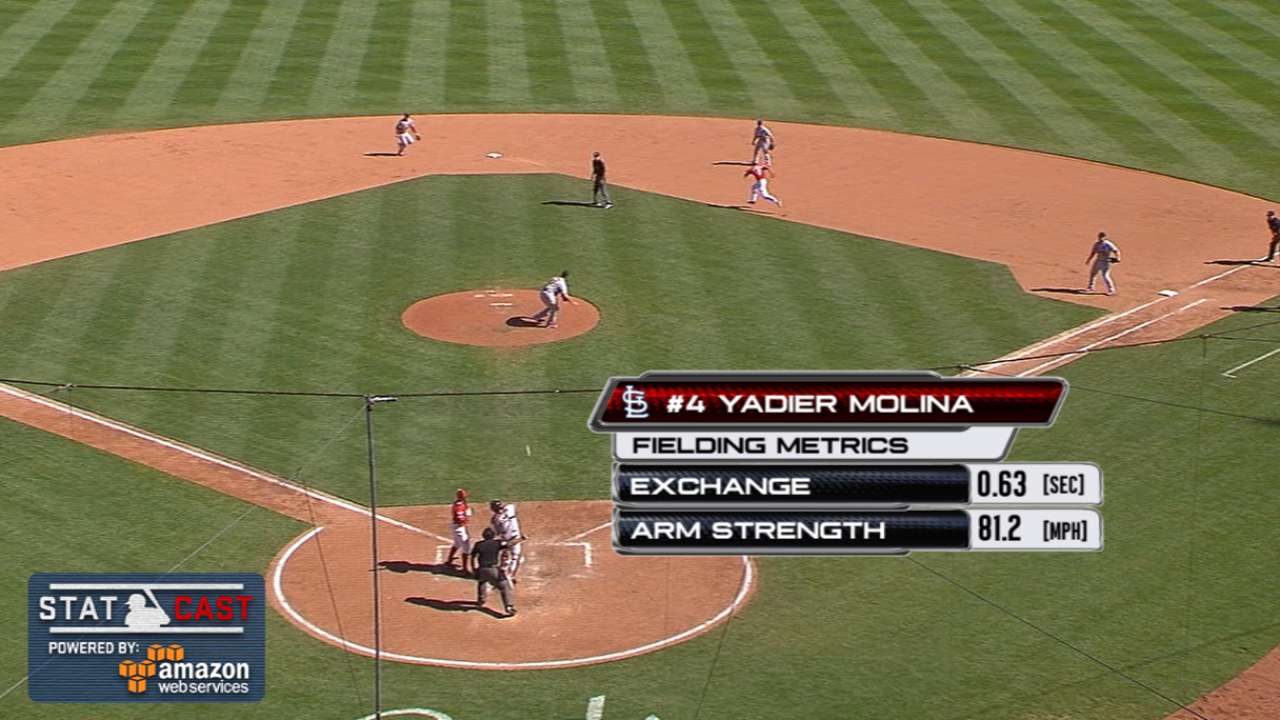 Pillar makes another highlight-reel catch
No stranger to defensive gems, Blue Jays outfielder Kevin Pillar was at it again, robbing Carlos Beltran of an extra-base hit to end the first inning. Pillar took his first step just 0.4 seconds after contact, then raced deep into center field, reaching a max speed of 17.2 mph as he tracked down the ball. He logged a route efficiency of 94.1 percent on the play, all while covering 74 feet to complete the leaping, acrobatic catch.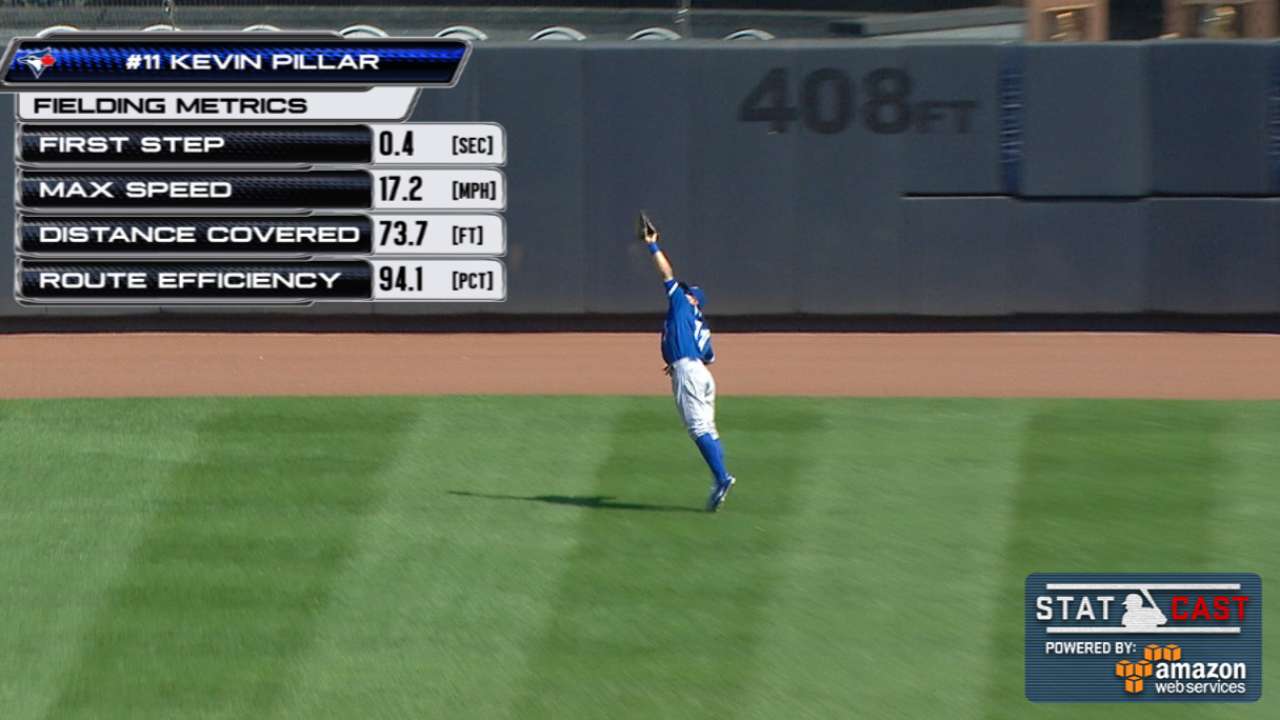 Bogusevic sprawls for fully extended diving grab
Phillies outfielder Brian Bogusevic looked perfectly comfortable in right field despite making just his second big league start at the position since 2012. That fact was far from obvious in the third inning, when he covered 59 feet of ground as he ranged into the gap in right-center before laying out to rob Dexter Fowler of extra bases with a diving catch. Bogusevic reached a max speed of 18.6 mph on the play while logging a route efficiency of 96.8 percent.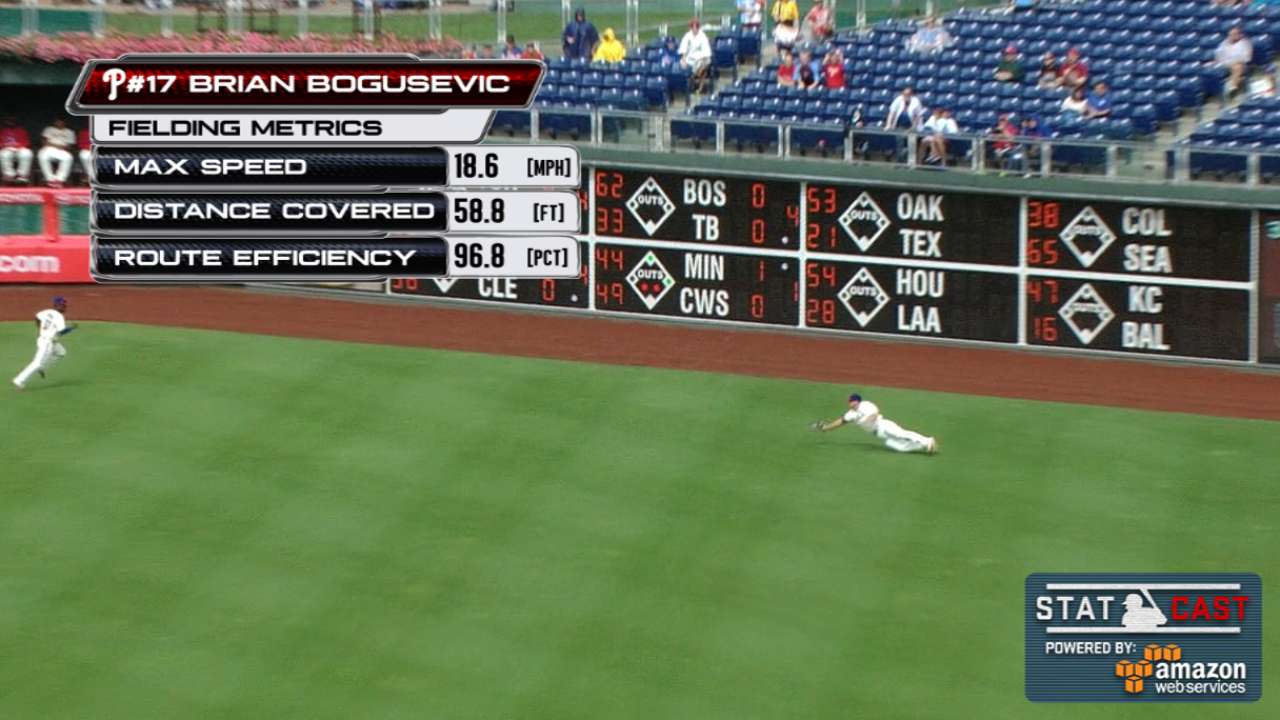 Trout crushes one of his longest homers this season
Angels superstar Mike Trout staked his club to an early lead when he teed off for a no-doubter home run in the first inning against the Astros. Trout jumped all over a 90-mph first-pitch fastball from Houston starter Mike Fiers, turning it around at 110.1 mph and sending it a whopping projected distance of 455 feet. That's good for Trout's second-longest home run in 2015, behind only the mammoth 477-foot shot he hit against the Rockies on July 8.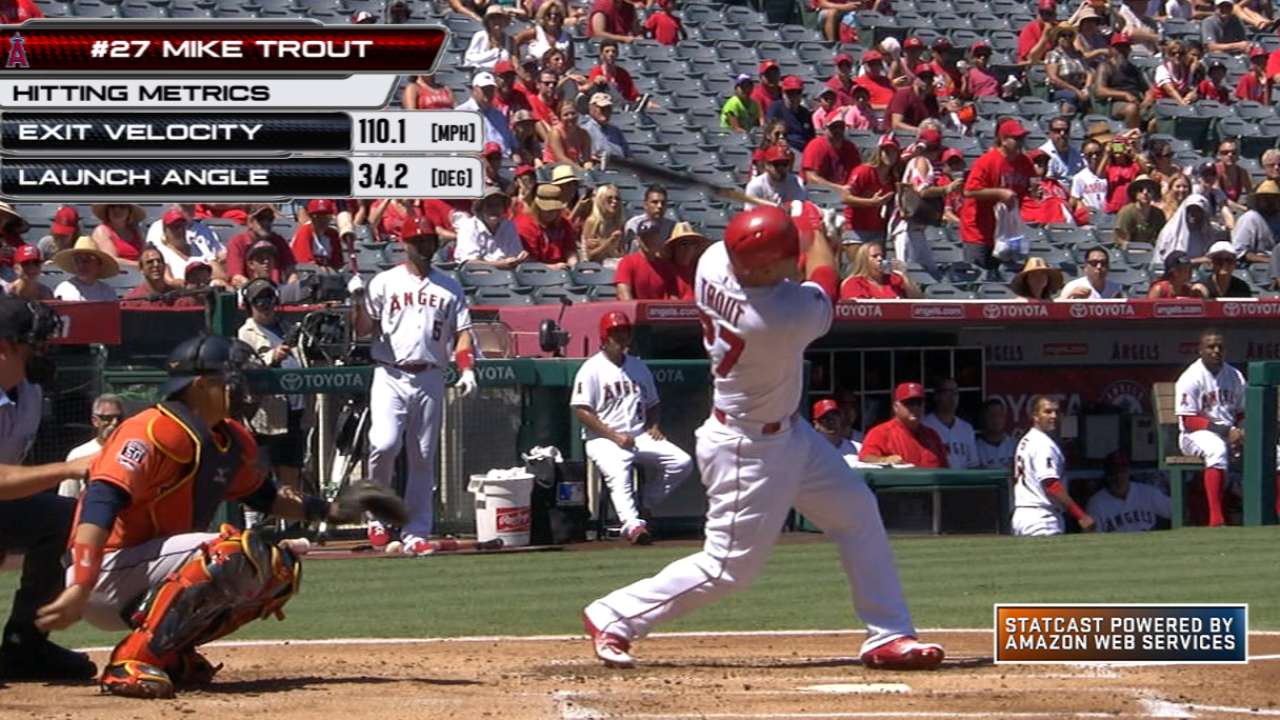 A-Rod hustles home on sac fly
Alex Rodriguez proved he can still get down the line, racing home just ahead of the throw on a sacrifice fly against the Blue Jays in the second inning. Though Pillar actually took a few steps in to catch Didi Gregorius' fly ball, Rodriguez decided to test Pillar's arm by dashing home. That proved to be the right call, as he reached a max speed of 19 mph over his 90-foot sprint, allowing him to dive in and tap the plate just before the tag was applied.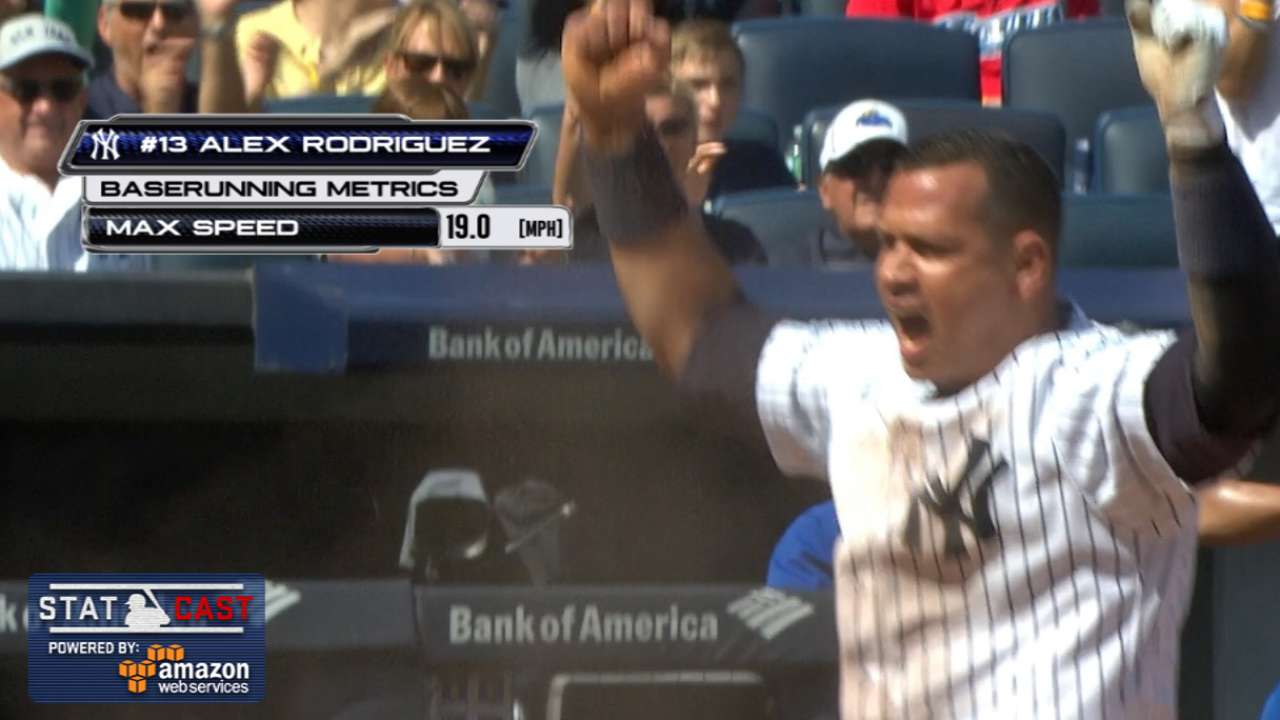 Paul Casella is a reporter for MLB.com. Follow him on Twitter @paul_casella. This story was not subject to the approval of Major League Baseball or its clubs.