Healthy Pagan runs wild to spark Giants
Center fielder notches three steals, scores three runs in finale vs. Padres
SAN FRANCISCO -- For Angel Pagan, it feels good just to feel good.
Though health is essential for every athlete, the Giants center fielder demonstrated the dramatic difference that a pair of pain-free knees can make during this weekend's three-game series sweep over the San Diego Padres, which concluded with Sunday's 10-3 triumph at AT&T Park.
Pagan stole a career-high three bases, which helped him score three runs and garnished the pair of hits he collected. This performance complemented his deeds Saturday, when he homered off San Diego's Ian Kennedy, and Friday, when he denied Matt Kemp of a home run by reaching above the outfield wall to make a catch that was as startling as it was spectacular.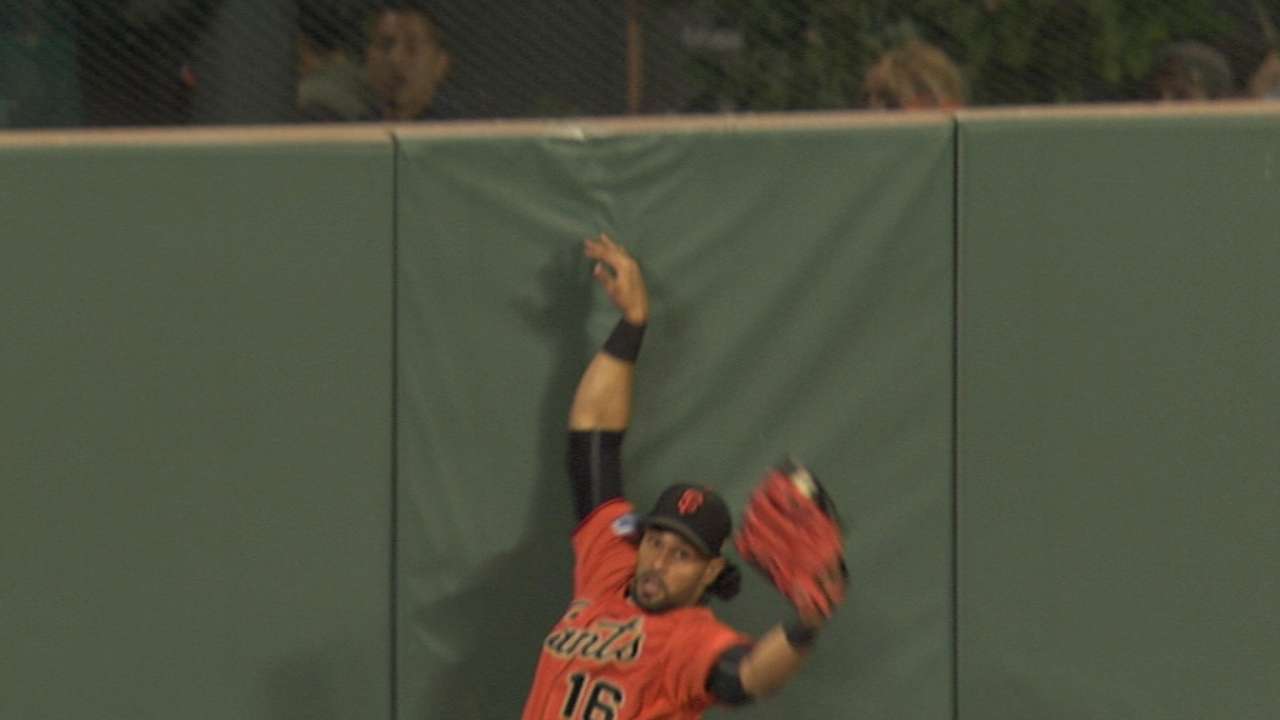 "You see a difference in how he's moving, getting down the line," Giants manager Bruce Bochy said. "It's good to see Angel back on track."
Buster Posey, whose bases-loaded walk drove in Pagan with the first of San Francisco's two seventh-inning runs, acknowledged the potential threat his teammate presents.
"He's a presence in the lineup," Posey said. "Even if he's not having a big day, he's a guy the other team has to navigate around."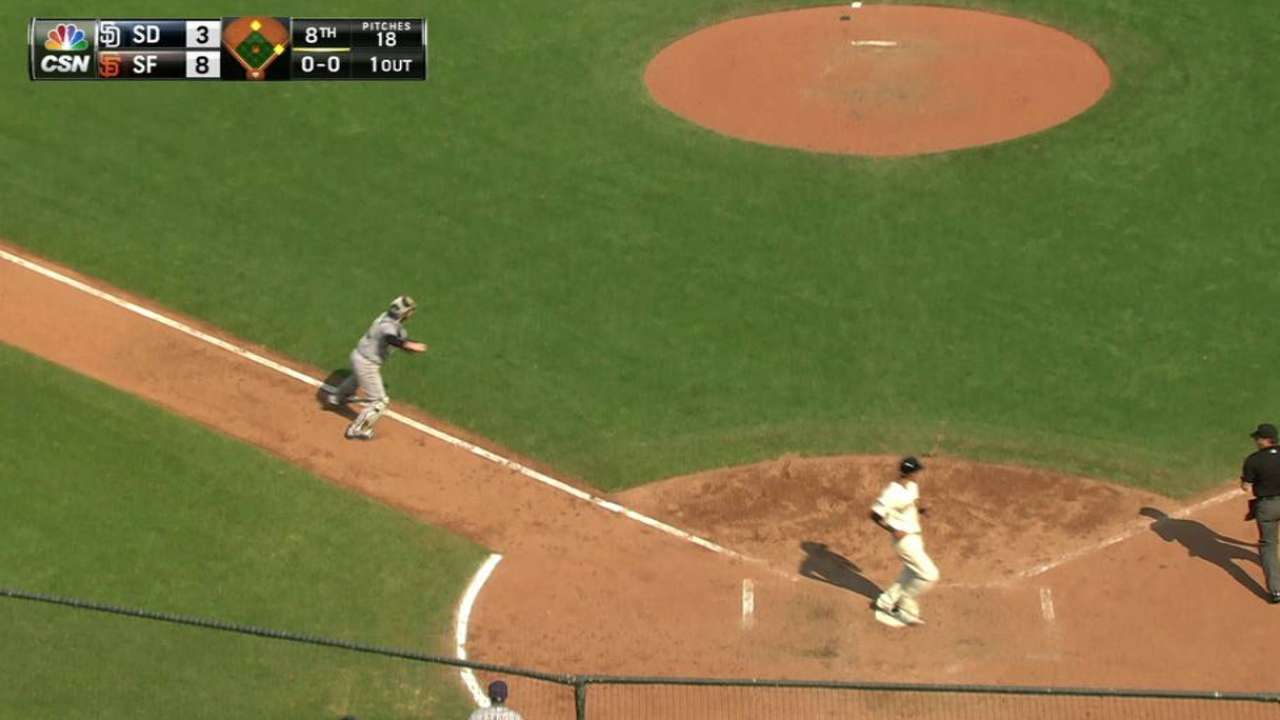 Pagan, who broke into the Majors in 2006, sensed an aggressive approach on the basepaths was required from him. He was physically prepared to deliver that effort, having overcome the patella tendinitis in his right knee that put him on the disabled list and forced him to miss 20 games in August. Pagan also was coping with soreness in his left knee at that time.
"You watch the game, the game will talk to you and let you know what situation it's good to steal," said Pagan, who has nine thefts in 12 tries this year. "I used to steal just to steal. Now I steal to help the team."
Pagan stole second base on a hit-and-run in the fifth inning, then picked his spots in the seventh inning to pilfer second and third. Seizing upon the relatively slow delivery of Padres reliever Kevin Quackenbush, Pagan walked and stole second. With left-handed-swinging Alejandro De Aza batting, Pagan knew that trying to steal third might be risky, since catcher Derek Norris would have a clearer opportunity to throw him out. So Pagan waited for Matt Duffy, a right-handed batter, to come to the plate before he took third.
Some observers might have believed Pagan went on his running binge out of vengefulness toward Norris, with whom he exchanged unpleasantries during an April 9 game in San Diego. Norris thought Pagan, who was stepping in the batter's box, tossed a chewed piece of gum at him in a gesture of disrespect; Pagan maintained the gum's stickiness prevented him from flicking it safely away from the catcher.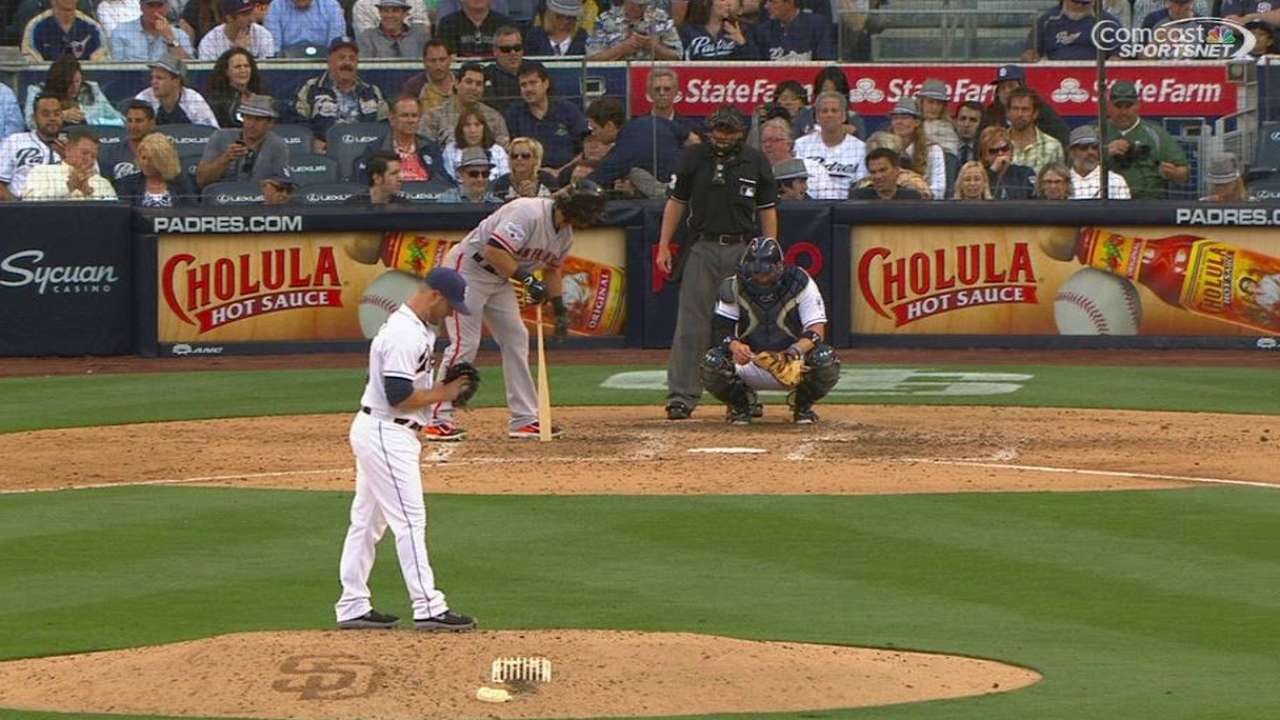 Pagan insisted embarrassing Norris didn't enter his mind.
"The same day it happened, I put it in the past," he said.
Chris Haft is a reporter for MLB.com. Read his blog, Haft-Baked Ideas, follow him on Twitter at @sfgiantsbeat and listen to his podcast. This story was not subject to the approval of Major League Baseball or its clubs.