Barnes goes all out for win-preserving grab
'That was the play of the game,' Adames says of diving grab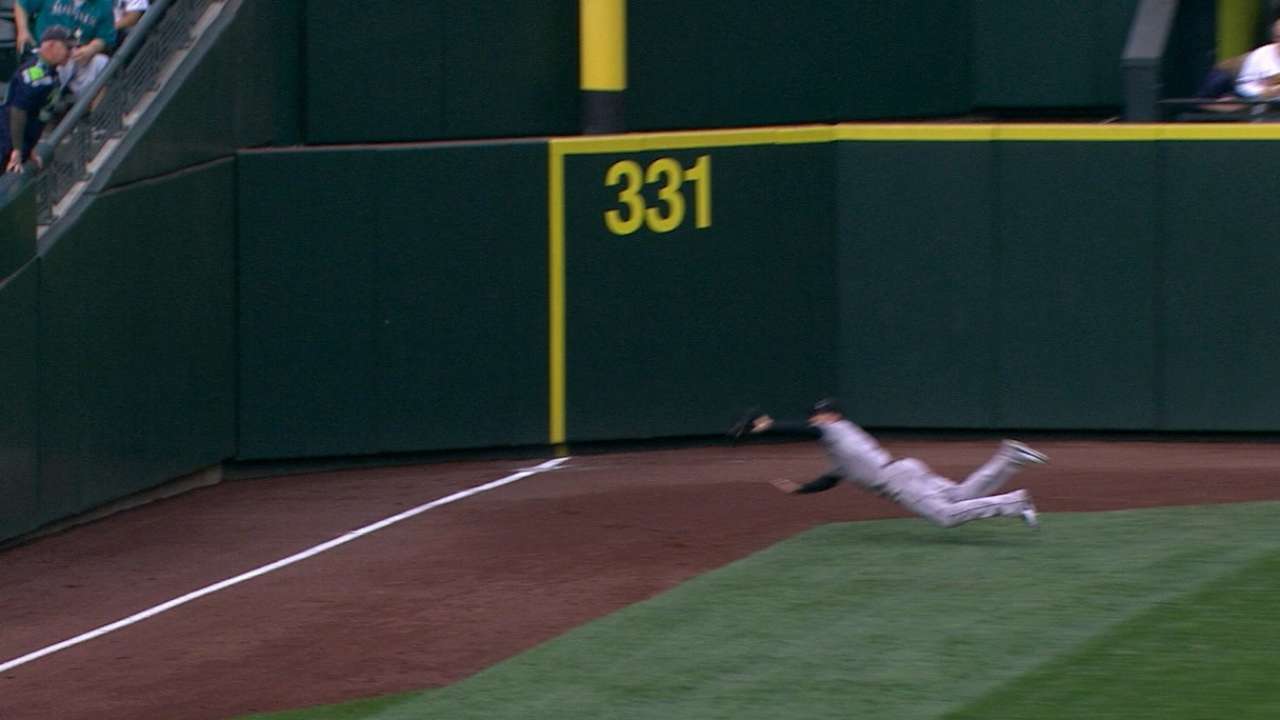 SEATTLE -- There were two unanimous schools of thought on Brandon Barnes' sensational diving catch in the left-field corner that preserved the Rockies' 3-2 victory.
One, nobody -- including Barnes himself -- thought he could even get to the ball. Two, it was the play of the game from every point of view.
With the Rockies clinging to the one-run lead in the eighth, speedy Ketel Marte drew a one-out walk off reliever Jairo Diaz. Kyle Seager followed with an opposite-field drive slicing down the left-field line.
After a long run, Barnes laid out completely, sliding through the warning track dirt and across the foul line as he made the catch. He got up and quickly fired to shortstop Cristhian Adames, whose relay throw from shallow left to first just beat Martel back to the bag for the inning-ending double play.
"Diaz was in, he throws hard, so I figured I'd shade a little bit the other way," said Barnes, who was shaken up on the play. "I saw it kind of slicing off Seager's bat. I kind of wanted to give it everything I had. It was borderline if it'd be fair or foul. I stayed with it. When you get close to diving head-first at the wall, it's never safe, but I knew I had a couple more steps so I went for it. And then I just tried to get it in as fast as I could."
Marte already had rounded second, so he had to retouch the bag on his way back to first. Adames, in the lineup because starting shortstop Jose Reyes was sidelined again with an Achilles problem, took the throw and fired a perfect relay to first baseman Justin Morneau to complete the 7-6-3 double play.
"I looked back when Barnes got the fly ball and saw Marte cross second base, and knew if Barnes got a good throw to me I had a chance to make the out," Adames said. "That was the play of the game."
Seager thought he had just driven in the tying run.
"Honestly, off the bat, I didn't think there was any chance he got to it," Seager said. "I thought it was going to be a double for sure and the way Marte runs, you've got to think it ties the game. But, he made a heck of a play. Even when he started to dive, I still didn't know if he could get to it, but he did."
Rockies manager Walt Weiss said all aspects of the play were perfectly executed.
"That's the game right there," Weiss said. "But, we've seen him do it. He sacrifices his body out there in the outfield. Plays all three spots out there and a very good defender. That was a big play.
"Adames did a heck of a job because he short-hopped the relay throw and then he didn't really have his feet underneath him, but got the throw off and it was a strong enough throw to get it to Morneau over at first base," Weiss added. "It was bang-bang. I couldn't tell at the time if he was safe or out. But, he obviously was out. It was a hell of a play on both ends."
Jim Hoehn is a contributor to MLB.com. This story was not subject to the approval of Major League Baseball or its clubs.