MLB.com Columnist
Lyle Spencer
Astros stun Angels, Rangers, selves with comeback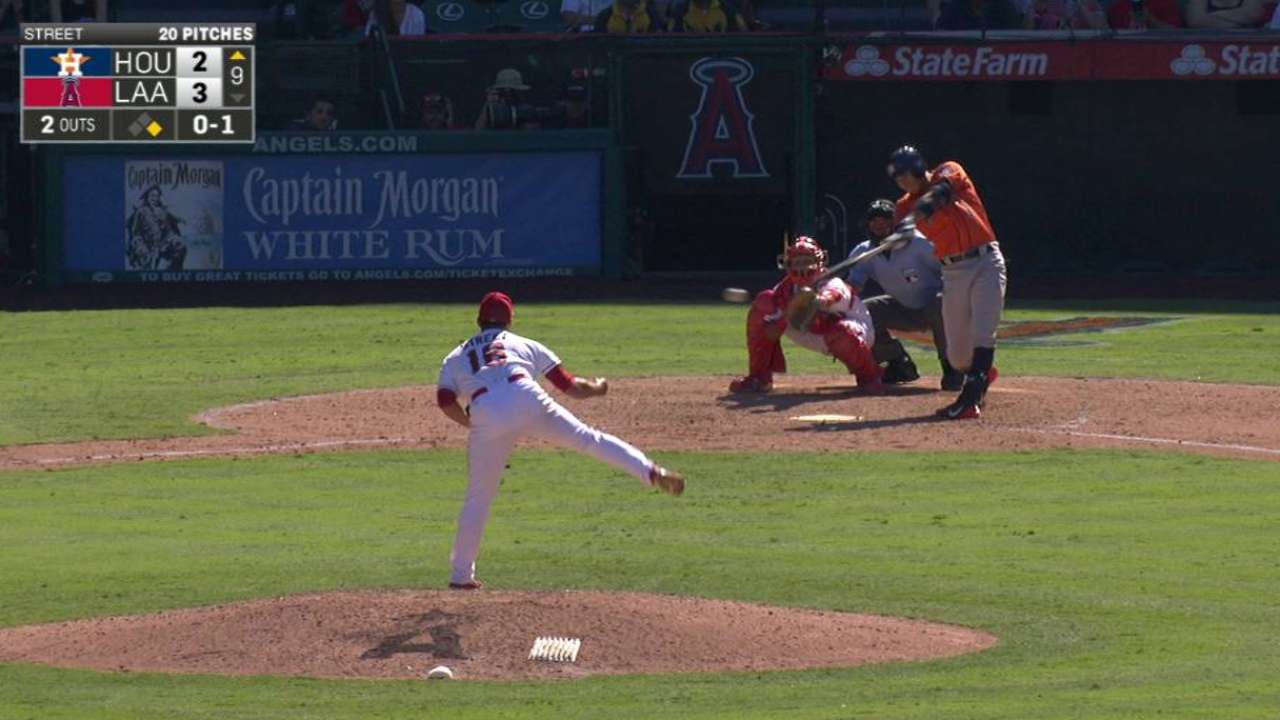 ANAHEIM -- It wasn't impossible, because it happened. It just seemed like it. It was the kind of stunningly improbable finish that makes one side believe in its destiny and leaves the other side pondering the conspiratorial nature of the baseball gods.
The Astros were dancing off to the Lone Star State on Sunday night as the Angels tried to figure out what broadsided them on their way to Seattle.
With reliable Angels closer Huston Street one strike away from completing a shutout and a three-game weekend sweep at Angel Stadium, the Astros unleashed what might have been the comeback of the season: five consecutive hits, with Jed Lowrie's towering home run just inside the right-field pole turning a one-run deficit into a two-run lead and a 5-3 victory.
The only athletes as shocked as the Angels were the Rangers, who thought they had moved to within a half-game of Houston in the American League West in anticipation of a four-game series in Arlington starting Monday night.
Instead -- after Preston Tucker's solo homer, George Springer's triple, singles by Jose Altuve and Carlos Correa and Lowrie's blast -- the Astros sent the Southern California faithful home dazed and confused.
The Astros head home to Texas leading the Rangers by 1 1/2 games, while also extending their lead to 4 1/2 over the Angels, who fell to three behind Texas for the second Wild Card.
Nobody saw this coming when the Angels handed the ball and a 3-0 lead to Street, the sturdy veteran with 35 saves. Starter Andrew Heaney and relievers Fernando Salas, Trevor Gott and Joe Smith frustrated the Astros through eight innings, as C.J. Cron homered twice and Mike Trout went deep on a first pitch by Mike Fiers.
"This whole road trip, until today, it seemed like nothing has gone our way," said Astros catcher Hank Conger, the former Angel who handled all but one inning -- the last -- over the weekend. "We hit balls hard and didn't get a break. We finally got some type of lucky break today on the ball Carlos [Correa] hit."
It changed everything. Correa, with Altuve on first and Street still in command of a one-run lead, smoked a ball to the backhand of Taylor Featherston behind second. There was a moment, before the ball became visible in the web of his glove, when it was unclear why he didn't make a throw.
"Featherston made a great play to glove it," Astros manager A.J. Hinch said. "It had to be 115 miles an hour, the base-hit by Correa that stuck in the glove."
A Rule 5 draftee, Featherston has played high-quality defense, moving in at second in the absence of Joey Giavotella, who has a condition causing double vision.
"It was definitely stuck," Featherston said. "I couldn't throw my glove all the way to first base. We definitely would have had an out at first. It was weird. That's never happened to me before.
"Once one or two seconds go by, the play's over. It's the same glove I've been using every day, even at third base -- and it was a bad time for it to happen."
This time of year, contenders look for breaks -- and positive signs -- anywhere they can get them.
"An incredible, resilient effort," Hinch said. "Down to your last strike against Street, down three, and Tucker hits a home run and we string together those base hits.
"It was very frustrating in the beginning of the game, with the opportunities we had [against Heaney], but we maximized every opportunity in the ninth."
Before Featherston's misfortune, the Angels had a chance to close it out on right fielder Kole Calhoun's diving stab at Springer's drive into the right-center gap. Later on, Calhoun was draped into the stands, trying in vain to flag down Lowrie's towering drive.
"To put up a 5 spot, I think that's about as dramatic a swing as it gets," said Lowrie, who beat the Twins with a grand slam on the previous Sunday in Houston.
With solid contact against Street on fastballs in the first two games, both 3-2 wins for the Angels, Lowrie wasn't surprised Street went to changeups on three of the four pitches he saw, including the bomb on a 2-1 count.
While his ninth homer of the season snapped a hitless spell spanning 17 at-bats, Lowrie is a tough out when it counts. The former Red Sox and A's infielder is 13-for-26 in close and late situations, with four homers and 12 RBIs.
"That's what's made this team great all year," he said. "We've had a lot of comeback wins and big moments. When you continue to do that, it gives you more confidence."
This is especially important with a team whose nucleus is comprised of such young athletes as Correa, Altuve, Springer, Tucker and Jake Marisnick.
"Maybe it is turning for us," said Conger, 27, whose role has expanded lately with Jason Castro on the disabled list. "We're putting up good at-bats, and our pitching has been outstanding. Now we're going to Texas, feeling good. It should be a lot of fun."
Lyle Spencer is a national reporter and columnist for MLB.com. Follow him on Twitter @LyleMSpencer. This story was not subject to the approval of Major League Baseball or its clubs.