Halos forced to move on from heartbreaker
Street gives up five runs to Astros with two outs in ninth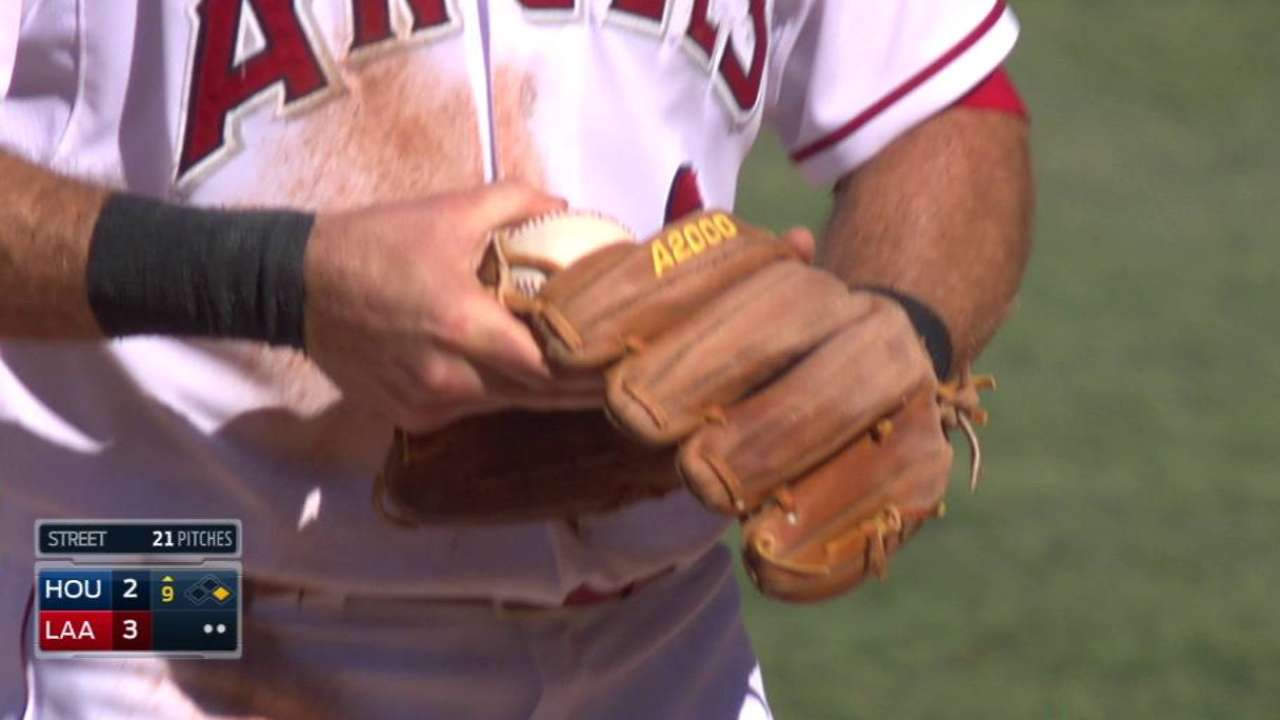 ANAHEIM -- Huston Street sat despondently on the bench while the ninth inning continued without him Sunday afternoon, shoulders slumped, mouth ajar, eyes distant, still unable to process how quickly and cruelly the Angels' three-run lead evaporated with one out left.
"Disbelief," is how Street described his emotions in that moment, a few minutes before the Angels' gut-wrenching, 5-3 loss to the first-place Astros was complete. "When things like that happen, you replay the whole inning, and you're trying to figure out what you could've done differently."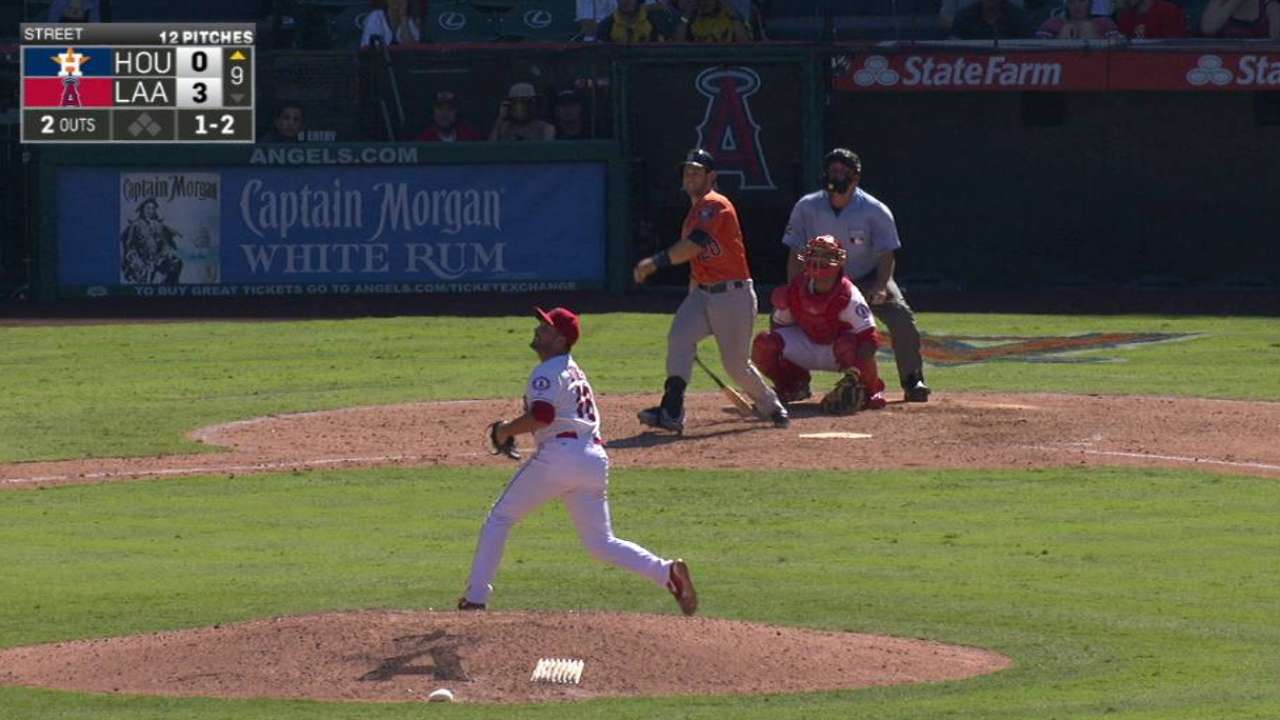 Leading, 3-0, with two outs in the top of the ninth, Street gave up a solo homer to Preston Tucker. Then George Springer hit a triple on a line drive that sailed about an inch away from diving right fielder Kole Calhoun's glove. Then Jose Altuve lined a single. Then Carlos Correa's one-hopper got stuck in the webbing of Taylor Featherston's glove, preventing the second baseman from making a game-ending throw. And then pinch-hitter Jed Lowrie lofted a fly ball that landed in the first row beyond Angel Stadium's short fence in right field, just inside the foul pole and just above a lunging Calhoun's glove.
In seven minutes, the Angels allowed five runs.
In seven minutes, their chances of sweeping the Astros fell from 99.7 percent to 7.7 percent.
In seven minutes, they went from moving to 2 1/2 games out of first place in the American League West to falling 4 1/2 back.
"You just think that one of those balls is going to find a glove," Street said, "and it didn't."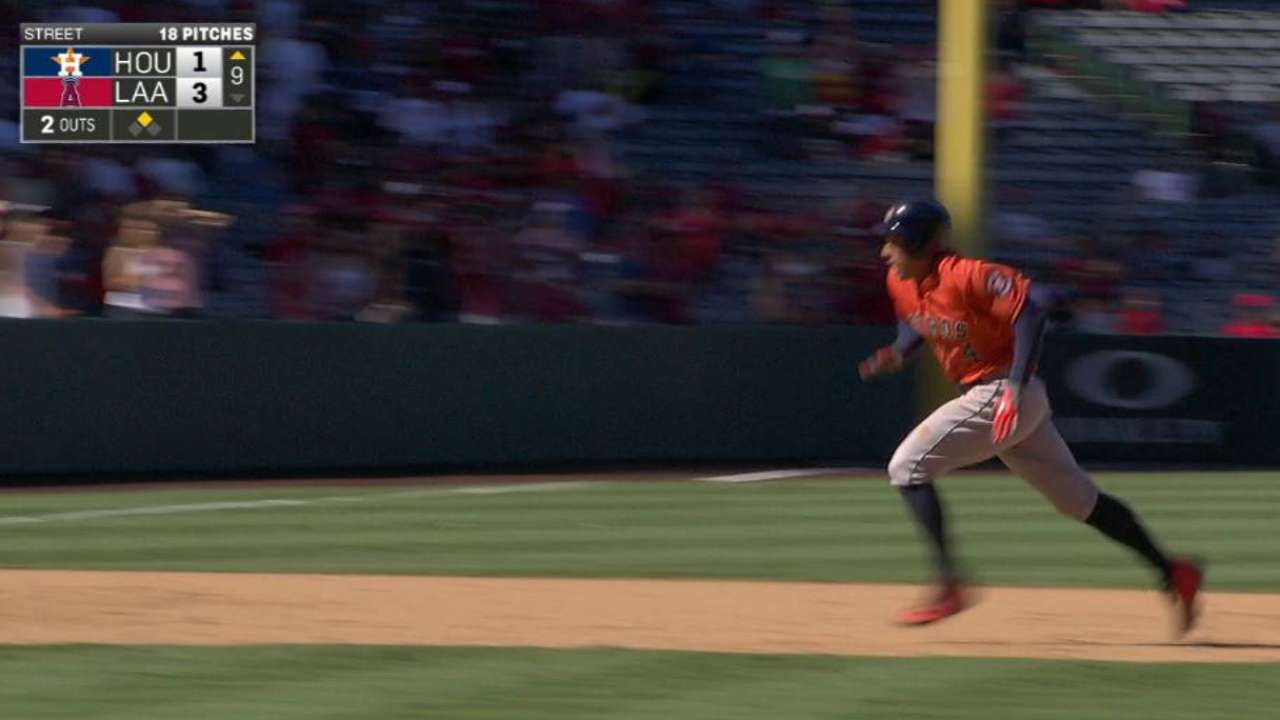 Calhoun thought for sure he was going to end the game with a diving catch in the right-center-field gap. Springer is a right-handed hitter, and usually they hit balls that tail back in Calhoun's direction. But this one didn't. It stayed true, and Calhoun's full-extension belly-flop came up just short.
"He hit that ball pretty good," Calhoun said. "Off the bat, I definitely thought I had a chance."
Three pitches after that, Correa scolded a one-hopper up the middle. Featherston, a rookie infielder who's exceptional defensively, dove to his right, cleanly made the catch, gathered himself and suddenly couldn't feel the baseball in his hand.
It stayed lodged in the "I" web of his glove.
It's the first time that has happened to him.
"It's a very helpless feeling," Featherston said. "I don't really have any words to describe it. Y'all saw it. It just got stuck. Bummer."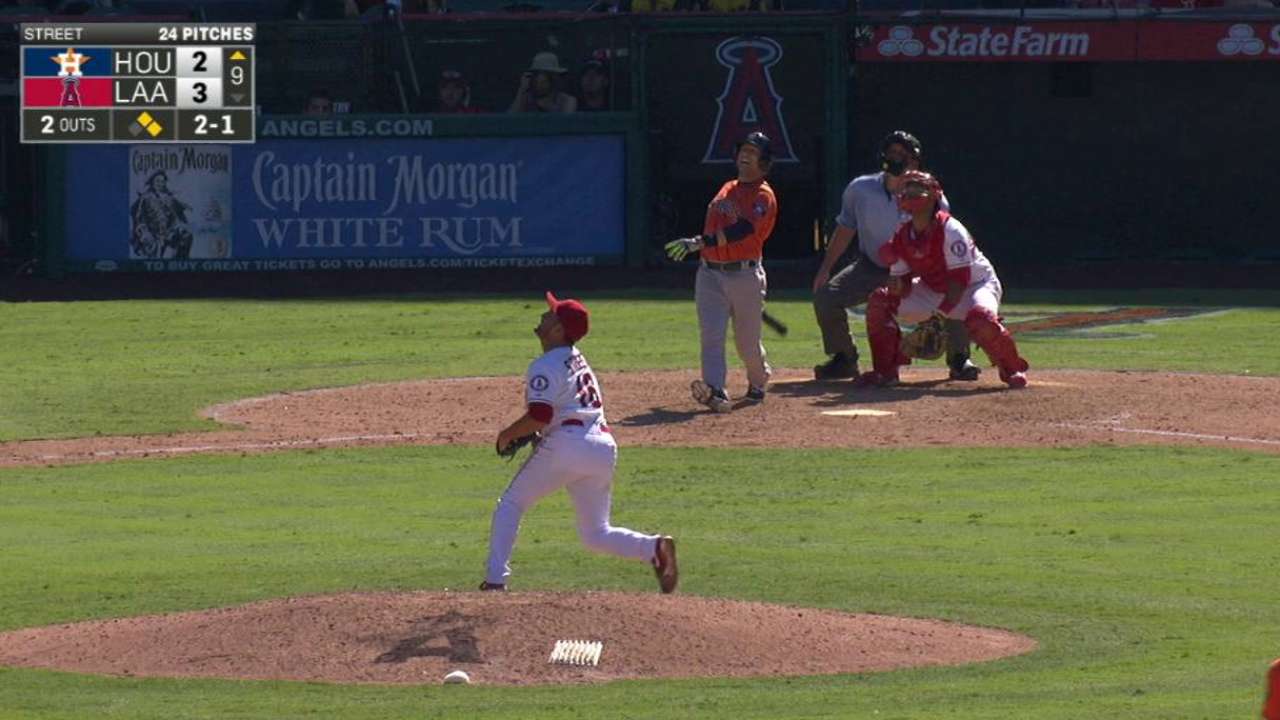 The real bummer came four pitches later, on the only bad pitch Street felt he made in that ninth inning. It was a 2-1 changeup that stayed too high, and Lowrie -- a switch-hitter, pinch-hitting for right-handed power hitter Evan Gattis -- skied it near the right-field foul pole.
"The biggest thing was staying fair," Lowrie said. "I hit it so high, I thought it was going to hit off the little screen out there."
Calhoun ranged to the warning track, felt for the wall and stretched out his glove hand.
"It might've tipped my glove," he said, "I'm not sure."
Calhoun tried to jump, but the wall didn't let him. The ball sailed just beyond his reach.
"I just ran out of room," Calhoun said. "If I'm an inch taller, maybe I get to that ball."
Maybe the Angels will look back on this game as the one that put the final dagger on their playoff hopes, or maybe they won't. It's up to them. Moments after their most crushing loss of the season, they hit the road to begin a three-city trip that begins with three in Seattle, includes four in Minnesota and finishes with three in Houston.
"Turn the page" is one of Angels manager Mike Scioscia's go-to idioms after days like this.
"Sometimes that page is heavy, like it is this afternoon," he said. "We have to turn it."
In a vacuum, the Angels still took two of three from the Astros, have still won seven of 11 in September and are still just three games back of the final playoff spot, with 20 games left and plenty of head-to-head chances against the teams in front of them.
Calhoun was asked about his team responding.
"We have to," he said. "Tomorrow, the sun's going to come up and we're going to play a baseball game. We have to go out there as a team, hopefully get a 'W.'"
Alden Gonzalez is a reporter for MLB.com. Follow him on Twitter @Alden_Gonzalez and listen to his podcast. This story was not subject to the approval of Major League Baseball or its clubs.