Murphy's heroics product of clutch setup
Second baseman's three-run homer ties game with help of resilient Mets' hitters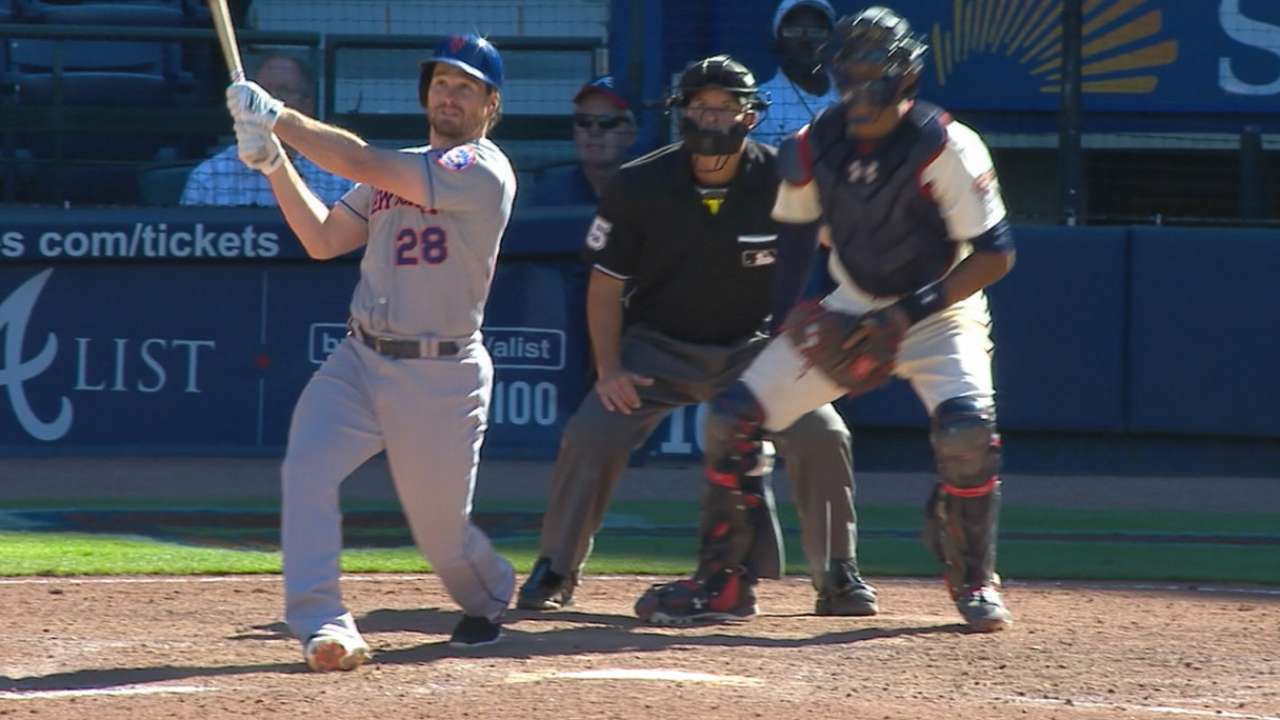 ATLANTA -- Daniel Murphy let loose with the headline-grabbing blast on Sunday afternoon -- another day, another breath-stealing home run, another hero of the day for the high-riding Mets -- but he would have never had that chance if not for a lineup filled with scrappers just doing their job.
"You've got to tip your cap to them," said Mets manager Terry Collins, who has been tippy with his cap on a daily basis during the Mets' seven-game winning streak. "They don't quit. It doesn't matter who's in there. They all want to be part of it."
Murphy's three-run homer against the Braves, with two outs in the ninth, tied the score in dramatic fashion Sunday, and the Mets won it in 10 innings, 10-7. It was a line drive of an exclamation point to an 8-2 road trip in which the Mets saw their five game lead in the National League East swell to 9 1/2 games over the Nationals.
But the setup to Murphy's 11th dinger of the season was the real thing of beauty.
With the Braves up, 7-4, after a dramatic rally of their own in the eighth, Atlanta manager Fredi Gonzalez brought in side-arming reliever Peter Moylan to close out things, looking to break a streak of 11 straight losses at Turner Field for the home team. Moylan immediately went to work.
He struck out Ruben Tejada on five pitches.
He struck out Kevin Plawecki on four.
And the Mets, evidently, had the Braves just where they wanted them.
Juan Lagares stepped up, watched a first-pitch strike from Moylan, took a ball, then fouled off three tough pitches with the game on the line before crushing a slider to the gap in right-center. The ball fell for a double, barely eluding diving center fielder Cameron Maybin.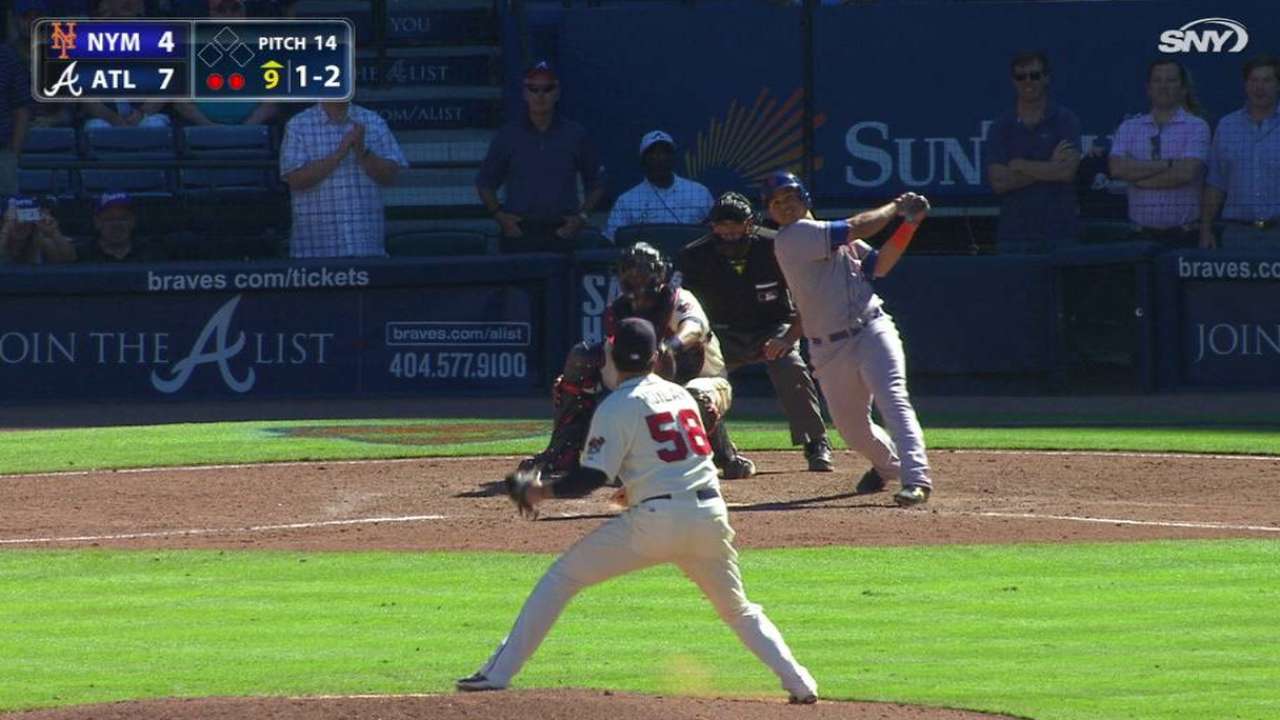 Gonzalez pulled Moylan for rookie right-hander Ryan Kelly with two outs and man on second.
Leadoff man Curtis Granderson -- who finished the afternoon with one hit, three RBIs and a pair of walks in five plate appearances -- stepped to the plate and worked a five-pitch walk off of Kelly. And here comes Murphy.
"The whole inning started long before that," Murphy pointed out. "Lagares put out a cash-in at-bat. He gets down two strikes against Peter Moylan over there, and he battles back. Grandy puts together another good at-bat -- he just keeps stacking good ABs on top of good ABs.
"That inning was made long before I got up there."
Still, facing an 0-1 count, Murphy did his thing. He took a slider a little away, turned on it, got it on the middle of the bat and lined it into the first couple of rows of seats in right-center. Collins even saw it coming.
"There was a thought. There was a thought," Collins said. "'You know what, hey, get one and hit it out of here.' And he did that."
Now the Mets head home for a nine-game, 10-day series which starts Monday -- the Yankees are at Citi Field next weekend -- with a winning record assured (Collins' first as the Mets' skipper), a huge lead in the division, the longest winning streak in baseball and all the confidence that comes with that.
"We made a commitment last fall that it's time to win. And we're not done," Collins said. "We got a long way to go yet. But I just think, again, it shows that the commitment this organization made [is] something our fans can get excited about. It's been pretty fun to watch."
John Donovan is a contributor to MLB.com. This story was not subject to the approval of Major League Baseball or its clubs.