Warren staying ready to start or pitch in relief
Right-hander could get the nod for Yankees on Tuesday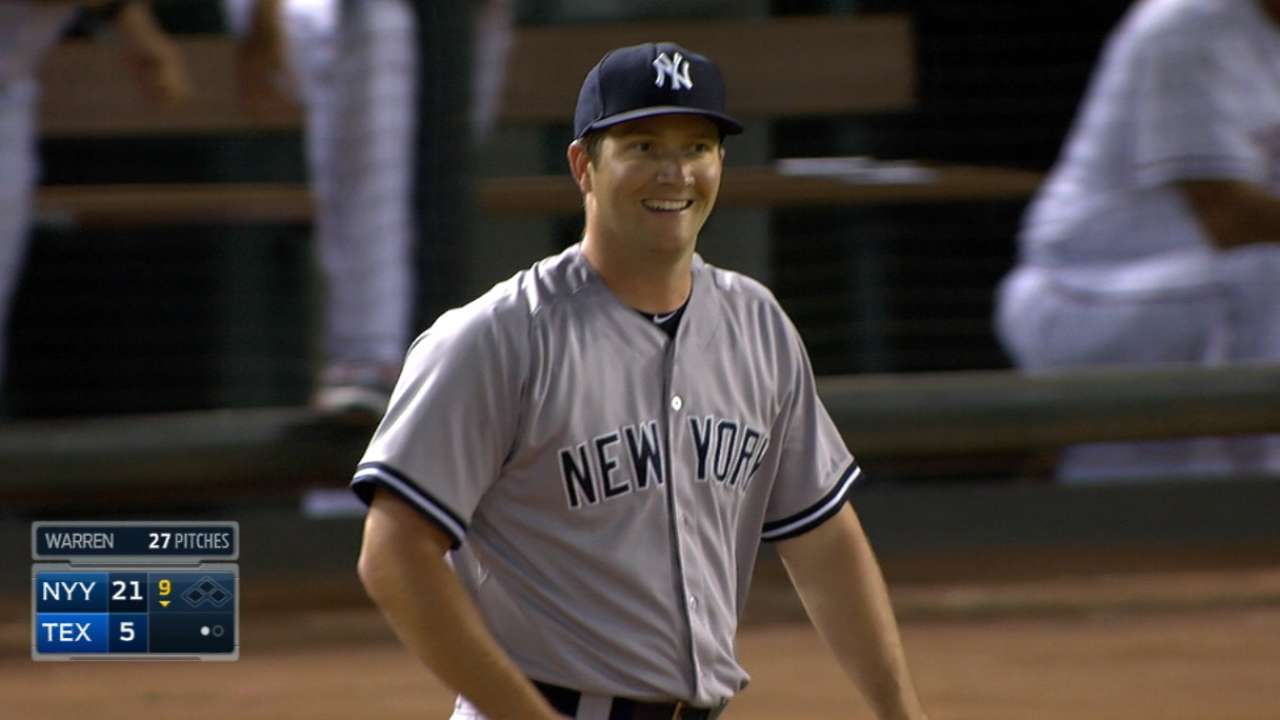 NEW YORK -- Adam Warren has two different routines: one for when he's a starting pitcher, the other for when he's a reliever.
The right-hander has proved to the Yankees that he can do both -- starting out the season as a reliable member of the rotation, then moving to the bullpen on June 30 after 14 starts when the Yankees needed him in that role. On Tuesday, it's likely Warren will switch roles yet again, as manager Joe Girardi has said that if all goes as planned he'll have Warren start against the Rays.
But with Warren not knowing for sure, he's been in a state of limbo of sorts.
"I wouldn't say it's easy, but it's one of those things where you've just got to take it one game at a time. [On Monday], I'll be like a reliever and go through my reliever routine. And if I don't pitch, then I'm sure I'll start the next day," he said. "Then you get in the starter routine. It's not easy to do, but I think you can't look ahead, and try to focus on one day at a time. Stay in a routine."
For the season, Warren is 6-6 with a 3.29 ERA through 14 starts and 25 appearances out of the bullpen. On Wednesday against the Orioles, the Yankees began the process of stretching him back out since Nathan Eovaldi is temporarily shut down with elbow inflammation.
Warren threw 47 pitches over 2 2/3 innings in relief of CC Sabathia and then did the routine he one day hopes to be doing on a consistent basis -- the starting one.
"Right after I pitched those 47 pitches, I ran for 30 minutes afterward kind of like a starter would and lifted like a starter would those first two days afterward just to try to build a little bit of endurance if I needed to start," he said. "I couldn't do too much because they wanted me available [Sunday], so you kind of mix both of them together trying to be available, but at the same time trying to build a little bit of endurance."
After Monday's game at Tropicana Field, the righty should have some clarity on the plan for Tuesday. He hasn't thrown a bullpen since the long-relief outing in the event that he does indeed get the nod.
For Girardi's part, he's thankful for Warren's flexibility and ability to handle any situation the Yankees ask of him.
"I think those guys are invaluable to a staff. Guys that can do a number of different things. They can start, they can be a bridge to your seventh, eighth, ninth guys, they can be a seventh-inning guy, an eighth-inning guy, a ninth," Girardi said. "Those guys are invaluable.
"I think every staff needs a guy like that. I think Adam's had a tremendous year and he gives us so much value. We're going to need it moving forward."
Grace Raynor is an associate reporter for MLB.com. This story was not subject to the approval of Major League Baseball or its clubs.