Schoop having solid year despite missed time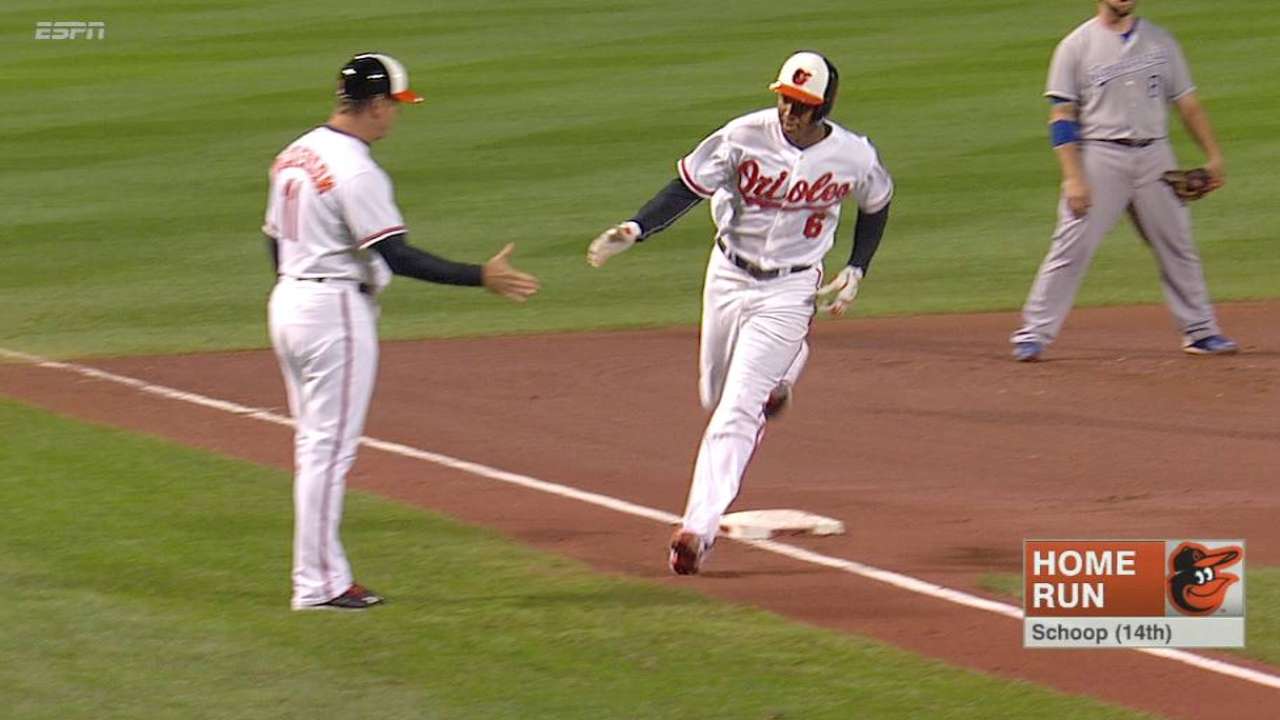 BALTIMORE -- Jonathan Schoop homered twice Sunday night in a span of four pitches, putting together a remarkable "contact-to-damage ratio," as Orioles manager Buck Showalter likes to call it.
The 23-year-old Schoop -- who missed more than 2 1/2 months with a left knee injury -- also continued to show in the 8-2 Orioles win over the Royals why the organization is so high on the young, powerful infielder.
"I think Jon is just starting to figure it out in a lot of ways," Showalter said. "The thing I like about him is he is very humble and he doesn't take anything for granted. He is going to be as good as he is capable of being. As long as he keeps defending the way he defends, he'll get a chance to be as good as he is capable of being."
Schoop has hit 14 homers in 69 games in his second big league season, a much better ratio than his rookie year, in which he he hit 16 homers in 137 games in 2014. Batting seventh on Sunday, Schoop hit both homers off Royals starter Johnny Cueto. He sent a 1-0 pitch in the bottom of the second inning into the Orioles' bullpen in left-center field, and followed that up with a homer on a 1-0 pitch in the fourth, both homers coming on sliders.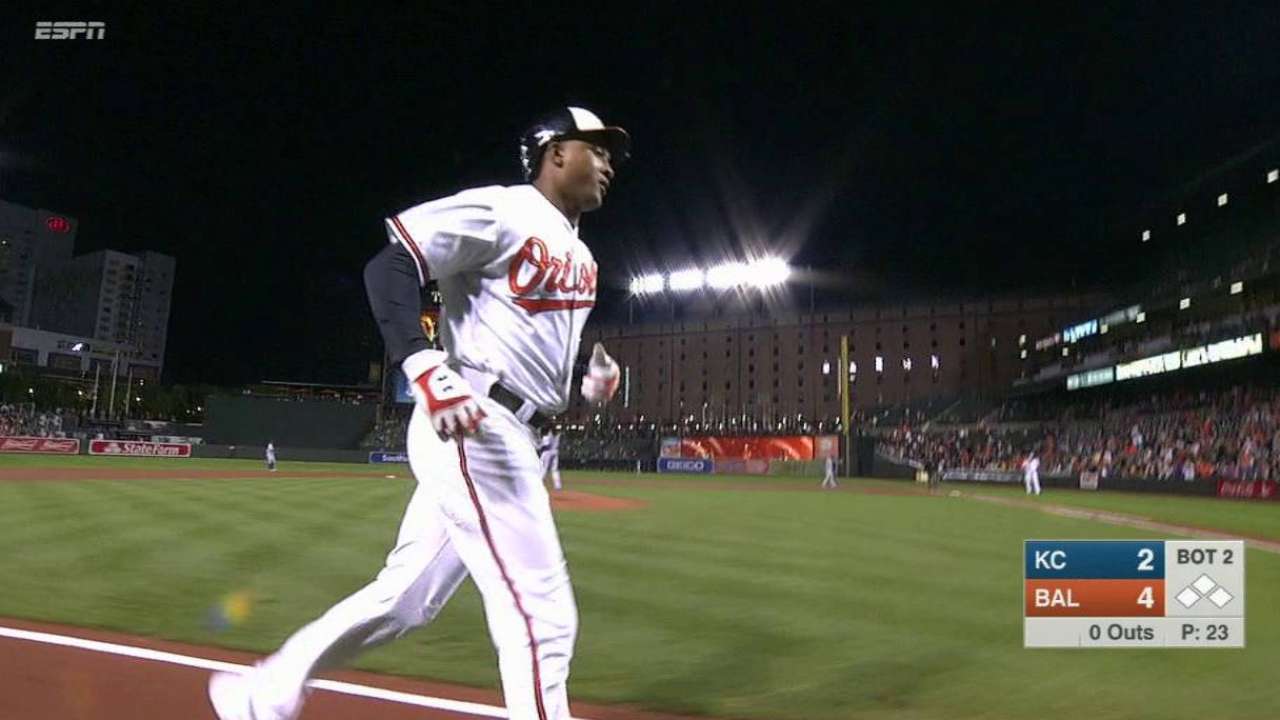 "Cueto is a really good pitcher, and if you get a good pitch the first pitch or second pitch, you better take advantage of it," Schoop said. "You don't want to get into a [deep] count with Cueto, because he's got a lot to go to, changeup, slider. He's a really good pitcher. Got to attack him early."
Schoop said he tries to not look at his numbers, taking the advice of shortstop J.J. Hardy, though he knows what the power projection would have been if he had stayed healthy for the full season.
"I know I've got 14 home runs, but I don't want to think about it like I can be a 30-guy," he said. "I just want it to happen."
"I made a lot of adjustments. Last year was a tough year for me. [Hitting coach Scott] Coolbaugh was working with me a lot in Spring Training, and I got a lot of guys, J.J., [Manny Machado], [Adam Jones], who try to help me. Teach me. And I feel like I'm way better [as a hitter] than last year, but I have a lot to improve. I have some holes."
Brittany Ghiroli is a reporter for MLB.com. Read her blog, Britt's Bird Watch, follow her on Facebook and Twitter @britt_ghiroli, and listen to her podcast. This story was not subject to the approval of Major League Baseball or its clubs.