Playing both sides: Davis robs HR, goes deep
Half-inning separates Brewers outfielder's outstanding play, big blast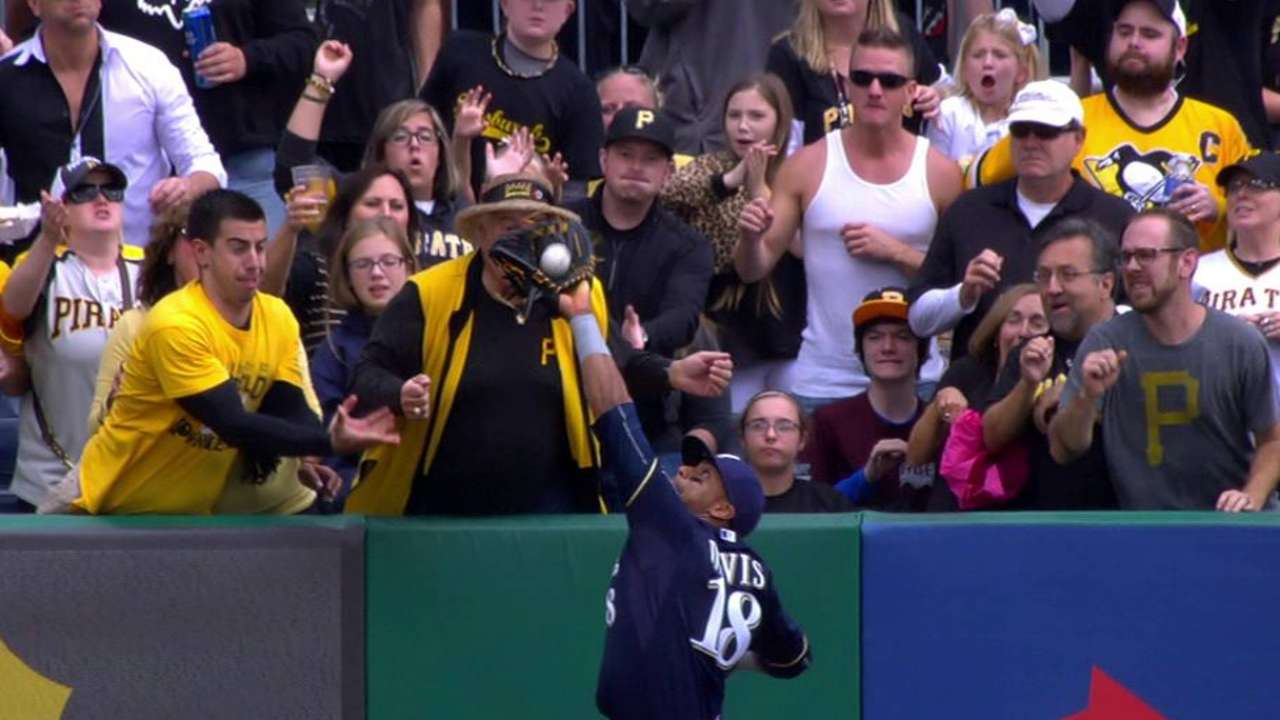 PITTSBURGH -- Khris Davis threw the ball back to the infield, doffed his cap and turned around to watch the replay on the video board at PNC Park. The catch he made deserved a second look.
The Brewers finished off a three-city, 10-day road trip Sunday afternoon with a 7-6 loss to the Pirates in the 11th inning, but Davis provided a pair of highlights -- stealing a home run and hitting one of his own within the span of a few minutes.
Pedro Alvarez had just cut the Brewers' 2-0 lead in half in the second inning with a solo homer to center field when Francisco Cervelli came to the plate. The Pirates catcher clobbered a 92-mph fastball from Taylor Jungmann, pulling it deep to left field.
The ball set a course for the front-row seats in left, but Davis had other plans. He glided back toward the wall, perfectly timed his jump and his right side bounced off the wall as he reached up with his left arm to reel in the would-be home run.
"In my mind, I was just telling myself to go get it and be aggressive," Davis said. "I'm not too scared of running into fences. I'm built to take hits, so I'll do that."
Davis took a big hit but held on to the ball as he regained his footing, holding his arm up again to show off the potential home run ball he'd just snagged.
"That was a big play, obviously, to stop some momentum after Alvarez's home run," Brewers manager Craig Counsell said.
Minutes later, Davis came to the plate against Pirates left-hander Francisco Liriano. Davis saw three straight fastballs, working a 1-1 count then unloading on the third one and sending it to straightaway center field.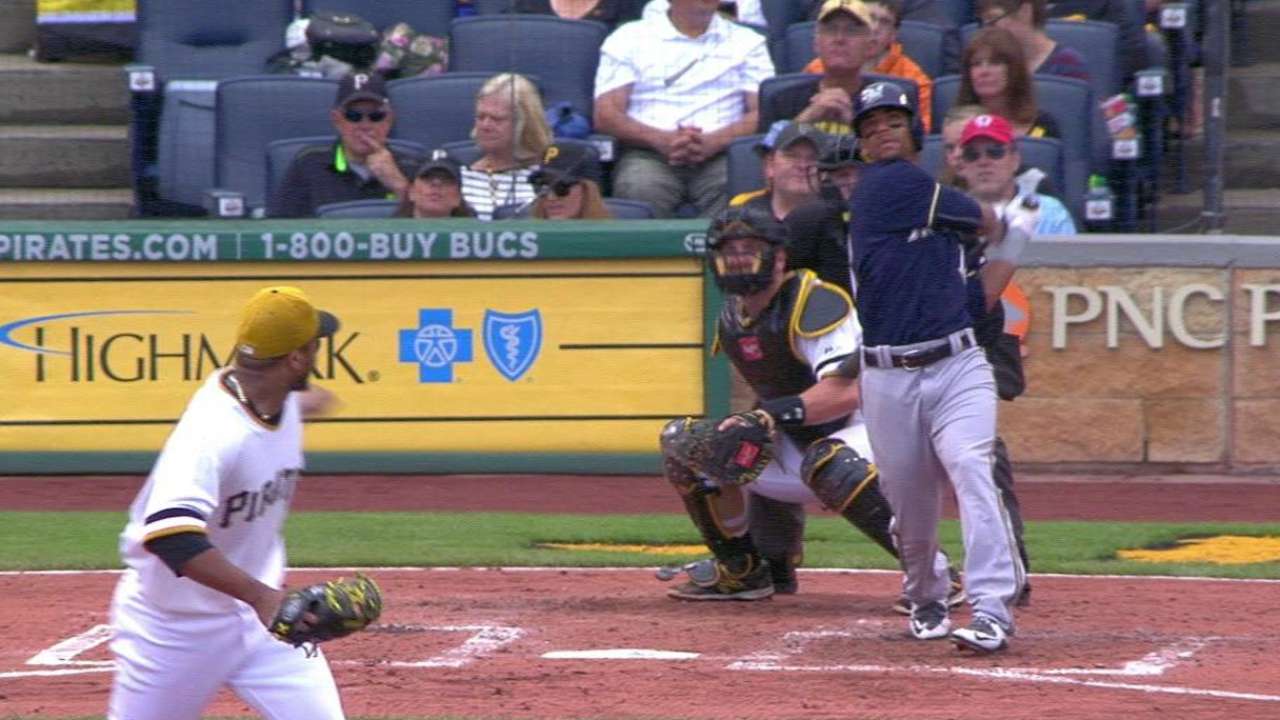 "He left it a little bit up, and I put a good swing on it," Davis said. "I was happy it just barely snuck out."
The ball landed in the bushes beyond the center-field wall, pushing the Brewers' lead to 4-1 and giving Davis his 20th home run of the season.
"That's what Khris does," Counsell said. "He's going to hit home runs, and you know it. He's been consistent. He's going to hit his home runs. That's why you put him out there."
The homers have been coming at a remarkable pace for Davis over the past five weeks or so. He hit only seven homers in his first 68 games. Since Aug. 6, he's gone deep 13 times in 34 games.
"Just being aggressive, just getting good timing down and not missing," Davis said. "As long as I do that, I think I'll be fine."
Adam Berry is a reporter for MLB.com. Follow him on Twitter at @adamdberry. This story was not subject to the approval of Major League Baseball or its clubs.