In must-win start, Tanaka shuts down Jays
Right-hander delivers seven scoreless innings for Yankees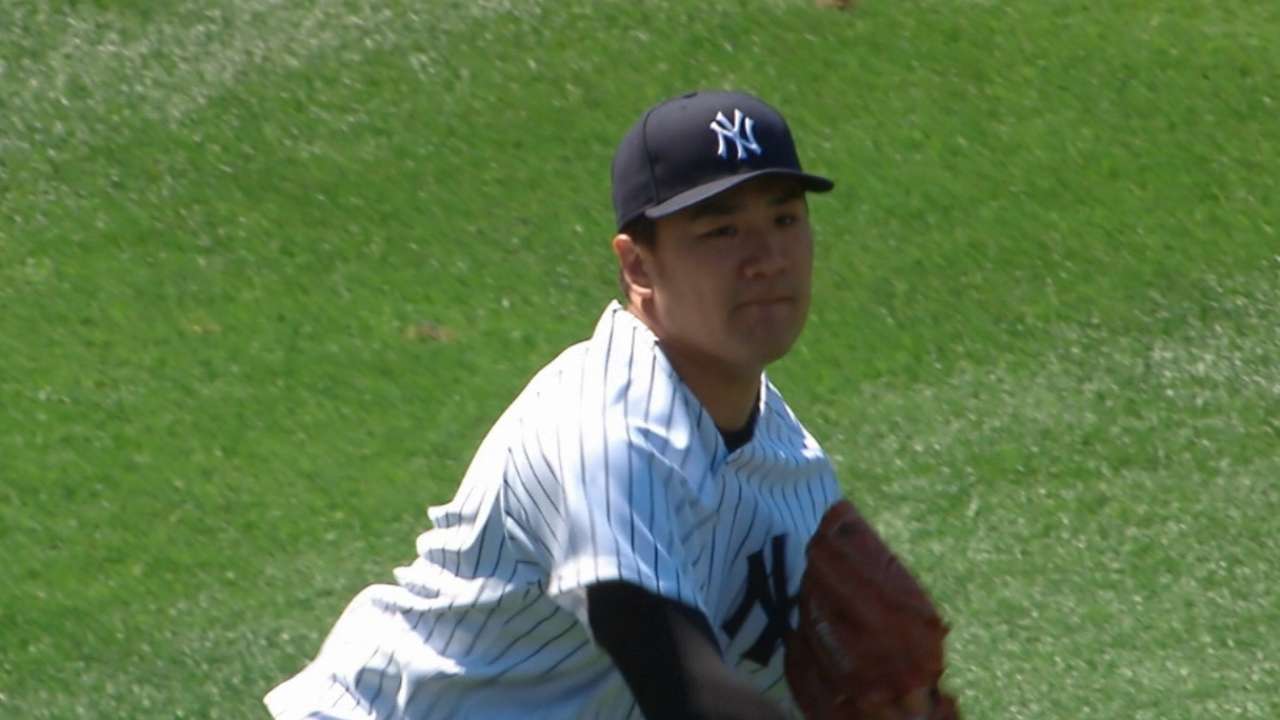 NEW YORK -- Masahiro Tanaka knew what was on the line Sunday. He knew the Yankees desperately needed a win to avoid a sweep at the hands of the first-place Blue Jays, and he knew that his manager had essentially declared Sunday a must-win game for the sake of the American League East race.
The Yanks' ace seems to relish high-pressure situations, and Sunday was no different. A confident Tanaka gave his club exactly what it needed en route to a 5-0 victory, throwing seven innings of four-hit ball with no walks and seven strikeouts.
"They came in and took three in a row and my mindset was: 'I'm not going to let these guys sweep us,'" Tanaka said through an interpreter. "I'm not going to give in. They're not going to sweep us."
Of his 108 pitches, Tanaka threw 76 for strikes, keeping the Jays off balance and earning the praises of manager Joe Girardi for his ability to mix his pitches and locate effectively.
Girardi in particular was pleased with Tanaka's split, but also commended his slider, cutter and curveball.
"We know how dangerous they are, and I think it's the location. He's down in the zone a lot," Girardi said. "We missed location with a lot of fastballs in the first three games, and I think that had a lot to do with it."
Sunday was Tanaka's first win at home since Aug. 4, but he's strung together a collection of strong starts as of late, picking up the win in three of his last four outings. On Aug. 15 in a hostile Toronto environment, he threw a complete game with eight strikeouts and just one earned run for the win. He's allowed just one earned run over his last 15 innings.
Tanaka has been the one Yankees starter who seems to be able to handle the Blue Jays' powerful lineup consistently. They're now 3 1/2 games behind Toronto instead of the 5 1/2 they would be trailing had the Blue Jays completed the sweep.
"I think everything we heard, he enjoys [big games]," Girardi said. "He enjoyed it in Japan and he looked forward to coming in here and pitching in games like today."
If all goes according to plan for the Yankees, there will be other big-time games after the regular season for Tanaka. A Wild Card Game is a possibility. But Tanaka has his sights set on something else.
"We're not looking to go into the Wild Card Game. We're looking to take this division," he said. "So to answer your question: No. I'm not thinking about that right now."
Grace Raynor is an associate reporter for MLB.com. This story was not subject to the approval of Major League Baseball or its clubs.