Since return, Urena impresses out of bullpen
Right-hander has allowed one run over last six frames in relief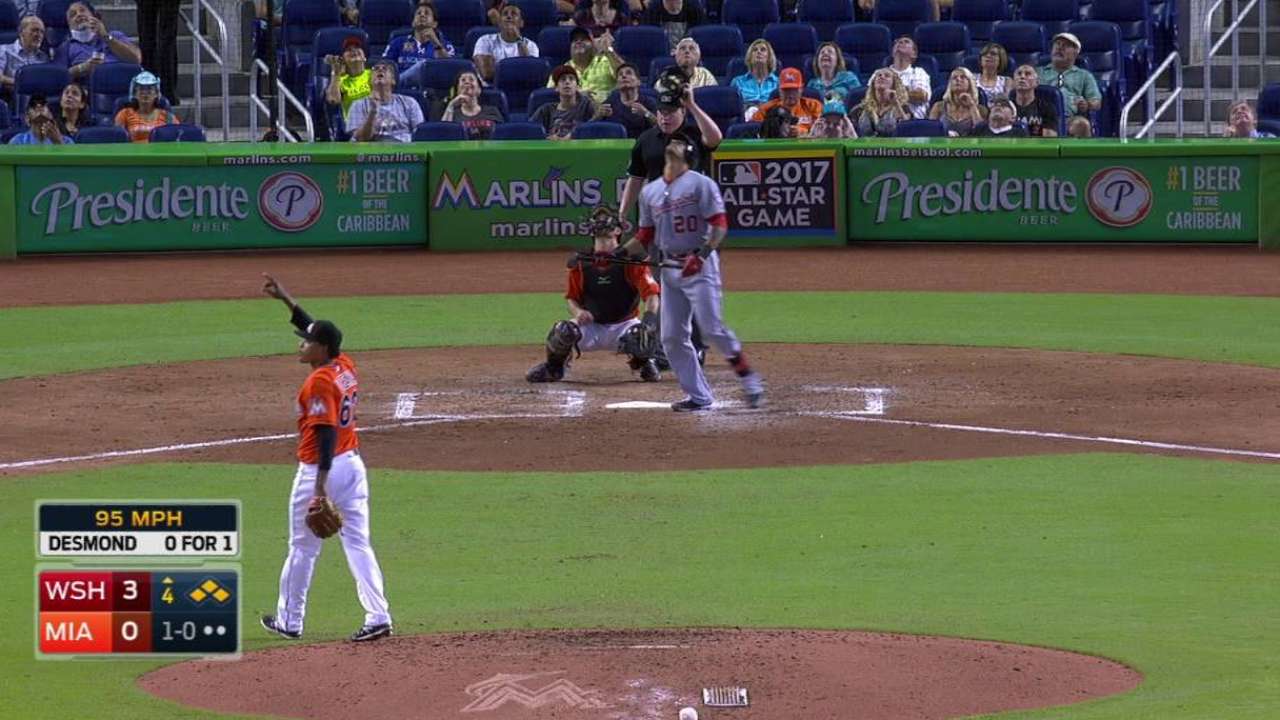 MIAMI -- It's been a brief look at right-hander Jose Urena since he returned from a disabled list stint that sidelined him for nearly a month. But since coming back into the mix on Sept. 4 from left knee contusion, manager Dan Jennings has liked what he's seen from the rookie -- as was the case again in the Marlins' 5-0 loss to Washington on Sunday.
Replacing starter Brad Hand in the fourth inning, Urena (1-5, 4.72 ERA) logged 2 2/3 innings of relief while allowing one earned run on three hits.
"When we brought him in, he got the ground ball back to him [from Matt den Dekker with the bases loaded] and got the out," Jennings said. "He's a very aggressive kid -- the way his demeanor is on the mound and the way he pitches. That was good to see him go into that situation and battle like that."
Urena entered with one out in the fourth and -- after walking Yunel Escobar to load the bases -- induced den Dekker into a 1-2 groundball force out. Jayson Werth then tagged him for an RBI single (charged to Hand) before Urena escaped the inning.
After cruising for the next two innings, den Dekker connected for a sixth-inning homer off the 24-year-old, which marked the first earned run he allowed since returning. In all, Urena has totaled six innings of relief since Sept. 5, surrendering just one earned run on four hits. His best outing came on Sept. 7 when he tossed 2 1/3 scoreless innings vs. Milwaukee.
"Since he's come back, he's really been aggressive," Jennings said. "His fastball is probably the best fastball we've seen out of him. After coming off the DL, he's throwing the ball downhill and he's got that good late-sink life."
The Marlins would be delighted to see the rookie continue to put together strong outings, as he showed flashes of success earlier in the season, although coupled with inconsistency.
In 14 appearances this season, Urena has made nine starts. He was in the rotation from May 26-June 28, going just 1-5. After a trip down to Triple-A New Orleans, he rejoined the rotation again for two starts (Aug. 1 and Aug. 6) before suffering his injury.
Despite the five losses, Urena went at least six innings and allowed three or fewer runs four times. His past three outings since returning is more of what he showed during those appearances.
Steve Wilaj is an associate reporter for MLB.com. This story was not subject to the approval of Major League Baseball or its clubs.