Wong jolts Cards' offense to life with key at-bat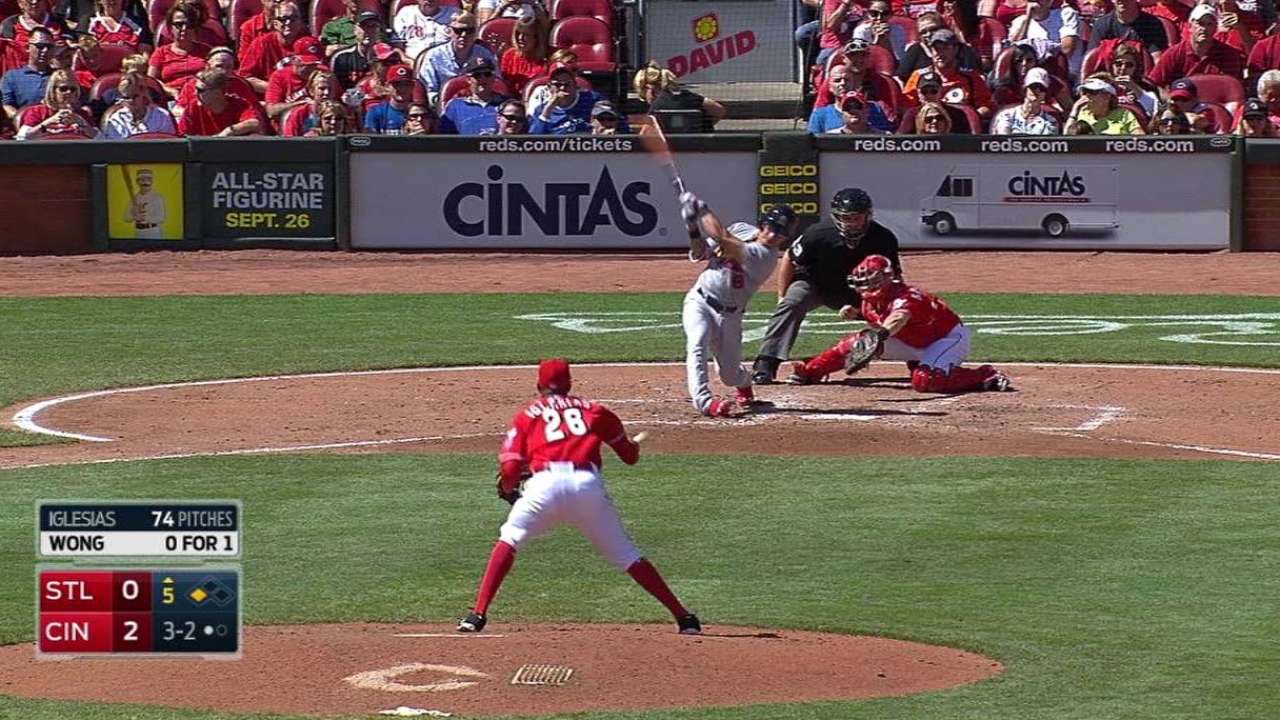 CINCINNATI -- Needing something to stimulate a club mired in a 2-8 tailspin, the Cardinals watched as the energy permeating from their unusually animated dugout translated into on-field life in the fifth inning on Sunday at Great American Ball Park.
While the Cards would go on to blow out the Reds, 9-2, it was during a frame in which they got a key nine-pitch at-bat from Kolten Wong, a clutch two-strike sacrifice bunt from their pitcher and a two-out game-tying hit from Matt Carpenter that the momentum shifted. A wild pitch, a balk, an error and a warning to both benches after some bickering were also featured in the complicated, 35-pitch inning for Reds starter Raisel Iglesias.
It proved to be the spark that ignited an offense that entered the day having scored just three runs in the first three games of the series.
"I feel like we have been looking for it and looking for it," Jason Heyward said. "Give us something! Today we got it and we took it and ran with it."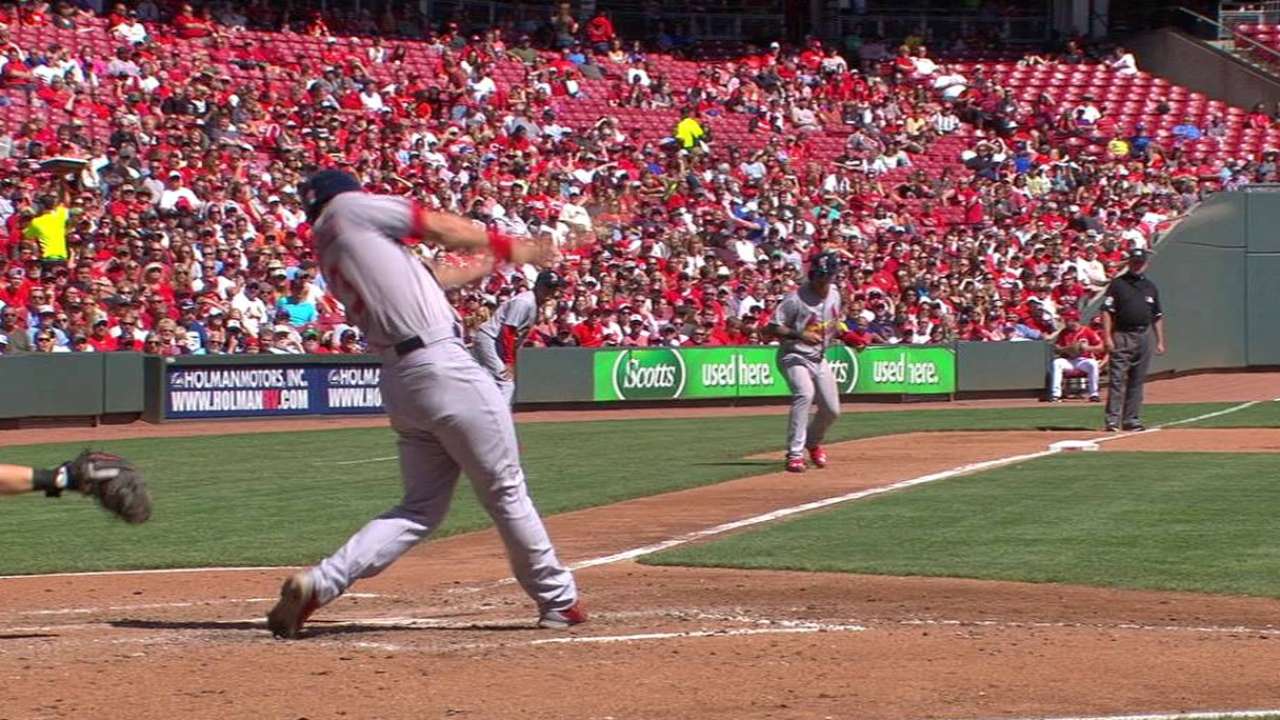 Trailing 2-0, a one-out double by Jon Jay put a runner in scoring position for the third time in the game. This time it would not be wasted. Wong extended an at-bat against Iglesias, watched Jay advance on a wild pitch and then, with a shortened swing, shot a ball up the middle that though stopped by a defensive shift, couldn't prevent a run.
"In that situation, we're down 2-0," manager Mike Matheny said. "We need something. We need to scratch the surface."
Michael Wacha followed and took exception when Iglesias' first offering came in high and tight as Wacha squared to bunt. Wacha yelled a few words at the Reds' starter, which led to heightened attention in both dugouts. Home-plate umpire Greg Gibson issued a warning to both benches.
"I just didn't like it," Wacha said. "I thought it was a little too close."
Wacha won the showdown, however, by laying down the sacrifice to push Wong to second. Carpenter's two-out single then tied the game.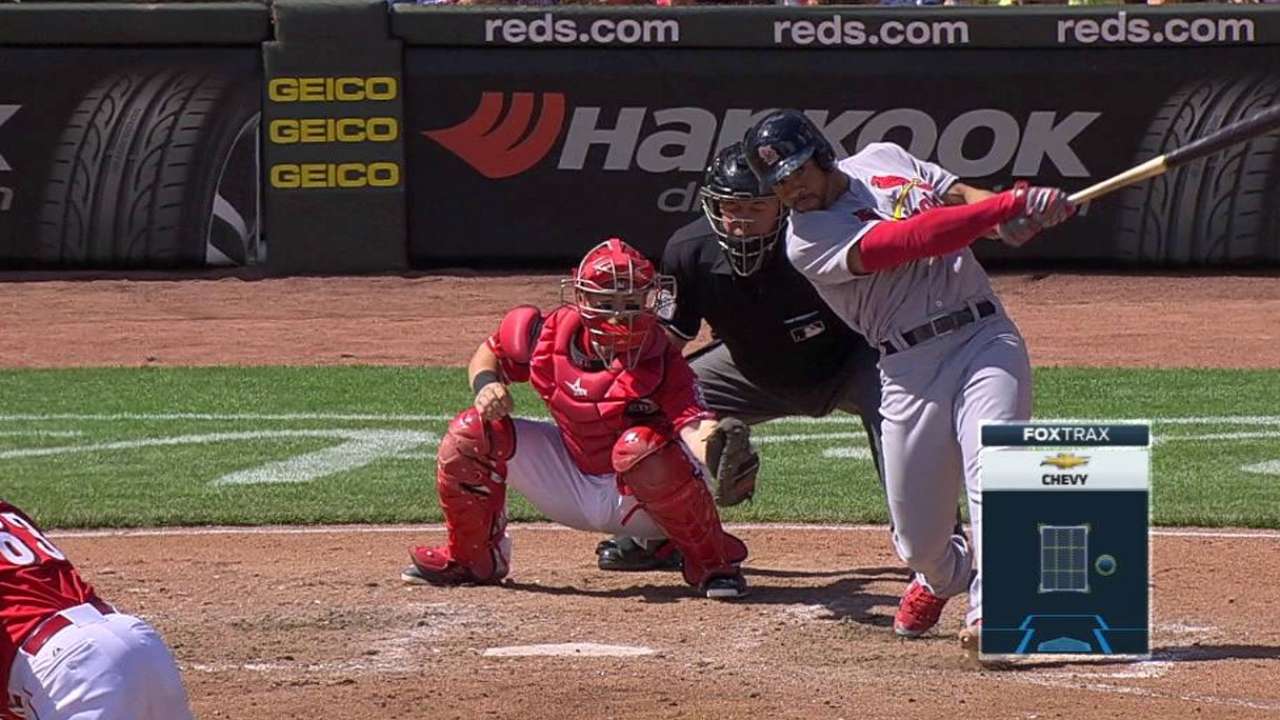 "It's just the little things," Matheny said. "When you're consistent with the little things, it seems like the big things just happen."
From there, the offense never looked back. The Cardinals would take the lead on Tommy Pham's two-run homer in the sixth and pile on five runs in the eighth. After averaging 2.3 runs over the last 10 games, the Cards enjoyed their biggest output since Aug. 25.
Matheny acknowledged afterward that there had been added verve in the dugout all day -- a credit, he said, to a push for more liveliness by pitcher Carlos Martinez and bullpen catcher Kleininger Teran.
"It's just nice to have people that are into it," Matheny said. "That energy is infectious."
Jenifer Langosch is a reporter for MLB.com. Read her blog, By Gosh, It's Langosch, follow her on Twitter @LangoschMLB, like her Facebook page Jenifer Langosch for Cardinals.com and listen to her podcast. This story was not subject to the approval of Major League Baseball or its clubs.