Adames impresses in second stint with Rox
'He looks very at ease on a Major League field now,' Weiss says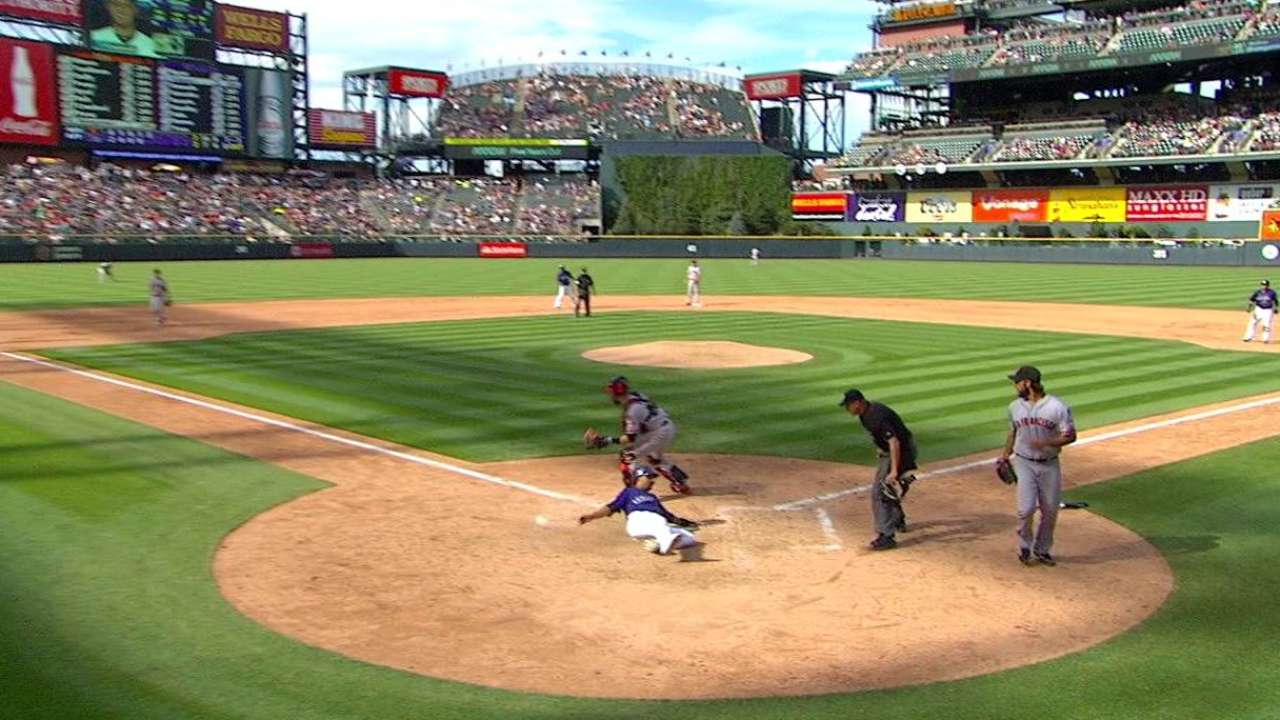 SEATTLE -- With starting shortstop Jose Reyes slowed by an Achilles strain, September callup Cristhian Adames has used the opportunity to impress manager Walt Weiss, who knows a thing or two about playing shortstop.
Adames, who was 1-for-15 last season in a seven-game stint with the Rockies, is 8-for-18 (.444) in 10 games since being called up Sept. 1, including going 3-for-5 as a pinch-hitter.
He has at least one hit in seven of the 10 games in which he's played, including all four of the games he has started.
"He looks very different than he did a year ago," said Weiss, who spent 14 seasons as a Major League shortstop. "I thought a year ago that the game looked fast for him at times. I haven't seen that at all.
"He looks very at ease on a Major League field now, whether it's on the defensive side or stepping in the batter's box taking an at-bat," Weiss added. "He had a very good year. He's a guy that winter ball helped out quite a bit. He went to winter ball last year, won a batting title. I see a tremendous amount of growth in a year's time."
The 24-year-old Adames hit .311 this season at Triple-A Albuquerque with 11 home runs and 51 RBIs. He played 79 games at shortstop, 20 at second base and 15 at third.
"I feel like I have a pretty good eye for what I see at that position," Weiss said. "He's got all the actions. I felt that the first time I saw him a couple spring trainings ago, I always liked his actions. When he got around the ball, his feet and his hands worked really well."
The switch-hitting Adames was in the starting lineup again Sunday as Reyes missed his fourth straight game with a strained left Achilles.
"He's getting better, I just felt like he needed another day," Weiss said. "I'm guessing that he'll be ready to go tomorrow."
Jim Hoehn is a contributor to MLB.com. This story was not subject to the approval of Major League Baseball or its clubs.