Padres shut out, avoid perfection in a pinch
Bill Center, longtime sportswriter for U-T San Diego, is an employee of the Padres.
The Padres continued to struggle against the Giants on Saturday as San Diego was shut out by a score of 8-0 at AT&T Park. Starter Ian Kennedy, who has flourished and thrived when pitching against the Giants in the past, suffered in an uncharacteristic outing and struggled mightily against San Francisco. Kennedy, much like starter Andrew Cashner the night before, was unable to pitch beyond the fifth inning and thus forced manager Pat Murphy to call upon the Padres bullpen earlier than was prudent.
Prior to Kennedy's start on Saturday, he owned an 11-5 record with a 2.41 ERA over 24 career starts against the Giants. Last night, Kennedy surrendered seven earned runs on seven hits and three walks over 4 2/3 innings. Although Kennedy was able to strike out two Giants on the night, he also surrendered a home run to Angel Pagan in his final inning of work.
The Padres' bullpen once again took to their relieving duties early on, as Marcos Mateo, Frank Garces and Marc Rzepczynski pitched the final three-plus innings of Saturday's game. Both Mateo and Rzepczynski combined to surrendered zero runs, while Garces yielded one run in the seventh inning after Brandon Belt hit his 18th homer of the year.
Giants starter Madison Bumgarner pitched masterfully on Saturday and worked a perfect game late into the eighth inning against the Friars. But for a pinch-hit single with two outs in the eighth inning off the bat of Melvin Upton Jr., the Padres offense was unable to manufacture a single hit or run against Bumgarner. Oddly enough, Upton Jr. also broke up a no-hit bid by Giants starter Chris Heston on July 21st of this year.
Unfortunately for the Friars, Bumgarner's gem brought an end to Matt Kemp's 31-game on-base streak and also handed San Diego its third loss in a row. With Saturday's loss, the Padres record fell to 67-76 with only 19 games left to play in the regular season. The Friars will try to get back on track on Sunday as they close out their current three-game set against the Giants before heading on to Arizona.
In case you missed it, here are some highlights and stories that you might not have seen from Saturday:
Padres post-game recap: Padres avoid perfecto as Kennedy struggles
Kemp makes a nice running grab at the wall in right: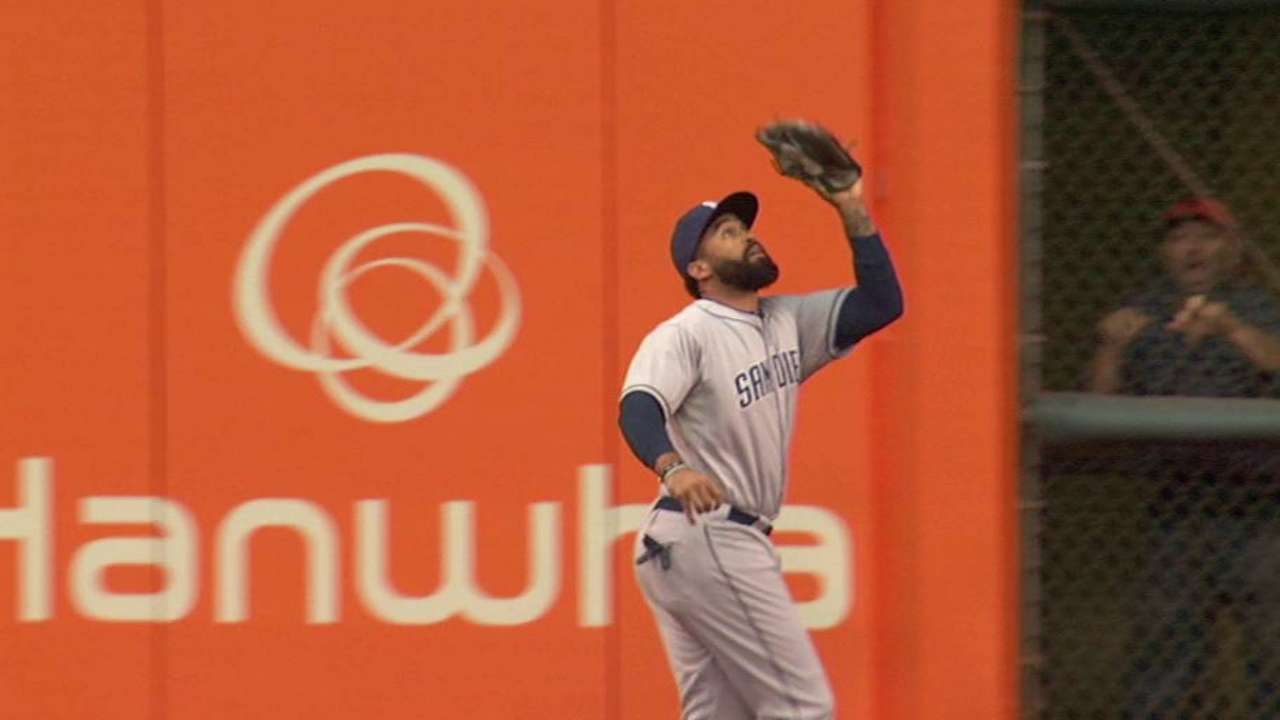 Gyorko makes a nice diving stop at 2nd to retire Tomlinson in the 7th: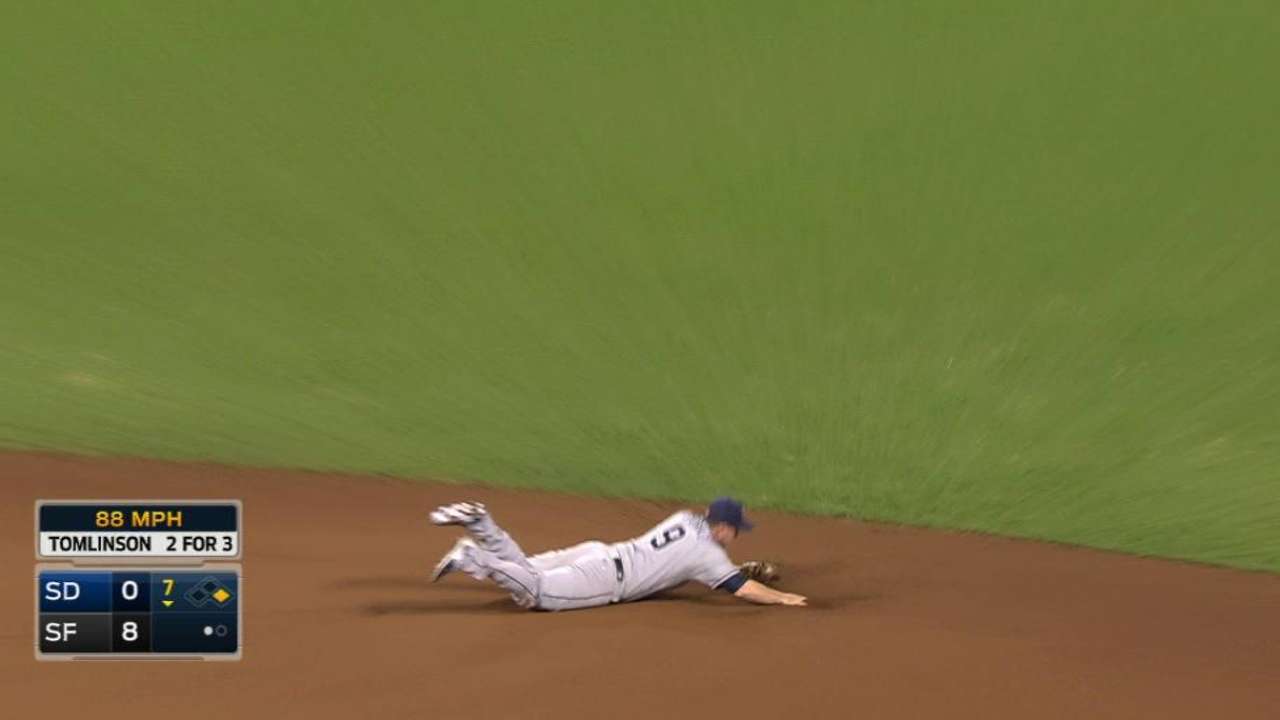 Upton Jr. ends Bumgarner's bid for perfection with a pinch-hit single in the 8th: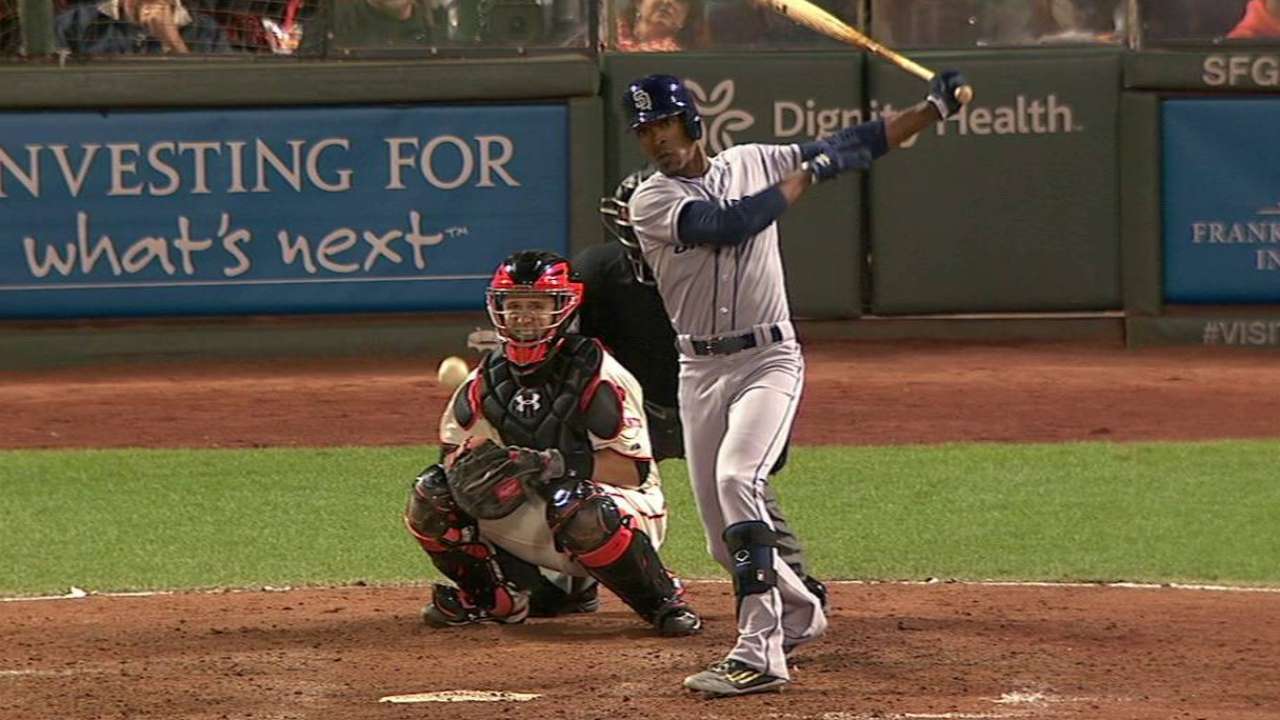 The day's top stories:
Melvin Upton Jr. helps Friars avoid history -- which is good: Upton Jr. ready, spoils MadBum's perfecto
Veteran guidance allows Gyorko to flourish: Gyorko adjusting to short with Barmes' help
Alonso's 2015 campaign likely over, so what of 2016?: Questions growing over injured Alonso's future
With most MiLB seasons coming to a closer, prospect list gets updated: Padres' Top 30 Prospects list
Murph's Musings: Talking about Gyorko at short, Amarista at second
Down on the Farm: Goebbert leads El Paso win with go-ahead, 2-run double
Notable Notes: Game Notes @ SF (09.11) Padres to Face a Familiar Foe in Peavy during SF Opener
Looking forward to the next game:
Friar Forecast at AT&T Park: Despaigne fills in for ailing Rea against Giants
Sunday's probable pitchers: Odrisamer Despaigne (5-8, 5.58 ERA) vs. Mike Leake (0-3, 4.31 ERA)