O'Malley getting feel for center field, big leagues
'He does a lot of things right. He's a ballplayer,' McClendon says of Mariners rookie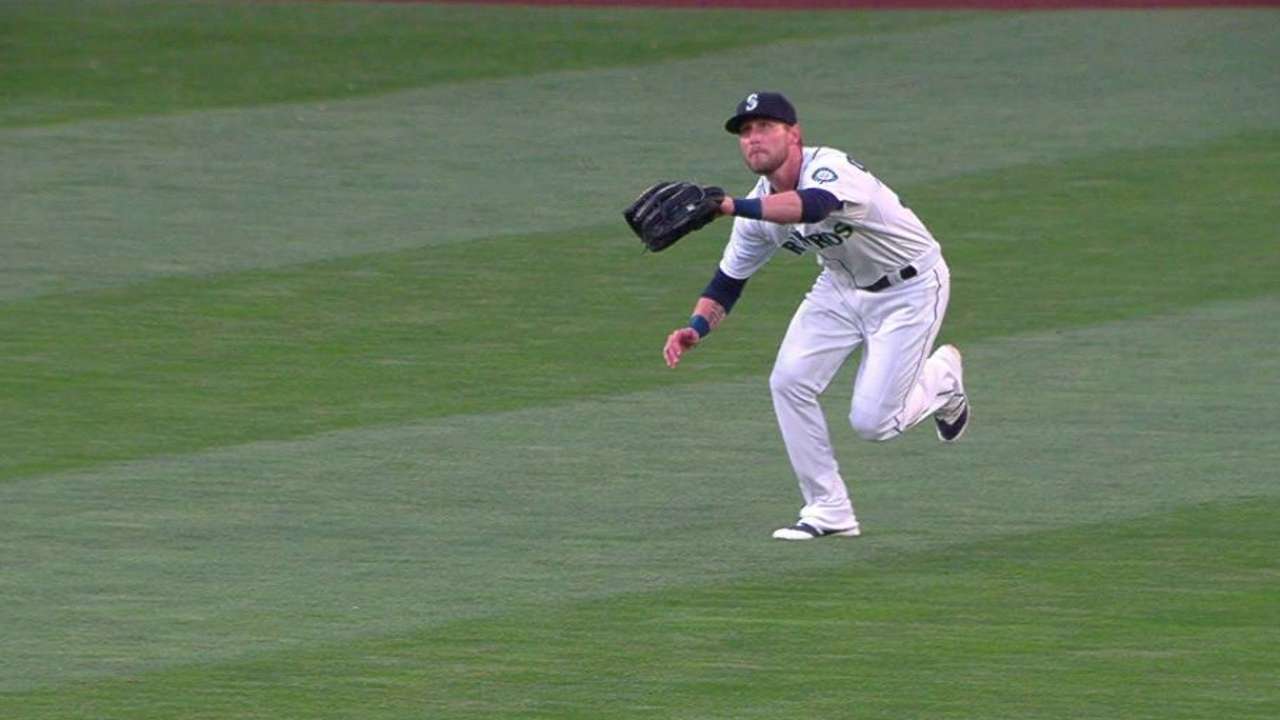 SEATTLE -- Shawn O'Malley has played more than 800 professional baseball games mainly as an infielder, so when it comes to playing center field, the Mariners rookie is exactly that -- a rookie.
Still, nine games into his first Major League stint with the Mariners, O'Malley hasn't looked the part. In Friday's 4-2 loss to the Rockies, O'Malley made two diving catches with relief pitcher JC Ramirez on the mound and has regularly used his speed to track down hard-to-reach balls.
He's also using that speed to his advantage on the basepaths. In Saturday's game, O'Malley wound up on third after a throwing error by third baseman Nolan Arenado. On the next play, he dashed home on a well-executed squeeze play by John Hicks with one out in the fourth inning to give the Mariners a 4-0 lead. It's these kinds of hustle plays that have caught the eye of manager Lloyd McClendon.
"He does a lot of things right. He's a ballplayer," McClendon said after Saturday's game. "He runs well, catches the ball, takes a walk, does things right on the bases. He's an interesting character."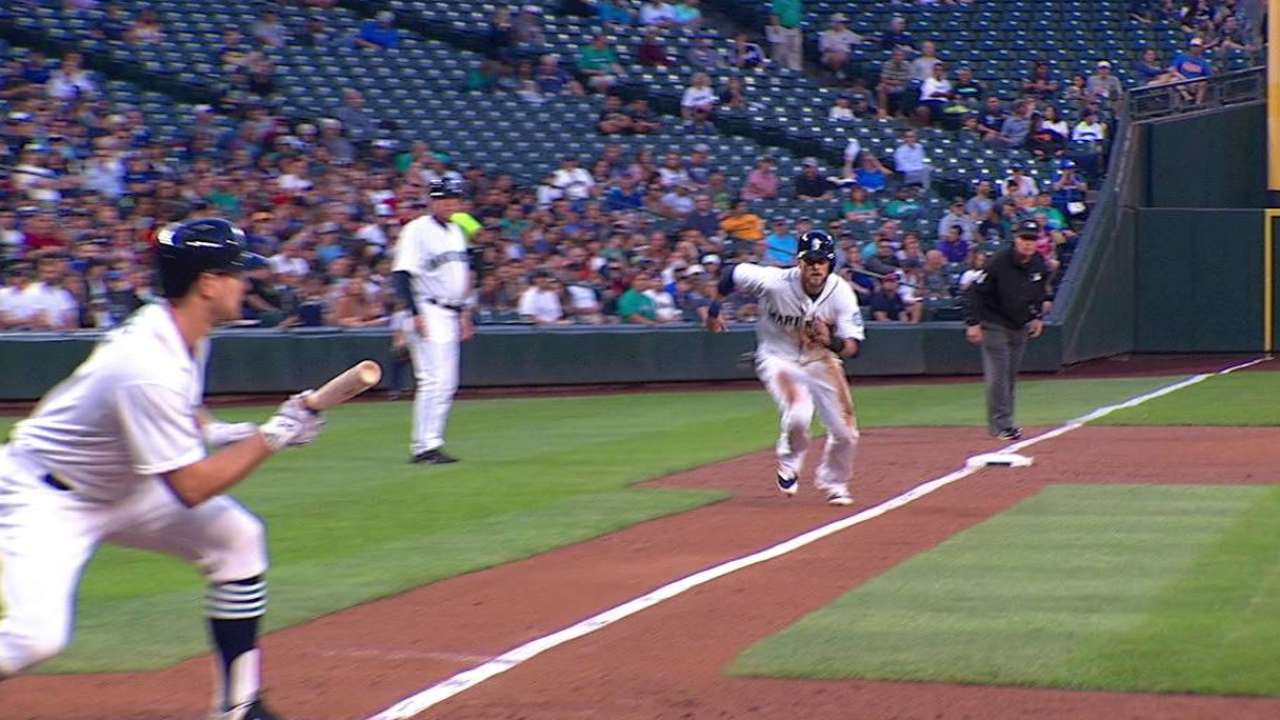 An eye for getting the small things right is something O'Malley said he has picked up from his wife, Samantha, the women's basketball coach at Andrew College, a junior college in Cuthbert, Ga.
"She's a basketball coach and she's into all that motivation stuff. She's always told me, 'Do the little things right. Be that guy who does the little things right.' So I just try to do the little things: Work hard, show up early, do elementary drills if I have to, do things so I don't get in trouble, you know?" O'Malley said. "Be a good teammate, be on time, and just let everything else take care of itself."
In nine games with the Mariners, O'Malley is 8-for-20 with a .567 on-base percentage. Center field has taken some getting used to, but the 27-year-old said playing a little deeper and allowing his speed to get him into position to make plays has helped.
"Just [working on recognizing] angles, different flights of the ball. Some balls just look like they're hit really far. Hearing the sounds of the bats, recognizing things like that," O'Malley said. "Just trying to learn and adjust. It's actually pretty fun, I enjoy it. I'm trying to stay comfortable out there."
It's natural for anxiety to build while standing in the outfield waiting for the ball over the course of the game, so O'Malley said he has been doing everything he can to stay loose, including humming and singing on the field.
"Sometimes I just sing whatever comes over the speaker or songs will jump in my head. I think the other day it was 'Low Rider' so I was jamming to 'Low Rider' last night and a couple country songs come on every once in a while. I wish they'd play more of those between innings," O'Malley said. "Just keeps you relaxed. Obviously I'm worried about the situation but I've gotta be able to breathe and make the play."
O'Malley hit just .188 in 11 games with the Angels last season, but his second Major League stint has come with a new position, better plate discipline and the ability to enjoy what's going on around him.
"I just try to keep it loose and stay out of my head and just have fun with it," O'Malley said. "If I have fun I give myself a better chance to make more plays I need to make."
Worth noting
• McClendon said he has not yet decided whether to use Thursday's off day as an opportunity to push back or skip right-hander Taijuan Walker's turn in the rotation. Walker is slated to start Monday's series opener against the Angels.
"I don't have those answers yet," McClendon said. "All I can tell you is he's making his start tomorrow and we'll figure things out from there."
Andrew Erickson is an associate reporter for MLB.com. This story was not subject to the approval of Major League Baseball or its clubs.