Napoli plays outfield for first time as pro
Veteran doesn't have ball hit to him in left, then moves to first base in sixth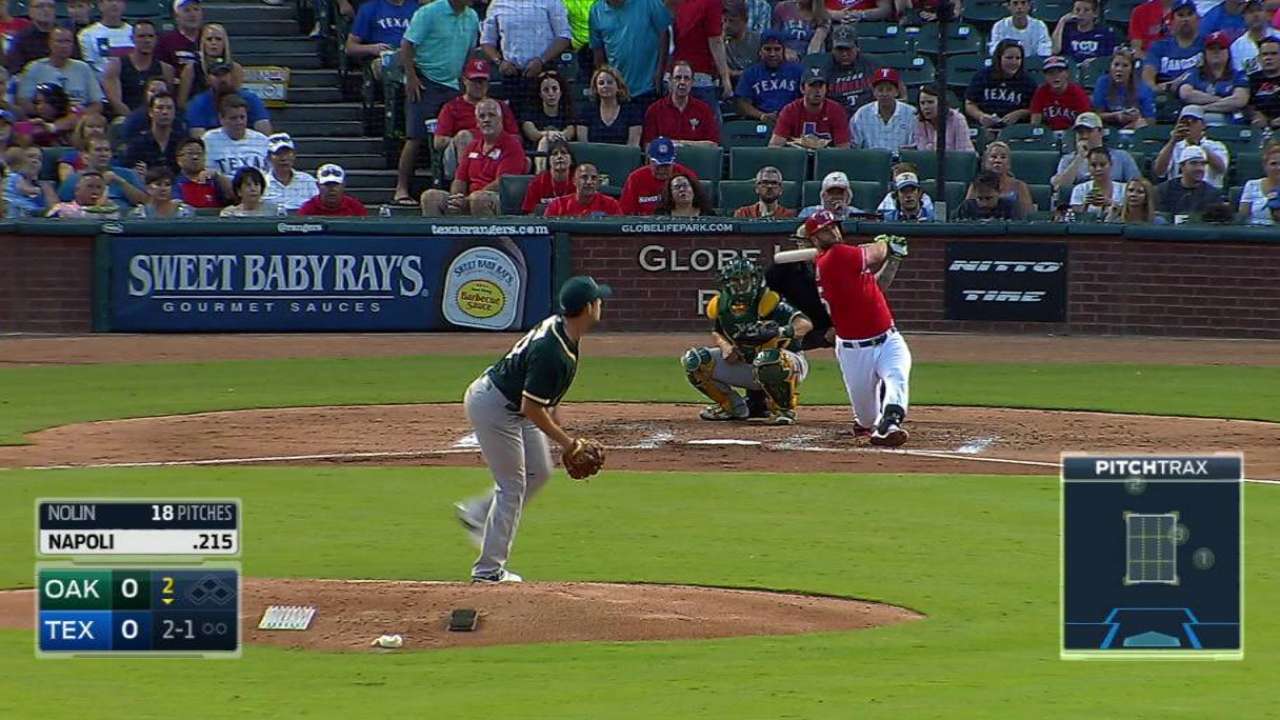 ARLINGTON -- In 16 seasons and more than 10,000 innings as a professional, Mike Napoli had never played the outfield until Sunday's 12-4 Rangers win over the A's. He didn't seem too worried about it beforehand.
"I've been out there before," Napoli said.
It's true -- but the last time he played a game in the outfield before Sunday, he was in high school and Bill Clinton was president.
"I wasn't fast or anything," Napoli said, "but I can get to the ball."
As it turned out, no balls were hit to Napoli in left field. He moved to first base to start the sixth when Will Venable replaced him in left with the score already 8-0. Ironically, he made a fielding error that inning at his usual position.
Manager Jeff Banister's seemingly unorthodox decision to play Napoli in left field was the culmination of a month's worth of planning and preparation after Napoli arrived in a trade with Boston on Aug. 7, Banister said.
Because the Rangers have struggled most of the year against left-handed pitching, Banister wants to be able to get Prince Fielder, Napoli and Mitch Moreland all in the lineup, providing power in the fourth through sixth spots.
Against Oakland lefty Felix Doubront on Sunday, a day after the Rangers had a hard time against rookie lefty Sean Nolin, Banister felt the time was right to put Napoli in left.
"This is not a new idea," Banister said. "We've been working on this since he got here. … It's about putting the bats in the lineup. We have not put together an attack against left-handed starter."
Napoli has been honing his outfield skills with field coordinator Jayce Tingler before games for weeks.
"I've been out there taking fly balls and throwing to bases and stuff," Napoli said. "Today's the day, I guess, to get out there and do it."
He said the most difficult aspect of playing in left is perfecting what he called the "depth perception" of deciding to go forward or backward to catch a line drive.
If Napoli turns out to be a serviceable outfielder, it's likely Banister will put him out there again. As Banister pointed out, with expanded rosters, the Rangers have a few outfielders on the bench who could enter as defensive replacements to protect a late lead.
"We'll see how it plays out," Banister said. "We'll have all the concerns that everybody else has. But I'm not willing to sit on the sidelines and not find a way to get this right against left-handers."
Chirinos hoping to return in a few days
Catcher Robinson Chirinos is out for a week or so with a ruptured biceps tendon he suffered trying to block a pitch in the dirt in the first inning of Wednesday's game in Seattle. The tendon was already causing problems and Chirinos had considered having a procedure done to cut it loose before it ruptured on its own.
"We'll see how we feel in the next couple of days, hopefully it will go down enough to go back to the field," Chirinos said. "It's really sore."
Worth noting
Shin-Soo Choo entered Sunday's game with a 13-game home hitting streak, batting .333 (28-for-84) at Globe Life Park since the All-Star break.
Elvis Andrus' three doubles Saturday night marked the first time a Ranger had three doubles at home since David Murphy in 2007. Andrus broke an 0-for-22 slump with the three hits.
Dave Sessions is a contributor to MLB.com. This story was not subject to the approval of Major League Baseball or its clubs.