Harper OK after experiencing dizziness
Outfielder collided with Marlins second baseman before exiting game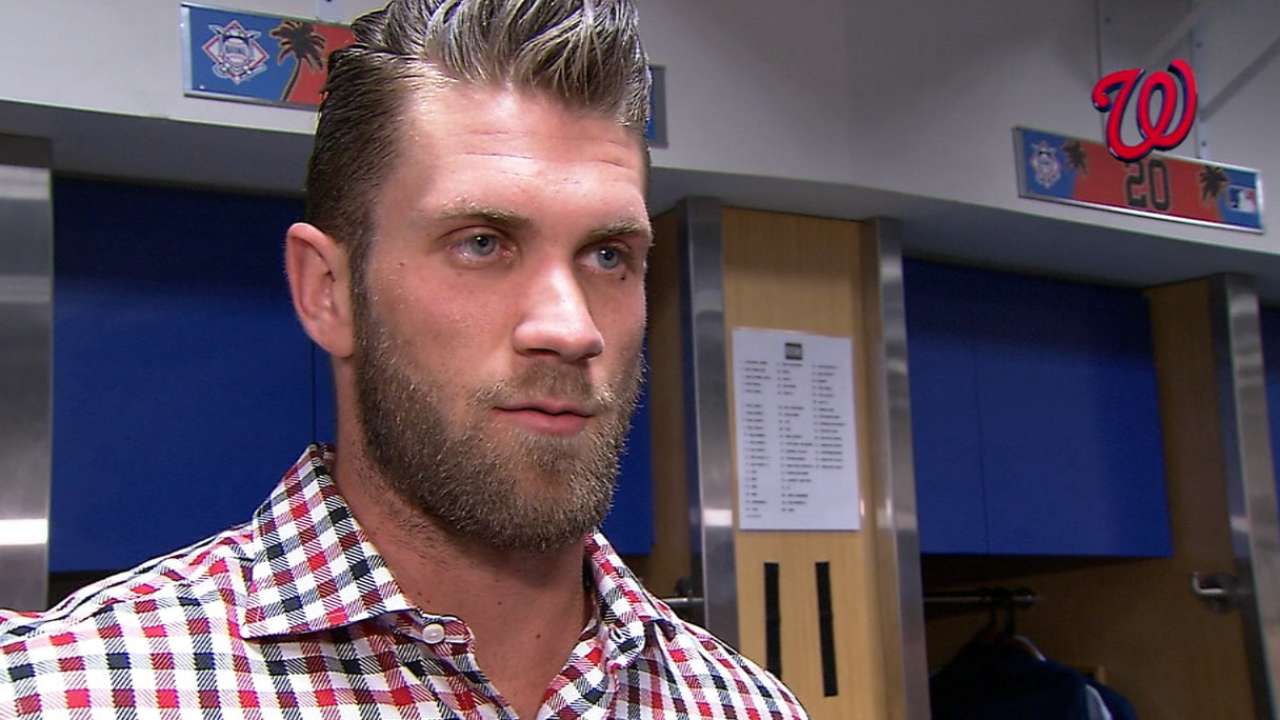 MIAMI -- National League MVP frontrunner Bryce Harper exited Sunday's 5-0 win against the Marlins in the first inning for precautionary reasons after experiencing dizziness on a collision with second baseman Derek Dietrich while rounding second base.
According to manager Matt Williams, Harper underwent concussion tests and there are no signs of one. The ballclub will continue to monitor him through the night and in the morning.
Asked whether he anticipated Harper being back in the lineup for Monday's game in Philadelphia, Williams said he didn't know.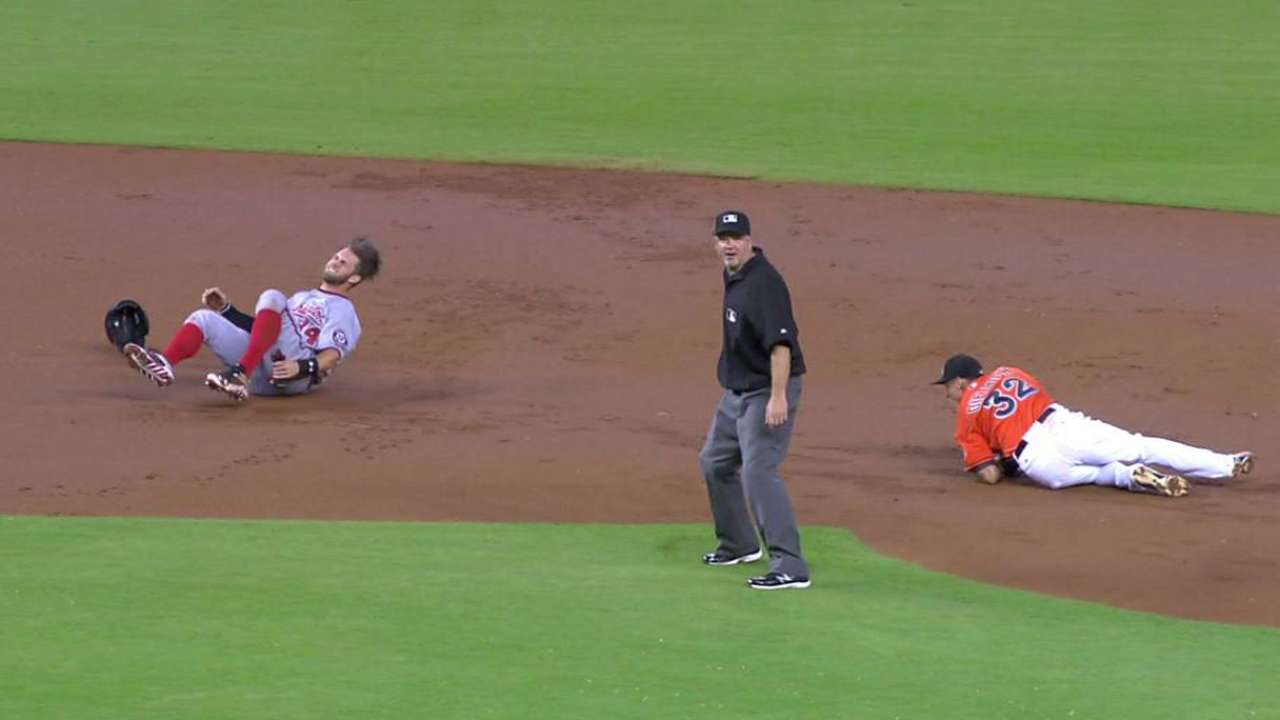 "Again, we won't know," Williams said. "The protocol is you keep evaluating. If he has signs of a headache or nausea or anything like that then we have to take those precautions."
The incident occurred on Jayson Werth's groundout to short for the final out of the inning. Harper raced from first and touched second. Dietrich, who was starting his first game at second this season, didn't see him and both players made contact at full speed.
"I felt like a helicopter or something," Harper said. "I felt like I just went down and tumbled. I saw that [third baseman Martin] Prado crashed to the shortstop side and [Miguel Rojas] -- he came in grabbed it and threw it to first. As I saw Prado crash over I was thinking third base would be wide open just in case [Werth's] safe and [I] get to third and we're first and third with two outs. I didn't even see Dietrich. I was looking this way, and as I was looking that way I just ran into him, clipped him. I didn't think there was even a play or opportunity at second base. He maybe thought there was and clipped the side of him."
Harper immediately grabbed the area of his left hip after landing hard on it and remained on the ground for a few minutes as head athletic trainer Lee Kuntz checked on him -- inspecting his head and upper body. Williams and teammates gathered near him as well. Harper sat up and walked off on his own power.
The 22-year-old right fielder is just four games shy of his career high of 139 set during his rookie season in 2012. He has appeared in all but six contests this season.
"Tried to get up on my own and I felt pretty dizzy," Harper said. "Once I rolled I didn't feel right. I was looking up into the stadium and didn't feel good at all. Told them I was fine to play, but once I sat down, I was dizzy. There's no point. Get me out of there and see how it feels.
"I'm good now. I just think once I had the collision, hit my head pretty hard. My left hip has been bothering me a little bit. Put some ice on it also. Just try to get out of there. I wanted to play, I wanted to stay in there, but precautionary measures they got me out of there."
Matt den Dekker entered the game in left and Werth moved to right in Harper's place. den Dekker blasted a solo homer -- his third of the season -- off righty Jose Urena in the sixth to give the Nationals a 4-0 lead.
Christina De Nicola is a contributor to MLB.com. This story was not subject to the approval of Major League Baseball or its clubs.