Hurdle, Pirates can't avoid pennant fever
Manager emphasizes 'day by day' attitude, but relates to fan frenzy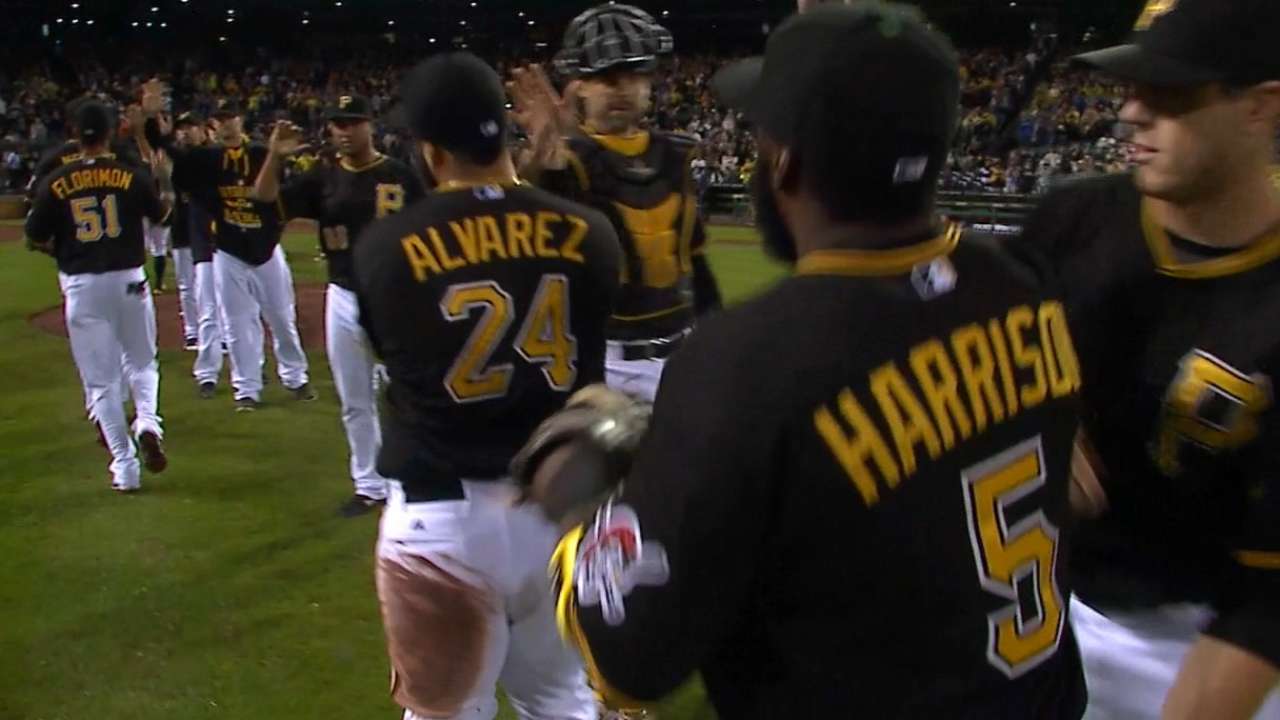 PITTSBURGH -- The buzz around town intensified Saturday. It was music to Clint Hurdle's ears.
In the most fruitful 10 hours of their season, the Pirates gained 1 1/2 games on the team they are chasing (the division-leading Cardinals) and the team chasing them (the Cubs, thanks to a remarkable comeback win by the Phillies). Pennant fever was dialed up a few degrees.
Despite his own "just-take-care-of-today" blinders, which he has sold to his players, Hurdle has no problems relating to the public's fascination with the big picture.
"Absolutely not," the manager said before Sunday's 7-6 walk-off win over the Brewers. "[The fans] are engaged. Five years ago, it was apathetic. It was all about 82 [wins, the finish line for a winning season]. I was being told, 'Just finish .500.' The bar's been moved, the expectations have changed.
"I think it's great that there's all these sidebar discussions going on all over the place. They do care."
And, despite those blinders, the players do know.
Asked following Saturday night's 10-2 win over the Brewers whether he actually knew how far back of the Cardinals his team was, Andrew McCutchen snickered.
"How can you not? I've only been told about a million times," McCutchen said, nodding toward the flat-screen TVs ringing the ceiling of the Bucs' clubhouse.
"You can't avoid it," said Jeff Locke. "We've got eight televisions in here. We try to keep the mentality of just taking care of our game, but you can't help being aware."
The Pirates would have to make an effort to not know. In their third-base dugout, they are eyeballing the out-of-town scoreboard at the base of the Clemente Wall. And they would have to plug their ears with cotton to not hear the PNC Park crowd's reaction when that board changes to reflect a deficit for the Cards or the Cubs.
The Bucs won't dial up their game in response to circumstances, however. That couldn't happen, Hurdle insisted.
"Because we've been excited from Opening Day," Hurdle said. "We've talked for years about not having a September gear, or not waiting for October. Playing October baseball from Opening Day on is the mindset we try to create here.
"The season's gonna play out, and we got to keep showing up, keep winning games."
Tom Singer is a reporter for MLB.com and writes an MLBlog Change for a Nickel. He can also be found on Twitter @Tom_Singer and on his podcast. This story was not subject to the approval of Major League Baseball or its clubs.