Mets win 7th straight for Turner sweep, keep pace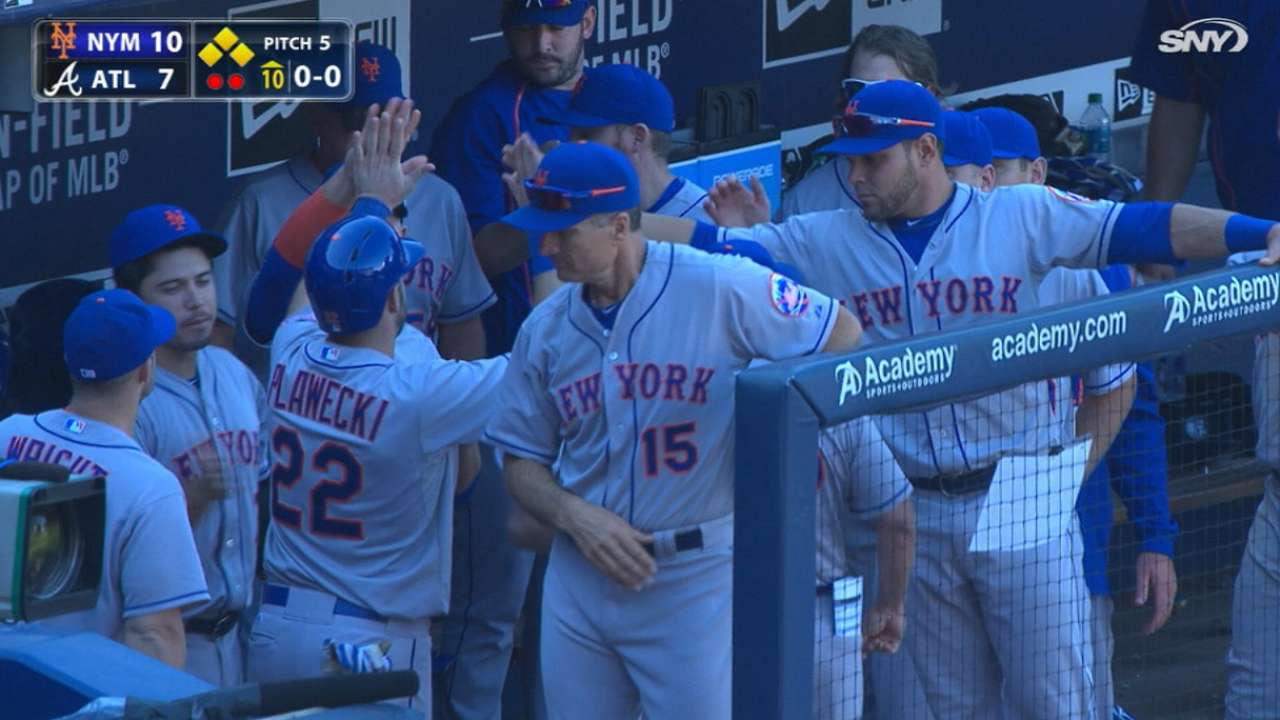 ATLANTA -- The Mets pulled off another amazing September comeback on Sunday, using a huge two-out, three-run, score-tying home run from Daniel Murphy in the ninth, then tacking on three runs in the 10th for a 10-7 win over the Braves at Turner Field. It was the Mets' seventh straight win and a franchise-record 12th consecutive loss at home for Atlanta.
The Mets' lead in the East stayed at 9 1/2 games over Washington with the Nationals' win in Miami. The Braves lost for the 24th time in their last 27 games. They haven't won at home since Julio Teheran beat the Rockies on Aug. 24.
"It's really hard to imagine that we would be sitting where we are right now, even though we knew we had a good team," Mets manager Terry Collins said after his team completed the four-game sweep of the Braves, their first sweep of Atlanta since 1989. "This is far and above what we expected."
The Braves took a 7-4 lead into the ninth, thanks to Adonis Garcia's two-out, sun-aided bloop single to right. But the Mets, who were behind in each of their three wins in Washington last week and needed a ninth-inning rally Saturday night in Atlanta, battled back in the top of the ninth. Murphy tied the score with his two-out blast into the seats in right-center on an 0-1 pitch off Atlanta reliever Ryan Kelly. The Mets won it with three in the 10th on an Atlanta error and two bases-loaded walks.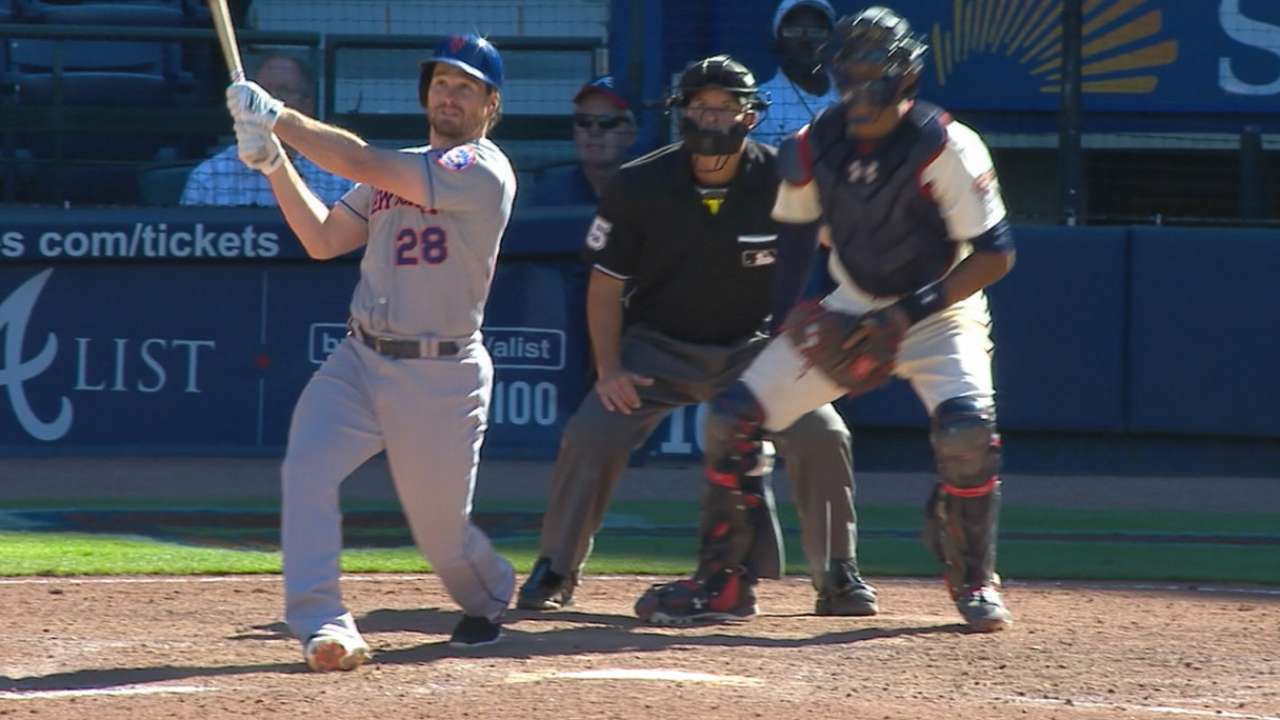 "It was a cutter away," Kelly said of the home-run ball he allowed to Murphy. "It was a backdoor cutter, and it just ran back across the middle of the plate. It was down. It just got too much plate. You make mistakes to big league hitters, you pay for it."
Murphy had four RBIs on the afternoon, Curtis Granderson drove in three more and Michael Conforto added a two-run homer for the Mets. Garcia, who drove in three runs, and second baseman Daniel Castro had three-hit games for the Braves.
MOMENTS THAT MATTERED
Castro comes through: With two runners on base and two outs in the bottom of the eighth inning Sunday, Castro came up to the plate for the fifth time. He had already reached base three times previously, singling and going on to score in the third and seventh innings and reaching on a fielder's choice in the first. His fifth at-bat followed the same tune, as he singled into left field, scoring Christian Bethancourt and giving the Braves a temporary 5-4 lead. Sunday was the rookie infielder's third-career three-hit game and his second multi-hit game this series.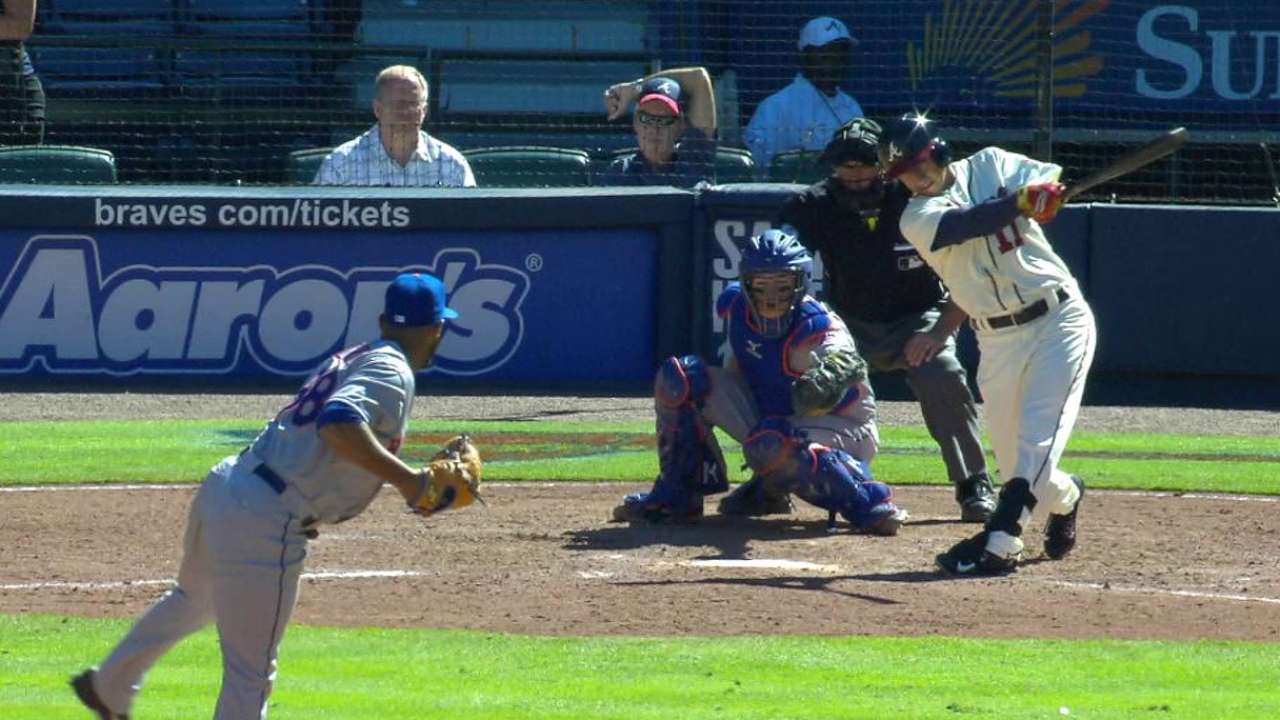 "He does a helluva job," Braves manager Fredi Gonzalez said of Castro. "He gives you a helluva at-bat. He turns a nice double play. We've seen him do that before." More >
One big blast: Conforto continued to swing a hot bat for the Mets, blasting a 434-foot, two-run home run in the second off Atlanta starter Ryan Weber to get the visitors on the board. Conforto went 1-for-3 in the game with a walk, a run scored and his two RBIs, and is now hitting .333 (28-for-84) with seven doubles and six home runs in his last 27 games.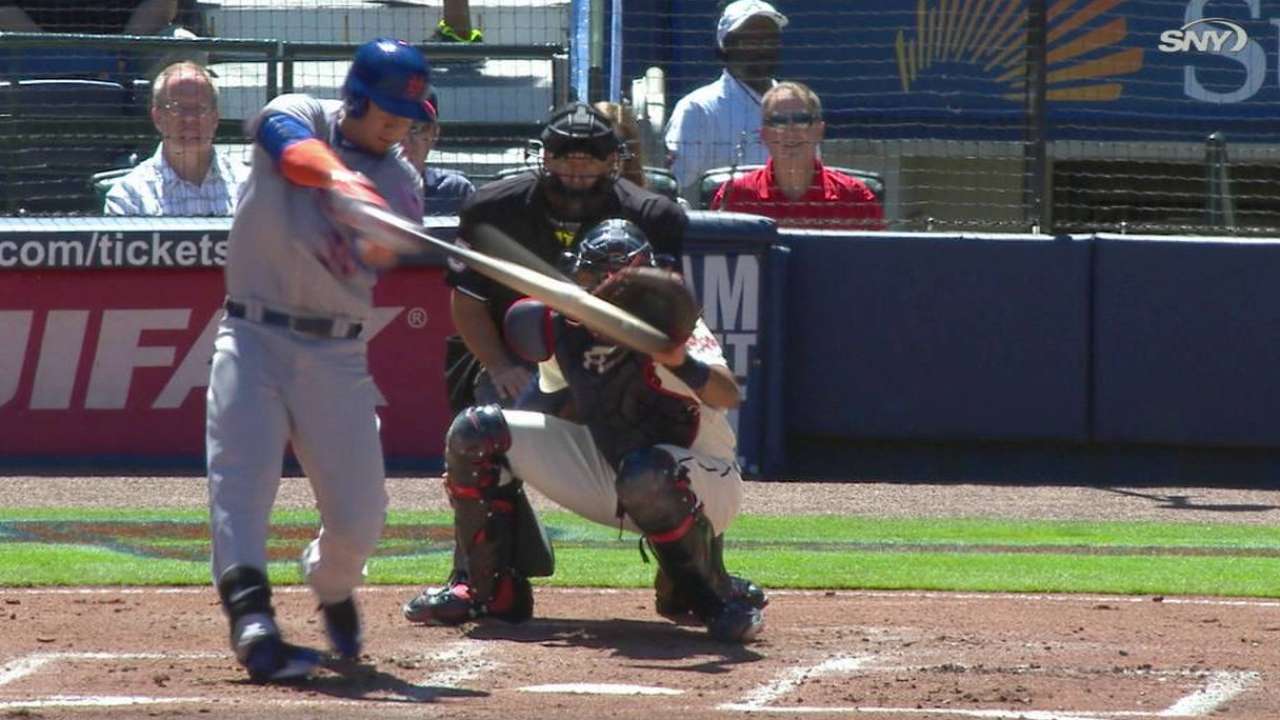 More bullpen blunders: The Braves' bullpen entered Sunday's action with an ERA of 4.80 and a WHIP of 1.46 as a whole. Sunday, the Braves commanded a 7-4 lead with two outs in the ninth inning before Murphy launched his three-run home run to tie the game up. The bullpen is now 38-for-61 in save opportunities on the season and has allowed more than 25 percent of the runners it has inherited to score.
"It's just one of those things," Gonzalez said. "We'll keep mixing and matching. We had a couple of guys who we didn't want to use. We'll keep trying to figure out how to get that last out."
Holding pat: Collins, trying to get rest for his bullpen in anticipation of the pennant run, didn't use any of his big guns in the first nine innings -- notably Addison Reed, Tyler Clippard or closer Jeurys Familia. In the eighth, he stuck with long reliever Tim Stauffer, then went with lefty Dario Alvarez and Bobby Parnell as the Braves took a 7-4 lead. But once the Mets took the lead in the 10th, Collins called on Reed to close things out.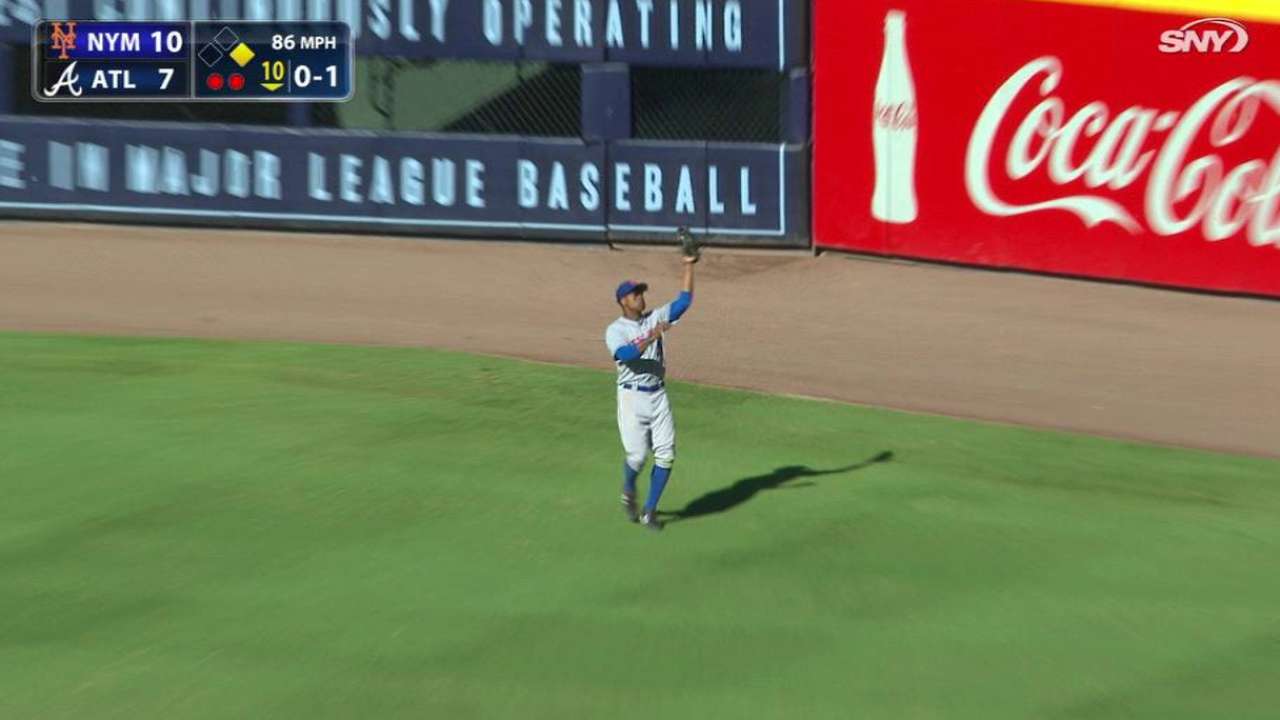 QUOTABLE
"I played like garbage today. I'm very fortunate that the team even gave me an opportunity [in the 10th]." -- Murphy
REVIEW ROUNDUP
Atlanta leadoff man Nick Markakis legged out an infield single in the third, but the play at first was close enough that the Mets appealed. After a one-minute, 25-second review, umpires upheld the call, finding that pitcher Jon Niese's throw to Lucas Duda down the first-base line -- which narrowly missed Markakis and handcuffed Duda -- pulled the first baseman off the bag. Markakis scored on Garcia's one-out single three batters later.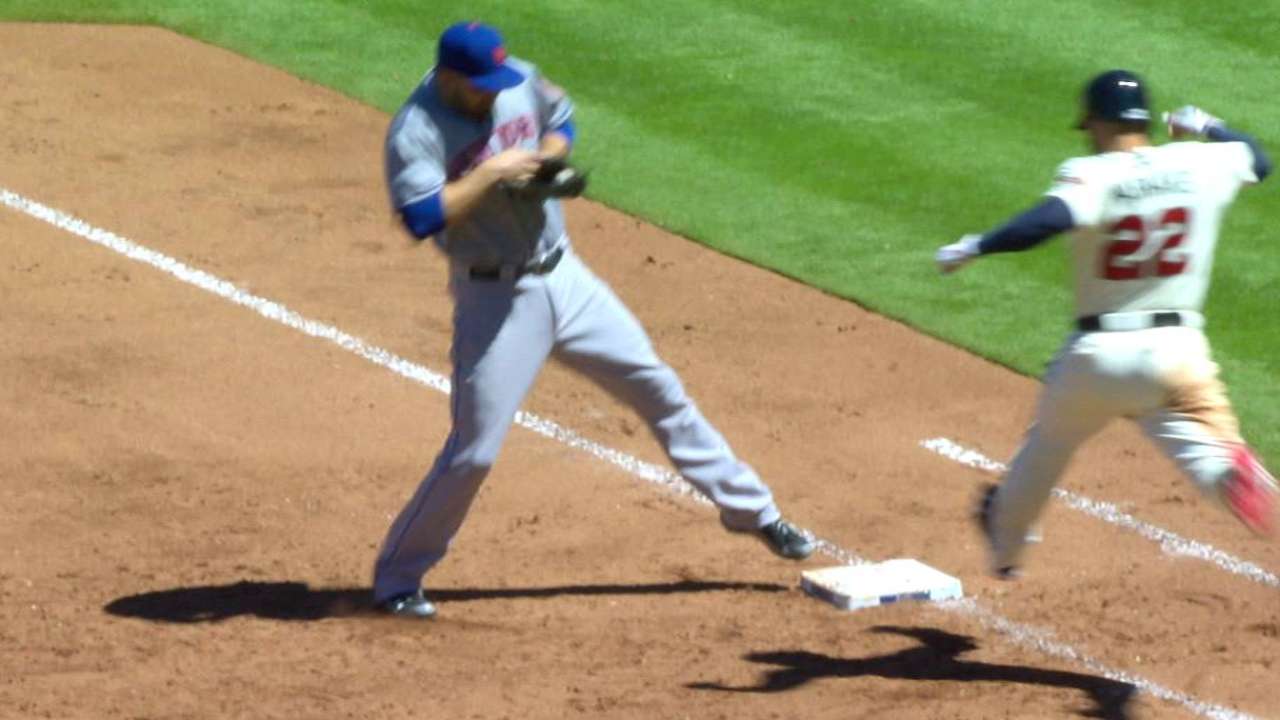 Another review was upheld in the top of the 10th inning when umpires ruled Ruben Tejada to be safe sliding into second base when a Hector Olivera throw drew Castro off the bag. Upon further review, Castro's foot was off the bag, tethering Olivera with a throwing error and allowing the Mets to score the go-ahead run. The time of review was 45 seconds.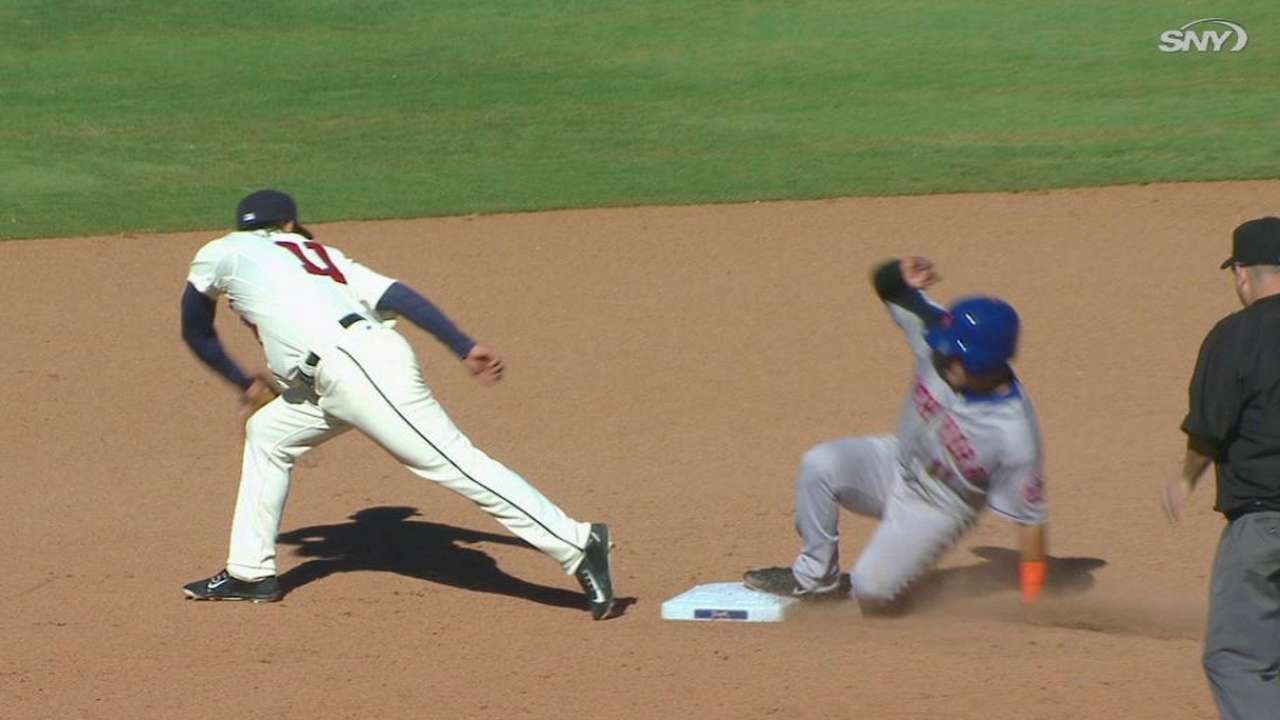 WHAT'S NEXT
Mets: After an ultra-successful 10-game road trip, the Mets head home for a nine-game stand that begins with the Marlins on Monday at 7:10 p.m. ET. Righty Logan Verrett (1-1, 3.06 ERA) will start against Miami lefty Justin Nicolino (3-3, 3.72 ERA). The Mets and Yankees play next weekend in a three-game Subway Series at Citi Field.
Braves: The Braves are off Monday before welcoming one of the American League's hottest teams to Turner Field for a three-game series against Toronto. Right-hander Teheran (10-7, 4.38 ERA) will take the mound against the Blue Jays, who are 8-4 in September and have a 3 1/2-game lead in the AL East. The Braves are 2-1 against the Blue Jays this year with the one loss coming in extra innings on Josh Donaldson's walk-off home run.
Watch every out-of-market regular season game live on MLB.TV.
John Donovan is a contributor to MLB.com. Nick Suss is an associate reporter for MLB.com. This story was not subject to the approval of Major League Baseball or its clubs.