Thornburg excelling in opportunity out of 'pen
Double-A Biloxi sweeps Pensacola, advances to Championship Series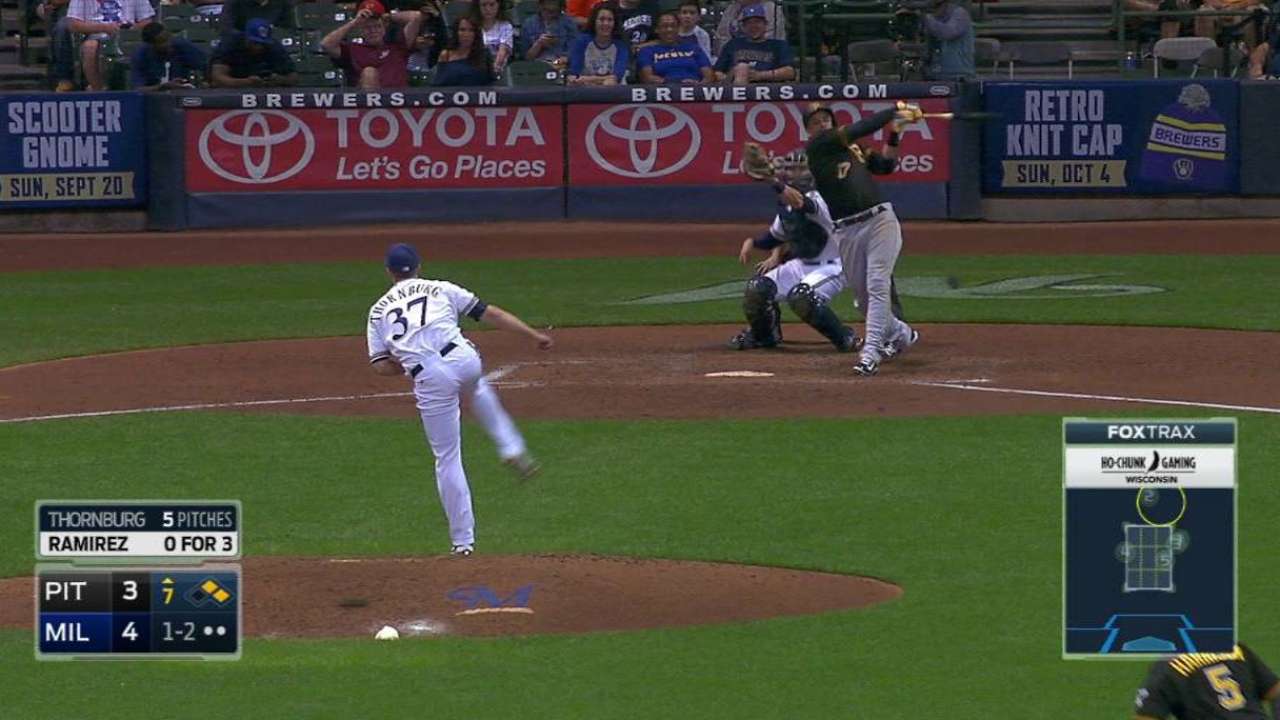 PITTSBURGH -- More than anything, the Brewers just wanted to see Tyler Thornburg get through this season healthy. The way he's pitched lately has been a bonus, albeit a welcome one for the 26-year-old right-hander.
Entering Sunday's 7-6 loss in the series finale against the Pirates, Thornburg had put together a 1.86 ERA over 13 appearances since July 31. He's held opponents to a .147 average and .466 OPS, striking out 20 while walking only five and working his way into higher-leverage opportunities.
After his last outing, two scoreless innings in Thursday's 6-4 win, manager Craig Counsell went out of his way to praise Thornburg for the season he's having out of the bullpen.
"I think it's important to us to get him through this season healthy," Counsell said. "That's what I feel is most important. But he's done a good job in what we've asked him to do. So far, it's been a positive in both aspects.
"Guys pitch themselves into opportunities, and he's pitched himself into getting more opportunities and into higher-leverage situations."
Thornburg attributes his success to the 15 months that have passed since the elbow injury that prematurely ended his 2014 season. Earlier this season, he said, he was still waiting for his arm to feel like he thought it should. The end result was a 5.59 ERA when he was sent down to Triple-A, though it was mostly a product of one bad outing.
"I was trying to fight to get my arm to where I wanted it to be, fighting to get feel of every pitch back after almost a year off," Thornburg said. "I'd say you kind of have to build back up that comfort of every pitch, just know that when I throw this pitch, it's going to be where I want to throw it."
Now, Thornburg can look forward to a "regular" offseason, one in which he won't have to spend every day rehabbing at the Brewers' facility in Arizona.
When Thornburg comes back next spring, will it be as a starter or reliever?
"It's a little bit on who the rest of the group is. [Thornburg's] done both," Counsell said. "He's had success at the Major League level in both roles, really, at times. I don't think we need to, at this time, pigeonhole him into it."
Biloxi wins playoff series
The Brewers' Double-A Biloxi affiliate finished off a Southern League postseason series sweep over Pensacola on Saturday night.
No. 1 prospect Orlando Arcia led the way for the Shuckers, as the shortstop went 4-for-5 with three doubles, a home run and two RBIs. No. 16 prospect Tyler Wagner picked up the win, allowing three hits and striking out six over six innings.
Biloxi will advance to the Southern League Championship Series to face the winner of the Montgomery-Chattanooga series.
Adam Berry is a reporter for MLB.com. Follow him on Twitter at @adamdberry. This story was not subject to the approval of Major League Baseball or its clubs.