Nothing set as Bucs enjoy luxury of 6 starters
Hurdle: 'No need to map it out' after Burnett's return to rotation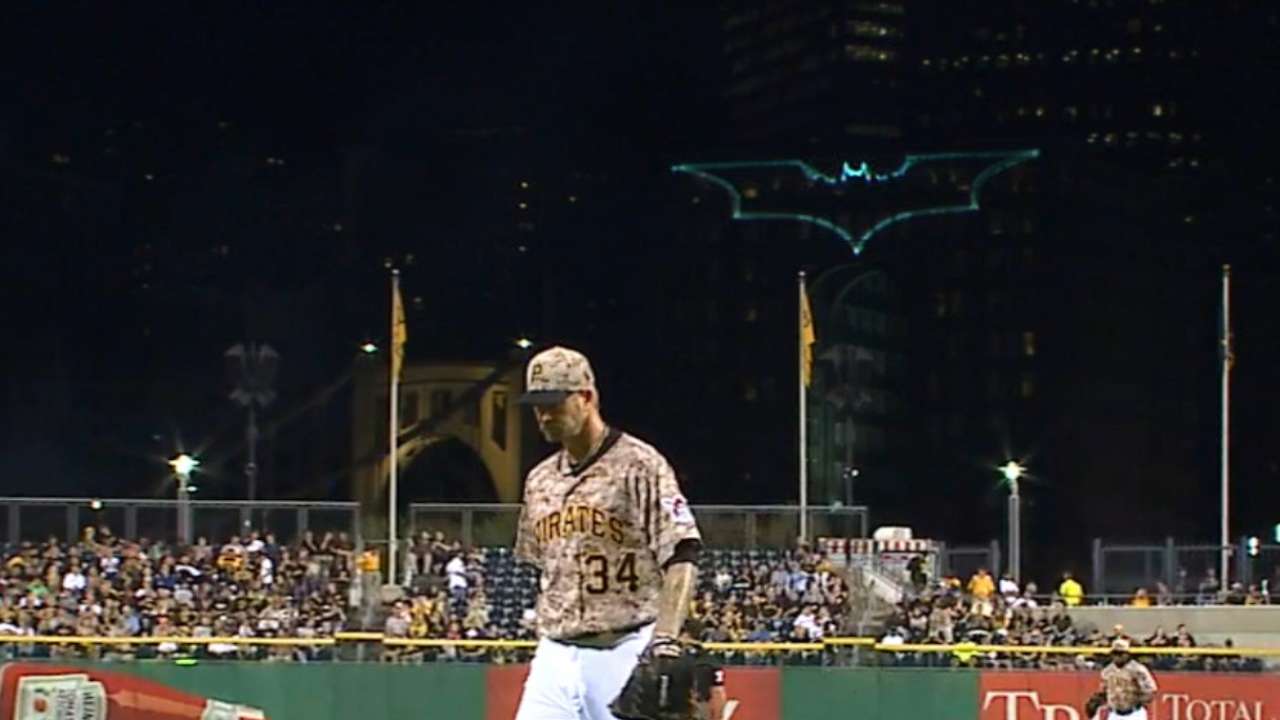 PITTSBURGH -- Introducing: The rotating rotation.
That appears to be the best explanation for the lineup of starting pitchers the Bucs will be deploying down the stretch. Clint Hurdle is not about to decline the luxury of six starters given him by the return of A.J. Burnett. In the wake of Burnett's comeback, when Hurdle flatly said the Pirates would not be switching to a six-man rotation, he did not mean they would not continue to use six starters.
The difference may seem semantical -- "rotation" implies using the six starters in the same, repeating sequence -- but is significant. With six starters in the chamber, Hurdle can pick spots for extra rest, or match up for significant games.
"Depending on how this whole thing pans out," said Hurdle, referring to the battles for the postseason, "I see no need to map it out now. It'll be based on where we are, what our games mean."
So this schedule of starters covering the next 11 games, as presented by the skipper, is jotted down somewhere only in pencil:
• Sept. 15 vs. Cubs (doubleheader): Gerrit Cole and J.A. Happ
• Sept. 16 vs. Cubs: Burnett
• Sept. 17 vs. Cubs: Charlie Morton
• Sept. 18 at Dodgers: Jeff Locke
• Sept. 19 at Dodgers: Francisco Liriano
• Sept. 20 at Dodgers: Cole
• Sept. 21 at Rockies: Burnett
• Sept. 22 at Rockies: Happ
• Sept. 23 at Rockies: Locke
• Sept. 24 at Rockies: Liriano
As you'll note, all six names continue to show up. Morton's follow-up start to his turn in the homestand finale is not scheduled, but that does not mean it won't happen.
"We have one or two dates [in mind] he may start," Hurdle said. "We'll have to revisit that. It could very well be the 24th, if Liriano needs a break, to give him a day or two."
Or to save Liriano, for the series in Chicago against the Cubs that will follow the stop in Denver.
"Things can change moving forward," Hurdle said. "We'll see how it plays out, depending on the meaningfulness of the games we're playing. Be patient -- we'll try to figure this out."
Tom Singer is a reporter for MLB.com and writes an MLBlog Change for a Nickel. He can also be found on Twitter @Tom_Singer and on his podcast. This story was not subject to the approval of Major League Baseball or its clubs.