Striking return: Hill excels vs. Rays
In first start since 2009, lefty fans 10 over 7 shutout frames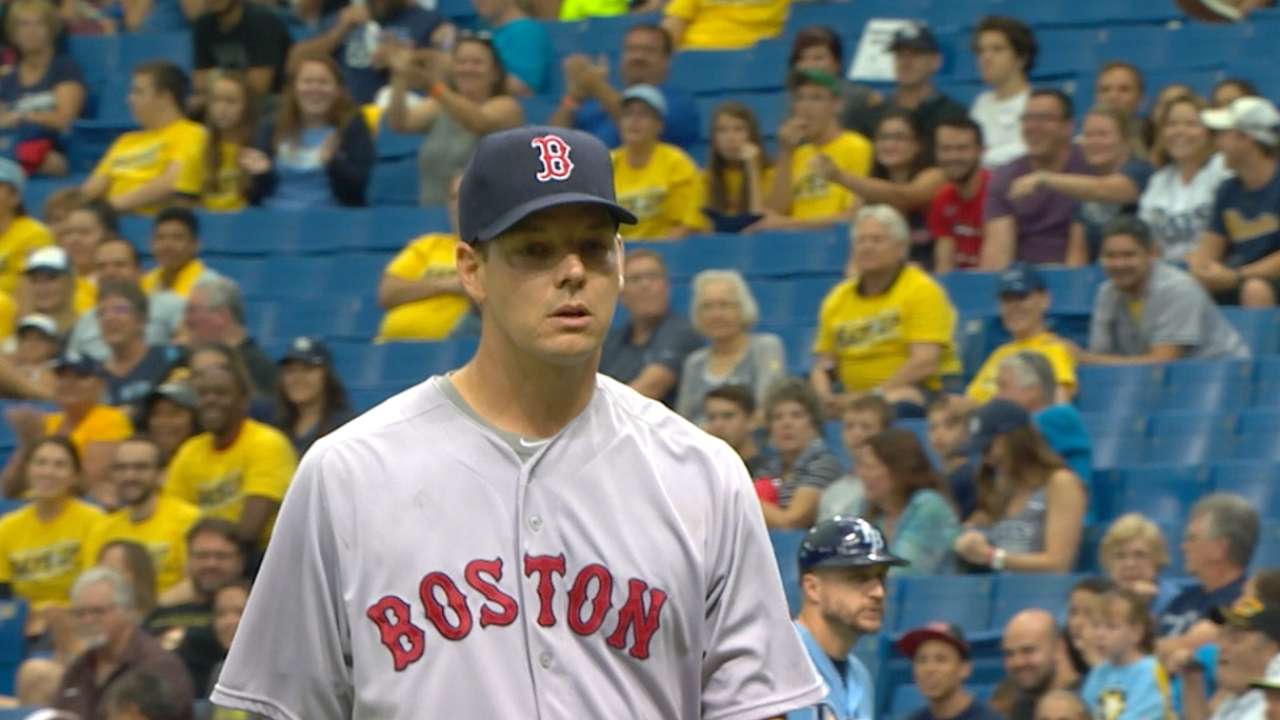 ST. PETERSBURG -- Six years, 72 months or 2,208 days. No matter how you quantify it, Rich Hill had gone a long time without starting a Major League ballgame -- until Sunday afternoon.
The veteran left-hander who grew up in Milton, Mass., rose to the occasion -- and then some -- in the Red Sox's 2-0 victory over the Rays at Tropicana Field, holding the Tampa Bay lineup to one hit over seven shutout innings while striking out 10 and walking one.
Hill featured a fastball that sat consistently at 92 mph, along with a sweeping curveball that he used to record seven of his 10 whiffs.
"Commanded my breaking ball the way I wanted to, and that enhanced the fastball, so I got a lot of swings and misses with the fastball from the good command with the curveball," said Hill. "The bullpen was immaculate and fielding was great, and Sandy [Leon] was great behind the dish. It was a good team win."
Hill, whose summer included workouts with a suburban-Boston American Legion team as well as a stint with the independent league's Long Island Ducks after getting released by the Nationals on June 24, signed a Minor League contract with the Red Sox in August and earned a September callup after going 3-2 with a 3.72 ERA across five starts at Triple-A Pawtucket.
"It was a pretty special moment for Rich to walk on the mound. Just a great story," beamed Red Sox interim manager Torey Lovullo. "He gives us seven solid innings. First time he's started a Major League game. … You can see that all the hard work that he put in -- everything that he did behind the scenes to get back here -- paid off. Fastball command, the secondary stuff was there, and any time he needed a big pitch, he seemed to make it."
Hill threw 109 pitches, with 69 for strikes.
"We were right around that 105-110 pitch range, and we didn't want to see him go anything beyond 115. That was the hard number we talked about before the game," said Lovullo.
"He didn't have any real tough extended innings. He didn't have a lot of mileage on him, so we wanted to make sure we gave him every opportunity to walk off the mound with a chance to win the game."
Which the Red Sox managed to accomplish, due in large part to a combined six innings of shutout pitching by six Boston relievers.
"It was a really good effort, six innings and two hits, gave us a chance to win that game," said Lovullo. "It was a collective effort. One after another, they came in and did their job."
"It was great to see the guys go out there and succeed," added Hill.
When asked if his plan was to get Hill back on the mound again this season, Lovullo didn't hesitate.
"Correct," said Lovullo. "There will be at least two more starts for Rich."
A great story indeed.
Michael Kolligian is a contributor to MLB.com. This story was not subject to the approval of Major League Baseball or its clubs.