Here come Bucs: Pirates closing in on Cards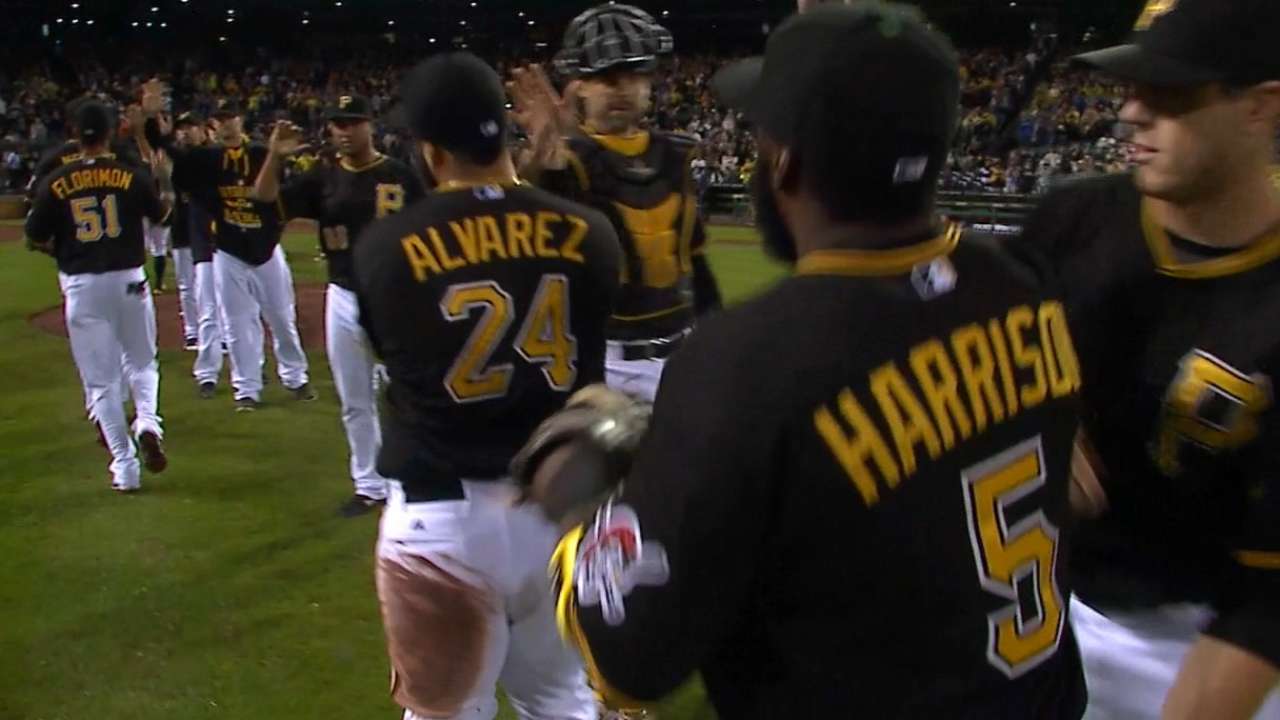 Saturday featured a full slate of big league action, and the results are packed with postseason implications.
The race for the National League Central pennant intensified, and a pair of division rivals clashed over the American League East in the Bronx. Meanwhile, the crowded AL Wild Card picture continued to shift as five clubs remain within six games of a spot in the one-game playoff.
Here's a look at how the games impacted the playoff picture:
Cardinals losing hold on NL Central
The Cardinals lost 1 1/2 games in the standings Saturday, falling to the Reds twice in the continuation of Friday's postponed game and the regularly scheduled afternoon matchup at Great American Ball Park.
St. Louis has lost three straight and eight of its last 10 games. The Cardinals have been outscored, 61-23, in that span. Meanwhile, the Pirates have won four of their last five -- including Saturday's 10-2 win over the Brewers -- to close to within 2 1/2 games in the division. The Cardinals led by 6 1/2 games as recently as Sept. 5, but their recent struggles -- which included two losses to the Bucs at Busch Stadium -- have allowed to Pirates to close the gap.
"There is no need and there is no feeling of panic here," Cardinals third baseman Matt Carpenter said. "Teams that end up doing that end up falling out of this deal. Every year you go through a stretch where it doesn't look good. We've been fortunate enough not to have one all season. Now we're seeing it. It's not an ideal time for it to come. But at the same time, we're not panicking."
Despite Saturday's losses, St. Louis (88-54) still owns the best record in baseball and is on the verge of a third consecutive 90-win season. The Cardinals' magic number to clinch a postseason berth is seven over San Francisco.
Blue Jays continue dominance in the Bronx
The Blue Jays picked up another pair of wins at Yankee Stadium, sweeping the doubleheader and extending their lead to a season-high 4 1/2 games in the AL East. The surging Jays have won 32 of their last 41 games and are a season-high 22 games over .500. They're now 11-4 against New York this season, including a franchise-record seven consecutive wins at Yankee Stadium. Though the day wasn't all wins for Toronto; shortstop Troy Tulowitzki suffered a small crack in his left shoulder blade after a collision with Kevin Pillar in the early game.
• Tulo diagnosed with crack in shoulder blade
"It's not good news, we'll probably have a little better idea in a few days how long they might think [he's out]," Blue Jays manager John Gibbons said. "Kind of a freak thing, it's unfortunate, but it means a couple of the other guys have a chance here to step up."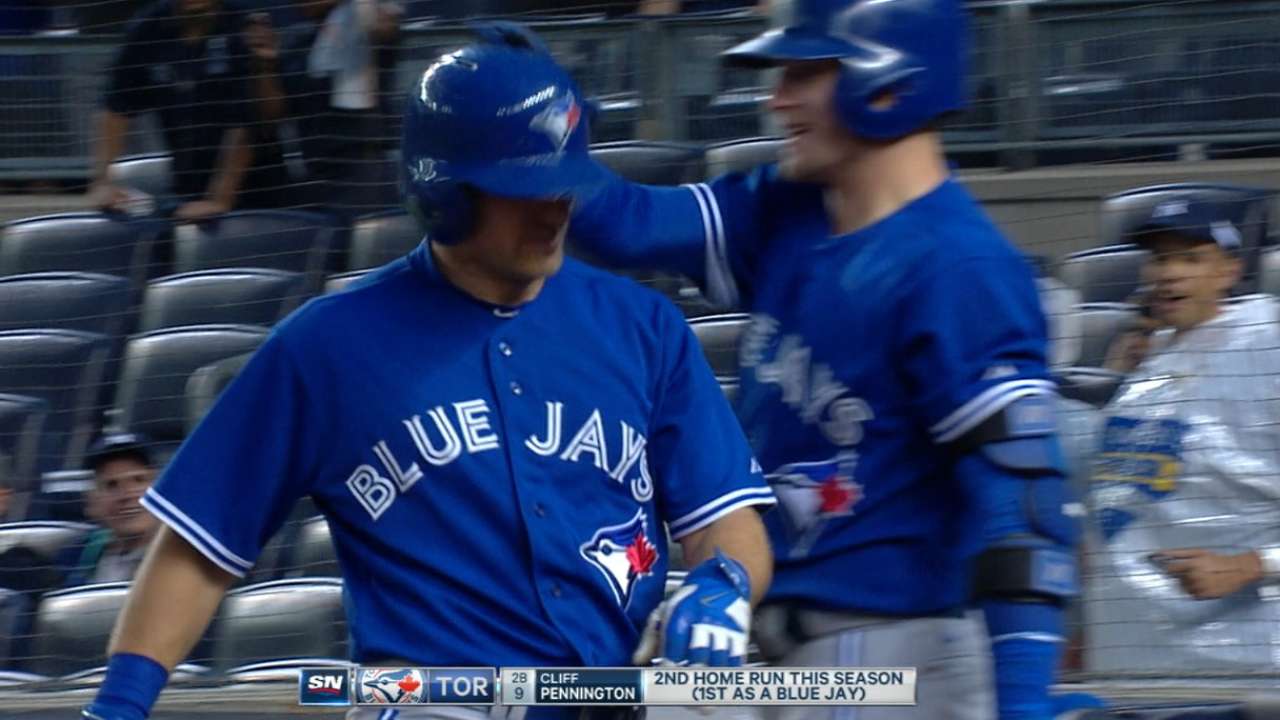 The Blue Jays will go for the four-game sweep Sunday at Yankee Stadium. These AL East clubs still have three more head-to-head matchups remaining. After Sunday's series finale, they'll meet again Sept. 21-23 at Rogers Centre.
Angels overcome first-place Astros, gain in Wild Card
The Angels were among the few AL Wild Card contenders to come away with a win Saturday as the Yankees, Twins, Rangers and Rays each lost and the Indians were rained out.
Los Angeles bested the Astros in a narrow 3-2 win, improving to 72-69 on the year. The Astros have lost seven of their last 10 games to have their lead in the AL West shrink to 1 1/2 games. The Angels trail by 3 1/2 games in the division and are just two games back of the Rangers for the second Wild Card spot.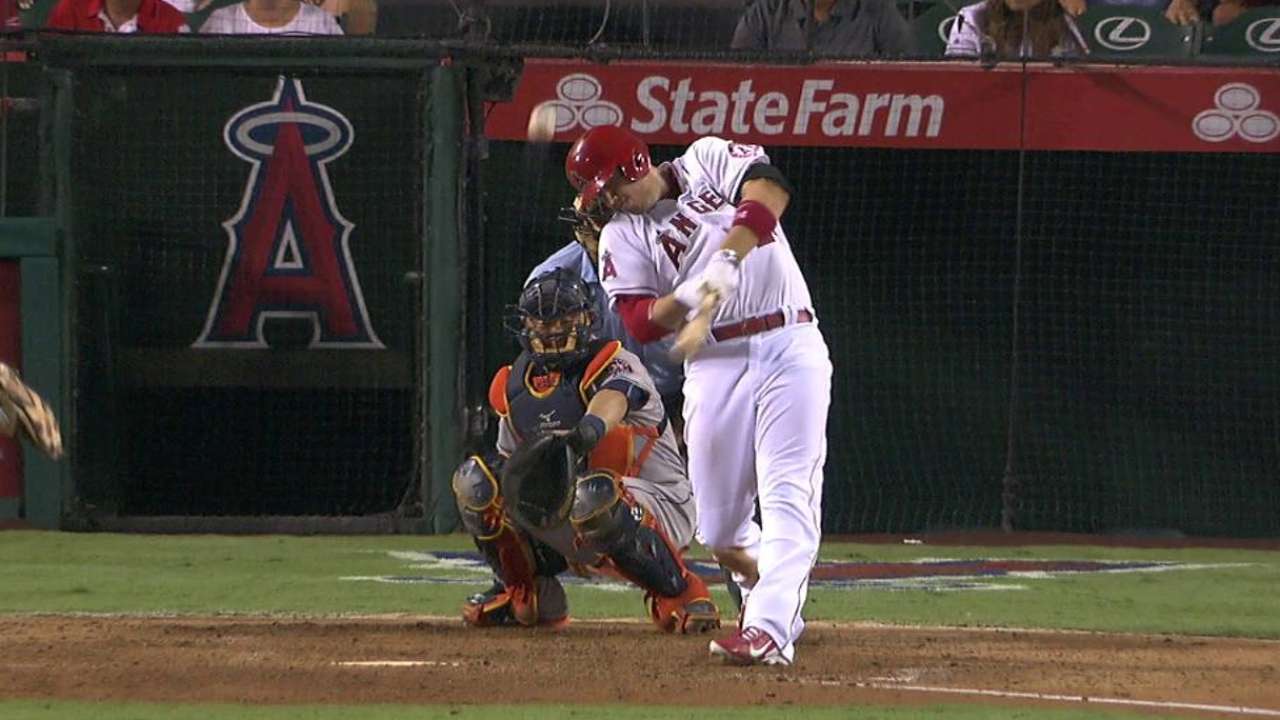 The Twins, who fell, 8-2, to the White Sox, couldn't capitalize on Texas' 5-3 loss to Oakland as the Rangers maintained their one-game lead in the Wild Card standings. The Indians and Rays remain long shots in the race as both have yet to reach 70 wins and trail by more than a dozen games in their respective divisions. Cleveland is four games out of the Wild Card, while Tampa Bay trails by five.
Other things to know
• The Mets secured their first non-losing season since 2008 with a 6-4 win in Atlanta. New York's magic number to clinch the NL East is 12 over Washington.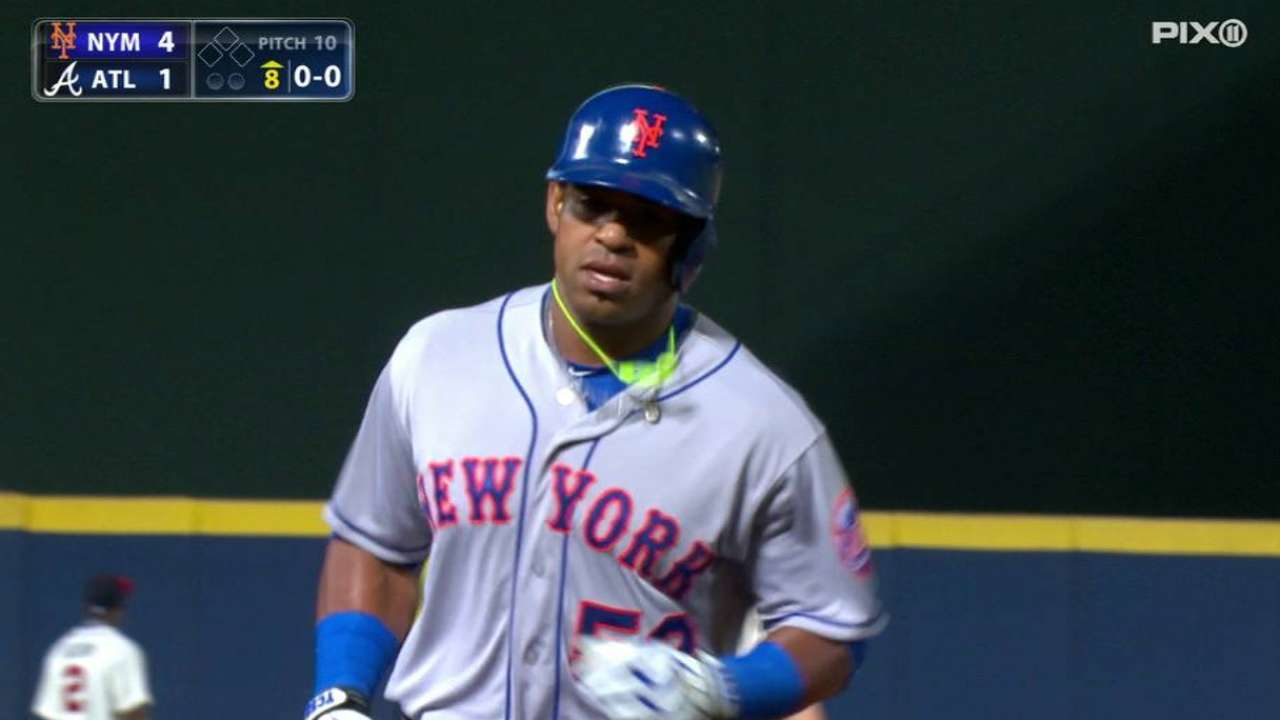 • The Dodgers snapped their modest two-game losing streak with a 9-5 win against the D-backs at Chase Field. They have a 7 1/2 game lead on the Giants, who also won Saturday.
If the postseason began today ...
AMERICAN LEAGUE
Wild Card: Rangers at Yankees
Division Series: Wild Card at Royals, Astros at Blue Jays
NATIONAL LEAGUE
Wild Card: Cubs at Pirates
Division Series: Wild Card at Cardinals, Mets at Dodgers
2015 POSTSEASON SCHEDULE
AL Wild Card Game: Oct. 6
NL Wild Card Game: Oct. 7
AL Division Series begin: Oct. 8
NL Division Series begin: Oct. 9
NL Championship Series begins: Oct. 16
AL Championship Series begins: Oct. 17
World Series begins: Oct. 27
Chad Thornburg is a reporter for MLB.com. This story was not subject to the approval of Major League Baseball or its clubs.