Sports world congratulates Ortiz on 500th homer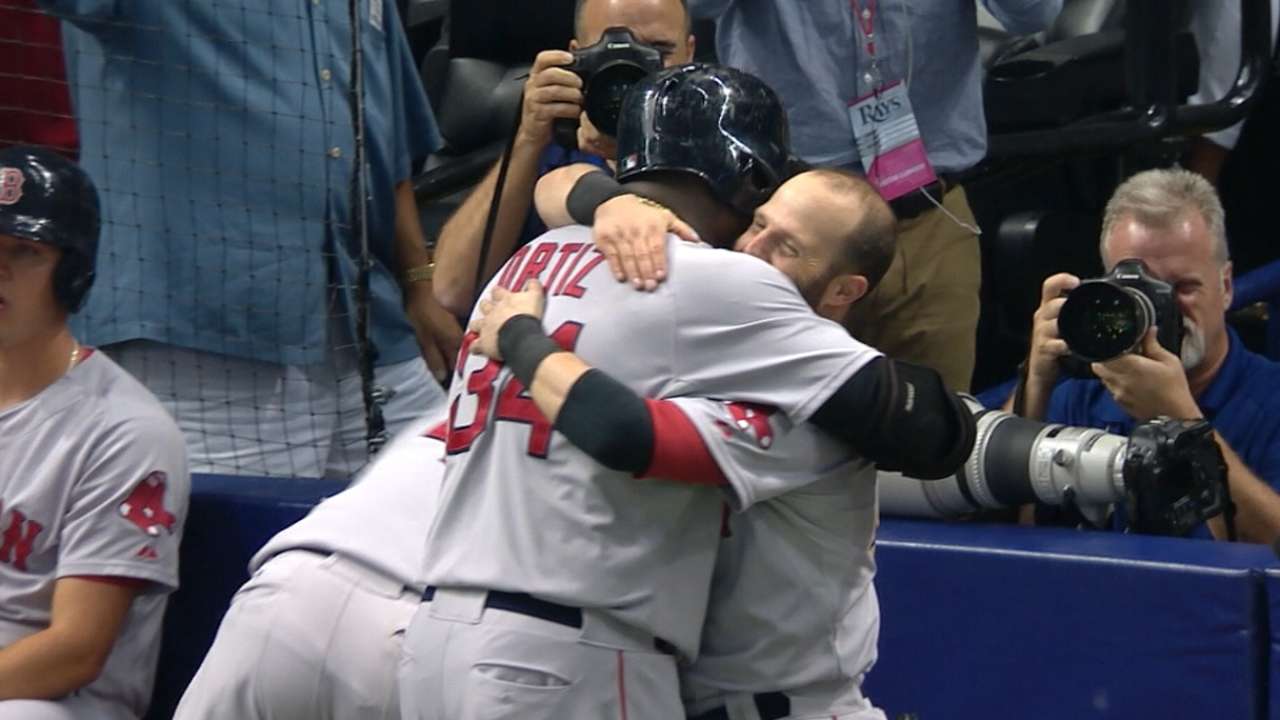 David Ortiz made history Saturday, becoming the 27th player in Major League history to hit 500 career home runs. The accomplishment made waves across social media with a mass outpouring of congratulations from baseball fans everywhere.
Ortiz -- who has a massive social media footprint with nearly two million fans and followers across Twitter and Facebook -- retweeted some of the acknowledgments and also thanked fans for the support.
Thx #RedSoxNation 4 the support…u been w/ us all year couldnt be more proud 2 be part of NE! That HR was 4 all of us! pic.twitter.com/af22zeY7tQ

— David Ortiz (@davidortiz) September 13, 2015
Several of Ortiz's past and present teammates took to the web in celebration of the historic feat.
Congrats to one of the best teammates that I have ever played with on hitting #500!!! Do it #BigPapi pic.twitter.com/CyGxLeci4V

— Shane Victorino (@ShaneVictorino) September 12, 2015
It's Special to wear the same uniform as @davidortiz . I'm so proud of you! Enjoy it #500 !

— Dustin Pedroia (@15Lasershow) September 13, 2015
Congratulations Papi, #500 you're the man, you're my hero and my big brother, you deserve it all #iSeeYou pic.twitter.com/CIPBfLEHmq

— Hanley Ramirez (@HanleyRamirez) September 13, 2015
.@davidortiz @RedSox 500th home run! Congrats to a wonderful man, friend, teammate & a world series champion! #RedSox #RedSoxNation #500HR

— Johnny Damon (@JohnnyDamon) September 13, 2015
It wasn't just teammates, however. Current and former players all across the league chimed in with support of the 39-year-old veteran.
Congrats to my good friend David "Big Papi" Ortiz on 500 Home Runs. @davidortiz what an accomplishment. Can I have that gold necklace

— 10 (@SimplyAJ10) September 13, 2015
Congrats to a better person than player @davidortiz on #500 without my protection from 2003-2005 you would be 100 away still #WePull

— Kevin Millar (@KMillar15) September 13, 2015
Felicidades por tus 500 HR hermano @davidortiz

— Nelson Cruz (@ncboomstick23) September 13, 2015
Even a few pitchers who contributed to Ortiz's home run count -- including Craig Breslow, now pitching for the Red Sox, and Phil Hughes -- got in on the fun. Breslow surrendered No. 303 in 2009, while Hughes gave up No. 324 and 377 in '09 and 2011.
Congrats on HR #500 @DavidOrtiz. Understand that without me you would still have 499! #BiggestPapi

— Craig Breslow (@CraigBreslow) September 13, 2015
.@davidortiz congrats on #500 Amazing accomplishment. You're welcome for 2 of those.

— Phil Hughes (@PJHughes45) September 13, 2015
Other figures throughout Boston also cheered on Big Papi, including the New England Patriots and the city's mayor, Marty Walsh. As did fellow Dominican Al Horford of the Atlanta Hawks and college basketball broadcaster Dick Vitale.
Congratulations @davidortiz! #500rtiz pic.twitter.com/fqAwzrCu3P

— New England Patriots (@Patriots) September 12, 2015
Congrats on #500, @DavidOrtiz! #500rtiz (cc @RedSox)

— Mayor Marty Walsh (@marty_walsh) September 13, 2015
Congrats @davidortiz #500 Proud of you man! Just keeps elevating his game to another level. pic.twitter.com/jJArgtNmZY

— Al Horford (@Al_Horford) September 12, 2015
Congrats @davidortiz wow 500 baby #HELLOHALLOFFAME pic.twitter.com/aO6NOaJLrl

— Dick Vitale (@DickieV) September 13, 2015
Chad Thornburg is a reporter for MLB.com. This story was not subject to the approval of Major League Baseball or its clubs.