Upton Jr. ready, spoils MadBum's perfecto
Outfielder comes off bench, lines single in eighth for lone Padres hit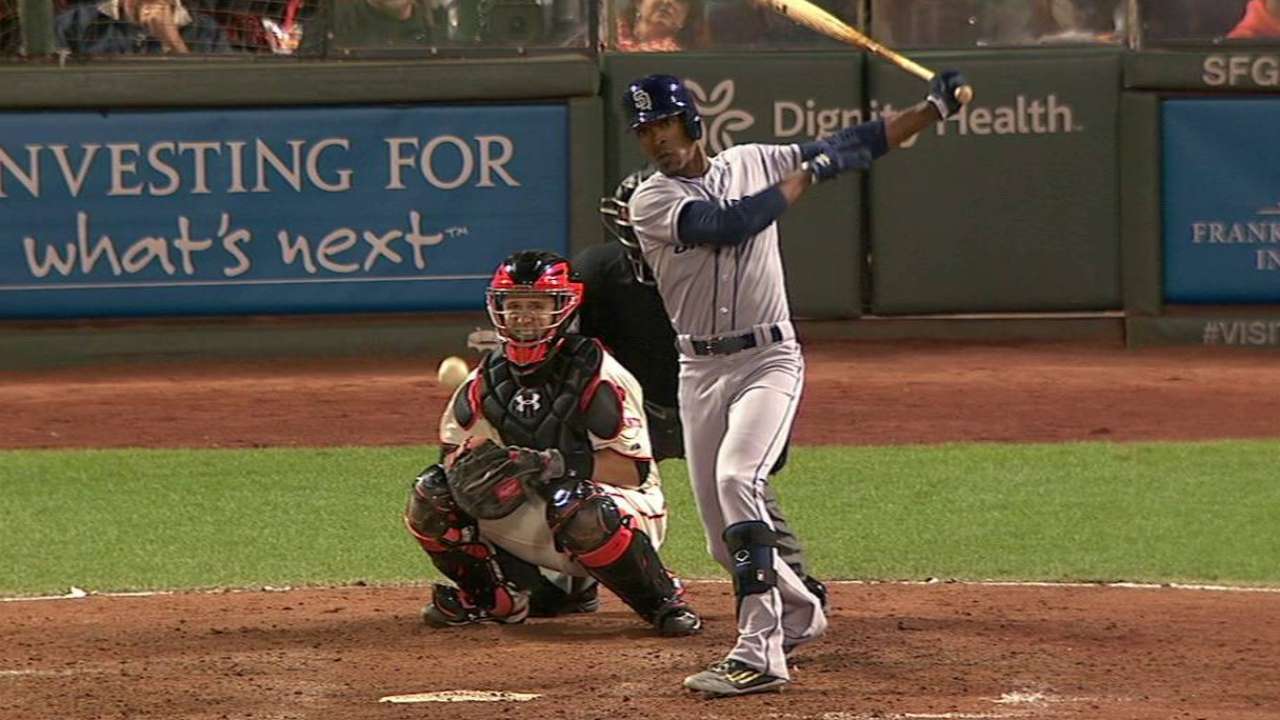 SAN FRANCISCO -- It wasn't a perfect night for Giants pitcher Madison Bumgarner but the way he was throwing Saturday, it was hard to tell from the visiting dugout at AT&T Park.
Melvin Upton Jr. would know, as for seven-plus innings he watched as Bumgarner tied the Padres in knots as the Giants ran away with an 8-0 victory, with their ace seemingly marching toward baseball immortality.
"When he's got it going, he's got it going. We caught him on a day where he had it," Upton said. "He didn't make many mistakes. The stars have to be aligned for guys to pitch games like that and tonight they were."
Well, almost.
Upton's two-out, eighth-inning single off Bumgarner was the lone blight on what was otherwise a blissful night before a sold-out crowd, the Giants lefty settling for a shutout with nine strikeouts and plenty of ugly at-bats left as carnage.
"He was great," said Padres interim manager Pat Murphy. "Had both sides of the plate, offspeed pitch, pitched out of the edge, competed. What can you say? His career speaks for itself, and he was great tonight."
The Padres didn't have much going Saturday, though Upton's hit allowed them to avoid the indignity of being no-hit by a Giants pitcher for the third time in as many seasons and for the fourth time since 2009.
Jonathan Sanchez tossed a no-hitter against the Padres in 2009 at AT&T Park. Tim Lincecum had the first of his two no-hitters against San Diego at Petco Park in 2013 and then did it again last season at home.
As for Upton, he sat and watched Bumgarner deal. He had seen it before while a member of the Braves. In fact, Upton was 0-for-10 with six strikeouts before his at-bat in the eighth inning.
After fouling off the first pitch he saw, he took two balls before Bumgarner came right back with another fastball.
"In that situation, I'm just trying to have a good AB [at-bat]. He threw me a couple of fastballs, actually all fastballs, and left one out over the plate and I didn't try to do too much with it," said Upton, who lined a clean single into center field.
Oddly enough, earlier this season, Upton broke up Chris Heston's no-hit bid with a single on July 21.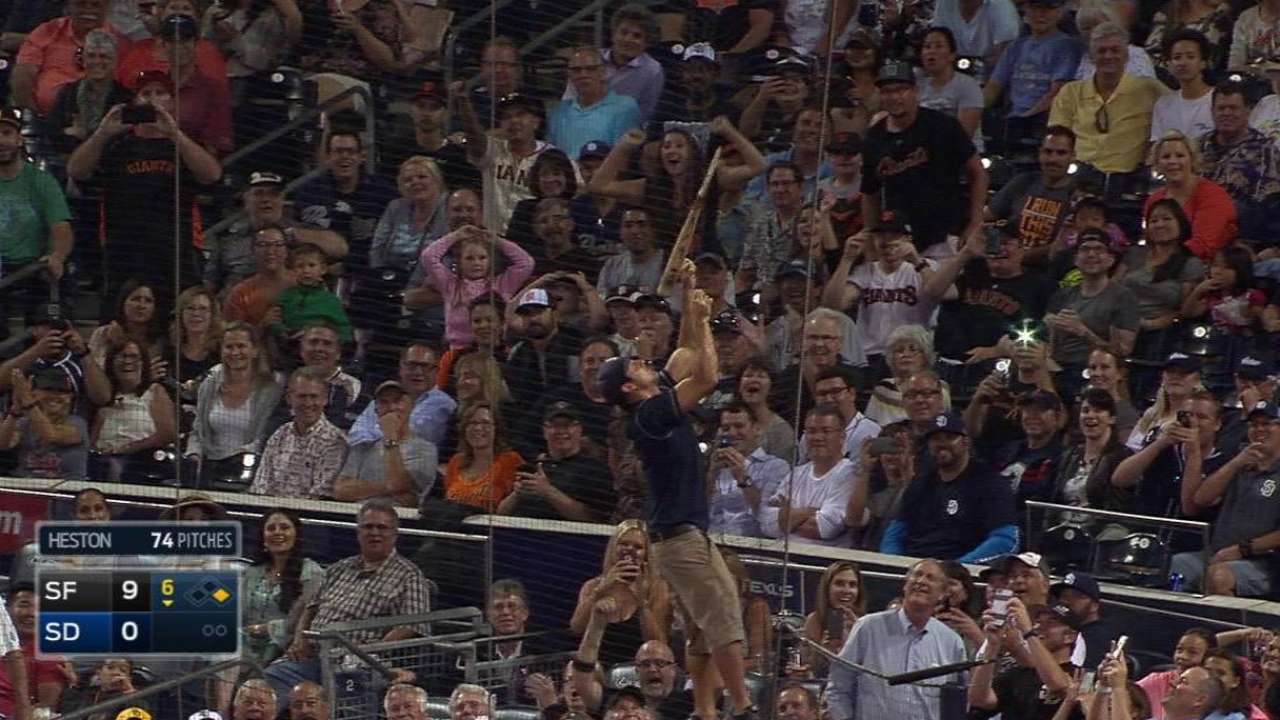 "I think it spoke to Melvin being ready, coming off the bench. It speaks volumes to the younger players; we have so many now that are watching that, seeing that off the bench," Murphy said. "... Melvin's played about 10 years or so and comes off focused and breaks it up."
One of the keys, Upton said, was not placing additional pressure on himself given the situation.
"There's no extra pressure. You go up there trying to put a good AB together and if it happens, it happens," he said.
Corey Brock is a reporter for MLB.com. Keep track of @FollowThePadres on Twitter and listen to his podcast. This story was not subject to the approval of Major League Baseball or its clubs.