Gallardo's streak halted by five-run fifth
Rangers righty had won five straight, but allows two HRs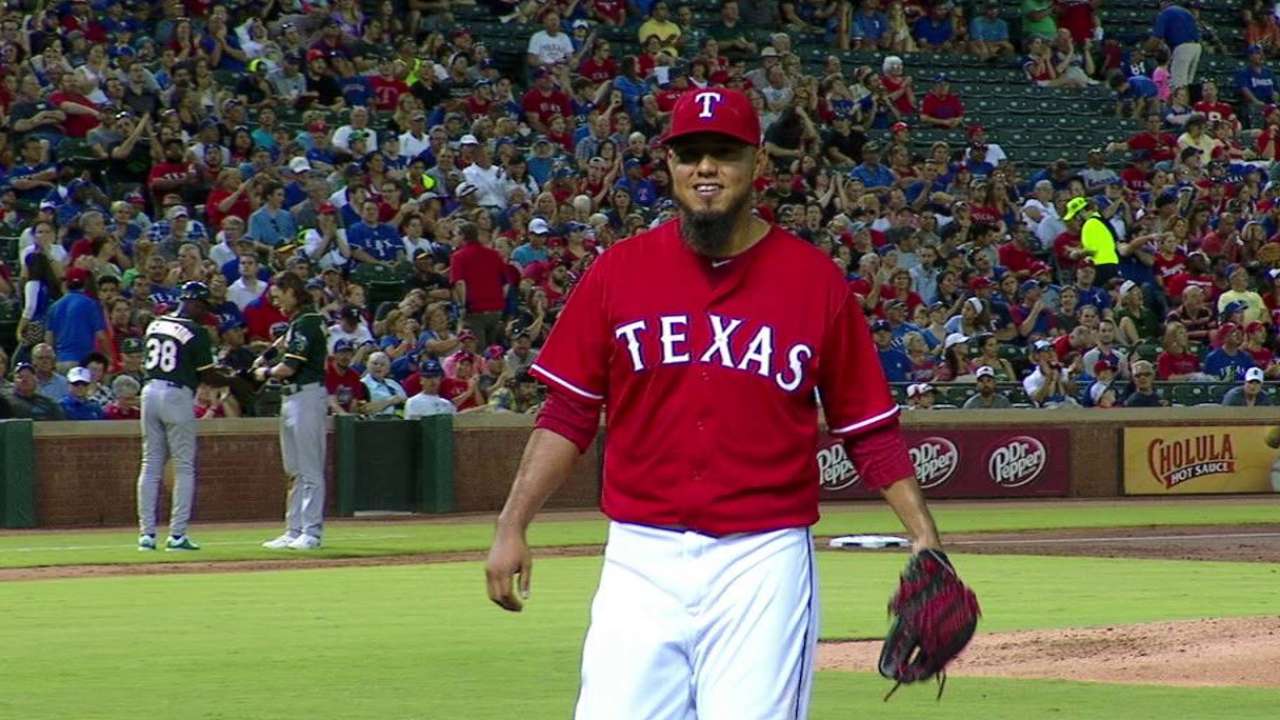 ARLINGTON -- Rangers right-hander Yovani Gallardo has made a habit of hanging up zeros in the earned runs column, as he had in 10 of his 29 starts before Saturday night's 5-3 loss to the A's.
Gallardo doesn't always work deep -- he has pitched fewer than six innings more than half the time this season -- but he can usually be relied on to keep the score close.
Unfortunately for Gallardo and the Rangers in their loss to the A's, Gallardo had an uncharacteristically difficult five-run fifth that he couldn't escape. He allowed a three-run homer to Mark Canha and a two-run shot to Danny Valenica, and that was it for Gallardo, snapping his five-game winning streak.
"He's been really good at it all year long in those type of situations, he hasn't given up," Rangers manager Jeff Banister said. "I can't remember him giving up two home runs in an inning."
Gallardo tied a season high in allowing five earned runs, something he had previously done only three times this year.
The veteran righty labored some from the beginning, walking the game's first hitter, Marcus Semien, and allowing a double to Josh Reddick before getting out of that first-inning jam. He retired the side in the second, then with a 1-0 lead, he put two men on in the third when Sam Fuld led off with a double and Reddick walked, but Gallardo managed to escape unscathed. His fourth inning was a sharp 1-2-3 frame.
In the fifth, though, Fuld reached on a one-out base hit through second base, Semien moved Fuld to first on a hit-and-run and Canha went deep on a 1-2 curveball. Then Reddick singled and Valencia chased Gallardo with his homer on a 3-2 slider.
"I just didn't have the fastball command, I didn't have good command like I did in my last start," Gallardo said. "It was a battle, for sure, from the first inning, the first hitter. I was able to get out of some jams there a couple innings before that, but I wasn't able to do it [in the fifth]. I just left a pitch, a curveball over the middle of the plate, I tried to throw it away and bounce it, but it just stayed up enough to where [Canha] put a good swing on it.
"I have to figure it out, I have to make adjustments. I've just got to stay away from those innings … It was a tough loss."
Dave Sessions is a contributor to MLB.com. This story was not subject to the approval of Major League Baseball or its clubs.