Mets surge on with help from hot lineup
Collins says additions of Johnson, Uribe changed dynamics; several hitters stepping up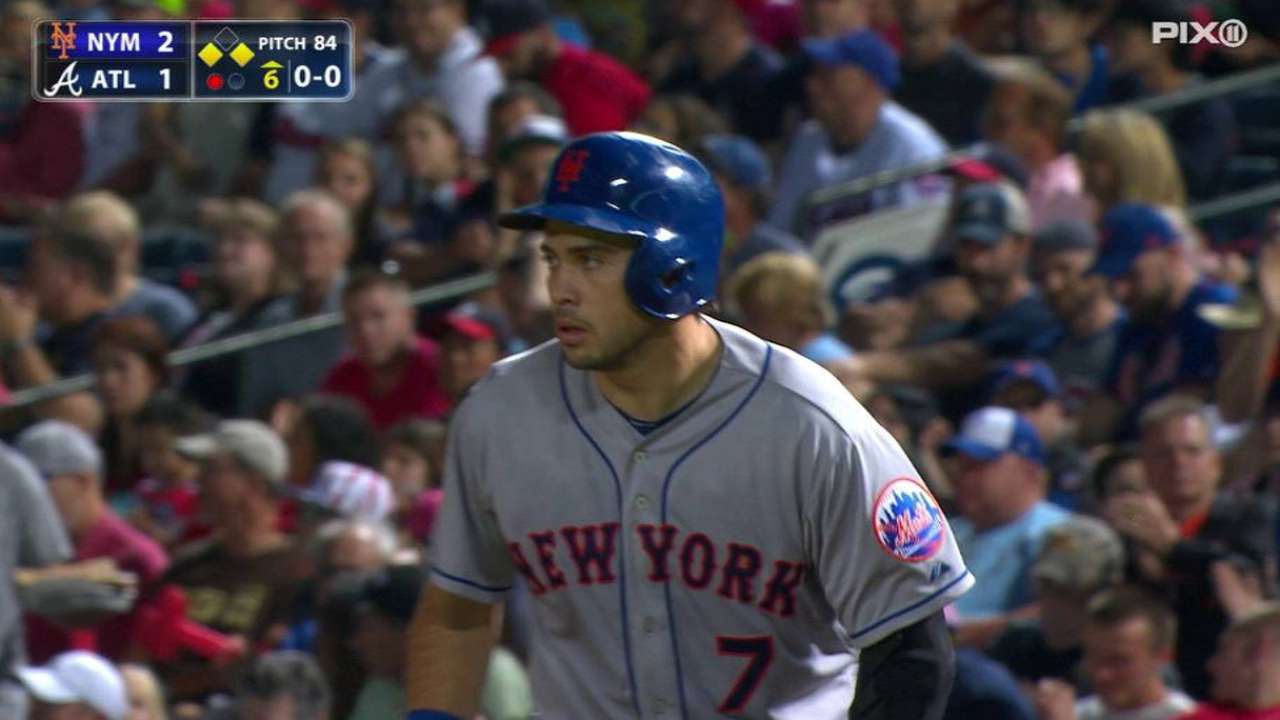 ATLANTA -- No, everything the Mets are touching right now is not turning to gold. Despite six wins in a row and a ballooning lead in the National League East, the Mets are not perfect.
But right now, the Mets' lineup is nearly unstoppable. Even they'll admit that right now, they are a bear to play.
"We've been pretty resilient, pretty ruthless," second baseman Kelly Johnson said after the Mets' latest tour de force, a 6-4 win over the Braves on Saturday night. "Both of those traits are huge."
Johnson was the latest player to step up for the Mets, smacking a run-scoring single in the top of the ninth that provided the winning run Saturday. The former Brave, though, is far from the only one.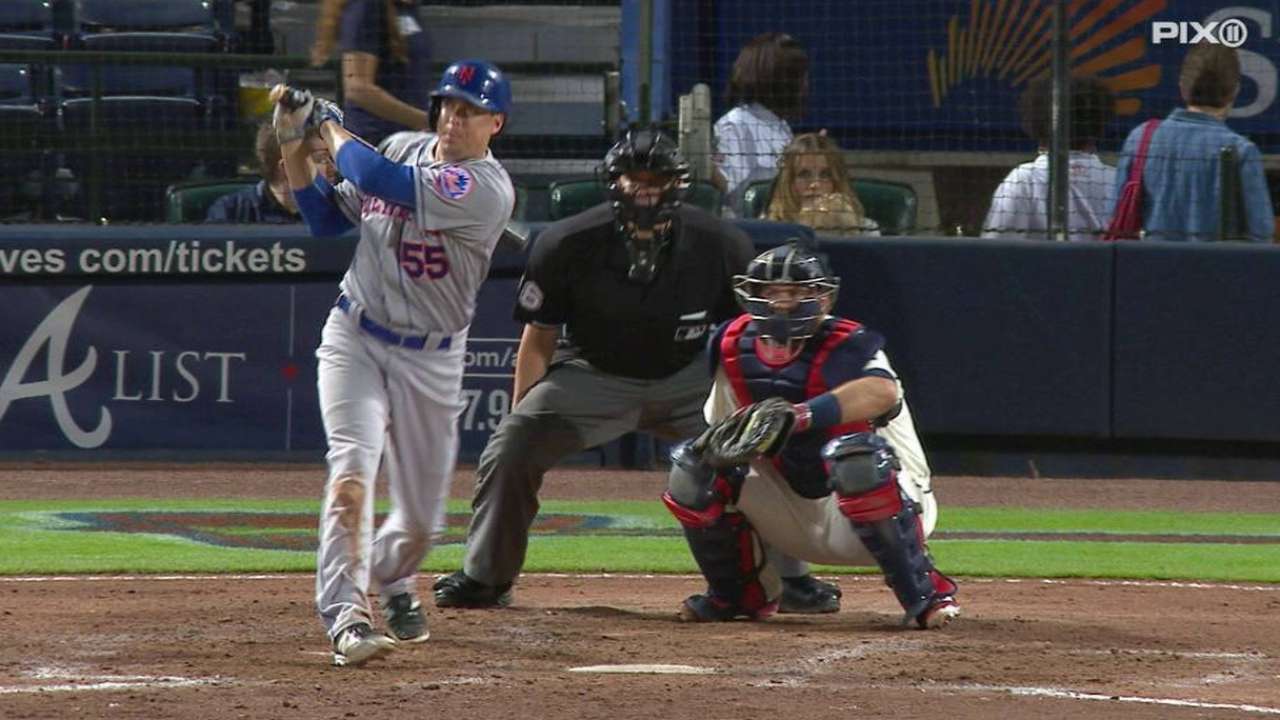 There's catcher Travis d'Arnaud, who had three hits Saturday night, including the double that preceded Johnson's game-winner. d'Arnaud is hitting .369 over his last 18 games, with seven doubles, five home runs and 19 RBIs.
There's Yoenis Cespedes, of course, who continued his historic surge at the plate with another home run and two more RBIs against the Braves. Since coming to the Mets in a July 31 trade, Cespedes has 41 RBIs and 16 home runs in 39 games.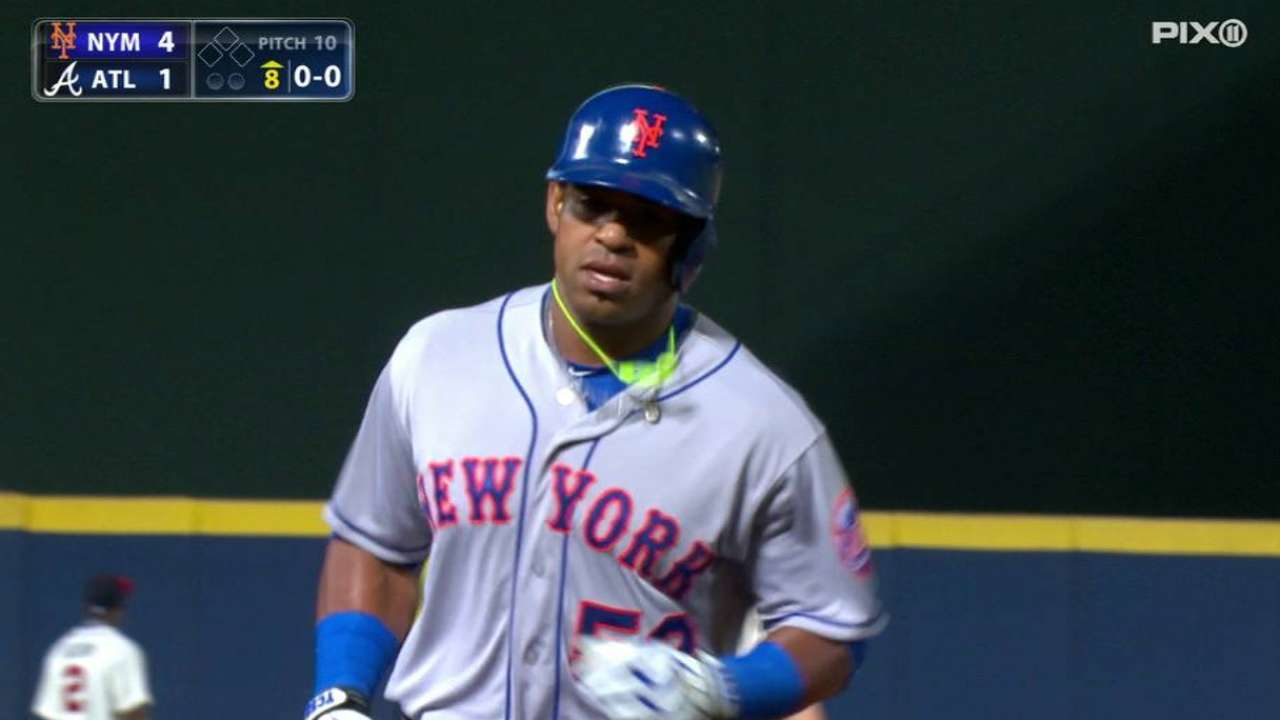 There's Daniel Murphy, who snapped his 0-for-11 streak on Friday, then added a pair of doubles Saturday.
And yes, there's Johnson, who gave Lucas Duda a day off Saturday and responded with the big hit.
"Right now, that lineup … it doesn't have holes. There's a lot of confidence right now," manager Terry Collins said. "There's a lot of firepower in there."
Collins often claims -- and he did it again Saturday -- that the July 24 trade that brought Johnson and Juan Uribe from the Braves is what has turned around the Mets' season. The Braves see it, too.
"They're good players and Kelly … been there, done that, he knows what he's gotta do," Atlanta manager Fredi Gonzalez said. "And Terry's done a nice job, matched them up with the guys that he can handle, and it's a great pickup, both of those guys. They're professional players and professional characters and teammates, and it's a good pickup for them, both of those guys."
Collins said he will play Uribe on Sunday, part of the manager's plan to give as many breaks to his starters as he can in the final weeks of the season. Whatever he's doing, it's working.
The Mets, a Major League best 25-11 on the road since July 1, now have scored three or more runs in their past 26 road games, a franchise record. Only three teams have had a longer streak -- the 1912 New York Giants, at 30 games; the '95 Reds, at 29; and the '01 Indians, at 27.
"When they got here, that's when things changed, when those two guys showed up," Collins said of Uribe and Johnson. "We became a different offensive team, because they're professional hitters. They're not intimidated by situations.
"Cespedes was, obviously, a huge add-on. But those two guys, when they got here, they changed the dynamics of the clubhouse and the dynamics of the lineup."
John Donovan is a contributor to MLB.com. This story was not subject to the approval of Major League Baseball or its clubs.