Red Sox happy to share in Papi's special night
Slugger hits 500th HR in 10-4 victory over Rays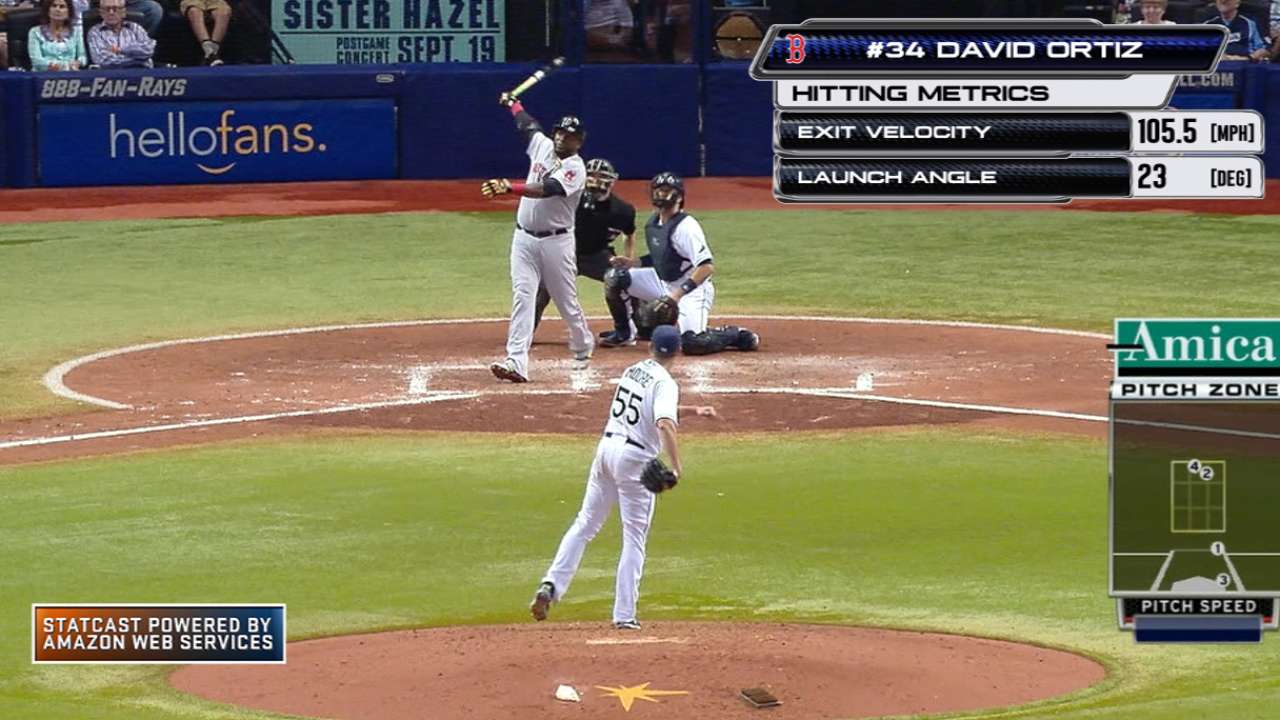 ST. PETERSBURG -- Moments after Boston's 10-4 victory over the Rays on Saturday night at Tropicana Field, praise rang out from all corners of the clubhouse for David Ortiz, who launched career home runs number 499 and 500 in an epic performance that garnered the 19-year veteran and nine-time All-Star admission into one of the most exclusive clubs in all of sports.
"Every time he comes up, we all sit forward because he can do anything at any time. But that moment was extra special. I wish he would've done it in Boston, it would have been more special, but we had a special time together," said Red Sox interim manager Torey Lovullo of Ortiz's 500th career homer.
Lovullo shared that he agreed to pencil Ortiz into the lineup on back-to-back days on Tropicana Field's artificial playing surface after receiving a two-word text from his designated hitter on Saturday morning that read simply, "I'm in."
"If the big man runs the court, you've got to get him the ball. That's how I look at it," beamed Lovullo after the game.
Red Sox starter Rick Porcello, who held the Rays to three earned runs over seven innings Saturday night while recording his fourth consecutive quality start, made it clear that it's much more fun to be a teammate of Big Papi's than it is to stand 60 feet, 6 inches away from the fearsome slugger. Ortiz has one home run in 11 career at-bats against Porcello, who spent the previous six seasons with Detroit.
"When you're on the other side, you're trying to get him out, but he's hitting balls over the wall so you hate him," said the veteran right-hander, currently in his first season with the Red Sox. "When you get to play with him, you get to know him. David's a wonderful human being, an awesome teammate and obviously, a [heck] of a player."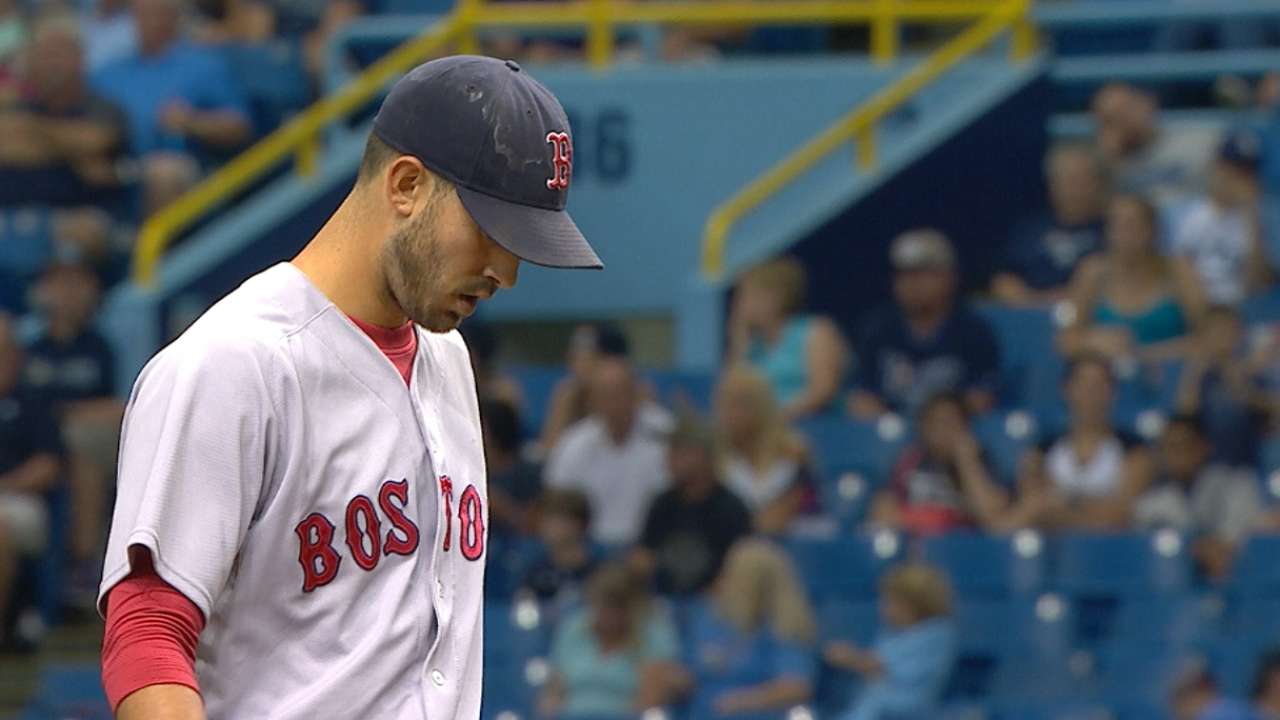 Mookie Betts, who extended his hitting streak to a Major League-leading 17 games Saturday night with a first-inning single, was on base -- along with Xander Bogaerts -- when Ortiz belted homer number 499 in the first.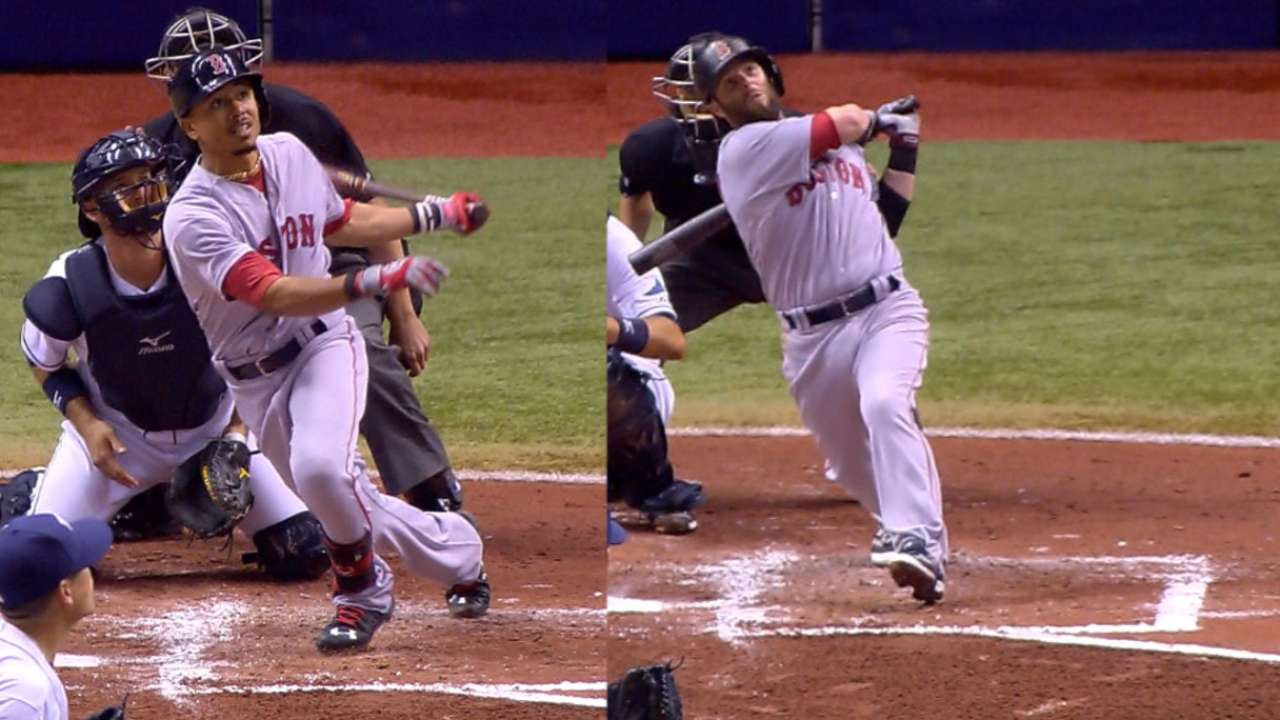 "David's like our backbone. We go play and go do whatever we do and he drives us in and does what he does," said Betts who also collected his 15th home run and 18th stolen base later in the game. "It's kinda like … we're all just playing and he's like the overseer who takes care of the rest," continued the rookie Red Sox center fielder. "Tonight was history, something only 27 people have accomplished in this game, and it was fun to be a part of it."
Michael Kolligian is a contributor to MLB.com. This story was not subject to the approval of Major League Baseball or its clubs.