Girardi: Yankees must improve pitching to beat Blue Jays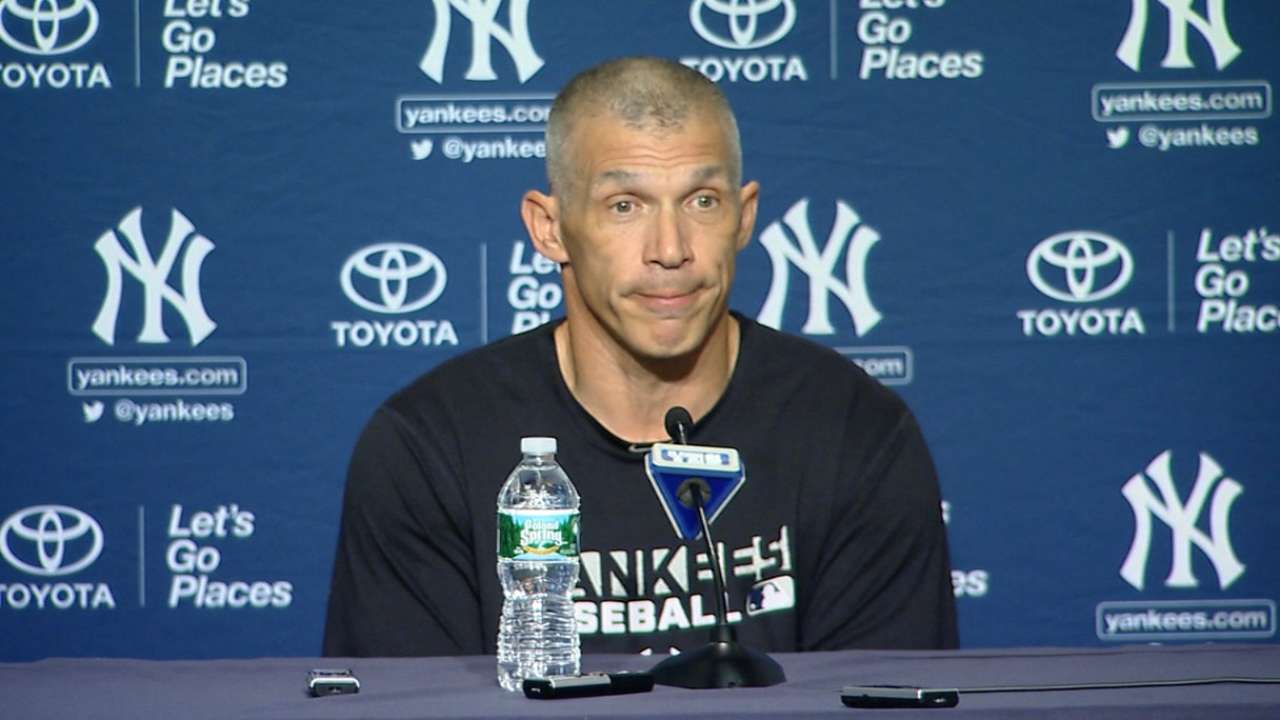 NEW YORK -- The tension was palpable. Silence filled the room and there was no small talk. No lingering around. Instead, the Yankees grabbed their belongings, fulfilled their media obligations and swiftly made their exits.
With a sweep Saturday at the hands of the Blue Jays in a doubleheader -- 9-5 in Game 1 and 10-7 in Game 2 -- the Yankees know what's at stake now. They entered the series 1 1/2 games behind in the pennant race. Now, that gap has leaped to 4 1/2.
Something must change, Brett Gardner said. But he's not ready to lose the faith yet.
"No, definitely not," the outfielder quickly replied when asked if his view on the pennant race has changed. "It doesn't for me. It could tomorrow if they win four against us, but I don't plan on that happening."
If Gardner is right, if the Yankees are going to salvage a win out of this four-game set, the X-factor will have to be the pitching, as indicated by Joe Girardi.
The Yanks needed everything their pitchers could give them Saturday, but the bullpen struggled in Game 1, and starting pitcher Ivan Nova was rocked for six hits and six earned runs in the second inning of Game 2.
"Well, we're swinging the bats OK. I mean, we're scoring runs," Girardi said. "We've got to pitch better. We can't give extra outs. When we give extra outs, it turns into big innings for this club, so we've got to pitch better tomorrow."
Game 1 saw the Yanks and Blue Jays knotted at five to open the 11th with Bryan Mitchell on the mound. Mitchell immediately relinquished a walk, hit a batter and then gave up another walk to load the bases. He registered one strikeout, but was then pulled in favor of Chasen Shreve.
Shreve inherited Mitchell's mess with the bases loaded, and he couldn't control the damage. The lefty walked three and gave up a single. Mitchell was charged with three earned runs, Shreve with one.
"They didn't throw strikes," Girardi said. "It's hard to say exactly what it is. A lot of times, if I was a psychiatrist, I'd have a call down there to them before they went out."
"It's tough," Shreve added. "I mean, you want to do good, and sometimes it doesn't go your way. It's gone my way quite a bit this year, but it just didn't go my way today."
Nova took full responsibility for Game 2, saying it was his fault that the Yankees couldn't pull out a win.
They know they have to pitch better. It's just a matter of doing so. Girardi hopes that time comes soon. Sunday could be a test of sorts.
"You've got to reach down," GIrardi said. "This is the time of the year that you've got to fight. And you've got to reach down and find energy."
Grace Raynor is an associate reporter for MLB.com. This story was not subject to the approval of Major League Baseball or its clubs.