MLB.com Columnist
Lyle Spencer
Kazmir gives Astros pennant-race experience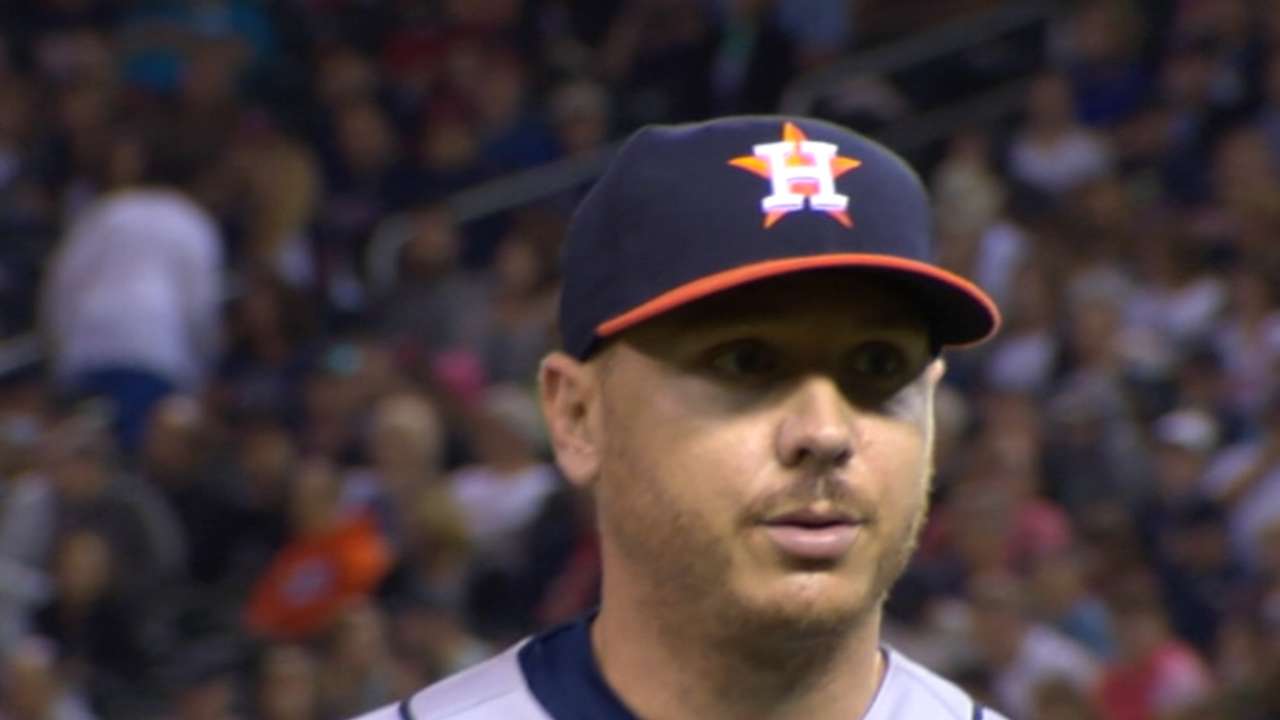 ANAHEIM -- If his young, impressionable Astros teammates need any counsel on how to handle these pressure-filled final weeks of a remarkable season, Houston-born Scott Kazmir is a walking travelogue on winning Major League operations.
Kazmir started the first and last games of the 2008 World Series at age 24 for the Tampa Bay Rays, who fell in five to Philadelphia. Dealt to the Angels in August 2009, he came within two wins of a return trip to the Fall Classic in a memorable American League Championship Series claimed by the Yankees, who went on to dethrone the Phillies.
Kazmir, out of the game almost two years after his release by the Angels in 2011, was resurrected as a pitcher in 2013 with a Cleveland team that won its last 10 regular-season games, twice behind Kazmir, to snatch a Wild Card berth.
He was 15-9 on an A's club that reached the 2014 postseason as a Wild Card before losing a monumental showdown with the Royals.
For a pitcher not yet 32, Kazmir has a remarkable history of being part of high-caliber teams led by superb managers: Joe Maddon, Mike Scioscia, Terry Francona and Bob Melvin.
Now, courtesy of yet another midseason swap, the hired gun is home, pitching for AL Manager of the Year candidate A.J. Hinch in another pennant race.
"Experience is very valuable this time of year," Hinch said when asked about Kazmir's presence with a predominately young cast. "But being good on the mound is more important than being experienced.
"We just went through Oakland, and they were raving about his impact on Sonny Gray. He's already latched onto some of our young guys. He's very open to sharing his experience with young and old alike. It's nice to have him here."
Kazmir is 2-5 with the Astros, a deceptive record brought into context by his 3.13 ERA and the fact Houston has scored only 19 runs in his nine starts. He remains high on an offense led by proven stars Jose Altuve and newly acquired Carlos Gomez and rising stars Carlos Correa and George Springer.
"We take a loss hard like any other team, sure," Kazmir said, the Astros having dropped a 3-2 decision to the Angels Friday night enabling the Rangers and Angels to move within 1 1/2 and 4 1/2 games, respectively, of their AL West lead. "We're confident in ourselves. We can shake off a loss like that and move forward.
"It's important we don't get out of our plan. You can get into September and try to do too much. Everyone wants to be that guy, make a name for himself. Winning takes care of that. Just stay in your game, don't try to do too much."
Maddon, Kazmir's first big league manager after coming to the Rays in 2004 from the Mets, made an enduring impact.
"Joe puts everything in perspective," Kazmir said of the Cubs' first-year manager. "As a young guy, you can't appreciate that enough. He puts everyone in a position to be successful and simplifies things, makes you very comfortable."
It has been Kazmir's good fortune to play with some of the game's elite athletes, such as Evan Longoria, Carl Crawford, Torii Hunter, Mike Trout, Michael Brantley, Jason Kipnis, Josh Donaldson and Yoenis Cespedes.
Kazmir resists comparing Correa with those players, but he does see a similarity in how the phenomenal 20-year-old shortstop has lifted a team the way Longoria did upon his 2008 arrival with the Rays.
"It's the X-factor guys like that have when they come up and make a huge impact," Kazmir said.
The 2013 Indians are the best example of a team that rode a wave to the postseason with those 10 consecutive wins before dropping a 4-0 AL Wild Card Game to the Rays in Cleveland.
"That was a team that really believed in itself," Kazmir said.
Kazmir was part of a rotation that included Corey Kluber. The bullpen featured current Angels setup man Joe Smith with a team-best 2.29 ERA in 70 appearances.
Those Indians fell one game short of the Tigers in the AL East race, just as his A's last season chased the Angels in the AL West. Kazmir understands the importance of winning a division and avoiding that one-game-for-everything scenario.
What he was too young to fully grasp was how lucky he was to pitch in a World Series at 24, losing Games 1 and 5 to Series MVP Cole Hamels after helping the Rays subdue the White Sox and Red Sox in the playoffs.
"It's almost like I didn't think about the magnitude of it," Kazmir said. "Nothing ever sunk in. We were just having fun at that point. That's how you have to approach it. Just go out every day and see what happens, live in the moment."
Lyle Spencer is a national reporter and columnist for MLB.com. Follow him on Twitter @LyleMSpencer. This story was not subject to the approval of Major League Baseball or its clubs.