MLB.com Columnist
Barry M. Bloom
Dodgers thriving despite Puig's absence
LA doing well, but right fielder's presence would be welcomed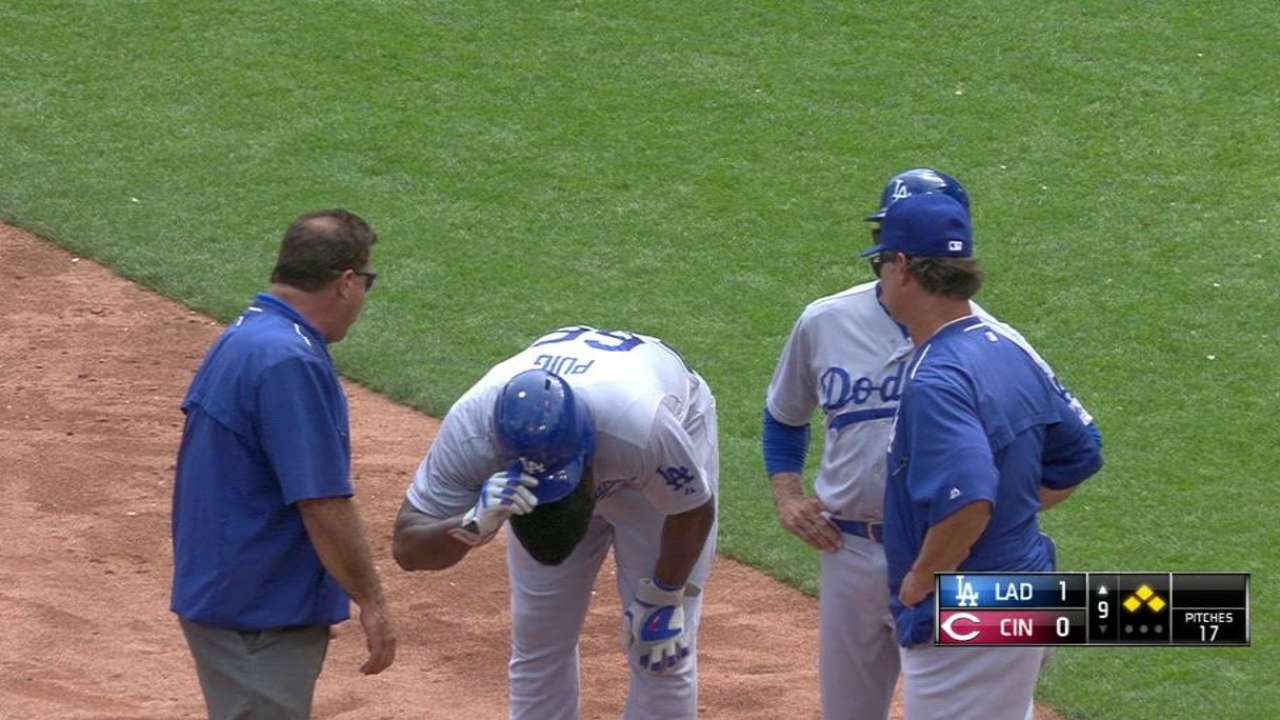 PHOENIX -- It's becoming increasingly obvious that Yasiel Puig's right hamstring injury is so severe that he might not be able to play again for the remainder of the regular season, placing his availability in doubt for the first round of the postseason.
Puig is rehabbing at the Dodgers' Camelback Ranch facility in Arizona, but he has yet to embark on baseball activities.
"I know it's getting late, but he still has a chance to play," Dodgers manager Don Mattingly said prior to Saturday's 9-5 victory over the D-backs at Chase Field. "I don't know, it could be 10 days, another two weeks. It's so hard to predict."
What has also become increasingly obvious is that the Dodgers are perfectly capable of getting to a National League Division Series for the third consecutive year without him.
"We've been able to sustain it because we've had Justin [Turner] come back and swing the bat really well," Mattingly said. "Carl [Crawford] was back and swinging the bat really well. In a sense, it shows how much depth we have."
Puig is one of the most exciting and talented players in the Major Leagues when he's healthy and clicking on all cylinders. But because of a left hamstring injury that caused him to miss five weeks and 38 games earlier in the season, he never seemed to be able to play with his old abandon.
Puig was on a 10-game hitting streak when he aggravated his hamstring during a mid-August series at Oakland, and popped it legging out an infield single on Aug. 27 at Cincinnati.
Even with the hitting streak, Puig was hitting just .256 with 11 homers and 38 RBIs in 77 games. That's far below his rookie numbers of .319 with 19 homers and 42 RBIs that he posted in the four months after he was brought up for good on June 3, 2013.
It's not as if he was stellar last fall in the playoffs anyway. In the Dodgers' four-game NLDS loss to the Cardinals, Puig had four hits and an RBI, striking out eight times in 14 plate appearances. That offensive performance and his lackadaisical play in the outfield prompted Mattingly to bench him for the fourth and decisive game.
Mattingly certainly would like to have a healthy Puig back in the lineup, but when asked if there was one player on his squad he'd miss more than any other, Mattingly tabbed Adrian Gonzalez.
"I think if he was out for a month we'd really feel it," Mattingly said about the lefty-swinging first baseman, who played in his 138th game on Saturday and hit his 27th home run. "You'd see the difference."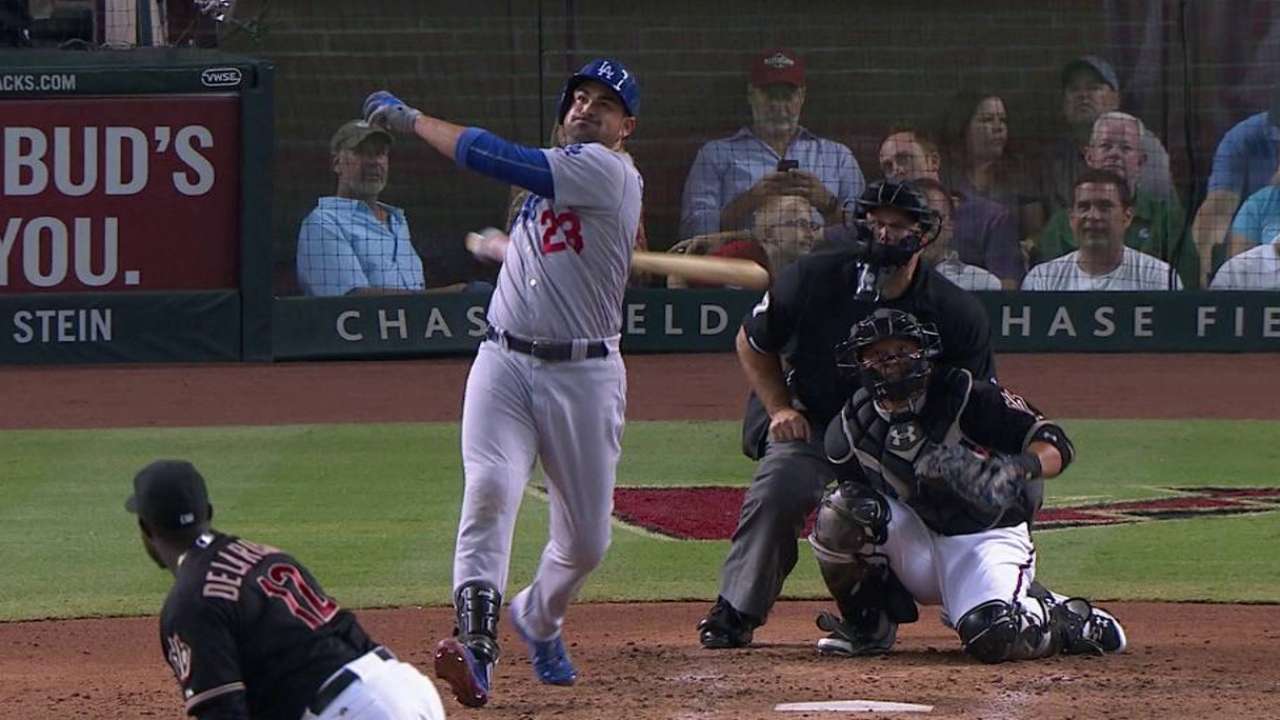 Puig has missed 15 games since the most recent injury, and the Dodgers are 11-4 without him, taking a commanding 7 1/2-game lead over the Giants in the NL West in the process. They had a 2 1/2-game lead when he went back on the disabled list.
Puig has been rehabbing at the Spring Training complex this weekend while the Dodgers played at Chase Field, but he hasn't visited the club yet.
"I'm not sure why he's not here," Mattingly said. "I know he's welcome over here."
Asked if Puig needed an invitation, Mattingly said: "Of course not. Nobody needs an invitation. Actually, I'm surprised he's not here."
Puig, 24, has marched to a different drummer since he fled Cuba and signed a seven-year, $42 million contract with the Dodgers in 2012. The club signed him off a single batting-practice session in Mexico City on the recommendation of former scouting director Logan White, who is now with the Padres.
The Dodgers didn't realize at the time what a raw talent Puig was and how undisciplined he would be on and off the field. He ran through coaches' signs and threw to the wrong bases. Yet, when he came up from the Minors, he had one of the best first months in baseball history.
He batted .436 with seven homers, and his 44 hits were second-most only to Joe DiMaggio's 48 hits for the Yankees in May 1936. Puig became an instant marketing marvel and a ticket selling machine. The Dodgers were 23-32 and 8 1/2 games behind the first-place D-backs the day before he came up. By Aug. 23, they were 10 1/2 games ahead of the pack.
But Puig had his short-comings. He arrived late for games a number of times, forcing Mattingly to pull him out of the lineup. There were closed-door meetings and Puig apologized to teammates. The sudden fame and fortune seemed to be too much of a burden.
Mattingly said the irony of it all is that Puig has begun to mature this season.
"He's definitely gotten better in a lot of areas," Mattingly said. "Defensively, he's more refined in throwing to the right base. On the bases, he's making better decisions."
And getting to the ballpark on time?
"He's been fine," Mattingly added.
But it's just been one of those years when the injuries have inhibited Puig's growth as a player. He hasn't hit much for power this season. He had just two homers and four RBIs, but was batting .279 in his first 11 games when he went out with the original hamstring injury on April 24.
After that, he just couldn't get it back.
"He's had two distinct hamstring injuries," Mattingly said. "In fairness to him and the season, he missed a lot of time early, and he's missed a lot of time now. For sure, he was never able to get in any kind of rhythm."
With 21 games remaining and the days dwindling to a precious few, the big question is can Puig get back into any kind of rhythm now? Or, simply put, can he even get back?
Barry M. Bloom is a national reporter for MLB.com and writes an MLBlog, Boomskie on Baseball. Follow @boomskie on Twitter. This story was not subject to the approval of Major League Baseball or its clubs.